CBD oil Market Snapshot
Future Market Insights (FMI) predicts the sales of cannabidoil (CBD) oil to total US$ 284.2 million by the end of 2021. As per the study, demand will continue rising, enabling the market to exhibit a compound annual growth rate (CAGR) of 31.50% annually, through 2031.
Hemp and marijuana oil segment exhibited prolific year-on-year growth of 35.90% in 2021, due to increasing sales of CBD infused food and beverages and high demand for pain and sleep medication. Rising use of CBD oil in sports industry is forecast to drive the market sales through 2031.
Key Points Covered in CBD oil Market Study
Market estimates and forecast 2021 – 2031
Key drivers and restrains impacting market growth
Segment-wise, Country-wise, and Region-wise Analysis
Competitive Mapping and Benchmarking
Brand share and Market Share Analysis
Key Product Innovations and Regulatory Climate
COVID-19 Impact On CBD Oil Market
Recommendation on Key Winning Strategies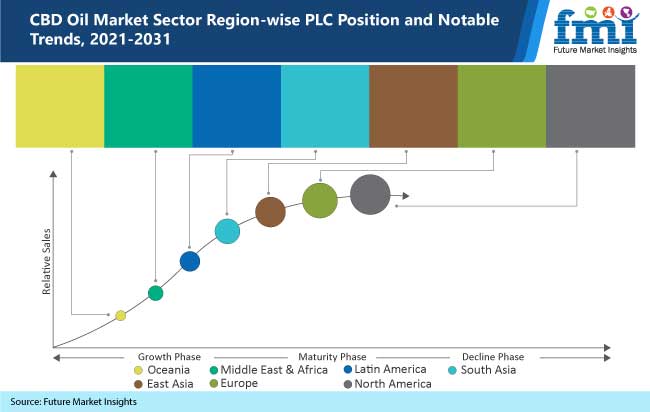 2016 – 2020 CBD oil Market Outlooks in Comparison to 2021 – 2031 Forecasts
Increasing demand for CBD oil in production of medicines owing to its pain reducing properties has been facilitating growth in the CBD oil market over the past few years. From 2016 to 2020, the market exhibited exponential growth at 69.2% CAGR.
CBD oil regulates the endocannabinoid system (ECS) activity and interacts with neurotransmitters. This property makes it an ideal ingredient for anxiety and anti-depression drugs.
In 2018, The World Anti-Doping Agency (WADA) removed cannabidiol (CBD) oil from its list of prohibited substance, however all synthetic cannabinoids that mimic the effects of THC are prohibited.
Backed by favorable policies, the global CBD oils market will expand at 31.5% CAGR and surpass sales revenue of US$ 284.2 million in 2021, says FMI.
CBD oil entrepreneurs are focusing on developing cannabidiol based lotions, skincare, pet care, and textile products. Growing sales of a wide range of CBD-fortified products along with new product launches and expansion of product pipeline will provide lucrative opportunities for market growth especially in emerging economies.
Rise in research and development (R&D) activities aimed at reducing the THC content and growing emphasis on getting faster approval from regulatory bodies will positively influence the market growth. However, regulations imposed on application and sales of certain products will hinder sales during forecast period.
Europe and North America collectively account for more than 70% of CBD oil market share, due to strong network of online sales channel, high degree of awareness regarding the various benefits of cannabidiol, and introduction of retail products like CBD oil, CBD gummies, and CBD beverages in these regions.
Is CBD Oil Emerging as a New Pain Relief Drug?
Research have shown that marijuana-derived CBD oil and hemp-derived CBD oil plants possesses stress and anxiety reducing properties. CBD oil when consumed in supplement form offers therapeutic benefits for neurological conditions and disorders like depression, nerve-related pain, sleep disorders, and inflammatory pain. This has fueled the adoption of CBD oil in painkiller and anxiety treatment drug manufacturing industry.
Many pharmaceutical companies are looking to integrate CBD oil in pain-relief medication and introduce new products in the market. For instance, in 2021 dosist™ introduced its progressive new range of CBD+ topical products with all-natural solutions designed to help with pain relief.
Softening cannabis law and growing awareness regarding benefits of CBD oil have paved way for legitimizing medicinal claims of CBD oil. Many celebrities are using CBD oil and related products for treating their sleep disorders. Increasing endorsement by celebrity evangelists will propel the sales of CBD oil products in upcoming years.
How will Favorable Regulations in West Affect CBD Oil Market?
Legalization of use of CBD oil and related products and increasing demand for CBD food and beverages in North America and Europe are encouraging market players to introduce new and flavored products.
According to the 2018 Agriculture Improvement Act U.S., companies are permitted to grow and sell hemp and hemp-based products that are sourced from cannabis sativa L and all of its derivatives. This law along with removal of CBD from the Controlled Substances Act (CSA) will make a positive impact on CBD oil market.
Changes in federal law have empowered manufacturers to experiment with various strains of hemp and marijuana in order to expand their product portfolio, subsequently boosting the demand for CBD oil and ingredient based products in upcoming years.
Growing popularity of CBD products especially among millennial population is expected to create incremental prospects for sales uptick of CBD oil across the globe. Increasing research towards developing modified CBD oil extracts will propel the market the growth. For instance, the Food and Drug Administration (FDA) evaluated three genetically recognized as safe (GRAS) notices on hemp extract in 2018.
A new dietary ingredients law is also passed for acceptance of hemp extracts in dietary supplements without FDA objection. Following this, the demand for CBD oil in food items is expected to rise during the assessment period.
Country-wise Analysis
What Are the Factors Driving CBD Oil Demand in U.S.?
The U.S. is expected to lead the CBD oil market over the forecast period, owing to presence of favorable laws regarding the use of CBD products and increasing health conscious population in the country. Approval of U.S. farm bill in 2020 also will boost the sales of CBD oils in the U.S.
According to American Sleep Association, more than 50 million U.S. adults have sleep disorders. CBD oil regulates and interacts with neurotransmitters thus assisting in getting deep sleep and treat insomnia. Increasing cases of sleep disorder and rise in number of research indicating the effectiveness of CBD in treating such ailments will boost the market growth in U.S.
Under the Controlled Substances Act (CSA), marijuana and hemp plants and derivatives that contain < 0.3% dry weight of THC will not be considered as controlled substance. The CBD oil market in U.S is expected to benefit from this law as it will allow people to practice safe substance usage while reducing the risk of possible abuse.
Growing awareness among population regarding medical benefits of CBD along with presence of leading market players will catapult the CBD oil market growth in U.S.
Why Is U.K. Leading the Europe CBD Oil Market?
The U.K. is forecast to follow the U.S. and become the second-largest CBD oil market through 2031. The country has one of the most evolved regulatory frameworks for CBD products and has emerged as the largest CBD market in cross Europe. Increasing foreign investment and rise in research and development activities will allow CBD oil market to become a significant contributor to the U.K. economy.
U.K.'s Food and Standards Agency (FSA) categorized CBD oil as novel food ingredient. This allowed top CBD companies to apply and acquire novel food authorization certification for their product range. This led to increase in demand of high street products and thus fueled the market growth in the country.
Majority of CBD oil is imported from parts of Europe and U.S. owing to restriction on cultivation and extraction of hemp flowers which the major CBD source. According to the law, hemp farmers are required to lawfully destroy hemp flowers and leaves after harvesting. This makes UK's CBD oil industry financially non-viable in long term and thus negatively influence the market growth.
Medicine and Healthcare products Regulatory Agency (MHRA) stated that any product containing CBD oil and THC cannot be sold as medicine, while the retailers can label and market CBD products as food supplements. These policies will boost the adoption of CBD in food industry like production of CBD gummies and other products in U.K.
What is Driving CBD Oil Market Growth in China?
Cultivation and production of hemp and CBD is legal only in Yunnan and Heilongjiang provinces of China. Majority of produced hemp is exported as it is legal to export CBD to European and American market.
With government approval for the use of CBD oil in cosmetics production in 2015, its application in production of topical creams, ointments, and balms will skyrocket.
Large cosmetic brands are advocating towards using of CBD products. For instance, "One Leaf", one of the leading face mask companies in China, has started running promotional campaigns for its CBD products through social media and online marketplaces.
Therefore gradually rising CBD application in China's cosmetic sector will emerge as a chief growth driver.
Category-wise Insights
Why is the Demand for Hemp CBD Oil Increasing?
High effectiveness of CBD derived from hemp for various medical applications like developing treatment for Parkinson's disease is driving demand of this segment across the globe.
Increasing awareness among consumers regarding health benefits of CBD derived from hemp oil is expected to fuel growth during the assessment period. Demand for hemp oil in pharmaceutical industry can be attributed to increasing consumer spending on healthcare and legalization of medical cannabis in Europe and North America.
Which Distribution Channel is Most Preferred for CBD Oil?
According to FMI, more than 50% of CBD oil sales will be accomplished through online channels. E-commerce retail allowed top established and new entrants in CBD oil manufacturing, marketing, and sales to reach customers all around the world.
Some CBD oil manufacturers are selling their products exclusively through e-commerce websites to reach more consumers and create a loyal customer base. However, FMI predicts that CBD oil market might reflect a paradoxical trend. The demand might shift towards brick and mortar stores through 2031.
What Are the Key CBD Oil Applications?
By application type, food and beverage industry will exhibit high growth due to increasing demand for CBD gummies and snacks across the globe. Market players are working to produce new flavors and are trying to make CBD snacks more accessible to gain competitive advantage.
FMI expects this segment to grow exponentially owing to increasing focus on getting certification by international organizations and growing awareness regarding health benefits of consuming CBD gummies.
Competitive Landscape
CV Sciences
Medical Marijuana
Aurora Cannabis
Canopy Growth Corporation
Canntrust
are identified as leading market players, according to Future Market Insights. They collectively account for more than 15% of global market share in 2021.
As the CBD oil market is in nascent stage, market players are focusing on gaining maximum share by expanding their product portfolio through new product launches. For instance, Medterra introduced functional CBD gummies containing 25 mg of company's pure CBD in April 2020.
Medterra's CBD is produced from premium quality ingredients and is THC free. Its other products include Keep Calm CBD gummy, Stay Alert CBD gummy and Sleep Tight CBD gummy with variety of flavors.
CV Sciences Inc. launched "Plus CBD Gummies" at Natural Product Expo East 2018. These gummies are available in citrus punch and cherry mango flavors. These products comply with strict regulatory standards and are gluten-free and vegan-friendly.
Strategic partnership and collaboration is in the cards to enter potential markets of Asia and Africa. For instance, in April 2020, Australian CBD firm Creso signed an agreement with Pakistani pharmaceutical firm Highnoon laboratories to sell CBD derived therapeutic products in Pakistan.
CBD oil Market – Report Scope
| | |
| --- | --- |
| Attribute | Details |
| Forecast Period | 2021 – 2031 |
| Historical Data Available for | 2020 – 2030 |
| Market Analysis | US$ Mn for Value & Units for Volume |
| Key Regions Covered | North America, Latin America, Europe, East Asia, South Asia, Oceania, and Middle East & Africa |
| Key Countries Covered | U.S., Canada, Brazil, Mexico, Argentina, Rest of Latin America, EU-5, BENELUX (Belgium, Netherlands, Luxembourg), NORDIC (Denmark, Finland, Iceland, Norway, Sweden), Poland, Russia, Rest of Europe, China, India, Japan, GCC Countries, South Africa, Israel, Turkey, Iran, Rest of Middle East & Africa, Australia, New Zealand, South Korea, the Philippines, Malaysia, and Thailand |
| Key Segments Covered | By Product Type, By Distribution Channel, By Application, and By Region |
| Key Companies Profiled | CV Sciences, Medical Marijuana, Aurora Cannabis, Canopy Growth Corporation, Canntrust, Tilray, and Kazmira LLC |
| Report Coverage | Market Overview, Market Background, Market Forecast, Segmental Analysis, Regional Profiling and Competition Analysis |
| Customization & Pricing | Available upon Request |
Key Questions Answered in the Report
What is the current valuation of CBD oil market?

The CBD oil market is expected to surpass a valuation of US$ 284.2 Mn by 2021 end.

At what rate did the CBD oil market expand in the last five years?

Between 2016 and 2020, the CBD oil sales grew at 69.2% CAGR.

What are the key trends shaping the CBD oil market?

Increasing use of CBD oil in sports for performance and recovery, rise in "pet adaptation" and "pet proprietorship" fueling demand for cannabis based feed market, rising application of CBD oil in cosmetic and personal care, growing necessity towards possession of certificate of analysis (COA), and emerging use in infused-food and beverage industry are the key trend shaping the CBD oil market.

What is the Demand Outlook for the CBD oil Market?

CBD oil market will register prolific growth at a CAGR of 31.5% between 2021 and 2031.

What is the North America CBD oil market outlook?

Demand registered in North America will continue rising, backed by legalization of medical cannabis and increasing consumption of CBD oil from U.S. and Canada, the North America market is anticipated to expand at 30.2% CAGR during the forecast period.

Who are the leading companies in CBD oil market?

CV Sciences, Medical Marijuana, Aurora Cannabis, Canopy Growth Corporation, Canntrust, Tilray, and Kazmira LLC are the top companies operating in the market.

What is the cumulative share of top companies in CBD oil market?

Top five companies covered nearly 15% to 20% of the overall CBD oil market in 2021.

At what rate will CBD oil sales increase in Europe?

CBD oil sales will increase at 35% CAGR in Europe, backed by rising demand of CBD oil in the U.K., Germany, Portugal and other countries.

Which are the top five countries driving CBD oil market demand?

Leading countries driving demand in the CBD oil market are U.S., China, U.K, India, and Japan.

What are the key statistics for CBD oil market in South Korea?

In 2021, South Korea holds around 0.8% market share in the East Asia CBD oil market.
Key Segments Covered in CBD oil Market Study:
Product Type:
Application:
Pharmaceuticals
Food & Beverages

Gummies
Chewing Gums
Chocolate bars
Candies
Beverages
Dairy Products
Bakery Products
Snacks

Cosmetics
Others
Distribution Channel:
Direct/B2B
Indirect/B2C
Hospital Pharmacy
Retail Pharmacy
Hypermarkets/Supermarkets
Convenience Store
Online Retail
Others
Region:
North America
Latin America
Europe
South Asia
East Asia
Oceania
Middle East and Africa
Need specific information?
Talk Show:
The Rise of Intelligent Packaging
Personalized, Connected and Sustainable
November 18, 2021
11:00-11:45 AM PST (USA & Canada)
This is a LIVE session