About the Report
Energy-efficiency and environment-friendliness continue to be buzz words that impact production and demand of heat pumps. However, given that construction, especially in the residential segment, is a key determinant for demand of heat pumps, the drop in construction activity in almost all countries due to the COVID-19 pandemic has severely hurt the market. Some countries witnessed a drop in construction activity as high as 80 percent in 2020 when compared to the previous year. As a result, previous growth estimates for the market have been thrown awry and key players in the market have been forced to recalibrate their strategies.
Additionally, the world also witnessed disruptions to global energy supply chains which were influenced by, but not directly related to, the pandemic. A prominent example of this was the coal and electricity shortage in several parts of China in the last months of 2020. Such disruptions also had an impact on the sales of heat pumps. At the same time, the market has proven adept at handling such short-term disruptions as its long-term priorities, namely energy-efficiency and environment-friendliness, remain unchanged. Yet, accounting for such temporary shocks remains a pre-requisite for the market to realise its growth aspirations.
With construction activity having picked up in several countries in recent months and pent up demand for residential units being realised, the sales of heat pumps have also picked up. Furthermore, technological progress has increased the potential of most heat pump manufacturers to deliver products that can meet governmental regulations and consumers' needs. With re-joining the Paris Climate Accord being one of US President Joe Biden's first acts in office, climate change and emission control are back on the public radar and heat pumps will be under intense scrutiny in the coming years even as their demand increases significantly.
HEAT PUMPS MARKET: KEY INSIGHTS
Air-air heat pumps continue their positive trend; air-water heat pumps to falter gradually.
Residential sector remains primary end user of heat pumps; market players to reap relevant returns from commercial sector.
Hydrofluorocarbon (HFC) heat pumps would generate greater total return to shareholders; CO2 refrigerant heat pumps to see adoption surge.
Market players would allocate their resources to air-source and geothermal heat pumps.
Asia Pacific excluding Japan (APEJ) continues to offer opportunities for growth and profitability.
KEY FACTORS SHAPING HEAT PUMPS MARKET
Supportive Regulatory Framework and Rising Urbanization
Growth of the construction industry along with increasing implementation of stringent new building regulations by governments, worldwide, especially in China, Japan, the U.S., South Korea, and Europe, are expected to be key factors driving the demand for heat pumps for residential applications. Subsidies on the purchase of heat pumps provided by governments, tax credit schemes, and rising use of renewable energy are set to boost the demand for heat pumps.
In countries such as Japan, Australia, the U.S., and countries of Europe, governments are providing subsidies on the purchase of heat pumps to reduce carbon footprint and increase the use of renewable sources of energy for heating and cooling purposes. Certain regions such as Japan, China, and Europe have their renewable energy policies for heating purposes, which, in turn, promotes the use of heat pumps over conventional heating devices.
Eco-friendly and Advanced Devices to Drive Market Growth
Growing demand for technologically-advanced and eco-friendly devices for cooling and heating applications is likely to boost the demand for heat pumps. Heat pumps are very valuable for the reduction in carbon intensity.
They can help decrease electricity consumption for heating and cooling applications by half as compared to other electric resistance heating appliances. Modern heat pumps such as ground-source heat pumps (GSHP) use only one-fourth of electrical and three-fourth of environmental energy as compared to conventional heat pumps.
Market Research Methodology - Perfected through Years of Diligence
A key factor for our unrivaled market research accuracy is our expert- and data-driven research methodologies. We combine an eclectic mix of experience, analytics, machine learning, and data science to develop research methodologies that result in a multi-dimensional, yet realistic analysis of a market.
Rising Demand for CO2 Refrigerant Heat Pumps
CO2 refrigerant heat pumps represent potential growth opportunities for manufacturers of heat pumps. CO2 refrigerant heat pumps were first developed in Japan under the brand name EcoCute. Demand for these CO2 refrigerant heat pumps is growing owing to their easy recyclability, low cost, and environment-friendly qualities. Currently, CO2 refrigerant heat pumps are available in China, Japan, and other markets in Asia.
CO2 heat pumps are preferred in Japan and Europe, since they offer various qualities such as low global warming and zero ozone depletion potential. CO2 refrigerants are usually used in air-source heat pumps, which have lower overall installation costs than ground source heat pumps, for domestic water heating applications
APEJ Heat Pumps Market to Remain Dominant throughout Forecast Period
In terms of volume, APEJ led the sales of global heat pumps in 2019. China is projected to offer the most lucrative opportunities for market participants over the forecast period.
However, the coronavirus pandemic (COVID-19) pandemic has adversely disturbed the global supply chain. China, the U.S., and some European countries are the leading revenue contributors to the market.
Alerted by the dramatic upsurge in COVID-19 confirmed cases, governments in these major regions have enacted nationwide lockdowns, causing uncertainty in economic order. Moreover, self-quarantine regulations have led to scarcity in staff and raw materials, thus, putting a strain on sales of heat pumps.
HEAT PUMPS MARKET: STRUCTURE ANALYSIS
The global heat pumps market is highly competitive due to the presence of a large number of players. However, it has been moving towards consolidation with ongoing mergers and acquisition of prominent players.
Panasonic Corporation, Mitsubishi Electric Corporation, Daikin Group, NIBE Group, and Danfoss are prominent and most experienced players in the global market.
Participants in the market are aiming to enhance their product offerings and expand their geographical footprint through collaborations and partnerships with leading component suppliers and manufacturers.
Base Year - 2019
Historical Period - 2015-2019
Forecast Period - 2020-2030
Market Value in 2019 - US$ 32.3 Bn
Segments Covered - Type, Power Source, End User, Refrigerant, System Type, and Region
Regions Covered - North America, Latin America, Western Europe, Eastern Europe, Asia Pacific excluding Japan, and the Middle East and Africa
Key Companies - Viessmann Group, Danfoss Group Global, United Technologies Corporation, The Bosch Group, Panasonic Corporation, Mitsubishi Electric Corporation, Daikin Industries Ltd., and NIBE Group.
Growth Drivers

Mounting demand for sustainable heating and cooling systems
Rising adoption in domestic hot water, floor heating, and space heating/cooling application
Overall favorable climatic conditions in developed regions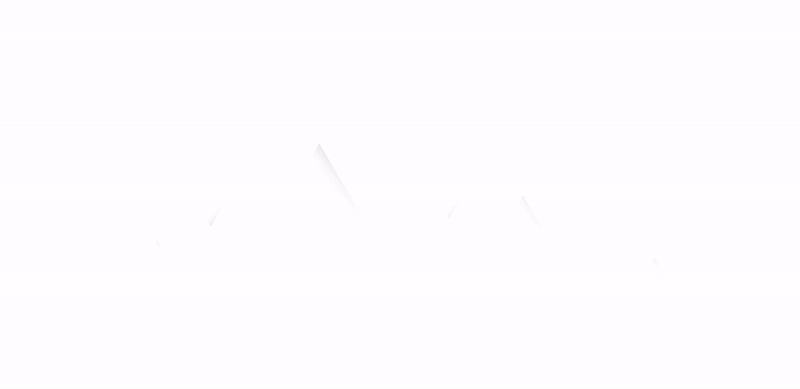 Air-air Heat Pumps Stay Atop
Introduced nearly three decades back, air-air heat pumps are the most adopted heat pumps, especially in Western Europe. Although air-water heat pumps are in their nascent stage of growth, they are following air-air heat pumps closely in terms of revenue share. In APEJ, air-air heat pumps will generate maximum revenue. Further, both these heat pump categories hold about 3/4 revenue share collectively.
On the other hand, hybrid heat pumps are exhibiting immense potential owing to multifunctional capabilities. As they use renewable energy sources, they are poised to see rapid adoption in the near future. Further, this study reveals that, ground source heat pumps are witnessing the fastest adoption as they require low maintenance.
APEJ Maintains its Hegemony
Capturing around half of overall market value, Asia Pacific excluding Japan (APEJ) continues to attract significant stakeholders' investments. The Chinese market is the most lucrative for those involved in heat pumps, projected to value around US$ 21 Bn by 2030. Despite a moderate growth rate, market value in Japan is anticipated to surge 1.5X by 2030. Market players are also targeting North America, owing to overall climatic conditions in the developed region. The U.S. is shaping the revenue pool in this developed regional market.
Eco-Friendly Quotient and Subsidization - Key Drivers
Heat pumps are beneficial in curbing CO2 emissions, and they also rely on renewable energy sources, such as solar energy. CO2 refrigerant heat pumps are becoming commonplace in different regions, owing to zero ozone depletion and low global warming quotients. In addition, they are cost-efficient and easily recyclable. Furthermore, governments in developed countries are providing subsidies on heat pumps in order to reduce carbon footprint.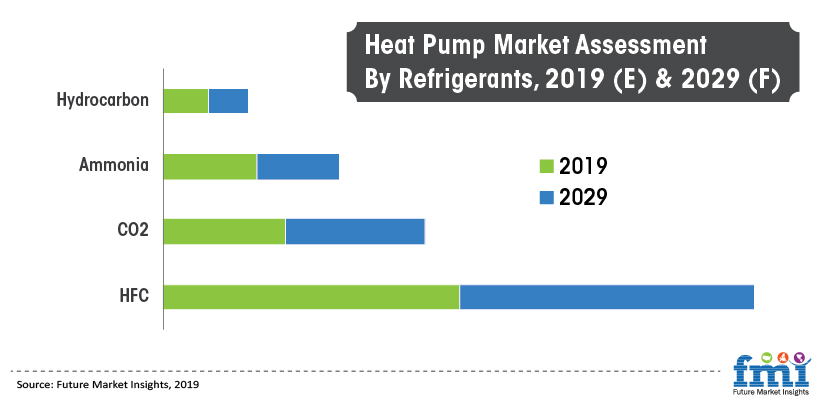 How Growth will Unfold
HFC (hydrofluorocarbon) refrigerant heat pumps will maintain their hegemony, registering US$ 30 Bn over the decade ahead. These heat pumps are expected to generate over 3/5 of total revenue in Western Europe. However, CO2 refrigerant heat pumps are witnessing an upsurge in their adoption.
Initially developed in Japan, CO2 refrigerant heat pumps are relatively inexpensive and eco-friendly. Further, Japan will show significant traction for CO2 refrigerant heat pumps.
HEAT PUMPS MARKET TAXONOMY
The global heat pumps market is segmented into six segments in detail to cover every aspect of the market and present complete market intelligence to the readers.
Type
Air-water Heat Pumps
Air-air Heat Pumps
Ground Source Heat Pumps
Hybrid Heat Pumps
Power Source
Electric
Others (Gas Driven)
End User
Residential
Commercial
Industrial
Refrigerants
HFC
CO2
Ammonia
Hydrocarbon
Others
System Type
Air-source Heat Pumps
Ductless Mini-split Heat Pumps
Geothermal Heat Pumps
Absorption Heat Pumps
Region
North America
Latin America
Western Europe
Eastern Europe
APEJ
Japan
MEA
Need specific information?
Talk Show:
The Rise of Intelligent Packaging
Personalized, Connected and Sustainable
November 18, 2021
11:00-11:45 AM PST (USA & Canada)
This is a LIVE session