HYPER-CONVERGED SYSTEMS MARKET: KEY RESEARCH FINDINGS
The global hyper-converged systems market reached the US$ 5 Bn mark in 2019.
Increasing need for cost-effective and seamless software-driven architecture would be vital in molding the growth curve.
Hyper-converged infrastructure appliances would remain highly preferable; server virtualization software to gain traction.
Small and medium enterprises (SMEs) would emerge as key end users of hyper-converged systems.
The BFSI industry would remain the key revenue pocket for the hyper-converged systems market; manufacturing sector to offer potential growth avenues.
North America continues to reflect lucrative opportunities; market players to unfold revenue lines in Europe.
KEY FACTORS SHAPING HYPER-CONVERGED SYSTEMS MARKET GROWTH
Organizations to Leverage Benefits of Software-Defined HCI Platform over Traditional Datacenters
Hyper-converged systems are software-defined systems that combine all the components of a traditional datacenter, i.e. storage, compute, networking, and management, in an effort to reduce data center complexity and increase scalability. The inbuilt capabilities of HCI systems enable ease of use and software-defined storage to yield greater scalability and resource efficiency.
Organizations are mainly preferring to integrate HCI systems, as this offers various features such as agility and security of the private cloud, cost-effective approach to storage, backup, and recovery with data security, and simplified resource management. Thus, increasing adoption of software-defined HCI platforms would propel the growth of the hyper-converged systems market.
The coronavirus (COVID-19) pandemic has triggered nationwide lockdowns and self-quarantine regulations. Almost all IT service companies have enabled remote working or work from home (WFH) until the containment of the virus. As such, several companies have significantly invested in hyper-converged systems, as they allow working professionals to work distantly with in-built virtual desktop infrastructure (VDI) features.
Increasing Demand of Hyper-Converged Systems for Backup and Disaster Recovery
The adoption of hyper-converged systems has been increased over the past few years. Organizations are turning to HCI to simplify complexity for both, hardware and virtualized environments. However, some businesses use hyper-converged solutions for the purpose of disaster recovery. Disaster recovery incidents generally include fire or natural disasters, equipment loss within the data center, component failures, and lack of network connectivity due to networking issues.
HCI systems perform disaster recovery functions to protect against these types of incidents by replicating each VM to a backup server. The systems offers integrated backup and disaster recovery to protect virtualized applications. Thus, the increasing adoption of hyper-converged systems for the purpose of backup and disaster recovery would drive market growth.
North America Hyper-Converged Systems Market to Remain Dominant
In terms of value, the hyper-converged systems market in North America led the global market in 2019, due to the presence of a large number of prominent technology vendors in this region. However, developing regions such as South Asia & Pacific are expected to record high growth rates over the forecast period, owing to increasing adoption of HCI systems in small- and medium-sized enterprises for the purpose of backup and disaster recovery.
Rapid developments occurring in the IT sector and the increasing demand for hyper-converged systems from the government and financial sector are key factors that are predicted to ensure the development of this region in the coming few years.
HYPER-CONVERGED SYSTEMS MARKET - COMPETITION LANDSCAPE
Leading players in hyper-converged systems market are focusing on R&D activities to explore potential growth avenues.
In addition, market participants are increasingly investing in product marketing strategies to reach a broader customer base and increase their worth in the hyper-converged systems market.
Base year considered - 2019
Actual estimates/Historical data - 2015 - 2019
Forecast period - 2020 - 2030
Forecast units - Value (USD) Bn
Segments covered - Component, Enterprise Size, Application, Industry, and Region
Regions covered - North America (US & Canada), Europe (UK, Germany, France, Spain, Italy, Russia, and Rest of Europe), Latin America (Brazil, Mexico, Argentina and Rest of LA), East Asia (China, Japan and South Korea) South Asia & Pacific (India, Thailand, Indonesia, Malaysia, Australia, & New Zealand and Rest of South Asia & Pacific), and MEA (GCC Countries, South Africa, Turkey, Northern Africa, and the Rest of MEA)
Key Players - Pfizer Inc., Allergan, Plc., Alcon Laboratories, Inc., Akron Pharma Inc., and Bausch Health Companies Inc.
Report coverage - Revenue forecasts, COVID-19 impact, company share, competitive landscape, growth factors, and trends
Hyper-Converged Systems Market Share by Industry
Hyper-converged systems tick all the critical boxes the banking, financial services, and insurance (BFSI) industry, such as reducing time in managing infrastructure, as well as ensuring scalability of infrastructure, availability of critical workloads, and disaster recovery (DR). In addition, these systems solve the issue of single-vendor networking infrastructure, as well as reducing operating costs at scale. Moving on, the manufacturing industry is embracing hyper-converged systems to serve the demand for efficient operations and evolving customer expectations.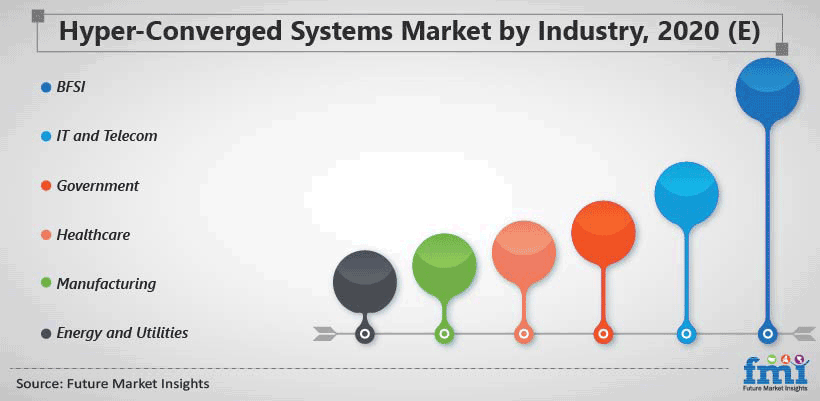 Regional Outlook of Hyper-Converged Systems Market
North America has been the test bed for several tech-driven innovations. The hyper-converged systems market in the region is characterized by the strong presence of prominent technology vendors. By 2030, the regional market would click the US$ 20 Bn mark.
Going forward, market players will also unleash potential revenue lines in South Asia & Pacific, given the increasing deployment of hyper-converged systems in small- and medium-sized businesses (SMBs) for backup and disaster recovery. Moreover, the government and financial sectors are incorporating hyper-converged systems as a crucial aspect in their framework.
Backup and Disaster Recovery - Emerging Application Area for Hyper-Converged Systems
While organizations conventionally leverage hyper-converged systems to reduce complexity for both, hardware and virtualized ecosystems, a few enterprises utilize the infrastructure for backup and disaster recovery.
Hyper converged infrastructure implements disaster recovery functions to avoid incidents such as equipment loss within data centers, components failure, and network connectivity issues, by replicating each virtual machine (VM) to backup servers. The systems offer integrated backup and disaster recovery to protect virtualized applications. As such, players must tap the potential of hyper-converged systems in backup and disaster recovery use cases.
How Growth will Unfold
Hyper-converged systems easily fit into large and small- & medium-sized enterprises (SMEs), although both will reap different benefits. For large enterprises, upgrading their well-established infrastructure with hyper-converged systems is not big a deal, as they do not have budget constraints. On the other hand, the limited IT expenditure of SMEs creates an adoption roadblock for step-change transformations.
For SMEs, simplicity is a cost-saver. While hyper-converged systems require large upfront investments, they ward off several expenses for SMEs in the long haul - licensing costs, separate support costs, and administrative costs. Moreover, the pay-as-you-grow scaling model of hyper-converged systems is attracting huge attention of SMEs.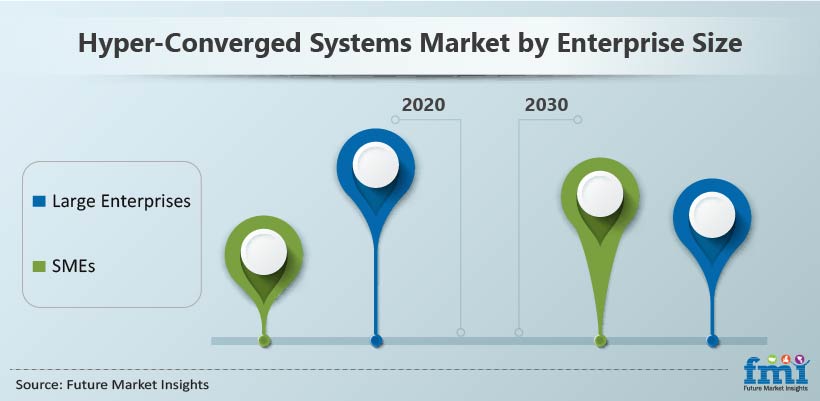 World's Most Profilic Intelligence Engine
Get Access To The World's Largest Market Research Database. Ngage with a revolutionary intelligence engine that scale and pricing that flexes as per your needs
Sign Up Now
HYPER-CONVERGED SYSTEMS MARKET TAXONOMY
The global hyper-converged systems market is segmented in detail to cover every aspect of the market, and present a complete market intelligence approach to the readers.
Component
Hyper-Converged Infrastructure Appliances
Server Virtualization Software
Services
Enterprise Size
Application
Virtualization and VDI
Data Center Consolidation
Remote Office / Branch Office (ROBO)
Backup and DR
Others
Industry
BFSI
Government
IT and Telecom
Healthcare
Energy and Utilities
Manufacturing
Others
Region
North America
Latin America
Europe
East Asia
South Asia & Pacific
Middle East & Africa
Need specific information?