An Incisive, In-depth Analysis on the Industrial Drums Market
This study offers a comprehensive, 360 degree analysis on the Industrial Drums market, bringing to fore insights that can help stakeholders identify the opportunities as well as challenges. It tracks the global Industrial Drums market across key regions, and offers in-depth commentary and accurate quantitative insights. The study also includes incisive competitive landscape analysis, and provides key recommendations to market players on winning imperatives and successful strategies.
The demand for industrial drums is substantially rising among several end-use industries, especially chemicals and materials and petroleum lubricants. As a result of this, several industrial packaging companies have either collaborated with or acquired local as well as international plastic packaging manufacturers. These players are focussing on expanding their product range so as to cater to the demands of multiple end-use industries. There are many infrastructure projects being initiated at the regional level for the integration of regional infrastructure in linking the region's economy through transportation, energy, and telecommunication projects. Such projects have a good road map for the transportation industry. For instance, India-based Time Technoplast Ltd. entered into a joint venture with Nile Egypt Plastech Industries S.A.E. to expand its business in Middle East & Africa. These ventures are likely to proof fruitful in the coming years.
Chemicals and petroleum to lead by 2027 end
The global industrial drums has been segmented on the basis of end user into food and beverages, chemicals and fertilisers, pharmaceuticals, petroleum and lubricants, building and construction, and paints, inks, and dyes, among others. The chemical and fertilisers industry is expected to emerge as the largest end user of industrial drums by the end of 2027 and is likely to account for a share of over 47% in the market in the same year. This growth can be attributed to the growing demand for chemicals and fertilisers from several vertical industries; the expansion of manufacturing activities are further expected to trigger high use of industrial drums in this sector. Moreover, the growth in intercontinental trade of chemicals and fertilisers is anticipated to bode well for the market in the years ahead.
Consequently, the adoption of industrial drums as a packaging solution has increased among industrial users. The industrial drums market has consistently reflected the improvements in product design and value creation for end users. From old design drums to new and improved designs, the global drums market is again witnessing a transition where not only the buyers from developed markets but also from high potential developing markets are posting demand for industrial drums. As the global trade of industrial products has also increased three fold during the past decade, it has necessitated non-traditional industries to use these drums. Some of these industries include bio-chemical manufacturers, food grade ingredient manufacturers, and paints and inks manufacturers, among others.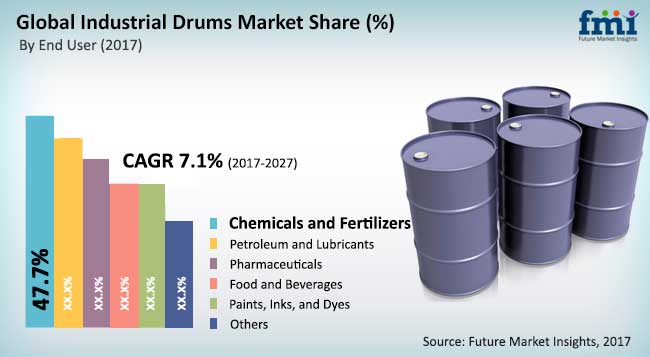 Slow technological adoption to hold back several end-use industries from advance orders
The global market for industrial drums is characterised by the slow adoption of automation technology for the manufacturing of industrial drums. Chemicals, fertilisers, pharmaceuticals, and lubricant producers and suppliers across the globe navigate in a difficult marketplace, where the customer's specific needs are rarely communicated to product developers. Furthermore, supply chain complexities makes it even more difficult, as industrial drums manufacturers are positioned two to three nodes back in the supply chain, where they struggle to refuse the demand variability. Industrial drums manufacturers are also under continuous pressure from the customer's end to reduce product costs while improving overall product offering. Furthermore, the companies operating in the industrial drums manufacturing sector are behind other packaging product manufacturers to adopt technology as well as best practices and influence the market. As a result, the process evolution and supply chain information processes move slowly. This type of laggardness is expected to hold back many end users from ordering industrial drums in advance.
A new report on industrial drums provides perceptive insights on the chronological growth flight of the market along with the present scenario and future prospects of the market. The report offers an exclusive analysis of the global market and also presents insights on regional and other key market segments.
Global Industrial Drums Market: Overview
The report offers a complete summation of the global market for industrial drums including an official abstract that draws out the centre examples progressing in the market. It also discusses on a couple of facets, for example, drivers, obstacles, and predictions that have been found in the global market. It also acquaints readers with figures related to volume, value, and development rate of the market from a growth point of view. With reference to market segmentation, each segment is analysed and presented clearly in the report. The report also provides an assessment in light of the current market condition, and further presents a value chain analysis of the products and applications in concern. A year to year progression of the market has likewise been offered in the report for the reader to be predominantly aware of the altering scenario of the market.
Global Industrial Drums Market: Segmentation
Region

Product Type

Capacity

End User

North America

Latin America

Western Europe

Eastern Europe

Middle East and Africa (MEA)

Asia Pacific Excluding Japan (APEJ)

Japan

Steel Drum

Plastic Drum

Fibre Drum

Up to 100 Litre

100 to 250 Litre

250 to 500 Litre

Above 500 Litre

Food & Beverages

Chemical & Fertilisers

Pharmaceuticals

Petroleum & Lubricants

Building & Construction

Paints, Inks, & Dyes

Other End Uses
Global Industrial Drums Market: Research Methodology
The report is the end result of the cautious research work of the market analysts employing reliable sources. The information introduced has been studied carefully by industry experts. The data that has been presented here has been assembled from various tried and tested sources. The figures have also been checked by the analysts and can be used to settle on key decisions and to formulate strategies.
Global Industrial Drums Market: Competitive Dashboard
The market study conveys an immense outlook on the engaged scene of the overall industrial drums market. It features the competition prevalent among the present vendors in the market and also puts weight on the future circumstances of the market. The profile of the players is based on a SWOT examination sought down by company angle, product portfolio, strategies, finance related information, and year-to-year projections. The organisations have been explored minutely covering their key developments, innovations as well as mergers and acquisitions and agreements with other prominent establishments.
Reasons Why Our Report is Dependable
The reports made by our industry analysts are credible and have been researched and validated from several primary and secondary sources. What makes us unique is the fact that along with presenting an analysis of the market's historical and present scenario, we also present a forecast review of the market for the benefit of our readers. The presentation is exclusive in the form of various charts, tables, and diagrams. Every bit of information present in this market study is unique and based on pertinent facts. Expert opinions are also present in the study that can be directly used by the readers to make future decisions.
Industrial Drums Market Reports - Table of Contents
Akshay Godge
Client Partner - Global Business Development
CASE STUDIES
See how our work makes an impact.
At FMI, we design strategies that are adaptive, impactful, and implementable.