Injectable Benzodiazepine Market By Drug Class (Diazepam, Lorazepam, Midazolam), Time of Action (Short Acting, Long Acting), Indication (Agitation & Aggression, Anxiety, Alcohol Withdrawal, Muscle Spasm), Distribution Channel (Hospital, Ambulatory Surgical centers, Diagnostics Centers) & Region - Forecast to 2020-2030
Injectable Benzodiazepine Market - Analysis, Outlook, Growth, Trends, Forecasts
June 2020

REP-GB-11724

236 pages
Injectable Benzodiazepines Market Outlook & Key Findings
Injectable benzodiazepines market expected to grow at over 2.7 % in 2020. Increasing adoption of generic injectable benzodiazepine drugs to be a key growth driver
Low profitability margin remains a challenge for injectable benzodiazepines market players
Outbreak of Covid-19 to increase the short-term demand for injectable benzodiazepine drugs as anxiety levels increase in general population
Short-acting injectable benzodiazepines gaining traction
Growing Incidences of Mental Disorders to Drive the Market
Injectable benzodiazepine drugs are administered as the first course of treatment with regards to mental disorders like depression, bipolar disorder, schizophrenia, dementia, anxiety disorder, autism.
The WHO, European Brain Council (EBC), and European College of Neuropsychopharmacology (ECNP) state that around 25% of the global population encounters mental disorders at least once in their lifetime.
As per NSDUH (National Survey on Drug Use and Health), in 2017, close to 46.6 million adults suffered from mental disorders (up by 1.5% in 2010) in the US. So, it could be inferred that 18-20% of the people in the US suffer from mental disorders, which are expected to account for the largest share of injectable benzodiazepines market in the forecast period.
As per the WHO, in the year 2017, around 35-40% of people in the EU were affected with mental disorders. Besides, as of 2015, increase in chronic depression resulted in higher absenteeism coupled with lower productivity at work. This lacuna had cost EU US$47.04 Billion Tn 2015.
On the other hand, India, in 2017, accounted for almost 15% of the global neurological, mental, and substance abuse disorders. In Asia-Pacific on the whole, more than 68% of the people are reported to have psychiatric disorders. This figure is expected to have Asia Pacific witness the highest growth rate in terms of injectable benzodiazepines.
As per the Anxiety and Depression Association of America, around 40 million adults of the US get affected by anxiety disorders every year. The medical fraternity states that the number of mental disorders would increase in the near future due to less attention being paid to self-talk.
All the facts mentioned above are expected to drive the injectable benzodiazepines market in the years to come.
Generics Leading the Injectable Benzodiazepine Market Space Over Lower Price Point
Injectable benzodiazepine market is subject to fierce competition due to increasing adoption of generic injectables that prove to be cost-effective as compared to their branded counterparts. As per the Association of Accessible Medicines, branded drugs account for around 77% of the overall spending on prescriptions with merely 10% of those prescriptions getting filled.
Also, in the year 2017, generics saved close to US$ 265 billion through generics. These generics corresponded to treatment for hypertension, ulcer, cholesterol, and mental health.
Generic diazepam, midazolam, and lorazepam drugs are prescribed for seizures, insomnia, and anxiety. These generic medications are expected to boost the injectable benzodiazepines market in the forecast period.
Injectable Benzodiazepines Market Remains Consolidated
The inorganic modes of expansion include technology and distribution agreements, product improvement, and partnerships. These moves are expected to give an impetus to the market in the forecast period.
For instance – Xeris Pharmaceuticals, in Apr 2020, announced positive results out of their Phase 1b weight-based dosing study regarding diazepam intramuscular (IM) injection by using XeriSol technology.
In Dec, 2019, Eton Pharmaceuticals, Inc. announced commercial availability of Biorphen, an injectable benzodiazepine, for treating hypotension.
"SUBLOCADE", a buprenorphine extended-release injection, is available in the US since Mar 2018 post approval from the US FDA for treating OUD (opioid use disorder).
Short-Acting Injectable Benzodiazepines Gaining Traction
Increasing demand for short-acting injectable benzodiazepines due to faster excretion and immediate action is resulting in higher level of supervised administration.
Panic disorders are reported to affect around 2.7% of the US population. Muscle spasm and alcohol withdrawal also call for short acting injectable benzodiazepine drugs.
Plus, feasible scenario relating to reimbursement has made these healthcare solutions affable. These measures are expected to upscale the market in the forecast period.
Covid-19 Crisis to Bolster the Market Short-Term
The outbreak of Covid-19 has raised uncertainties, which have led to the onset of various mental disorders.
For instance – in Italy, the basic concern revolves around managing family and children along with maintenance of own borders and spaces. Developing economies like Brazil aren't getting any active support on the count of addressing mental illnesses. Professional institutions need to come into picture to address this.
In the UK, the worrisome issues include uncertain future, anxiety/stress, and getting bored. Over 63% of the population of the UK is concerned about what is exactly in store for them. This factor is bound to raise the number of cases relating to mental stress.
In countries like India, almost 33% of the entire population has admitted to have a pessimistic impact of Covid-19 as joblessness has set in. Those working on daily wages and also the ones in field jobs have already lost out on their source of income; which is making inroads for depression and anxiety.
In the US, over 30% of people have been reported to get mentally affected by Covid-19. As the future looks bleak, people are getting drawn towards being mentally blank. Along with the professional concerns, there are personal concerns like coping up with the corporate lifestyle. A vacuum is getting created involuntarily; which is adding to the stress.
The factors mentioned above are expected to drive the market for injectable benzodiazepines in the next few months.
Stringent Regulations and Misuse of Injectable Benzodiazepines: Key Challenges to Injectable Benzodiazepines Market
There only a handful of patented injectable benzodiazepines that fall in the "branded" category. As such, procuring and developing the ingredients could prove to be complex. Besides, stringent regulations regarding quality assessment may hamper the market.
Also, intake of these drugs without proper medical advice may prove to be fatal. Since the year 2010, overdose of benzodiazepines has resulted in 6507 deaths in the US. Also, in Sweden, a study was conducted wherein it was revealed that benzodiazepines are the drugs with majority of forged prescriptions.
This factor also proves to be a restraint with respect to the growth of the market.
Injectable Benzodiazepines Market: Region-wise Analysis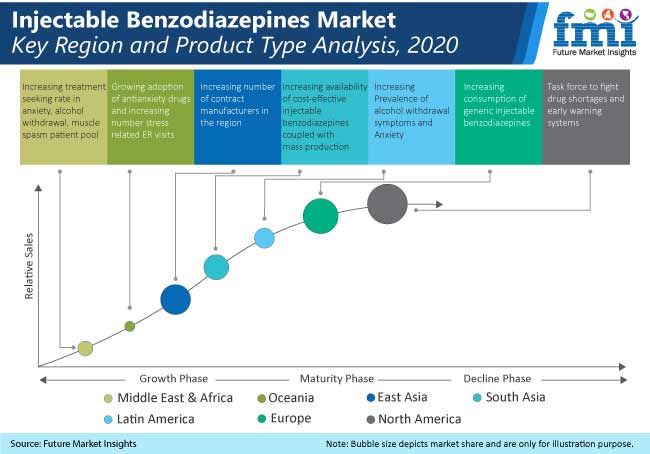 North America and Europe hold the largest market share in injectable benzodiazepines mainly due to increasing adoption of generic injectable benzodiazepines. The US is expected to witness around 2.8% growth in 2020. In Latin America, anxiety and alcohol withdrawal symptoms are driving the market and expected to do so in the forecast period as well.
Asia Pacific is witnessing mass production of generic injectable benzodiazepines, which will facilitate its fastest growth rate in the upcoming period. Oceania and MEA are still in the growth phase.
Leading Players in Injectable Benzodiazepines Market
The injectable benzodiazepines market is in the consolidation phase; with 15+ players involved in extensive research and capacity expansion to maintain a strong foothold in the market.
One such study was conducted in Sweden in Apr 2020 to look into the association between paternal and maternal mental disorders with risk of injuries in the adolescents and children. On the similar grounds, a new study by Boston Medical Center revealed that 1 in 3 people receive medication related to opioid use disorder, that too, within a year of non-fatal overdose of the same. Likewise, studies are being conducted across the globe to look for advantages of injectable benzodiazepines and their application in the broader scenario.
The key players in the injectable benzodiazepines market include:
Americas
Pfizer Inc.
Akorn Inc
Dash Pharmaceuticals LLC
AdvaCare Pharma
Europe
Hikma Pharmaceuticals (West-Ward Pharmaceuticals)
F. Hoffmann-La Roche Ltd
Hameln pharma ltd
Teva Pharmaceutical Industries Ltd. (Actavis Pharma, Inc.)
Accord Healthcare Ltd
Asia Pacific
Sun Pharmaceutical Industries Limited
Taj Pharmaceuticals Limited
Troy Laboratories Pty Ltd
Intas Pharmaceuticals Limited
Martin Dow
*The list is not exhaustive, and only for representational purposes. Full competitive intelligence with SWOT analysis available in the report
Injectable Benzodiazepines: The Way Forward
The injectable benzodiazepines market, in the long run, shows optimism, with FMI's analysis predicting a steady growth rate of 2.7% in the forecast period. Covid-19 pandemic will also see an upswing in the market for the subsequent months. At the same time, growing adoption of generic drugs is another factor providing traction to the market.
The manufacturers are needed to emphasize on production and cost management for addressing drug shortages and also reach out to wider geographies. Auto-injector technology, if put into practice, is bound to reach more number of people within no time. Also, players will have to collaborate with the governments to reform the regulations; so that more such drugs could be tabled.
World's Most Profilic Intelligence Engine
Get Access To The World's Largest Market Research Database.
Sign Up Now
Key Segments of Injectable benzodiazepines Market
FMI's study on the injectable benzodiazepines market offers information divided into three important segments— drug class, indication, time of action, distribution channel, and region. This report offers comprehensive data and information about the important market dynamics and growth parameters associated with these categories.
Drug Class
Diazepam
Lorazepam
Midazolam
Time of Action
Indication
Agitation & Aggression
Anxiety
Alcohol Withdrawal
Muscle Spasm
Seizures
Tetanus
Sedation
Anaesthesia
Insomnia
Status Epilepticus
Distribution Channel
Hospital
Ambulatory Surgical centers
Diagnostics Centers
Region
North America
Latin America
Europe
East Asia
South Asia
Oceania
Middle East and Africa
Need specific information?
Our Clients