Injectable Bulking Agents Market
Market Insights on Injectable Bulking Agents covering sales outlook, demand forecast & up-to-date key trends
Injectable Bulking Agents Market: Global Industry Analysis 2013 - 2017 and Opportunity Assessment; 2018 - 2028
Injectable bulking agents are truly effective for female stress urinary incontinence, new injectable bulking agents show promise with regard to efficacy and durability
Injectable bulking agents are synthetic materials (bovine collagen, or autologous substances) that collaborate with the body's (mainly urinary) regular framework to treat and anticipate unusual stress and urinary incontinence in the body. Injectable bulking agents are injected periurethrally to increase the tissue bulk and thereby increase resistance to the outflow of urine.
The bulking agent is injected into the per urethral tissue in the liquid form that then solidifies into a spongy material to bulk the urethral wall. Owing to the better and thorough understanding of the bio-chemical and physicochemical parameters by pharmaceutical scientists and better patient compliance, injectable bulking agents have gained considerable market share in the recent years. Injectable bulking agents are used as a preferred alternative over conventional surgical procedures and injectable drugs.
Injectable bulking agents treat a useless urethra, this procedure is a negligibly obtrusive technique for revising natural sphincter disorder that outcomes in stretch urinary incontinence yet is being performed less every now and again in current practice. Injectable bulking agents are made of manufactured materials, ox-like collagen, or autologous substances, which expand the urethral divider and increment urethral protection from the urinary stream.
Growing Utilization of Up-to-date Injectable Bulking Agents
The major driver in injectable bulking agents market is the wide adoption of agents especially in the female patients with lower risk. Injectable bulking agents market has seen a steady growth and there is rapid expansion in product pipelines. Also, over the past decade, more patient-friendly, better biomaterial and synthetic form has enhanced demand for injectable bulking agents market.
Its importance is recognized by both the academia and industry. Rising incidences of SUI (stress urinary incontinence) is also gaining traction. The lower efficacy and durability of bulking agents is balanced by low treatment morbidity with a favorable adverse event profile when compared to surgical management.
Injectable bulking agents can help the gathering of patients that is unfit or unwilling to experience surgery for incontinence. The persistent advancement of systems and materials gives a ground to more up-to-date building operators. In like manner, late research has indicated guarantee in the utilization of undifferentiated organisms in periurethral infusions.
Prominent Viability, Wellbeing, and Cost Adequacy of Direct Acting Injectable Bulking Agents
The lower viability and strength of bulking agents is adjusted by low treatment morbidity when contrasted with surgical administration. Infusion is regularly performed through a transurethral approach with endoscopic perception. Injectable bulking agents are more suited to low-to-direct volume SUI and diligent SUI after earlier against incontinence methods.
Geriatric patients with higher risk, or ineffectiveness to intrude on anticoagulation may profit by bulking if different interventions are not attainable. Different signs incorporate youth patients, who may want future pregnancy, or patients with a blend of SUI and deprived bladder emptying.
Regulatory Scenario with New Challenges
Various per urethral injectable bulking agents to treat urinary incontinence have been cleared by the FDA. Nonetheless, new products manufactured to date have not really met all the criteria of the perfect injectable bulking agents internationally. The main FDA-endorsed product was cross-linked collagen (e.g., Contigen).
The bulking agent was observed to be retained after some time and indications could repeat, requiring extra infusions. The manufacturing of Contigen was officially suspended in 2011. Other per urethral injectable bulking agents cleared by FDA for urinary incontinence incorporate carbon-covered dots (e.g., Durasphere), circular particles of calcium hydroxylapatite (CaHA) in a gel bearer (Coaptite, ethylene vinyl alcohol copolymer inserts (e.g., Tegress, in the past Uryx), and polydimethylsiloxane (silicone, macroplastique).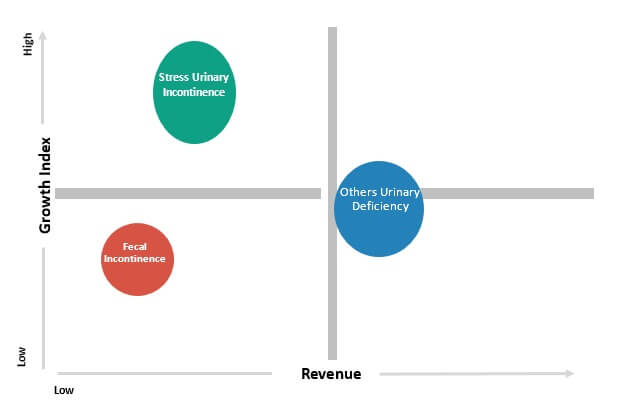 Download Report Brochure
Talk to Analyst
Find your sweet spots for generating winning opportunities in this market.
Talk to Analyst
Regional Outlook
On the basis of regional presence, the global injectable bulking agents market is segmented into six key regions viz. North America, Latin America, Western Europe, Eastern Europe, and Asia Pacific excluding Japan, and Middle East & Africa. North America will continue to dominate the global market due to the availability of advanced technologies and more number of laboratory developed tests. Europe is expected to hold second large market share in the global injectable bulking agents market due to growing prevalence of urinary conditions and fecal incontinence.
Many non-FDA-approved injectable bulking agents are also in use in many developed and developing economies, e.g., dextranomer/hyaluronic acid with injection system is used to deliver the bulking agent in the outpatient clinic setting without need for endoscopy.
Key Market Vendors
Medium- and Large-Scale Manufacturers/Providers
Allergan Plc.
Advanced UroScience
CR Bard
Merz Aesthetics
Cogentix Medical
Q-Med
ASCENTX MEDICAL, INC.
Coloplast Corp
Boston Scientific Corporation
AstraZeneca
Others
Become a MarketNgage Insider
An unified Market Research Subscription Platform, built for today's disparate research needs.
Research Methodology
The market sizing of injectable bulking agents will be done by the adoption data triangulation approach. Demand-side approach will be followed to assess the actual market size of injectable bulking agents. Secondary research will be done at the initial phase to identify the feasibility of the target products/technology categories and its respective segments, product and service offerings in end use facilities, adoption rate and future impact of new technologies.
Additionally, per capita consumption of among end users is tracked at a granular level to obtain the most accurate information. Each piece of information is eventually analyzed during the entire research project which builds a strong base for the primary research information.
Primary research participants include demand-side respondents such as laboratory managers, procurement managers, research supervisors at academic and research institutes, as well as key opinion leaders in addition to supply-side respondents such as equipment and drug manufacturers, custom solution and service providers who provide valuable insights on trends, research application of products and technologies, purchasing patterns, services offered and associated pricing.
The report covers exhaustive analysis on
The report covers exhaustive analysis on
Injectable Bulking Agents Market by route of administration, end user and region
Regional level market analysis of North America, Latin America, Europe, Asia Pacific Excluding Japan, Japan, Middle East & Africa by route of administration, end use segments and country
Injectable Bulking Agents Market Dynamics & Opportunity Assessment
Historical Actual Market Size, 2013 - 2017
Injectable Bulking Agents Market Size & Forecast 2018-2028
Injectable Bulking Agents Current Trends/Issues/Challenges
Competition & Companies involved
The global market for Injectable bulking agents market is segmented on the basis of disease indication, end user and geography
By Disease Indication:
Stress Urinary Incontinence
Fecal Incontinence
Other Female Urinary Deficiency Disorders
By End Users:
Hospitals
Ambulatory Surgical Centers
Clinics
Others
Table of Content
NA
List of Tables
NA
Talk to Analyst
Find your sweet spots for generating winning opportunities in this market.
Talk to Analyst
List of Charts
NA