Introduction
The global interdental cleaning products market continues to reflect steady growth, in spite of moderate production disruptions during early 2020 with the covid-19 outbreak. In addition, potential coronavirus therapies, and treatment involving multiple drugs could aggravate oral conditions, potentially creating market opportunities.
The rise of the market can be attributed to growing oral health consciousness among consumers, efforts towards preventive dental care, government initiatives towards advanced oral health awareness, and investments into product research and development by leading market players. Higher risk of bacterial growth on surfaces between teeth, and the launch of specialized products for the issue support growth prospects.
On the other hand, some of the major challenges associated with the sales and adoption of interdental cleaning products is a lack of awareness in rural regions and developing countries, coupled with complexities associated to product usage. The use of ergonomic designs and electric technologies could gain greater traction in the near future.
Support from Government Oral Health Initiatives
Government initiatives and legislation is critical to not only increase access to interdental cleaning aids, but also to boost user awareness. Legislative efforts such as the Older Americans Reauthorization Act of 2016, and proposed legislation such as Action for Dental Health Act of 2015 in the United States could provide significant impetus to the adoption, sales, and prescriptive use of interdental cleaning products.
It is essential for policy makers and dental health planners with resources of training and qualifications to develop effective oral health policy. Collaborations between governments and professional dental organizations are critical to reach a large number of potential users. For instance, the Health Ministry of India has joined hands with the All India Institute of Medical Sciences to launch a digital oral health awareness program called e-DantSeva.
Covid-19 Changes Demand Patterns
The coronavirus pandemic has had a moderate impact on the interdental cleaning products sector. Disruptions in supply chains during early 2020, and health and safety measures in production facilities have been problems for industry participants.
Further, the pandemic has changed patterns of consumer demand. Hygiene products including interdental cleaning devices have witnessed upswings in sales. In addition, stockpiling practices and consumer behavior towards oral health is expected to sustain growth and operations through the crisis. However, uncertainty continuing over the duration of the global pandemic limits market scope in the short term.
Key Challenges
According to the American Society on Aging, oral healthcare has largely been ignored in the development of public policy. This is particularly true in terms of insurance coverage for the elderly, which often leads to wider ranging health complications arising from oral health issues. Problems arise as dental care is often viewed distinctly from general healthcare.
Also, populations in rural areas and in developing countries are less aware about the availability of interdental cleaning product options. Further, the complexity of using interdental cleaning products such as flosses effectively, in comparison to conventional oral care devices such as toothbrushes, is also considered a challenge to market growth.
Products such as interdental cleaning brushes come in varying sizes, and can potentially cause damage to oral surfaces in cases of incompatibility with patient mouth shapes and size, making professional prescriptions necessary in fixed cases. Also, strict regulations and slow approval of new products in the industry can also hinder market growth prospects.
Region-wise Analysis
North America Interdental Cleaning Products Market
North America led by the United States are likely to prove lucrative to interdental cleaning products market players throughout the forecast period. The region is estimated to account for close to 25% of the overall global market share.
The regional market has benefited from growth in consumer disposable incomes and the resultant demand for advanced product offerings including electric interdental brushes and breath strips. In addition, the presence of dental clinics with access to better oral care infrastructure is expected to bolster market growth for the foreseeable future.
According to research from the American Dental Association, a fourth of adult respondents in the region are embarrassed and experience anxiety owing to oral health conditions. Oral issues are most common among young adults and low-income groups and contribute to market growth in the long term.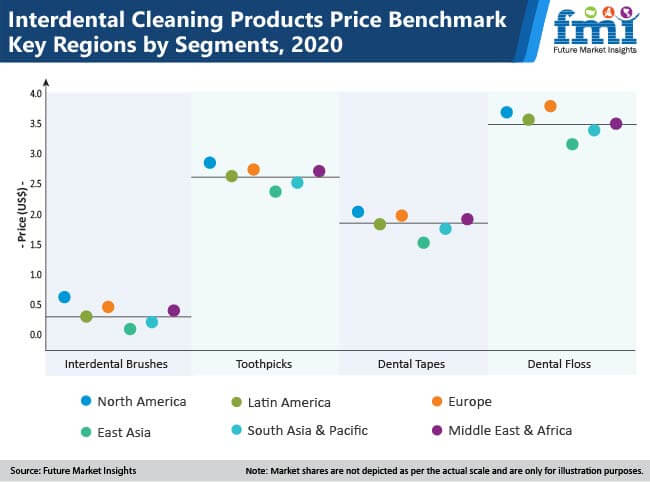 Request a sample specific to North America market
East Asia Interdental Cleaning Products Market
South Korea and Japan have developed effective systems to provide their populations with oral healthcare services and products. These countries have increased focus towards better reimbursement policies, in addition to setting up awareness and behavior awareness campaigns. Policies are aimed towards disadvantaged groups such as the elderly or low-income families will aid in higher adoption rates. Also, the relatively higher importance being given by South Korean consumers to physical aesthetics will support growth.
China on the other hand has set out a blueprint of the Healthy China 2030, which focuses on overall health services, and infrastructure including optimized facilities for dental care. This includes including oral health examinations as a part of the conventional physical examination. It also includes the integration of intervention measures for oral disease to prevent associated chronic ailments, and favorable government support oral health industries to keep up with patient demand. The markets for interdental cleaning products in East Asian countries will benefit from free, government funded dental checkups, and education towards the importance of maintaining dental health.
Request a sample specific to East Asia market
Europe Interdental Cleaning Products Market
Across Europe, oral hygiene is gaining traction contributing to use of toothbrushes. However, a growing number of consumers are also adopting specialist interdental cleaning tools such as mouthwashes, floss, and interdental brushes.
Consumers in the UK and Germany are major contributors to oral care product demand. Difficulty in using products such as interdental brushes remain a major challenge towards adoption. With a greater number of people preferring mouthwashes instead.
Elderly populations in the region are more likely to adopt interdental cleaning products to minimize the risk of dental problems, and the need for dentures. European consumers for more tailored solutions to meet individual needs. Electric technologies will gain greater traction in the region through the forecast period.
Request a sample specific to Europes market
Category-wise Insights
Water Flossers High in Demand
In terms of product type, interdental cleaning products are available in a number of options including interdental brushes, dental tapes, toothpicks, and interdental cleaning floss. Of these options, water flosser has been found to reflect higher demand.
Water flossers are gaining ground on the back of recommendations from dental health professionals towards options with nylon or monofilament options. In addition, innovations in these products towards the incorporation of flavors will aid growth. However, toothpicks are also likely to remain popular owing to cost benefits.
41-65 Years Age Group Record Increasing Demand
Manufacturers develop interdental cleaning products for all age groups including 0-6 years, 7-19 years, 20-40 years, 41-65 years, and above 65 years. The consumer demographic between 41 and 65 years reflects faster adoption of interdental cleaning products. Higher oral health awareness and better access to dental health infrastructure support demand in the long term.
In addition, the higher risk of dental ailments and tooth loss among the elderly, is also a key contributing factor to sales of specialized dental care tools. Access to higher disposable incomes will aid growth in demand.
Mass Variants Remain Widely Popular
Interdental cleaning products can come in mass/economy or premium pricing structures. Of these, mass variants are expected to witness higher adoption, especially in terms of interdental cleaning floss sticks and toothpicks, owing to the disposable nature of these products.
The challenge of marketing premium priced options has been taken up by manufacturers through value addition strategies, such as flavor options in dental floss, and customization in interdental brushes.
Offline Sales Channels Remain Dominant
Offline sales account for most revenue from interdental tooth cleaners. Pharmacies and supermarkets are reflecting high growth owing to penetration into most places, and easy access to consumers around the globe.
On the other hand, online sales through the e-commerce sector is displaying strong growth on the back of shopping apps, wider product range, and better offers, which is anticipated to continue growing alongside the penetration of the internet.
Competitive Landscape
The interdental cleaning products market is largely fragmented, and companies are observed investing in product launch strategies. According to FMI analysts, portfolio and geographical expansion with strategic partnerships and acquisitions are key to market players seeking to consolidate their market position through the forecast period. Further, CSR initiatives such as awareness campaigns and dental care programs will gain attention.
DenTek Oral Care Inc. is a major player in the interdental cleaning products market, which has acquired the Canker Cover and Oramoist brands and portfolio from Quantum Health to widen their product line in conjunction with interdental brushes, floss picks, and tongue cleaners among others. The company has also revealed the acquisition of Orabrush brand of oral care products.
Oral-B has partnered with Crest and the Hispanic Dental Association, with a dental health care program aimed towards awareness about oral health among the United States Hispanic community, with an emphasis on preventive healthcare.
Ranir LLC has been acquired by Perrigo Company plc for a value of US$ 750 million. The company is a global leader in private label products and consumer brands such as Rembrandt and Plackers for a range of products including interdental toothbrush heads, whiteners, flosses, and interdental brushes.
In addition to these, some of the other leading pharmaceutical plastic packaging manufacturers are:
Trisa AG
TePe Plackers
Colgate Palmolive Company
DentalPro
M+C Schiffer GmbH
The 3M Company
The Humble Co
Curaprox
The Procter & Gamble Co.
Johnson & Johnson
The list is only indicative – full list of interdental cleaning products market key players is available upon request.
Interdental Cleaning Products Industry Report: Scope
| | |
| --- | --- |
| Attribute | Details |
| Forecast Period | 2020-2030 |
| Historical Data Available for | 2015-2019 |
| Market Analysis | USD Million for value |
| Key Regions Covered | North America, Latin America, Europe, South Asia & Pacific, East Asia, Middle East & Africa |
| Key Countries Covered | US, Canada, Brazil, Mexico, Germany, U.K., France, Italy, Spain, China, Japan, South Korea, India, Thailand, Malaysia, Indonesia, Australia, New Zealand, GCC Countries, Northern Africa, South Africa |
| Key Segments Covered | Product Type, Age Group, Price Range, Sales Channel, and Region |
| Key Companies Profiled | Trisa AG, TePe Plackers, Lion Corporation, Colgate-Palmolive Company, DenTek Oral Care Inc., DentalPro, M+C Schiffer Gmbh, The 3M Company, The Humble Co., Curaprox, The Procter & Gamble Company, Johnson & Johnson (only indicative list) |
| Report Coverage | Market Forecast, brand share analysis, competition intelligence, DROT analysis, Market Dynamics and Challenges, Strategic Growth Initiatives |
| Customization & Pricing | |
Key Questions Answered by the Report
What is the interdental cleaning products market size?

The interdental cleaning products market size is estimated to reach US$ 2.4 billion in 2020. The projected growth rate for interdental cleaning products market will be over 5% CAGR during the forecast period (2020-2030).

Which is the largest market for interdental cleaning products?

North America is the largest market for interdental cleaning products worldwide. Growing popularity of products such as electric toothbrushes and fresh breath strips, coupled with higher disposable incomes among consumers support growth.

Which are the top companies in interdental cleaning products market?

Johnson & Johnson, Trisa AG, The Procter & Gamble Company, TePe Plackers, Curaprox, Lion Corp., The Humble Co., Colgate-Palmolive Co., The 3M Company, DenTek Oral Care Inc., M+C Schiffer GmbH, and DentalPro are among the prominent market players.

What are the uses of interdental cleaning products?

Interdental cleaning products are gaining traction with the rise in health consciousness among consumers, and the growing awareness about the necessity to clean surfaces between teeth, which are at higher risk of bacterial growth.

In what varieties are interdental cleaning products available?

Manufacturers make interdental cleaning products available in four types – interdental brushes, toothpicks, interdental dental tapes, and dental floss. The production and demand of interdental toothpicks is relatively higher than the others.

What is the outlook on the Asian interdental cleaning products market?

Key markets such as China and India have been identified as lucrative regions for interdental cleaning products. Government initiatives towards dental health care awareness and free dental check-ups drive the industry here.

How has the global market for interdental cleaning products evolved in the past 4 years?

Interdental cleaning products manufacturers have been increasingly investing in research and development initiatives, aimed towards product launch strategies in a highly competitive market. Consequently, there has been limited growth scope for small scale players a new entrants.
Key Segments
Product Type
Interdental Brushes
Toothpicks
Dental Tapes
Dental Floss
Age Group
0-6 years
7-19 years
20-40 years
41-65 years
Above 65 years
Price Range
Sales Channel
Wholesalers and Distributors
Online Retailers
Hypermarkets/Supermarkets
Pharmacies/Drug Stores
Specialty Stores
Convenience Stores
Others
Regional Outlook
North America (U.S., Canada)
Latin America (Mexico, Brazil, Rest of LATAM)
Europe (Germany, U.K., France, Italy, Spain, Rest of Europe)
East Asia (China, Japan, South Korea)
South Asia & Pacific (India, Thailand, Malaysia, Indonesia, Australia, New Zealand, Rest of South Asia)
Middle East & Africa (GCC Countries, Northern Africa, South Africa, Rest of MEA)
Need specific information?