KEY FACTORS INFLUENCING JERRY CANS MARKET GROWTH
Companies Establishing New Manufacturing Bases in Southeast Asia
Key factors bolstering the demand for bulk industrial packaging containers such as jerry cans include high performance of manufacturing sectors and implementation of industrial outputs. The low cost of manufacturing in Southeast Asian countries such as Indonesia, Vietnam, and Philippines led manufacturers across the globe to move their production facilities to countries in this region.
Jerry cans are not a part of military and industrial usage but they are extensively used for packaging of household and agricultural products, chemicals, and sanitary supplies. Jerry can manufacturers are focusing on new product launches and innovations to strengthen their consumer base. Overall, the global outlook of the global jerry cans market is expected to remain positive during the forecast period (2019 – 2029).
One of the leading providers of jerry cans and industrial containers, Barrier Plastics Inc., introduced a new product named 'Baritainer' (Kortrax Barrier Resin Containers). Advantages of Baritainer include lightweight and safe packaging properties for solvent-based liquids, which is an alternative for glass and metal.
Availability of Cost-effective Counterparts
IBCs (intermediate bulk containers) account for lower costs of storage and transportation of fluids as compared to drums. The round shape of drums uses up a significant space, whereas IBCs ensure maximum space utilization. The above factor may hinder the growth of the global jerry cans market.
Moreover, IBCs are capable of completely draining liquids, which is not possible in case of jerry cans, as significant residues are left at the bottom. Chemical and beverage industries are thus switching to IBCs, which in turn, is expected to be one of the restrains for the metal jerry cans market in the near future.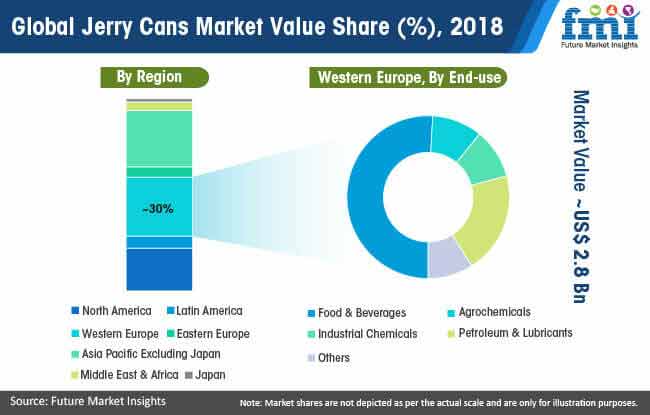 JERRY CANS MARKET STRUCTURE ANALYSIS
This study covers some of the prominent companies operating in the global jerry cans market, including Time TechnoplastLtd., Greif Inc., Scepter Canada Inc., SCHÜTZ GmbH & Co. KGaA., ParekhplastIndia Limited, Barrier Plastics INC., Yates Steels Pvt. Ltd, WERIT KunststoffwerkeW, KaduJaya Perkasa, and Plastic Container Packaging Corporation. Jerry cans are extensively used for applications such as storing and transporting vegetable oils, juices, and milk. Leading manufacturers are thus eying opportunities in the food & beverages industry.
Some of the recent developments in the competition landscape of jerry cans market include –
In 2017, the Time Technoplast Ltd acquired leading industrial packaging company in UAE – Elan Incorporated FZE, Sharjah.
In March, 2018, the Barrier Plastics INC. formed a partnership with CKS Packaging and BP Polymers (BPP), to manufacture high density polyethylene (HDPE) rigid plastic containers by utilizing BPP's "Quoral Barrier Resin" technology.
In December, 2018, the SCHÜTZ GmbH & Co. KGaA partnered with the France-based company named Duo Packaging Group, a leading provider of plastic drums, IBCs, plastic jerry cans and metal jerry can.
In February, 2019, Time Technoplast Ltd. was recognized with the prestigious "The Economic Times Polymer Awards", winning the top awards in two different categories.
In February, 2019, the Greif, Inc. completed the acquisition of Caraustar industries, a market leader in manufacturing high-quality recycled materials and paper products.
In April, 2019, SCHÜTZ GmbH & Co. KGaA expanded its network in China with third production site. Also, it strengthens its presence in Singapore with its new Reco plant.
In August, 2019, the SCHÜTZ GmbH & Co. KGaA new, ultra-modern plant in Karawang started its operation. The company continues to invest in its worldwide steel drum production network.
Key Questions Answered by the Report
What is the size of the jerry cans market?

The jerry cans market is expected to grow at a steady 5% CAGR between 2019 and 2029. The market reached a US$ 2.8 billion valuation in 2018.

Which is the largest market for jerry cans?

Western Europe is a major market for jerry cans. Growing production, consumer spending and exports of edible oils is a key factor supporting regional growth.

Which are the top companies in jerry cans market?

Plastic Container Packaging Corporation, Time Technoplast Ltd., KaduJaya Perkasa, Greif Inc., WERIT KunststoffwerkeW, and Scepter Canada Inc. are among the key market players in the global jerry cans market.

What are the applications of jerry cans?

Jerry cans find extensive use in the food and beverage sector for bulk storage and retail food packaging formats. The market is also gaining demand through oil and petroleum, chemical, sanitary supplies, and agriculture product storage applications.

From what materials are jerry cans produced?

Manufacturers produce jerry cans from 2 materials – metal and plastic. The production of plastic jerry cans has grown relatively higher on the back of odor reduction and leak proof properties.

What is the outlook on North America jerry cans market?

Evolving industrial trends, growth in consumer spending and improvements in manufacturing technologies drive demand for jerry cans in North American markets in the long term.

What are the key challenges and scope of improvement for market players?

The easy and cost-effective availability of alternatives such as intermediate bulk containers for storage and transport and associated cost benefits is anticipated to be the major challenge for manufacturers in the near term.
Jerry Cans Market: Segmentation
The global jerry cans market is segmented in detail to cover every aspects of the market and present a complete market intelligence approach to readers.
Material
Capacity
Below 10 Litres
10 - 25 Litres
Above 25 Litres
End Use
Food & Beverages

Vegetable Oil
Juices & Milk
Others

Agrochemicals
Industrial Chemicals
Petroleum & Lubricants
Others
Region
North America
Latin America
Western Europe
Eastern Europe
APEJ
MEA
Japan
Need specific information?