Paint Cans Market By Product Type (Metal Cans, Plastic Cans, Hybrid Cans), Material (Plastic, Metal), Capacity (1000 ml and below, 1001 – 2000 ml, 2001 – 3000 ml) & Region - Forecast to 2021- 2031
Paint Cans Market - Analysis, Outlook, Growth, Trends, Forecasts
July 2021

REP-GB-6677

150 pages
Paint Cans Market Snapshot
Future Market Insights (FMI) in its latest market analysis forecasts that the paint cans market will manifest a year-on-year (YoY) growth rate of 4% in 2021.
The market is set to register a CAGR of 4.1% between 2021 and 2031, reaching the market valuation of 4.7 Bn by 2021 end. The global sales of paint cans are expected to reach up to 10,086 Mn Units by 2021 end.
Metal paint cans dominate the paint cans market. This can be attributed to the growing awareness regarding negative impacts of plastic products along with various features offered by metal cans.
Key Points Covered in Paint Cans Market Study
Market Estimates and Forecast 2016-2031
Key Drivers and Restraints Impacting Market Growth
Segment-wise, Country-wise, and Region-wise Analysis
Competition Mapping and Benchmarking
Brand share and Market Share Analysis
Key Product Innovations and Regulatory Climate
COVID-19 Impact on Paint Cans Market and How to Navigate
Recommendation on Key Winning Strategies
2016-2021 Paint Cans Market Demand Outlook in Comparison to 2021-2031 Forecast
With increasing demand for paints across various sectors, the paint cans market is estimated to register a CAGR of 4.1% during the forecast period, reaching a valuation of 4.7 Bn by 2021 end.
The global paint cans market is mainly driven by the increasing construction and infrastructural spending along with the rising consumption of exterior paints. Besides this, the increasing demand for wall decor by consumers is acting as the catalyst for the growth of the market.
Paints are being extensively used as protective coatings against water and sun for walls, metal fixtures and wooden structures. Increasing utilization of paints is creating the demand for better packaging solutions. As a result, there is an upsurge in the sales of paint cans.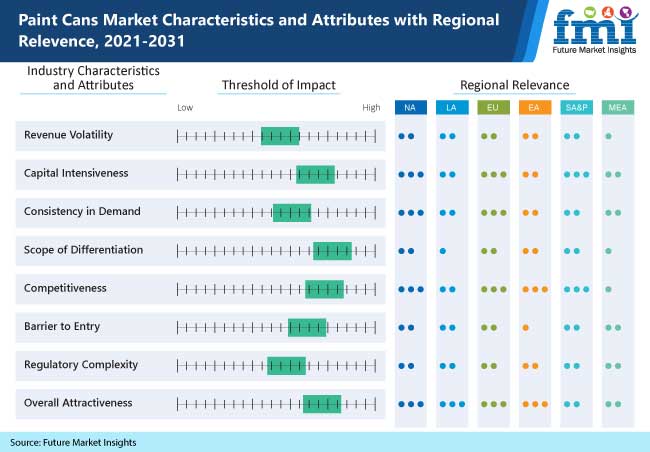 Paint cans are the most dominant form of paint packaging. They prove highly effective for preserving and transporting various types of paints due to their rigid structure and impact resistant features. In addition, they are more durable than their counterparts.
Growing population, rising disposable income and improving living standard of people are expected to accelerate the demand for paint cans further during the forecast period. Variety of paints are being adopted to increase the aesthetic beauty of buildings. Consumers are preferring paint cans as compared to their counterparts.
Increasing demand for paints across various sectors such as automotive, general industries, marine, furniture is supporting the growth of paint cans market.
Technological advancements have led to the development of ecofriendlypaint cans with efficient materials. Manufacturers have taken initiatives to integrate sustainability into their manufacturing facilities.
Metal cans dominate the global paints cans market due to their various features such as recyclability.. Rising environmental concerns along with implementation of stringent regulations is expected to create lucrative growth opportunities for manufacturers of metal paint cans.
Key Companies operating in the paint cans market are focusing on organic growth strategies such as product launches and product approvals. They have adopted various strategies such as mergers and acquisitions, advanced product development and collaborations to gain a competitive edge in the market.
For instance, in April 2021 Mauser Packaging Solutions acquired Global Tank Srl to extend the offering of industrial packaging products and services in the Italian market.
Similarly, in Oct. 2018 Brittpac Launched new range of PET paint cans using rPET.
Paint Cans Market - Outlook
The global paint cans market is anticipated to accelerate at a moderate CAGR during the forecast period. A significant boost to the paint cans market is from the fact that packaging is no longer about the look but about the value of convenience, transportation, and storage. As a result, steel and aluminium remain highly sought-after materials for the manufacturing of painting cans.
Growth in the demand for spray paints has been recorded in the automotive industry, on the back of the increasing inclination for personalization and maintenance activities. This could act as a deterrent to the growth of the paint cans market during the forecast period.
In addition, the possibility of air transmission of coronavirus reestablished trust among individuals regarding paint cans away from spray paints, which is likely to uphold the sales during the forecast period. However, the demand for paint could decrease during the pandemic, owing to the lockdown imposed in different geographies across the world.
Besides this, the rising demand for paint cans from the eCommerce portals further require cans that are transportation-friendly. Since paint cans are more convenient to transport than their counterparts, their sales are likely to gather momentum.
Also, numerous developing countries are involved in the export of paint cans to developed countries, which could increase the demand for sustainable packaging materials. As a result, paint cans will find high relevancy.
Among the other crucial growth drivers, an increase in the construction, as well as industrial spending, could lead to an uptick in the sales. Besides this, manufacturers are trying to use different materials to offer the convenience of packaging to the end-use industries. Among the other materials, steel and plastic can be recycled, and so, they are highly used for the production of the paint cans.
Despite the drop in the demand during the influence of COVID-19, the paint cans market is likely to return to normalcy once the vaccine is developed and distributed.
Metal Cans to Remain Top-selling, Despite Their High Cost
According to a new study, the global paint cans market will reportedly expand at a moderate CAGR during 2021-2031. While paint cans market will remain a low-volume low-value landscape, revenue expansion has been slated at an average 4% CAGR throughout the projection period.
Paint cans are the most dominant form of paint packaging, across the globe. Over the years, paint cans have been available in a variety of configurations, wherein metal has been the most used material. Until the early 2000s, metal paint cans used to account for more than 90% of the total containers used to store paint. However, plastic and hybrid paint cans started to witness growth in popularity causing a significant shift in consumer preference for plastic paint cans.
To start with, plastic paint cans are lighter than their metal counterparts. Furthermore, plastic paint cans were quickly accepted as they are easy to decorate and could be used as efficient brand advertisement tools. Also, plastic paint cans ensure more consumer convenience.
Stringent Regulations Might Cause Effective Re-penetration of Metal Paint Cans
The study shows that despite the growth in market share of plastic paint cans in the initial years, the number of manufacturers of metal paint cans is more than those of plastic paint cans. This is due to the growing awareness regarding the use of plastic products, given their adverse effects on the environment. Metal paint cans are mostly made of steel, out of which, around 25% is recycled steel.
In the coming years, implementation of stringent rules and regulations against the use of plastic are expected to cause stagnation in the plastic cans market. In addition, there are paint packaging solutions other than paint cans made out of plastic such as bottles and pails, which are also available in the market. FMI analysis indicates that despite the above factors, metal cans will continue to be preferred for the next 10-12 years owing to their high recyclability and durability.
High Durability of Paint Cans to Encourage their Sales
Plastic paint cans lack the rigid build of their metal counterparts. During our analysis, it was found that while plastic industrial pails and cans are widely used, they are not likely to exceed their metal counterparts in terms of performance. Metal paint cans, specifically the ones that are made of steel or tin-plated steel paint cans are designed to be hard wearing. They are known to remain intact in some of the most demanding conditions.
In addition, there are a number of paints which cannot be stored in plastic containers. For instance, some solvent-based paints do not come in plastic paint cans as they can react with the plastic surface causing damage to both the paint and the can.
Emerging countries such as India and China, are expected to be significant contributors to the growth of the global and Asia Pacific market, during the forecast period. In 2018, India was estimated to have accounted for 11.1% of the total global paint cans market, by value. The cumulative emerging countries paint cans market is forecast to expand by 79% of its current value, by the end of 2031.
Europe's construction industry has been a prime paint consumer and thus, an important market for pain cans manufacturers as well. It is more likely that Europe will represent a collective share of more than 60%, with South & East Asia, in the global paint cans market value estimated for 2021.
Intense Market Competition Projected to Shape Paint Cans Landscape
The intensity of competition is expected to be high in the market, during the forecast period. Currently, very small number of manufacturers of plastic paint cans are present in the market, and there is a very less likelihood of any new entrant in the plastic segment, barring the Tier 3 players. There have been several attempts by top players to work on the design of metal cans as they are not known to be very consumer convenient and are relatively heavier.
Companies such as Crown Holdings are working closely with manufacturers of paint cans to develop and innovate convenient technology for paint cans. Crown came up with their easy lid closure technology, which attempts to ease the handling of specialty packaging products and paint cans.
Paint Cans Market - Report Scope
Attribute

Details

Forecast Period

2014-2017

Historical Data Available for

2018-2027

Market Analysis

US$ Mn for Value and Mn Units for Volume

Key Countries Covered

U.S, Canada, Brazil, Mexico, Argentina, Rest of Brazil, Germany, Rest of Latin America, U.K., France, Italy, Spain, Rest of Europe, Nordic, BENELUX, Russia, Thailand, Indonesia, Malaysia, ASEAN, Japan, India, China, South Korea, Rest of South Asia and East Asia, Australia, New Zealand, GCC, North Africa, Israel, Turkey, South Africa, Rest of MEA

Key Companies Profiled

RPC Group Plc.
Silgan Containers LLC
Kian Joo Can Factory Berhad
Colep Portugal, S.A.
BWAY Corporation (MAUSER Packaging Solutions)
National Can Industries Pty. Ltd.
Allied Cans Limited
Aaron Packaging, Inc.
Allstate Can Corporation
Lancaster Container, Inc.
Baltic Packaging A/S
Envases Universales Group
P. Wilkinson Containers Ltd.
Sarten Ambalaj Sanayi Ve Ticaret A.S.
KW Plastic Inc.

Report Coverage

Market Overview, Key Market Trends, Key Success Factors, Demand Analysis, Market Background, COVID-19 Analysis, Segmental Analysis, Regional Profiling, Market Structure & Competition Analysis

Customization & Pricing

Available Upon Request
World's Most Profilic Intelligence Engine
Get Access To The World's Largest Market Research Database.
Sign Up Now
Key Segment
By Product Type:
Metal Cans
Plastic Cans
Hybrid Cans
By Material Type:
Plastic

High Density Polyethylene (HDPE)
Polypropylene (PP)

Metal
By Capacity:
1000 ml and below
1001 – 2000 ml
2001 – 3000 ml
3001 – 4000 ml
4001 ml and above
Regional Analysis:
North America
Latin America

Brazil
Mexico
Argentina
Rest of Latin America

Europe

Germany
Italy
France
U.K.
Spain
Benelux
Russia
Rest of Europe

South & East Asia

India
Thailand
Indonesia
Malaysia
China
Japan
South Korea
Rest of South & East Asia

Oceania
Middle East and Africa (MEA)

GCC Countries
Turkey
Israel
Northern Africa
South Africa
Rest of MEA

Emerging Countries
Key Questions Answered in the Report
How much is paint cans market worth?
The global paint cans market is estimated to be worth US$ 4.7 Bn in 2021.
What is the demand outlook for paint cans market?
With growing demand for paints in construction and automotive sectors, the paint cans market is expected to grow at a CAGR of 4.7% between 2021 and 2031.
At what rate did paint cans market grow in the last five years?
The Paint cans market grew at 3.5% CAGR in the last five years, from 2016 to 2020.
What are the key trends shaping the paint cans market?
Manufacturing of small capacity cans for decorative applications and introduction of light and cost-effectivepaint can materials are some of the key trends prevailing in paint cans market.
What is the market share of top 5 players?
The combined share of top 5 players is about 15-20%of the overall market.
What is the North America paint cans market outlook?
North America market is expected to register a CAGR of 2.7%during the forecast period.
At what rate will the paint cans market grow in Europe?
The Paint cans market in Europe is expected to register a CAGR of 3.1% between 2021 and 2031.
Which countries are the key producers of paint cans?
The U.S., China, India, Japan and Germany are the key producers of paint cans.
Which are the key exporters of paint cans?
The key exporters of paint cans are China, Germany, U.K, Japan and the U.S.
What is the paint cans market statistics in South Korea and Japan?
As per FMI, the market share value of South Korea and Japan is 11% and 23%respectively, in East Asia region.
Need specific information?
Our Clients