Introduction
Paint additives are special ingredients, which improve the functionality, performance, and quality of paints. Paint additives help in modifying the properties of paints for improving the viscosity, impact resistance, flow control, anti-chipping, gloss control, foam reduction, and increasing efficacy of paints. To enhance the finishing, and ensure durability of the coated film, the coating formulation is blended with small amount of paint additives.
High Demand for Multifunctional Additives will Propel Growth of the Market
Although paints & coatings industry has witnessed a declined growth owing to pressure by environmental regulations, the manufacturers are endlessly focusing on reformulation of their products. As a result, novel additives continue to witness a surge in demand. A major factor favoring expansion of the industry is soaring demand for multifunctional additives, which provide same performance level as that of individual additives.
Employed in paint formulations, multifunctional additives help in achieving the desired durability, gloss, and other properties of final film. Along with cost reduction, multifunctional additives simplify the overall formulating process. In addition, by reducing the quantity of additives needed, multifunctional additives help the aqueous system remain in compliance with safety standards, and perform well. The aforementioned factors are expected to drive growth of the market in the upcoming years.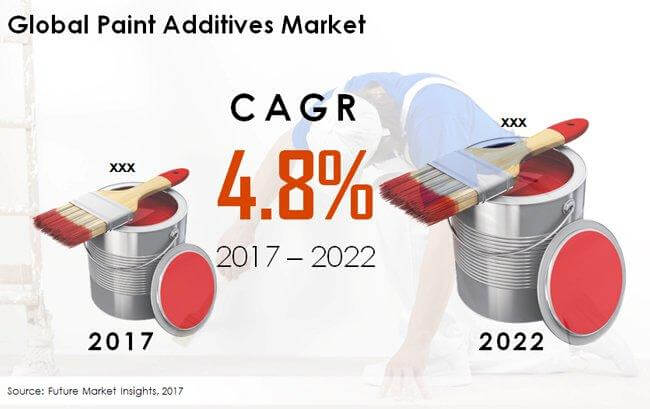 Rapid economic expansion in most of the developing economies has resulted into robust architectural construction and industrial activities. This has created a high demand for paints, thereby fuelling significant demand for paint additives. Vendors of insulating paint additives are making huge investments in research and development activities for reducing the operation and manufacturing cost of paint additives.
These vendors are now concentrating on new technologies, and product extensions for offering products with enhanced properties and better efficiency. Primarily, vendors are aiming on maintaining their competitive edge in the paint additives market through product differentiation and innovation. These factors will further augment the demand for paint additives in the near future.
A new report by Future Market Insights (FMI) has anticipated a steady expansion for the global paint additives market throughout the forecast period 2017 to 2022. Global sales of paint additives are expected to reach approximately US$ 9,000 Mn in revenues by 2022-end.
Europe will Remain Dominant in the Market
Europe is expected to continue its dominance in the global paint additives market, in terms of revenues. Sales of paint additives in Europe are expected to account for nearly one-third revenue share of the market in 2017. However the region will witness a decline in its market share over the forecast period. Between North America and Japan, the former will account for larger revenues, while the latter will register a comparatively higher CAGR through 2022.
On the basis of product type, metallic additives and urethanes are expected to register the fastest expansion in sales through 2022. Revenues from sales of urethanes and metallic additives are collectively expected to exceed US$ 3,000 Mn by 2022-end.
Solvent-based Paint Additives to Remain Sought-after in the Market
By formulation type, solvent-based paint additives are expected to remain sought-after among end-users in the global paint additives market. Sales of solvent-based paint additives across the globe are expected to surpass US$ 5,000 Mn in revenues by 2022-end.
Paint additive are expected to witness the largest application in rheology modification, owing to their higher efficiency in improving thickness and viscosity of coated surfaces. Rheology modification process is utilized by various industries as they enable formulators in changing the flow or structure of materials.
Based on end-users, industrial segment will continue to exhibit the fastest expansion through 2022. Anti-corrosion property of paint additives is a major factor driving their demand for industrial end-use. There has been a rise in utilisation of paint additives in formulation processes for various industries including steel, electrical & electronics, and household appliances.
Company Profiles
Key players considered by FMI's report that are actively participating in the global paint additives market are Akzo Nobel NV, Arkema SA, Ashland Global Holdings, Inc., BASF SE, BYK-Chemie GmbH, Asahi Glass Co., Ltd., Dow Chemical, Evonik Industries AG, Arch Chemicals, Lonza Group AG, and Daikin Industries, Ltd.
Market Taxonomy
The report considers key market segments that are portrayed with a taxonomy table. The global paint additives market is segmented on the basis of product, end-user, application, formulation type, and region. The report offers a comprehensive analysis on each of these market segments.
Region
North America
Latin America
Europe
Japan
APEJ
MEA
Product Type
Acrylics
Fluoropolymers
Urethanes
Metallic Additive
Others (epoxy, polyalkyds, and amines)
Formulation Type
Solvent Based
Water Based
Application
Rheology Modification
Biocides Impact Modification
Wetting & Dispersion
Anti-Foaming
Others (Flexibility, curing, slip & rub, and so on)
Industrial
End Use Industry
Automotive
Architectural
Wood & Furniture
Others
Need specific information?