About the Report
The metal cans market went through a negative phase amid the spread of the Covid-19 crisis. The sales level in this market witnessed a downturn creating potential losses for the global manufacturers. As the condition is normalizing in 2021 due to strong and stringent government efforts, the top manufacturers are trying to recuperate the losses incurred through product diversifications and innovations.?
Leading corporations including Silgan Holdings, Crown Holdings, Ardagh;Packaging, Rexam, Can-Pack, HUBER Packaging, Kian Joo Can Factory Berhad, Toyo Seikan, Tetra Laval International, Trinity Holdings, Can Smart (PTY), Anheuser-Busch, Independent Can, Berlin Packaging, Caira Can, SKS Bottle & Packaging, Amcor, Sonoco Phoenix, and others are making high investments in the establishment of research institutes in different regions to come up with improvements in their offerings.
They are adopting business strategies such as sales contracts, strategic alliances, acquiring technical expertise, product approvals, patents and events, joint ventures, partnership agreements, collaborations, digital marketing, mergers and acquisitions, capacity utilisations, technological advancements, etc to lead the global metal cans market with largest market share.?
For instance, Amcor has announced the signing of a partnership agreement with Alliance. The partnership aims at ending the plastic Waste (the Alliance) at Executive Committee level. This partnership also aligns with Amcor's 2025 Sustainability Pledge to develop all the recyclable packaging.
Amcor's commitment to better waste management and recycling infrastructure will be supported by the partnership.
In addition to this, in January 2020, Ardagh;Group announced its new facility in Huron to start manufacturing its metal cans. The company planned to manufacture beverage cans in multiple sizes for a variety of categories, including sparkling water, soft drinks, teas, and alcoholic beverages, in the new facility.?
In terms of growth, the North American region is projected to dominate the market during the forecast period owing to rising demand for various healthy beverages, carbonated soft drinks, health drinks, and sucralose juices. The Asia Pacific and European regions are expected to be lucrative owing to the emergence of new players. All the other key regions are driving the market growth and opening various opportunities for manufacturers to retain their position throughout the course of the forecast period.
Focus of Manufacturers Shifting from BPA Linings to Acrylic & Polyester for Metal Cans to Ensure Safety
Metal can manufacturers are continuously seeking alternatives to bisphenol-A (BPA) linings, to eliminate health hazards associated with the chemical. BPA linings are now being replaced with new linings produced using polyester and acrylic. According to the Can Manufacturers Institute, 90% of food cans have replaced linings and percentage continue to increase with committed research and testing to find new alternatives.
Both acrylic and polyester are tested and cleared by regulatory agencies. Moreover, these linings protect food from bacteria and maintain flavor, freshness, and food quality. Continuous efforts of manufacturers in the development of next-generation linings are also helping them meet sustainability goals, significantly reducing food waste that forms the largest component of landfill streams.
Manufacturers' Preference to Incline toward Aluminum Beverage Cans as a More Eco-Friendly Option
Aluminum cans are witnessing increased penetration into the metal cans market, upheld by their higher recyclable rate. Relative sustainability of aluminum as a base material has further led metal can manufacturers toward using the material, thereby meeting consumer demand for green products and packaging.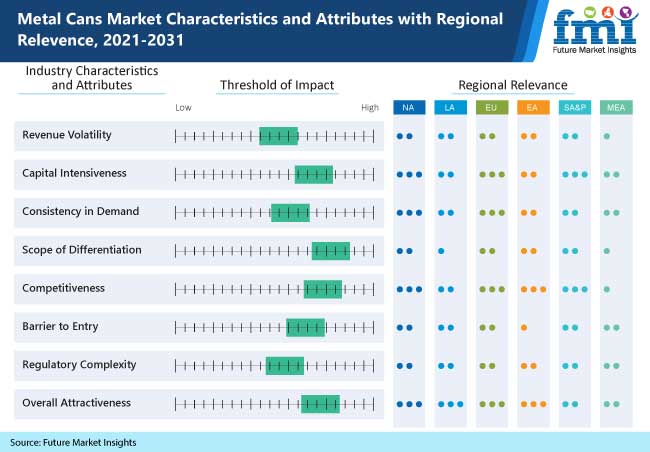 Manufacturers are using recycled material to produce new aluminium cans as it leads to 95% less greenhouse gas emission and also uses 95% less energy, according to Can Manufacturers Institute. As per the report by Packaging Machinery Manufacturers Institute (PMMI), more than 6,000 microbreweries in the US are moving to aluminium cans.
Advent and Gradual Rise in Adoption of Bio-Based Plastic to Hinder Demand for Metal Cans
Increased use of bio-based plastic in food & beverage packaging has emerged as a key challenge for metal can manufacturers. Key beverage producing companies such as Coca-Cola and PepsiCo have entered into partnership with bio-based chemical manufacturers for the development and use of bio-based plastic as a relatively cost-efficient and sustainable packaging alternative.
Additionally, packaging industry is witnessing a gradual shift from use of polymer-based packaging materials to polyethylene terephthalate (PET) blended with bio-based plastic. Growing adoption of bio-based plastic in the packaging industry, particularly for food & beverage, points at confined future prospects for metal cans.
Manufacturers Put Greater Emphasis on Modified Metal Can Designs to Improve Quality and Gain Consumer Attention
Adoption of innovative techniques for printing labels and images on metal cans is currently a key focus are of metal cans manufacturers, to gain consumer attention and boost their product sales. New metal cans designs can result in higher engagement and offer product-containing advertisement to the consumer.
Metal cans manufacturers are using unique and special finish with the help of thermochromic ink, photochromic ink, noon inks, and matte OV for designing purpose. Temperature sensitive finishing materials such as thermochromic ink let consumers know when beverage has reached the perfect temperature for consumption, while photochromic ink changes color when exposed to light.
Additionally, digital printing on metal cans is also gaining traction as it offers eye-catching colors and striking visuals.
Metal Cans Continue to Witness Robust Demand in the Food Industry
Organised retail industry has witnessed a significant growth in the recent past, which in turn has driven the demand for various packaging options in the food industry, and metal cans are no exception. Proliferation of canned food and beverages in organised retail stores is backed by prolonged shelf life and preservation of nutritional value of food products linked with the canned packaging.
In addition, increasing dependence of vendors on organised retailers for their product sales and market penetration continues to underpin demand for metal cans in organised retail stores. Wider range of options to choose from has led consumer preference to shop from modern trade channels, which in turn will continue to create demand for metal cans in the near future.
Competitive Landscape
Occupancy of few established players, who collectively hold majority share of the metal cans market, has made nature of the market to be highly consolidated. Mergers & acquisitions continues to remain a key expansion strategy among established as well as new market players alike.
Metal Cans Market: Segmentation
Region
North America
Latin America
Europe
Japan
APEJ
MEA
Material Type
Fabrication Type
Two Piece Can
Three Piece Can
Application
Alcoholic Beverages
Non–Alcoholic Beverages (Aerated and Non-Aerated Beverages)
Processed Dairy Food Products
Other Processed Food Products
Edible Oil
Medicinal Tablets and Syrups
Personal Care and Cosmetic Products
Industrial Chemicals
End User
Food & Beverages
Pharmaceutical Industry
Consumers Goods
Chemical
Need specific information?