An Incisive, In-depth Analysis on the Metal Cans Market
This study offers a comprehensive, 360 degree analysis on the Metal Cans market, bringing to fore insights that can help stakeholders identify the opportunities as well as challenges. It tracks the global Metal Cans market across key regions, and offers in-depth commentary and accurate quantitative insights. The study also includes incisive competitive landscape analysis, and provides key recommendations to market players on winning imperatives and successful strategies.
Key Insights- Metal Cans Market
Focus of Manufacturers Shifting from BPA Linings to Acrylic & Polyester for Metal Cans to Ensure Safety
Metal can manufacturers are continuously seeking alternatives to bisphenol-A (BPA) linings, to eliminate health hazards associated with the chemical. BPA linings are now being replaced with new linings produced using polyester and acrylic. According to the Can Manufacturers Institute, 90% of food cans have replaced linings and percentage continue to increase with committed research and testing to find new alternatives. Both acrylic and polyester are tested and cleared by regulatory agencies. Moreover, these linings protect food from bacteria and maintain flavor, freshness, and food quality. Continuous efforts of manufacturers in the development of next-generation linings are also helping them meet sustainability goals, significantly reducing food waste that forms the largest component of landfill streams.
Manufacturers' Preference to Incline toward Aluminum Beverage Cans as a More Eco-Friendly Option
Aluminum cans are witnessing increased penetration into the metal cans market, upheld by their higher recyclable rate. Relative sustainability of aluminum as a base material has further led metal can manufacturers toward using the material, thereby meeting consumer demand for green products and packaging. Manufacturers are using recycled material to produce new aluminium cans as it leads to 95% less greenhouse gas emission and also uses 95% less energy, according to Can Manufacturers Institute. As per the report by Packaging Machinery Manufacturers Institute (PMMI), more than 6,000 microbreweries in the US are moving to aluminium cans. Moreover, packaging waste recovery data released by Environmental Agency revealed that aluminium cans had hit 72% recycling rate in 2017 in Europe.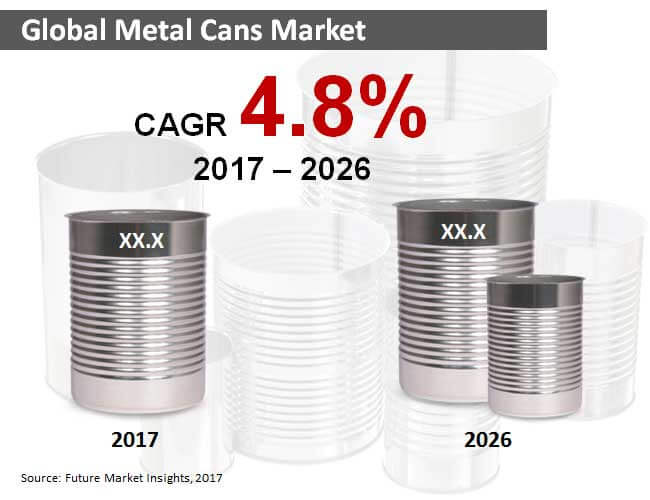 Advent and Gradual Rise in Adoption of Bio-Based Plastic to Hinder Demand for Metal Cans
Increased use of bio-based plastic in food & beverage packaging has emerged as a key challenge for metal can manufacturers. Key beverage producing companies such as Coca-Cola and PepsiCo have entered into partnership with bio-based chemical manufacturers for the development and use of bio-based plastic as a relatively cost-efficient and sustainable packaging alternative. Additionally, packaging industry is witnessing a gradual shift from use of polymer-based packaging materials to polyethylene terephthalate (PET) blended with bio-based plastic. The European Bioplastics Association in its latest study indicated the global bioplastics production to reach approximately 6.1 tonnes by 2021. Growing adoption of bio-based plastic in the packaging industry, particularly for food & beverage, points at confined future prospects for metal cans.
Manufacturers Put Greater Emphasis on Modified Metal Can Designs to Improve Quality and Gain Consumer Attention
Adoption of innovative techniques for printing labels and images on metal cans is currently a key focus are of metal cans manufacturers, to gain consumer attention and boost their product sales. New metal cans designs can result in higher engagement and offer product-containing advertisement to the consumer. Metal cans manufacturers are using unique and special finish with the help of thermochromic ink, photochromic ink, noon inks, and matte OV for designing purpose. Temperature sensitive finishing materials such as thermochromic ink let consumers know when beverage has reached the perfect temperature for consumption, while photochromic ink changes color when exposed to light. Additionally, digital printing on metal cans is also gaining traction as it offers eye-catching colors and striking visuals.
Metal Cans Continue to Witness Robust Demand in the Food Industry
Organised retail industry has witnessed a significant growth in the recent past, which in turn has driven the demand for various packaging options in the food industry, and metal cans are no exception. Proliferation of canned food and beverages in organised retail stores is backed by prolonged shelf life and preservation of nutritional value of food products linked with the canned packaging. In addition, increasing dependence of vendors on organised retailers for their product sales and market penetration continues to underpin demand for metal cans in organised retail stores. Wider range of options to choose from has led consumer preference to shop from modern trade channels, which in turn will continue to create demand for metal cans in the near future.
Competitive Landscape
Occupancy of few established players, who collectively hold majority share of the metal cans market, has made nature of the market to be highly consolidated. Mergers & acquisitions continues to remain a key expansion strategy among established as well as new market players alike.
In March 2018 Berlin Packaging acquired H. Erben Ltd., the England-based supplier of packaging and packaging equipment. With Erben acquisition, the combined company will have a stronghold in Europe. The acquisition is also likely to benefit customers and suppliers of Berlin and Erben.
Rexam PLC was acquired by Ball Corporation in 2016 for approximately $6.1 billion. The acquisition resulted in making Ball Corporation the largest manufacturer of beverage cans globally.
A new report on metal cans provides perceptive insights on the chronological growth flight of the market along with the future prospects and present scenario of the market. The report offers an exclusive analysis of the global market and also presents insights on regional and other segments.
Metal Cans Market: Overview
The report offers a complete summation of the market including an official abstract that draws out the centre examples progressing in the market. It also discusses on a couple of facets, for example, drivers, obstacles, and predictions that have been found in the global market. It also acquaints readers with figures related to volume, value, and development rate of the market from a growth point of view. With reverence to market segmentation, each segment is analysed and presented in the report. It also gives an assessment in light of the market condition, and moreover presents a value chain analysis of the products and applications in concern. A year to year progression of the market has likewise been offered in the report for the reader to be predominantly aware of the altering scenario of the market.
Metal Cans Market: Segmentation
| Region | Material Type | Fabrication Type | Application | End User |
| --- | --- | --- | --- | --- |
| | | | | |
| | | | Non–Alcoholic Beverages (Aerated and Non-Aerated Beverages) | |
| | | | Processed Dairy Food Products | |
| | | | Other Processed Food Products | |
| | | | | |
| | | | Medicinal Tablets and Syrups | |
| | | | Personal Care and Cosmetic Products | |
| | | | | |
Metal Cans Market: Research Methodology
The report is the end result of the cautious research work of the market analysts employing reliable sources. The information introduced has been studied carefully by industry experts of FMI. The data that has been presented here has been assembled from various tried and tested sources. The figures have also been checked by the analysts and can be used to settle on key decisions and formulate strategies.
Metal Cans Market: Competitive Dashboard
The market study conveys an immense outlook on the engaged scene of the overall metal cans market. It features the rivalry prevalent among the present vendors in the market and also puts weight on the future circumstance of the market. The profile of the players is based on a SWOT examination sought down by company angle, product portfolio, strategies, finance related information, and year-to-year projections. The organizations have been explored minutely covering their key developments, innovations as well as mergers and acquisitions and agreements with other prominent establishments.
Reasons Why Our Report is Dependable
The reports made by our industry analysts are credible and have been researched and validated from several primary and secondary resources. What makes us unique is the fact that along with presenting an analysis of the market's historical and present scenario, we also present a forecast review of the market for the benefit of our reader. The presentation is exclusive in the form of various charts, tables, and diagrams. Every bit of information present in the market research report is unique. Expert opinions are also present in the study that can be directly used by the readers to make future decisions.
COVID -19 : Impact Analysis
Request the coronavirus impact analysis across industries and markets
Request Covid -19 Impact
CASE STUDIES
See how our work makes an impact.
At FMI, we design strategies that are adaptive, impactful, and implementable.