Joint Compound Market By Product Type (Ready Mix, Setting Type, Drying Type), End Use (Residential Construction, Commercial Construction, Institutional Construction, Industrial Construction), Application (New Construction, Refurbishments) & Region – Forecast 2021 - 2031
Joint Compound Market - Analysis, Outlook, Growth, Trends, Forecasts
September 2021

REP-GB-2442

250 pages
Joint Compound Market Snapshot
[250 pages Report] Future Market Insights (FMI's) latest study predicts impressive growth for joint compound market through 2031. Despite challenges posed by unprecedented COVID-19 outbreak, the market is set to register 4% year on year growth in 2021. Overall joint compound sales will total US$ 1.87 Bn in 2021 amidst surging applications within the construction sector.
Joint Compound Market Key Points
Joint Compound Market estimates and forecast 2016-2031
Key drivers and restraints impacting market growth
Segment-wise, Country-wise, and Region-wise Analysis
Competition Mapping and Benchmarking
Brand share and Market Share Analysis
Key Product Innovations and Regulatory Climate
COVID-19 Impact on Joint Compound Market and How to Navigate
Recommendation on Key Winning Strategies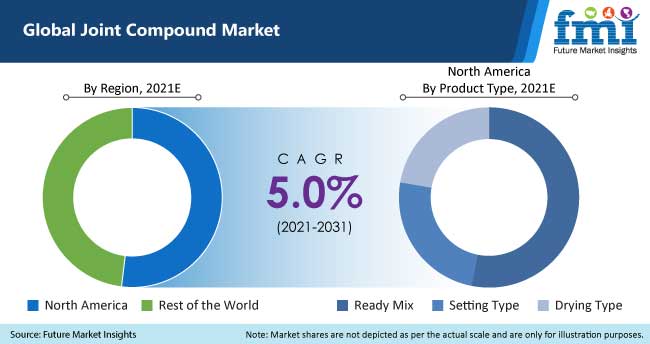 Joint Compound Market Outlook 2016-2020 Compared to 2021-2031 Forecast
Newly released data by FMI shows that global demand for joint compound market is expected to total 1,164.1 Kilotons in 2021. Construction application is expected to grow 3.6% to surpass 674.1 Kilotons in 2021, while the demand in refurbishments segment will be up by 4.1% to 490.0 Kilotons.
Over years the global joint compound market has experienced a healthy growth. According to latest study conducted by Future Market Insights, demand increased at 1.1% during the historical assessment period of 2016-2020. The rather slow rate of growth in this period is attributable to the demand slump witnessed in the year 2020 owing to the global outbreak COVID-19 pandemic.
Joint compounds are used with paper or fiber joint tape to seal joints between sheets of drywall, to create a seamless base for paint on interior walls. The steady rise in the construction sector coupled with the expanding urbanization and population expansion are the primary drivers of the joint compound market's growth.
The global joint compound market is expected to gain from the increase in construction activities in North America and South Asia Pacific, which would result in increased demand for new residences and commercial structures. Thus the study states that the joint compound market is set to exhibit a healthy growth at a CAGR of 5.0% during the forecast period of 2021-2031.
What Is the Impact of Increasing Population on the Joint Compound Market?
Increasing residential construction and rising need for renovation of older residential infrastructure due to increase in population and family size in Asia Pacific and others regions are expected to create demand for the global market of North America.
Urbanization and increased disposable income are the macroeconomic factors, driving the global joint compound market. Due to a number of benefits of a joint compound including being simple to use, its hand-applying basic textures, and skim coating are also contributing to the global joint compound market.
What Is the Impact of COVID-19 Crisis on Joint Compound Market?
Lockdown imposed across various countries has negatively impacted the market. Limited production and transportation-related delays owing to travel restriction created obstacles amid the pandemic.
Disruption in the residential construction sector and supply chain of building materials with no labor in hand and suspension of various construction permits have all led to the overall market of Joint compound growth to decline.
Joint Compound Market Country-wise Insights
How Big is the Opportunity for Joint Compound Market in India?
India is predicted to remain one of the most attractive markets during the forecast period, according to Future Market Insights. According to the study, India is expected to account for over 37.3% of the South Asia Pacific market through 2031.
The construction spending in India is one of the main factors supporting the market growth. Some of the key drivers propelling the construction sector in India include technological advancements, regulatory regulations, and government requirements.
Furthermore, increasing urbanization, higher expenditure on infrastructural development, and affordable housing projects makes it a lucrative market for Joint compound manufacturers.
Why is Demand for Joint Compound increasing in the Russia?
Demand in the Russia market is expected to rise at nearly 4.4% CAGR over the forecast period.
High government spending for various construction projects coupled with the 6.3 trillion-ruble ($87.5 billion) modernization plan to revamp the country's highways, airports, railways, ports and other transportation infrastructure through 2030, are all set to drive the growth in the global market for Joint compound.
What is Driving Joint Compound Market in China?
China is on its way to becoming the largest single construction industry over the next decade. By 2031, it is expected to account for over 80.6% of Joint compound sales within East Asia.
Manufacturers in the country have a competitive advantage as they have access to cutting edge research to address the unmet challenges. Additionally, they are constantly investing in R&D in order to get a hold on for more product lines and varieties for Joint compound that can help with the changing trends of the construction industry and needs for its end consumers.
Additionally, growing population and high rate of urbanization is also affecting the needs for more residencies and infrastructure like new airports and malls, which in turn are also aiding to the development of the market of joint compound in the country.
According to Statista, in 2020, the construction industry value in China amounted to 1,049 billion U.S. dollars. As the government has planned to focus on improving the infrastructure in small and medium-sized cities.
This can prove to be a major driver for the Chinese joint compound market to flourish in the coming assessment period.
How are Government Initiatives Boosting Joint Compound Sales in the U.S.?
In 2021, the U.S. market is projected to account for over 96% of the sales in North America. Demand for joint compound in the country is anticipated to grow by 3.7% year on year in 2021, bucking initial skepticism about the how the market would perform in a pandemic year.
Government initiatives undertaken to revive the economy with huge investments in the construction sector especially for sustainable and green building construction as well as with the rising U.S. spending on private construction, for residential and non-residential buildings have in turn benefitted the market of Joint compound as it made of an eco-friendly material, Gypsum and is light weight with the added benefit of being cost effective.
For instance, according to U.S. Census Bureau, in 2020, 912,000 single-family homes and 375,000 multifamily units were completed. Additionally, 123,000 contractor-built single-family homes were started in 2020. Also, US producers/manufacturers are expecting to extend their business through consolidation and acquisitions with different organizations.
For instance, in 2018, LATICRETE acquired the remaining interest in the joint venture LATICRETE SUPERCAP, LLC. LATICRETE and SUPERCAP had previously formed a joint venture in 2012 to bring revolutionary products and technology, first introduced in the northeastern United States, into a broader market.
Joint Compound Market Category-wise Insights
Why the Demand for Ready Mix Type In Joint Compound Continuously Rising?
Based on product type, ready mix is the leading category, accounting for nearly 56.9% of the market in 2021.
Ready mix type in joint compound is rising as it has extensive properties such as easy to apply with low maintenance, lightweight, can be used as a seamless base or even for repair, contains some binder and fillers and allows for more compaction which in turn makes it the most preferred type among other different product types.
Why Is New Construction Preferred As The Key End Use?
New construction is estimated to dominate and account over 58% of the market by 2031. Rise in the economic activities in various regions, steady growth of residential construction and renovations across North America and Asia Pacific and government spending on the infrastructure development will drive sales.
The market will also gain from macro-economic factors such as the rise in population and urbanization, which are increasing construction activities, especially for new construction of homes and commercial buildings.
Will Refurbishments and Renovation Remain Leading Application for Joint Compound?
The refurbishments segment is estimated to hold for a revenue share of more than 42% in 2021 owing to rising awareness regarding energy efficient and green renovation projects. Besides this, inclination towards do-it-yourself projects, rising need for light-weight materials like gypsum and simple to use features like filling of cracks, cover seams, cracks, or holes in ceilings, walls, and other surfaces are helping the boost of the sales of joint compound.
Will Residential Construction Segment Remain Leading End User?
The residential construction segment is expected to contribute maximum revenue share of nearly 50% in the global Joint compound market.
Home developers are now investing considerably in new construction and interior design projects to suit technology-driven lifestyle and growing urbanization. The construction industry has changed drastically with a rise in the use of gypsum-based materials.
As a multi-factor solution, drywalls are a go-to alternative for industry leaders searching for various methods to minimize environmental impact and ever-increasing electricity expenses. By providing load-fixing strength, robustness, and fire safety for interior spaces, drywall solutions are setting new standards in the building industry.
Furthermore, it is also benefitting the need for Joint compounds as these compounds are used to finish gypsum panel joints, corner bead, trim and fasteners, as well as skim coating for drywall construction.
Joint Compound Market Competitive Landscape
Companies operating in Joint compound market are aiming at strategic collaborations and strategic partnerships with other manufacturers to expand their product manufacturing and address the demand of an expanding patient pool.
For instance, in 2018, Laticrete acquired the remaining interest in the joint venture LATICRETE SUPERCAP, LLC. LATICRETE and SUPERCAP formed a joint venture in 2012 to bring revolutionary products and technology, first introduced in the northeastern United States, into a broader market.
In 2020, Saint-Gobain acquired El Volcan Soluciones Constructivas (approximately €20 million in sales) in Peru, a company specializing in the production and sale of plasterboard.
Manufacturers are also focusing on the expansion of manufacturing facilities globally to maintain their global presence.
For instance, in 2020, Georgia-Pacific announced that it is constructing a cutting-edge gypsum wallboard manufacturing facility near Sweetwater, Texas. The new $285 million plant in Nolan County will be GP's second gypsum wallboard facility.
Scope of Report
Attribute

Details

Forecast Period

2021-2031

Historical Data Available for

2016-2020

Market Analysis

USD Million for Value

Key Regions Covered

North America, Latin America, Europe, East Asia, South Asia Pacific and the Middle East & Africa

Key Countries Covered

US, Canada, Germany, Brazil, Mexico, UK, France, Italy, Spain, Germany, Russia, BENELUX, China, Japan, South Korea, India, ASEAN, ANZ , GCC, Turkey and South Africa

Key Segments Covered

Product type, End Use, Application and Region

Key Companies Profiled

DAP Products Inc.
Solid Products, Inc.
ProForm Finishing Products LLC
Compagnie de Saint-Gobain S.A.
Supermastick S.A.S
Hamilton Drywall Products
ASG Plaster
India Gypsum Pvt. Ltd
Chiyoda UTE Co. Ltd
Continental Building Products
Knauf Gips

Report Coverage

Market Forecast, Company Share Analysis, Competition Intelligence, DROT Analysis, Market Dynamics and Challenges, and Strategic Growth Initiatives

Customization & Pricing

Available upon Request
World's Most Profilic Intelligence Engine
Get Access To The World's Largest Market Research Database.
Sign Up Now
Joint compound Market by Category
By Product Type:
Ready Mix
Setting Type
Drying Type
By End Use:
Residential Construction
Commercial Construction
Institutional Construction
Industrial Construction
By Application:
New Construction
Refurbishments
By Region:
North America
Latin America
Europe
East Asia
South Asia Pacific
Middle East and Africa (MEA)
Key Questions Answered in the Report
Which Is the Highest Grossing Joint compound Market?
North America is the highest grossing global joint compound market. North America currently accounts for almost 51% market share worldwide.
Which is the Top-selling Product in the Joint compound market?
Ready mix will remain top-selling product in the market, accounting for over 57.9% of revenue generated by 2031.
Which are some of the leading companies offering Joint compound?
Some of the leading companies in this landscape are USG Boral, Compagnie de Saint-Gobain S.A., Knauf Gips, ProForm Finishing Products, LLC (National Gypsum), Continental Building Products and many others are identified as Key Players in the global joint compound market.
What is the market share of leading companies operating in the joint compound market?
Top players are expected to account for 65% to 70% of the global market in 2021.
What is the demand outlook for joint compound by application type?
In terms of application type, new construction activities are anticipated to total US$ 669.0 million for 2021.
Who is the leading end user of joint compound?
Residential construction is expected to dominate the market over the forecast period.
Who are the key exporters of joint compound?
Mexico, Brazil, Spain, China, and Turkey are the key exporters of joint compound.
Who are the leading producers of joint compound?
The U.S., Spain, China, Russia, Brazil, and Mexico are leading producers of joint compound.
What is the Europe market outlook for joint compound sales?
Demand in Europe is expected to increase at 4.3% CAGR between 2021 and 2031.
What is the joint compound market outlook for South Korea and Japan?
South Korea will account for 1.9% of the global joint compound market, while Japan will hold a share of 2.4% in 2021.
Need specific information?
Our Clients