Compound Semiconductor Materials Market Outlook and Key Findings
Sales of compound semiconductor materials to reach around US$ 2.4 Bn in 2020
GaS and GaN to remain preferable materials for developing compound semiconductors
Asia Pacific (APAC) to remain epicenter of growth opportunities through 2030
Notable rise in EV sales to set high hopes for manufacturers
Market players to focus on acquiring their peers to achieve economies of scale
Adoption to Rise as Industries Turn to 5G Connectivity
Despite finding immense usage in various end-use applications such as sensor systems, wind turbines, and military systems, the growth of global compound semiconductor market is majorly underpinned by the telecommunication industry.
5G connectivity is offering huge opportunities for compound semiconductor manufacturers for telecom applications. Growth of telecommunication industry is primarily driven by rising demand for radio frequency (RF) semiconductor devices. Further, the telecom sector is making rapid advances in both developed and developing regions across the globe.
Technological shift from 3G to 4G/LTE and now into 5G connectivity has escalated network traffic through smartphones and triggered increased network interferences across communication channels. Usage of compound semiconductor materials is scaling up in wireless communication, given their high efficiency and speed over silicon-based semiconductors.
As the telecom industry move towards deployment of 5G connectivity, RF content used per smartphone is likely to shore up, thus, translating into increased demand for compound semiconductor materials and devices.
In an effort to fulfil the requirements for 4G and 5G including, linear and saturated efficacy, it is quintessential to incorporate power amplifiers developed with compound semiconductor materials and devices. As such themes gain momentum, players in compound semiconductor materials market are well-placed for better returns.
Overview
This market report takes into account:
Historical data and projections
Recent industry trends and dynamics
Regional prospects
Competitive intelligence
Market player revenue shares
Compound Semiconductor Materials Market Trends – GaAs to Remain Material of Choice
With smartphone transition from 4G to 5G connectivity, gallium arsenide (GaAs) is expected to be mainstream technology for sub-6GHz rather than complementary metal oxide semiconductors (CMOS).
FMI finds that compound semiconductor materials derived from GaAs are considered to be the sole technology that can fulfil rising power level and linearity requisites specified by reductions in antenna board space as well as MIMO technology and carrier aggregation.
Given its high power efficacy and distinct optical properties, GaAs is gaining an edge over silicon-based semiconductors and, as such, is finding use in LEDs, lasers, and solar cells for Internet of Things (IoT), 5G, and smart automobiles.
Moving forward, growth in optoelectronics industry is to fuel the demand for GaAs-based semiconductor materials over decade ahead. These materials feature huge band gaps, and thus are prevalent in optoelectronics for short-wavelength use cases.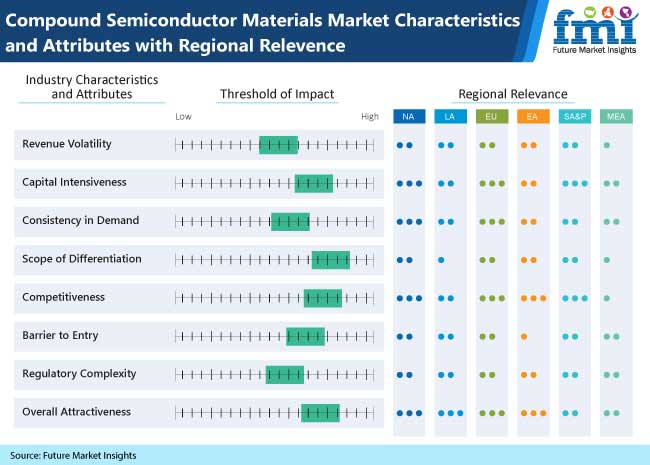 Compound Semiconductor Materials Market Regional Analysis – APAC Continues to Attract Significant Investments
Players in compound semiconductor materials market continue to tap into Asia Pacific (APAC) for value-capture opportunities. The regional market is majorly driven by surging integrated circuit (IC) production in China, which is poised to see significant growth in production by 2023.
China represents the APAC market, as the country leads the global semiconductor market. This is attributable to cost-effective manufacturing practices in the country, further reducing overall operational expenses (OPEX) and boosting profit margins.
Moving ahead, growth of electronics manufacturing industry as well as huge subsidies for large-scale LED capacity build-up in China is further driving compound semiconductor materials market in APAC. That said, visible drop in semiconductor production due to COVID-19 pandemic is expected to have a severe impact on demand for compound semiconductor materials in APAC.
The markets in North America and Europe are receiving impetus from rising demand from end-use industries, especially automotive, in the US, and the UK. Manufacturers across continents are striving to increase their focus on target market by coming in near proximity to the regions, thus, leading to acquisitions and capacity expansions.
Going forward, emergence of tech-driven trends such as electrification of vehicles, artificial intelligence (AI), and digitalization are key growth drivers in North America and Europe. Further, these regions are scaling up investments in semiconductor manufacturing in order to create domestic supply chains for technologies that becoming critical to modernizing automotive industry, with large-scale applications across telecommunications and electronics.
Rise in infrastructure development in Latin America owing to flourishing industrial growth is expected to propel electronics industry, thereby, fueling the demand for compound semiconductor materials. Furthermore, swelling investments and supportive government policies are likely to augur well for the regional market through 2030.
Compound Semiconductor Materials Market Players – Manufacturers to Bank on Acquisitions to Stay Competitive
As the global compound semiconductor materials market is characterized by presence of several small- and large-scale players, manufacturers are honing in on acquisition of core competencies associated with diverse product offerings. For instance,
SK Siltron – key silicon wafer supplier to South Korea semiconductor market – has acquired the Compound Semiconductor Solutions (CSS) business of DuPont Electronics & Imaging (E&I).
Azur Space – manufacturer of III-V epitaxy for solar cells – has taken over Allos Semiconductors', which develops GaN-on-silicon wafers, RF and high-power electronics business.
Qorvo® has taken over Custom MMIC – key producer of high-quality GaN and GaAs monolithic microwave integrated circuits (MMICs) for aerospace, defense, and commercial use cases.
GT Advanced Technologies (GTAT) – supplier of silicon carbide (SiC) and crystal growth equipment and sapphire materials for power electronics, solar, and optoelectronics industries - has collaborated with ON Semiconductor, which manufactures power semiconductor ICs, to develop and supply its silicon carbide (SiC) material - CrystX - to the latter for application in high-growth industries and use cases.
Compound Semiconductor Materials Market Future Outlook – E-mobility to Emerge as Gamechanger
Electric vehicles (EV) are emerging as critical application area in compound semiconductor industry as myriads of EV manufacturers are resorting to MOSFETs or SiC Schottky barrier diodes (SBD) in DC-DC converters.
Silicon carbide (SiC) offers several additional benefits over silicon such as broader range of p- and n-type control required for construction of semiconductor devices, 10 times greater breakdown electric field strength (nearly 10X), and capability of working at higher temperatures.
The EV industry has been making significant strides, yet the dynamics vary by region. While sales of EVs remained consistent in China in 2019 - at about 1.2 million units sold (3% increase from 2018) – sales in the US dropped by 12% in 2019. Further, EV sales in Europe surged by 44%.
Despite overall drop in sales, global penetration of EV market rose by 0.3% points from 2018 through 2019, for total share of 2.5%. With further growth in first quarter of 2020, penetration of EVs currently stands at 2.8%.
These trends are slated to reflect the most promising pockets of growth going forward for players in compound semiconductor industry in coming years.
Base year considered - 2019
Historical Period- 2015 - 2019
Forecast period - 2020 - 2030
Market Value in 2020 - US$ 2.4 Bn
Segments covered - Material type, application and region
Regions Covered -North America, Latin America, Europe, East Asia, South Asia & Pacific, and Middle East & Africa (MEA)
Key Companies- IQE plc, Sumitomo Electric Industries, Ltd., Nichia Corporation, Samsung, Qorvo Inc., Skyworks, Shin-Etsu Chemical Co. Ltd., Freiberger Compound Materials GmbH, and Comptek Solutions Oy.
Key Questions Answered in the Report:
What will be the revenue size of compound semiconductor materials market from 2020 to 2030?
Which application is the primary consumer of compound semiconductor materials globally and why?
What are the factors driving the global compound semiconductor materials market?
Who are the leading players in the compound semiconductor materials market?
Which trends and innovations are expected to transform the global copper foils market in near future?
General FAQs:
Can I receive market report created as per particular region (s)?
Although the market report is created as per global trends and industry dynamics, our analysts can also offer reports for specific regions or countries according to your needs.
Does the market report offers detailed background of mentioned players?
Apart from the market players covered in the report, we provide insights about other players that are associated with the global compound semiconductor materials market.
Can we get market size and growth rate of any year?
Yes, we provide market size and growth rate (both in terms of value and volume) of any year within the specified historic and projection timeframe.
Key Segment
Material Type
Gallium Arsenide (GaAs)
Gallium Nitride (GaN)
Indium Phosphide (InP)
Zinc Selenide (ZnSe)
Silicon Carbide (SiC)
Gallium Phosphorous (GaP)
Aluminum Gallium Indium Phosphide (AlGaInP)
Aluminum Gallium Arsenide (AlGaAs)
Application
Laser
Optical Fibers
Photovoltaic Cells
Optical Devices
LED Epitaxial Wafers
Power Amplifiers
Others
Region
North America
Latin America
Europe
South Asia & Pacific
East Asia
Middle East & Africa
Need specific information?
Talk Show:
The Rise of Intelligent Packaging
Personalized, Connected and Sustainable
November 18, 2021
11:00-11:45 AM PST (USA & Canada)
This is a LIVE session