Legal Transcription Market By Solution (Software, Service, Case Management Services), End User (Law Firms, Law Enforcement Officers, Legal Attorneys, Court Reporters) & Region - Forecast to 2019 - 2029
Legal Transcription Market - Analysis, Outlook, Growth, Trends, Forecasts
November 2019

REP-GB-7193

254 pages
Key Factors Shaping Legal Transcription Market
Increasing Adoption of Cloud Services
In the recent past, cloud computing witnessed rapid adoption within the legal industry. Even with limited data control and security concerns of the cloud storage technology, smaller law firms and independent lawyers are still adopting cloud services in their daily operations.
Lawyers are now mobile and demand agile work environment form anywhere, any time. Cloud technology enabled attorneys and lawyers to run a successful legal practice through mobile devices. Cloud services also offer additional benefits of increased security for sensitive data that these law firms are handling.
Advancements in Speech Recognition Technology
In today's technology-driven world, legal practice management has undergone a drastic change. The legal industry is now increasing its inclination towards AI and ML technologies. These technologies are bringing a significant transformation in the legal sector. Automatic speech recognition provides huge opportunity to quickly transcribe high quality audio or video recordings that are considered acceptable to evidentiary standards.
Speech recognition enables conversion of speech into text by recognizing spoken words. The textual data that is generated from speech recognition software is analyzed to derive useful insights. This technology leverages "language modeling" to recognize and distinguish millions of human expressions that form a language.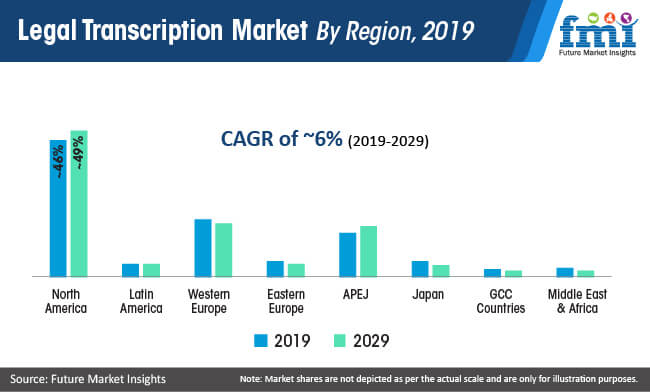 Legal Transcription Market Structure Analysis
The global legal transcription market is a highly fragmented market, with presence of many small- and mid-sized service providers.
Most of the top players are focusing on partnerships with technology providers, in order to make customers embrace the AI-driven technologies and leverage the advanced technologies and solutions.
Through partnerships and collaborations, legal transcription providers in the market can strengthen their market position and target a stronger global footprint.
Tier-1 legal transcription vendors account for ~50% of the overall market share. Players in this tier such as US Legal Support Inc., Taylor Court Reporters, Aptara Inc., Lexitas Legal, and Veritext are the prominent and most experienced in the industry, with a significant regional coverage.
Frequently Asked Questions about the Legal Transcription Market:
What is the valuation of the global market for legal transcription?
According to the estimates by Future Market Insights, the demand for legal transcription services and solutions will create revenues worth US$ 3.5 billion by 2019.
How will the growth discern for the legal transcription market in the future?
The global market for legal transcription is expected to grow at an impressive value CAGR of ~6% during 2019-2029.
Which industry trends market players must keep in mind while planning upcoming business strategies?
End users are showing a preference towards legal transcription services. However, adoption of legal transcription software is expected to increase to a new extent in the coming years.
Who are the top end-users in the legal transcription market?
Future Market Insights finds that low firms remain among the target end-users for most stakeholders. Leading market players are also increasing attention towards the rise in demand from legal attorneys.
What the latest trends in the legal transcription market?
Recent advancements in Artificial Intelligence (AI) and other next-generation technological features such as automated speech recognition (ASR), are giving rise to automated legal transcription services.
Leveraging New Technologies for Client-driven Innovation
In recent years, businesses have felt the impact of digital disruption. Innovative technologies have caused a radical upheaval in everything from physical work environment to the way companies collaborate for a project. Traditional sectors such as law firms have been slower to adopt these modern ways.
Moreover, such disruption presents various challenges, as the legal sector struggles to move from traditional hierarchies, manual research requirement, and time-based billing model to tech-powered operations fit for the future. However, due to rising information complexity, changing clients demand, and evolving market forces, legal professionals are turning to advanced technologies to achieve better outcomes.
The legal field is heavily reliant on transcription for managing, processing, and creating huge volumes of sensitive information. A notable rise in the demand for legal services, with increasing collaborations of companies with legal advisors and rapid implementation of customer-focused services. In order to ensure accurate legal or court proceedings, law professional need to stay organized and streamlined, thereby potentially raising the demand for legal transcription.
Stakeholders Go 'Paperless' for Accurate Documentation
Transcriptions are of paramount importance in any legal proceedings to provide accurate recording of witness testimonies and judge's decisions. In the legal sector, traditional methods of data handling have long been considered more secure than new technological methods that are susceptible to incidences of data breach and information theft.
As the tech evolved and keeping a track of conversation to legally document the progress of cases becomes difficult with conventional methods, the transition to e-documentation is considered a real option. Emergence of software platforms that offer watertight security and capabilities to store highly sensitive information has offered significant impetus to the growth of legal transcription market.
In addition to easier access to past proceedings, a move from paper to digital files has ensured high accuracy and faster turnaround time. Growing spending on legal services for cyber security and data privacy is also expected to work to the advantage of legal transcription market players.
Developed Markets Take the Center Stage
North America is projected to capture significant share in the legal transcription market, owing to strong presence of private law firms and relatively high adoption of automation technology in the region. With greater awareness of online and crowdsourced legal services, customers continue to demand personalized legal advice at reasonable prices. Legal transcription market players are thus hard-pressed to automate their process and offer cost-effective services.
Today, organizations are preferring law firms that are savvy on data and cybersecurity issues and pro-active in sharing knowledge of many jurisdictions. Legal transcription thus become vital to read and review large volume of information at different times.
Automated Transcription to Shape the Road Ahead
Disruptive technologies such as Artificial Intelligence, Machine Learning, and data analytics are gradually entering into Legal Tech platforms, and legal transcription is no exception. Given consideration to the need to nurture a culture of growth, key market players are focusing on automated transcription technology that helps transform the note-taking workflow for better. In recent times, automated speech recognition (ASR) has held a grip of law firms to transcribe speech and other information in real-time.
Use of AI-driven, digital voice, and video capture technology and services for legal transcription helps streamline documentation processing and boost efficiency. As legal firms and government bodies continue to outsource their transcription processes, market stakeholders are focusing on offering digital dictation services that provide an easy way to record, upload, and transcribe information- all at once.
How Growth Will Unfold
Demand for legal transcription is currently based on increasing investments in legal technologies and growing use of AI to optimize transcription process. However, recent slowdown in demand for legal services in various regions, due to market volatility and less merger & acquisition activity, which is expected to negatively impact the growth of legal transcription market.
Significant variations in legal formats and diverse pricing models for different services and transcription options remain key challenges for market players to offer customize solutions at affordable prices. In consequence, value-added strategies have been developed to offer cost-effective advanced speech transcription and AI-driven solutions.
World's Most Profilic Intelligence Engine
Get Access To The World's Largest Market Research Database.
Sign Up Now
Key Segment
Solution
Software

Digital Recording
Electronic Reporting

Service

Consultation
Transcription Services
Deposition Suites

Case Management Services
End User
Law Firms
Law Enforcement Officers
Legal Attorneys
Court Reporters
Others
Region
North America
Latin America
Western Europe
Eastern Europe
Asia Pacific Excluding Japan
Japan
GCC Countries
Middle East & Africa
Need specific information?
Our Clients