Level Sensor Market - Key Research Findings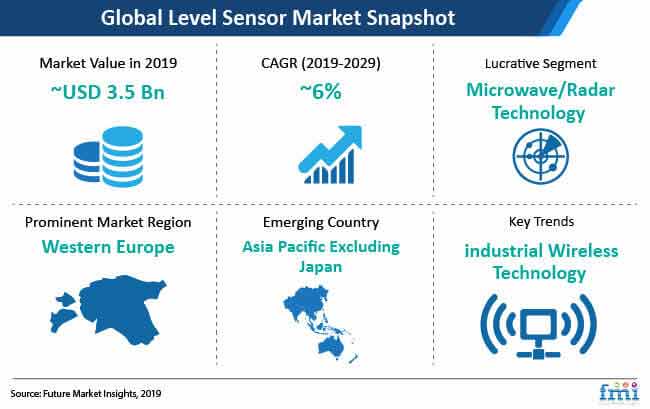 The level sensor market size in 2018 was approximately ~US $ 3.3 Bn
The level sensor market will be increasing at a CAGR of ~6% during the period of forecast (2019-2029).
The increasing demand for liquid level measurement for chemical and petrochemical industries has been recently driving the growth of the Level Sensor market.
Collectively, Western Europe and Asia Pacific Excluding Japan regions are likely to account for majority of revenue shares in the Level Sensor market by 2029.

Asia Pacific Excluding Japan, due to the strong presence of the Level Sensor market, is expected to continue to be a prominent regional market.

Growing industrial wireless technology helps to implement various features in level sensors for wastewater treatment and water tank application.

The waste & wastewater treatment industry has witnessed significant growth
Noteworthy application potential of Level Sensor has been identified
Key Factors Shaping the Level Sensor Market
The Level Sensor market is being driven by the demand for level measurement of liquids in machine building and control and monitoring tasks for compressors, hydraulics power packs and cooling systems. These are also used to detect the level of water in cooling circuits for nuclear power plants. The need for accurate level sensors and high precision, in industrial as well as commercial applications, is a significant factor driving the growth of the global level sensors market.
Liquid level sensors based on ultrasonic measurement technology, is used for process control in chemical, petrochemical, environmental, and other related industries. Usage of liquid level sensors to control liquid level measurement problems in diesel fuel gauging and liquid assets inventory applications is driving the growth of the Level Sensor market.
On the other hand, the growing trend of Internet of Things (IoT) technology is expected to affect the growth of the Level Sensor market in positively. Internet of Things (IoT) fill level sensors are available in completely wireless and zero maintenance versions with a non-corrosive protective shell for level measurement. In addition, Internet of Things (IoT) software for water level is used to monitor the water level of any reservoir.
Rising demand of level sensor for solid level measurement for fine powders such as powdered milk, coffee powder, chocolate, and colcothar in pressure tanks is propelling the demand for level sensors.
Technological Advancements create new growth opportunities for Level Sensor market. Continuous developments and implementation of new technologies such as laser and ultrasonic technologies in level sensor devices are creating opportunities for growth for the level sensor market.
Advantages and benefits such as high sensitivity, low cost, and high precision in electromagnetic immunity as well as the ability to integrate with various electronic devices are the primary factors resulting in an increasing number of level sensor manufacturers adopting ultrasonic technologies in new and innovative products.
Increasing investments by organizations in the research and development of nano-technology applications are creating new growth opportunities for the level sensors market. Nano-technology helps to monitor fluid level measurement in process industries. The advancement of nano-technology in level sensors has transformed into digital sensors for the reduction of cost, dimension, and shape of level sensors.
Increasing investment on research activities and government initiatives to implement optical fiber technology in level sensing applications ensure promising growth opportunities for the level sensor market. Advantages and benefits of optical liquid level sensor include the ability to detect the precise level measurement under variable conditions and corrosion resistance of chemical reagents.
Also, the increasing demand for more technologically advanced optical level sensors across all sectors is expected to accelerate the growth of the optical fiber market in emerging economies, which is expected to increase the demand for level sensors.
Level Sensor Market Structure Analysis
The global Level Sensor market represents a fairly consolidated competition landscape, where majority of the key players maintain their strategic focus on the development of solid distribution partnerships and joint ventures, thus targeting a firmer global footprint.
The Level Sensor market has been relatively moderate in size, which remains a key factor for its dynamic competitive nature.
Leading manufacturers of Level Sensor are currently prioritizing R&D and new product developments to capitalize on the booming demand for ultrasonic level sensor and laser level sensor in Western Europe, and North America.
Portfolio extension is also identified as one of the key developmental strategies adopted by manufacturers.
For a stronger foothold in target markets, level sensor manufacturers will continue to rely on strategies such as mergers and acquisitions as well as partnerships.
Deeper understanding of the market trends and preferential shift of industry segments across various regions are likely to create a bottleneck for prominent players that are seeking to explore the untapped opportunities in the Level Sensor market.
Level Sensor - The Aid to 'Well Timed' Level Detection
Detection of levels of free-flowing media, whether solid or liquid, continues to be a core part of operations in an industrial ecosystem. This is where 'level sensing' or 'level detection' comes into the picture, wherein level sensors play a vital part. Level sensor has been in continuous use for more than two decades in multiple applications like food & beverage, oil & gas, water and wastewater treatment, pharmaceutical, and others for effective leak recognition or faultless analysis of level capacity.
In earlier times, liquids for industrial applications used to be enormously challenging to deal with, however, technological advances in the form of level sensors have opened up gates of new possibilities. Growing focus on industrial process control, wherein control and monitoring of machinery and processes is the key focus, is playing an instrumental role in promoting the use of level sensor Level detection devices will continue to see significant demand in coming future for boosting inventory control and improving workplace safety, which is further estimated to drive revenue growth of level sensor market in the next 10 years.
Level Detection of Granular Materials - A Promising Use Case
Granular storage silos occupy a significant place across multiple industrial ecosystems such as food & beverages, agriculture, chemicals & petrochemicals, and others. The height of granular storage silos, when combined with the dusty environment inside the silos, makes it impossible for mechanical level detection devices to function effectively. This is where the level sensor technology comes into play, bringing an array of new opportunities for the market players to gain maximum ROI.
In response to the growing demand for level detection of granular materials, key vendors operating in the level sensor market are shifting their strategic focus toward launch of new products into their existing portfolios. For instance, Aplus Finetek Sensor, Inc. officially announced the launch of its exclusive 'SC35 series vibrating fork point level sensor' for faultless detection of presence and absence of bulk solid materials over a wide range of material densities.
Furthermore, manufacturers are also endeavoring the launch of new features into these new rolled-out sensors, some of them being robust shock resistance, adjustable sensitivity, fail-safe functionality, and long service life, which would further make their products 'well-positioned' in the end markets.
Europe - The Hotbed of Opportunities for Level Sensor
Key players in the level sensors market are tracking down new opportunities in the Western European countries, particularly in Germany, UK, and France. One of the key factors that pins the lucrativeness of this regional market is large-scale presence of manufacturing companies, some of them being ABB, Siemens AG, and others. In addition, high-scale proliferation of new technologies for industrial operations in the Western European economies is unfolding into multiple fronts, thereby adding new certainties to the near-term outlook of this regional market.
Manufacturers Adopt a 'Customer-Centric' Approach to Win
End user considerations with respect to features of level sensors will be dependent on the target application and associated specifications. Some of the vital features that would hardly come off the list of end-user priorities include mounting options, chemical compatibility, operational range, and temperature range.
These features will play a key role in determining if a level sensor type would fit the target application needs, thereby shaping the customer decision-making. In addition, certification as well as approvals, such as 3A for food & beverage applications, would also be a key aspect dictating end-user decisions.
Some other important considerations would include versatility, accuracy and repeatability, which would ensure optimal performance of the level sensors amid harsh environments. Manufacturers, in order to reciprocate to the same, are paying special attention to incorporation of advanced features in their products to win over consumers and grow their revenue footprint.
How Growth Will Unfold
Manufacturers of level sensors are vying to offer a wide range of level sensors best-suited to requirements from process engineering, protection, and storage. Product developments continue to be the key focal point of manufacturers in line with their key strategy to boost their market share holdings.
For instance, in 2017, Vega Grieshaber KG – a key player in the level sensor market - launched a process sensor named 'PLICSCOM' with wireless operations. The sensor operates via an in-built Bluetooth functionality that simplifies the diagnostics and facilities operations.
World's Most Profilic Intelligence Engine
Get Access To The World's Largest Market Research Database. Ngage with a revolutionary intelligence engine that scale and pricing that flexes as per your needs
Sign Up Now
Key Segment
By Technology
Ultrasonic
Capacitance
Conductive
Pneumatic
Vibratory Probe
Optical
Microwave/Radar
Magnetostrictive
Hydrostatic
Magnetic and Mechanical probe
Guided wave
Laser
Nuclear
Air bubbler
Load cell
By Application Media
By Industry Vertical
Consumer Electronics
Automotive
Aerospace & Defense
Sports & Entertainment
Healthcare
Others
By Monitoring Type
Point Level
Continuous Level
By Device Type
Contact Type
Non-Contact Type
By Industry
Chemicals & Petrochemicals
Pharmaceutical
Energy & Power
Oil & Gas
Waste & Wastewater Treatment
Food & Beverages
Others
By Region
North America
Latin America
Eastern Europe
Western Europe
Asia Pacific Excluding Japan
Japan
Middle East and Africa
Need specific information?