This Lubrication System Market market study offers a comprehensive analysis of the business models, key strategies, and respective market shares of some of the most prominent players in this landscape. Along with an in-depth commentary on the key influencing factors, market statistics in terms of revenues, segment-wise data, region-wise data, and country-wise data are offered in the full study. This study is one of the most comprehensive documentation that captures all the facets of the evolving Lubrication System Market market.
Market Overview
The growth of automotive and construction industries has led to higher adoption of systems, such as lubrication systems, which help in increasing the life, reliability and profitability of machines as well as reducing maintenance costs. Lubrication systems are expected to emerge as important systems in growing end use industries.
Market Growth Analysis
Disclaimer: This data is only a representation. Actual data may vary and will be available in the report.
Need granular data and specific insights that are hard to get?
style="box-sizing: border-box; margin: 0px 0px 10px; color: rgb(51, 51, 51); font-family: "Helvetica Neue", Helvetica, Arial, sans-serif; font-size: 14px;"> Moreover, lubrication systems have been witnessing a surge in demand more recently owing to growth in end-use industries, such as automotive, construction, food & beverages, oil & gas, etc. Increase in automated systems has unfolded new opportunities for the growth of the lubrication system market. Lubrication systems include mist lubrication systems, dry sump lubrication systems and wet sump lubrication systems. Mist lubrication systems are generally used for 2-stroke engines while dry sump and wet sump lubrication system are used in 4-stroke engines. The change in consumer preference from manual solutions to automated solutions is anticipated to emerge as a major trend in the lubrication system market during the forecast period.
Product Definition and Segmentation
Lubrication systems are systems which reduce friction between moving parts, thereby enhancing the life of all components. Lubrication systems are specially designed to introduce grease, oil and other lubricants to moving machines parts. These systems are available in different types, depending on their needs. The market for lubrication systems can be segmented on the basis of the following criteria:
Increased in demand of Automated/Centralized Lubrication System
Automated lubrication systems, also known as centralized lubrication systems, dispense the right amount of lubricants to critical lubrication points at the right time, which is a major factor which will increase the demand for automated/centralized lubrication systems in different end-use industries. These systems are increasingly seen as mission-critical products which improve the reliability, productivity, energy efficiency of products while adhering to environment compliance alongside reducing maintenance of industrial and vehicle machineries.
Moreover, with increasing demand for automated systems in end-use industries, the appetite for innovative product solutions is expected to remain strong over the forecast period. Focus on product development to meet consumer needs will remain the prime tool for leading lubrication system manufacturers to gain a competitive advantage.
Customization to emerge as a Major Trend
The demand for lubrication systems is projected to be grow significantly during the forecast period. Ever growing end-use industries, such as automotive, construction, food & beverages, etc., both in developing and developed economies, are the prime reason behind the growth of this market. The growing trend of automation is further expected to supplement market growth. With respect to products, the local players in the market are providing competitive innovative products at a low price.
A major trend expected five years down the line involves market leaders, both OEMs & dedicated manufacturers, focusing on customization of lubrication systems as the market of lubrication systems is fragmented owing to the presence of several global, regional and local players. The manufacturers are offering customized products and services according to consumer needs and are escalating the competition.
Regional Market Outlook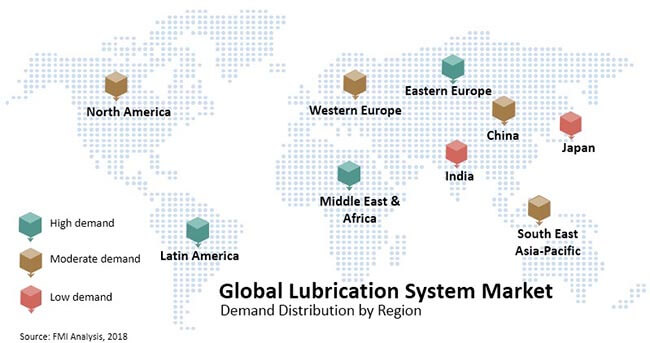 Global Lubrication System Market: Key Players
Opportunities for Market Participants
As the market is highly fragmented, the manufacturers are focusing on expanding their market presence in developing countries/regions. Moreover, small entities in the market are being acquired by or are merging with leaders. That apart, the manufacturer are focused on developing new and innovative products with enhanced parts, thereby enhancing the overall life of the systems.
Brief Approach to Research
FMI will follow a triangulation methodology to estimate data covered in this report. A detailed market understanding and assessment of the nature, type, process, product type and end-use industry of the product segments covered in the study are followed by a demand-side analysis to estimate the sales of target product segments, which is then cross-referenced with a supply-side assessment of value generated over a pre-defined period. The statistics and data are collected at a regional level and consolidated and synthesized at a global level to estimate the overall market sizes.
Key Data Points Covered in the Report
The research report presents a comprehensive assessment of the market and contains thoughtful insights, facts, historical data, and statistically supported and industry-validated market data. It also contains projections using a suitable set of assumptions and methodologies. The research report provides analysis and information according to market segments such as geographies, application, and industry.
The report is a compilation of first-hand information, qualitative and quantitative assessment by industry analysts, inputs from industry experts and industry participants across the value chain. The report provides in-depth analysis of parent market trends, macro-economic indicators and governing factors along with market attractiveness as per segments. The report also maps the qualitative impact of various market factors on market segments and geographies.
NOTE - All statements of fact, opinion, or analysis expressed in reports are those of the respective analysts. They do not necessarily reflect formal positions or views of Future Market Insights.
Unique Requirements? Customize this Report
Customize by Region, Country, Application, Product, & other segments
Integrate our Insights with your Existing Data
Determine the scope of the study to suit your requirements
Gain Insights on Key Lubrication System Market Impacting Forces
Know the Winning Strategies of Market Leaders
Get Deep-Dive Analysis on Each Segment
Identify the Sources that will Drive Top-Line Revenue
By Type:
Manual Lubrication System
Automated/Centralized Lubrication System
By Process:
Mist Lubrication System
Dry Sump Lubrication
Wet Sump Lubrication
By Product Type
Single Line Lubrication System
Dual Line Lubrication System
Multi Line Lubrication System
By End-Use Industry
Construction
Automotive
Marine
Food & Beverages
Oil & Gas
Metal Industry
The global lubrication system market is segmented into the following regions -- North America, Latin America, Western Europe, Eastern Europe, South East Asia-Pacific, China, Japan, India and the Middle East and Africa. The regional demand dynamics can be directly correlated with the demand from end-use industries. Europe has been dominant in terms of sales and is expected to remain dominant in terms of the demand for lubrication systems from end-use industries. The North America region is also expected to witness high penetration rate owing to rising automotive fleet. Latin America is expected to grow with significant CAGR during the forecast period owing to rapid industrialization in the region. Middle East & Africa is anticipated to grow at a significant pace during the forecast period owing to the growth in construction activities in the region.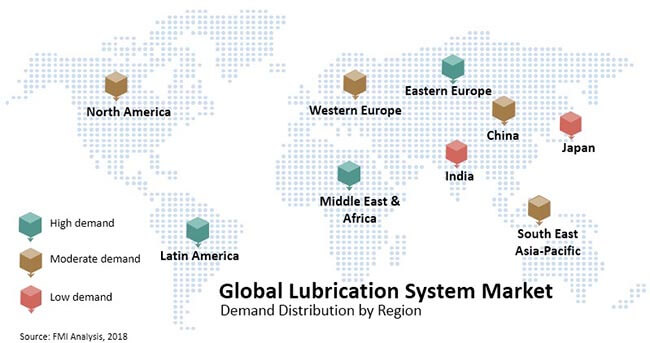 Key players in the global lubrication system market are:
SKF AB
Pricol Limited
Cenlub Systems
Lube Corporation
Graco Inc.
Groeneveld Group
ILC Lubrication Systems
Lubrite Industries
Sloan Lubrication Systems
TECHNO DROP ENGINEERS
THE TIMKEN COMPANY
HYDAC
Dropco Multilub Systems Private Limited
Systematrix Engineering Services
Dropco Multilub Systems Private Limited
Key Developments of Market Participants
In January 2016, SKF introduced Lincoln electrically driven lubricator (EDL1) for usage in sectional lubrication systems as well as large machines with different lubrication requirements at varying distances
During March 2016, SKF signed an agreement with Valmet for the supply of bearings and lubrication system solutions
Towards the end of 2014, SKF invested in a new lubrication systems factory in the Czech Republic
Some of the key data points covered in our report include:
An overview of the lubrication system market, including background and evolution
Macroeconomic factors affecting the lubrication system market and their potential
Market dynamics, such as drivers, challenges and trends
Technology roadmap involved, from inception period to present date
Detailed value chain analysis of the lubrication system market
Cost structure of the products and segments covered in the global lubrication system market
In-depth pricing analysis by key product segments, regions and major lubrication system market participants
Analysis of supply and demand, such as top producing and consuming geographies, imports/exports and overall trade scenario in the global lubrication system market
Analysis of the global lubrication system market structure, including a tier-wise categorization of key lubrication system market participants
Competitive landscape of the market, including detailed profiles of top players in the lubrication system market
The report covers exhaust analysis on:
Market Segments
Market Dynamics
Market Size
Supply & Demand
Current Trends/Issues/Challenges
Competition & Companies involved
Technology
Value Chain
Regional analysis includes:
North America (U.S., Canada)
Latin America (Mexico. Brazil)
Western Europe (Germany, Italy, France, U.K, Spain)
Eastern Europe (Poland, Russia)
Asia Pacific (China, India, ASEAN, Australia & New Zealand)
Japan
Middle East and Africa (GCC Countries, S. Africa, Northern Africa)
Report Highlights:
Detailed overview of parent market
Changing market dynamics in the industry
In-depth market segmentation
Historical, current, and projected market size in terms of volume and value
Recent industry trends and developments
Competitive landscape
Strategies of key players and products offered
Potential and niche segments, geographical regions exhibiting promising growth
A neutral perspective on market performance
Must-have information for market players to sustain and enhance their market footprint
Harish Tiwari
Global Head - Business Development