Asia's Profitability Increasing
Capturing over a third of total market stack, manufacturers of micro flute papers would glean maximum value in Europe. Various European policymakers are putting pressure on packaging converters to shift towards sustainable packaging formats, amidst continued environmental concerns. Furthermore, Europe's micro flute paper market will click US$ 1 Bn mark in the latter half of forecast period. Given demand upheaval for micro flute papers in applications - advertising on-site sales, and eye cosmetic packaging – manufacturers are eyeing lucrative growth prospects in Asia.
Shifting Emphasis on Combining Micro Flute Types
Manufacturers are combining various types of flute, in a bid to cut storage and transportation costs. In particular, these double-wall micro flute papers are finding utilization in the display market sector. For instance, the EE-type micro flute papers offer better aesthetic appearance, and printing capability compared to the B or C flute types and is leverages as a substitute of BC and BE flute types in cosmetic packaging industry.
In a similar fashion, NE-type micro flute papers provide superior double-wall combination that enhances the graphical benefits akin to clay coated papers. Further, the flute type offers optimum print surface for both, screen printing and post flexo printing applications.
How Growth will Unfold
E-type micro flute papers provide excellent compression strength and high resistance for crushing, as such, they deliver enhanced safety of packed products during logistics and transportation. Such attractive performance of the E-type variant is enabling its wider adoption. By 2027, E-type micro flute papers worth over US$ 2 Bn will be utilized for packaging purposes. However, N-type micro flute papers offer greater flutes per lineal foot compared to the E-type version - almost twice - and thus are garnering interest in the packaging industry.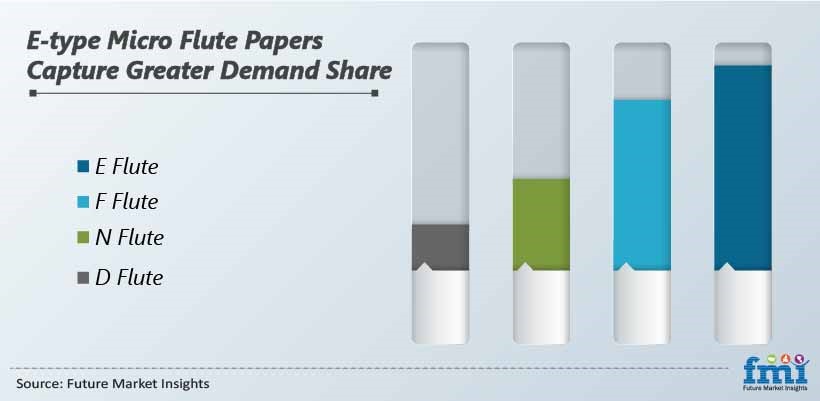 MICRO FLUTE PAPER MARKET TAXONOMY
The global micro flute paper market is segmented in detail to cover every aspect of the market and present complete market intelligence to readers.
Product Type
E Flute
F Flute
N Flute
D Flute
By Basis Weight
Upto 100 GSM
100 TO 175 GSM
175 TO 250 GSM
Above 250 GSM
By Material
End Use
Food & Beverages
Medical & Pharmaceuticals
Personal Care
Consumer Durable Electronics Goods (CDEG)
Others (Automobiles, etc.)
Region
North America
Latin America
Europe
South Asia
East Asia
Oceania
Middle East & Africa
Need specific information?