Micro Perforated Films Packaging Market By Material Type (PE, PP, PET, PVC, PA), Packaging (Bags, Pouches, Wraps/ Rolls, Sleeves), Technology (Mechanical perforation, Laser perforation) & Region – Forecast 2021 – 2031
Micro Perforated Films Packaging Market - Analysis, Outlook, Growth, Trends, Forecasts
January 2021

REP-GB-2114

200 pages
About the Report
Due to the rising number of retail chains such as supermarkets, hypermarkets, departmental stores, and local stores, food packaging sector has immensely amplified. Changing lifestyle and urbanization have contributed to an increase in demand for food packaging which has led to the expansion of global micro perforated films packaging market. High growth is expected to continue as favorable reimbursement policies by governments create a conducive environment for micro perforated films uptake.
In its new study, ESOMAR-certified market research and consulting firm Future Market Insights (FMI) offers insights into key factors driving demand for micro perforated films packaging. The report tracks the global sales of micro perforated films in 20+ high-growth markets, along with analyzing the impact COVID-19 has had on the food packaging industry in general, and micro perforated films in particular.
Will Micro Perforated Films Packaging Sales be higher than Historical?
Sealed, diffusion, and cooled lasers have been in use since decades in micro perforated films packaging. Micro perforated packaging provides high respiratory properties to materials packed and hence low temperatures are often favored for reducing the growth of microorganisms and ensuring extended shelf life of the product. As a result an increasing number of manufacturers are seen using hot and cold perforation to achieve perfect micro perforation in films. Surging application in packaging enabled expansion of the market at 4.8% CAGR between 2016 and 2020, as per FMI.
Consumers and manufacturers are gradually moving towards green packaging solutions which has less impact on the environment. An increasing number of micro perforated films manufacturers are focusing on the eco-friendly aspect of tpackaging and are introducing biodegradable variants. One of the key players in the micro perforated films market, Uflex Ltd. collaborated with Perfotec B.V. and launched "Flexfresh", a film which naturally produces CO2 to control any bacteria growth inside the packaging.
Why are Micro Perforated Films Increasingly Preferred for Packaging?
Micro perforation packaging in the form of wraps, bags and others are essential for vegetables and fruits packaging for the clear reason that they accumulate moisture and ripen. Therefore quality packaging solution is required to maintain proper air circulation and enhance breathability of the product. Further packaging made up of these films are less susceptible to damage and minimizes direct contact of inside product with the agents other than air. Holes provided on the films renew air inside the packaging and reduce the unpleasant odor, which is commonly witnessed in the completely sealed products.
As these films enhance shelf life of products and help in locking their freshness, the sales of micro perforated films has rapidly increased. FMI has found that end users are shifting from traditional packaging solutions to micro perforated bags because of aforementioned benefits. These factors will enable the micro perforated films market reach over US$ 2 Bn over the forecast period.
Will Laser technologies Influence Micro Perforated Films Demand?
The adoption of laser technology has resulted in the reduction of errors and made sure that the whole size remains constant throughout the production of micro perforated films. Laser pulse monitoring and laser power control are used to further ease up the work by ensuring precision and achieving correct number of micro perforation per packaging and controlling the depth of holes.
For instance, Coherent StarPack CW are designed for perforating and scribbling in cross-web direction. Meanwhile, Micro Laser Tech (MLT) laser perforation systems are intended at contactless production of wholes and blind wholes in various materials such as foils and paper. Several technologies such as these were launched in the last few years to enhance flexible packaging Growth in laser technology will bode well for micro perforated films packaging.
What is the Regulatory Impact on Micro Perforated Films Packaging Sales?
The U.S. Federal Food, Drug, and Cosmetic Act under Food and Drugs Administration (FDA), requires packaging material to be safe when it comes in contact with the product. The regulation also ascertains that material's recycling value is safe and that it does not leave a profound impact on the environment. All food-packaging in the U.S. also require approvals from Environmental Assessment (EA), followed by a Finding of No Significant Impact (FONSI) and clearance by the FDA. The usage of PET and single-use packaging is strictly monitored and sometimes restricted to prevent environmental damage.
Improvements in food packaging regulations and rising focus towards creating advanced recyclable packaging material accessible will create lucrative growth prospects and reduce carbon footprint.
In India, The Prevention of Food Adulteration Act, 1954 governs the usage of certain materials for food packaging and as mandated that food packaging material shouldn't react with the products present inside.
In Japan, the safety of food utensils, containers and packaging (UCP) has been secured by regulation under the national government and the voluntary management by trade organizations as well. Under regulation by the Japanese government, the use of certain substances with specifications and standards is restricted under the Food Sanitation Act (Act No. 233 of 1947).
However, regulations in Japan are based on the system of restricting the use of substances on which the government stipulates individual specifications and standards (Negative List system), which means the substances whose use is not permitted in foreign countries, such the European Union (EU) countries and the United States cannot be regulated immediately unless individual specifications and standards are set.
Presence of stringent regulations worldwide, scrutinizing the use of packaging materials will have significant influence on the market. These regulations have encouraged an increasing number of producers to use sustainable materials, which led to launches such as the made in U.S., micro-perforated and strong seal films by Bullseye Food Packaging.
Opportunities Abound for Green Micro Perforated Films Packaging
According to FMI, the demand for biodegradable films for micro perforation will be higher for food packaging. Many significant players in the micro perforated films market are focusing on biodegradable films to be more ecological by reducing packaging waste. Uflex Ltd. from India, which is one of the key player for manufacturing of micro perforated films, collaborated with Perfotec B.V. are capitalizing on opportunities for bio-degradable films by the brand name "Flexfresh". It controls the level of bacteria inside the films after packaging by using naturally producing CO2. Bolloro Films, a subsidiary of Bollore Group are also capturing the opportunities for biodegradable films in micro perforation and are expected to have significant growth over the forecasted period.
Country-wise Insights
How big is the Opportunity in US Micro Perforated Films Packaging?
FMI has projected North America to remain one of the lucrative and developed markets for micro perforated films. One of the key factors supporting expansion is the region's high food spending. According to preliminary forecasts, micro perforated films market in the United States alone is likely to increase at 5.2% during the forecast period.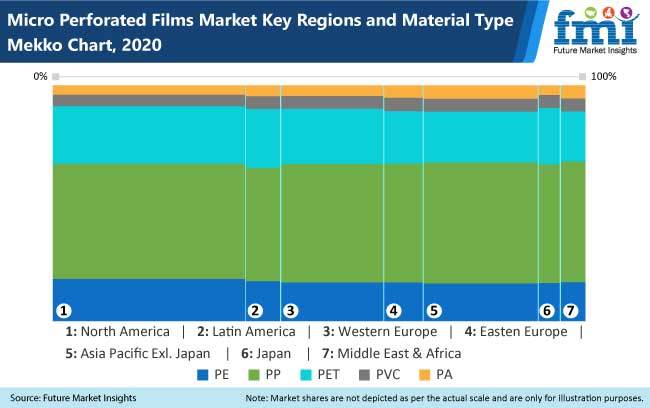 According to the U.S. Environmental Protection Agency (EPA), 'The U.S. spends around $1 billion a year for food waste disposal.' This indicates the enormous but matured food market in the U.S. for micro perforated films.
Further restrictive laws and regulations regarding food packaging materials can impede the growth of micro perforated films market in the U.S. Presence of leading players such as Sealed Air Corporation and Coveris Holdings S.A. is supporting growth in the U.S. Also, strategies undertaken by these companies include product launches and expansion plans, which will continue aiding overall expansion in the United States.
Growth of Micro Perforated Films Packaging in Brazil
Brazil's packaging industry is considered to be seventh largest in the world, owing to its large and fragmented population and cumulative per capita disposable income. Coupled with favorable government policies, micro films packaging market is expected to grow with a fairly high rate in Brazil.
In its study, titled "Brasil PackTrends 2020" (2012), the Brazilian Institute for Food Technology identified five key trends in the country, which included, esthetics and identity, convenience and simplicity, quality and new technologies, safety and regulatory issues, and sustainability and ethics.
These trends are driven by the fact that consumers within Brazil have become very specific about health aspects associated with food packaging. Against this backdrop, micro perforated films packaging has been gaining ground as budget-conscious Brazilian increasingly focus on health and wellness.
How big is Opportunity in China's Micro Perforated Films Packaging?
The packaging industry in China is set to expand exponentially presenting lucrative opportunities for micro perforated films sales. The rise in e-commerce giants such as Alibaba has been critical in enabling growth of micro perforated films packaging market sales. Coupled with this, the heightened focus on health and wellness has made the country an ideal market for micro perforated films packaging.
The rising number of logistics firms, driven by the country's thriving ecommerce sector has been a crucial factor enabling growth. According to the State Post Bureau statistics, in 2017 logistics companies in China delivered nearly 76,000 parcels per minute. Expanding logistics sector is indicative heightened scope for micro perforated films packaging sales.
China organized various trade fairs that present attractive opportunities for growth. For instance, the Shanghai World of Packaging (SWOP) is organized as a part of "interpack alliance". While trade fairs present an attractive platform to showcase various products and benefits, rising consumption of packaging food as well is fuelling the demand for micro-perforated films.
How are Reforming Food & Drug Packaging Laws influencing Micro Perforated Films Sales in India?
India is a fast growing plastic packaging market under on-going environmental regulations and proposals to ban certain plastic packaging. Food and drug packaging laws are continuously reformed on inferences by scientists and ecologists due to highly negative impact of packaging on the environment and human consumptions. This comes after revelation of endocrine disrupting substances found in PET packaging on its contents.
Multi-layer packaging and film packaging is a contentious subject due to its recyclability, wastage and quantity adulteration factors. India's Ministry of Health and Family Welfare on behalf of the North American Plastics Industry, with the American Chemistry Council and Canadian Plastics Industry Association as signatories issued safe usage of PET in food and drug packaging on the basis of scientific and regulatory basis. Indian industry is also working with many international associates to explain advantages of usage of multi-layer and multi material packaging.
How is Micro Perforated Films Manufacturers Gaining from UK's Ecommerce Boon?
According to the Packaging Federation of the U.K., the country's packaging industry showcases annual sales of GBP 11 billion. It also is a significant contributor towards UK's Gross Domestic Product (GDP). Besides this, increasing ecommerce sales is expected to have profound impact on the U.K.'s micro perforated films packaging market.
As reported by the Office of the U.K. National Statistics, e-commerce sales in the country accounted for above GBP 688 billion in 2018. With ecommerce sales thriving, the micro perforated films packaging manufacturers are considering the U.K. as one of the highly lucrative pockets to capitalize on.
Category-wise Insights
What's the Market Share of Polypropylene (PP) Micro Perforated Packaging Films?
Polypropylene (PP) material still remains the market leader and accounts for nearly half of the global material share of micro perforated films in the market during the forecast period. According to FMI, the segment is expected to hold a slightly below 51% of the market, in terms of material type, by the end of 2031. Polypropylene offers high barrier properties and chemical resistance. Recyclable polypropylene is food-safe and heat resistant. It also provides excellent optical clarity and low moisture-vapor transmission which are some of the leading causes behind dominance of the segment.
Why Laser Perforation Holds 60% Share in Micro Perforated Films Sales?
Accounting for more than 60% of overall share for technology throughout the forecast period, laser perforation continuous to increase its stake in the market. Its high accuracy and angle separation, intrinsic alignment and high power threshold are the reasons for its preference in the market. However, its high cost and technological sophistications act as restraints for its growth in the market. It is expected that innovations in laser perforation technology will reduce the costs and make it more familiar in the packaging industry.
What Supports Wraps/Rolls Dominance as Micro Perforated Films Packaging?
The segment comprising wraps and rolls are expected to remain most preferred packaging types in the market. Accounting for nearly half of the market share, wraps and rolls will continue leading the market as one of the most convenient sources of packaging.
A slew of launches witnessed in this category has been a chief growth driver of the wraps and rolls sales. For instance, ProPac Packaging and Disposable Ltd includes a wide range of cling film rolls in its portfolio to offer convenient packaging solutions.
Perforated film wraps and rolls find application for daily use in kitchens, deli, or bakeries. They are often preferred as a packaging solution because they are premeasured, easy to use, and leaves less scope for wastage.
Micro Perforated Films for Food Packaging to Account for Maximum Applications
In terms of application, food packaging is expected to account for leading share in the market. Besides expanding food delivery, micro perforated films manufacturers will find lucrative scope as demand rises for food and vegetable packaging. The need to keep food fresh for longer time will enable growth in this segment. The confluence of year-round demand for fresh fruits and vegetables and rising disposable income has been creating sales prospects.
Besides this, micro perforated film packaging constitutes common solution across bakeries and confectioneries. While demand from this segment might have been curtailed due to COVID-19 crisis, with the food delivery sector on path of recovery, sales is likely to resume in the market. PP film in particular have registered wider application across bakeries and confectioneries.
Competitive Landscape
Companies operating in the micro perforated films market are aiming at strategic collaborations with perforation technology companies and food packaging enterprises to address the requirements of an expanding food sector.
For instance:
Leading micro perforated films manufacturer Amcor Limited made two major acquisitions, Alusa, largest flexible manufacturing company in South America and Deluxe Packages from USA. The objective of these acquisitions is to accelerate the profitable growth in North and South American region.
Amcor Limited also acquired Hebei Qite Packaging Co. Ltd. based in China to enhance its operations in the country. Besides this, Amcor has special micro perforated products such as 'Azile' which is flexible packaging for cheese with the smallest micro perforations in the market and E-close, two-sided partially perforated laminate combined with state-of-the-art pressure-sensitive coating. It allows easy access and storage while maintaining product freshness.
Some of the leading companies operating in the market are:
Amcor Limited
Uflex Ltd.
Sealed Air Corporation
Bollore Group
Mondi Group
TCL Packaging Limited
KOROZO Ambalaj San,ve Tic A.S
Darnel Group
Coveris Holdings SA
NORDFOLIEN GmbH
*The list is not exhaustive, and only for representational purposes. Full competitive intelligence with SWOT analysis available in the report.
Scope of the Report
Attribute

Details

Forecast Period

2021-2031

Historical Data Available for

2016-2020

Market Analysis

USD Million for value and Tonnes for Volume

Key Regions Covered

North America, Latin America, Western Europe, Eastern Europe, APEJ, Japan and MEA

Key Countries Covered

US, Canada, Germany, U.K., France, Italy, Spain, Poland, Russia, China, Japan, South Korea, India, Thailand, Malaysia, Vietnam, Indonesia, Australia, New Zealand, GCC Countries, Turkey, Northern Africa, South Africa

Key Segments Covered

Material, Packaging, Technology and Application

Key Companies Profiled

Amcor Limited
Uflex Ltd.
Sealed Air Corporation
Bollore Group
Mondi Group
TCL Packaging Limited
KOROZO Ambalaj San,ve Tic A.S
Darnel Group
Coveris Holdings SA
NORDFOLIEN GmbH

Report Coverage

Market Forecast, brand share analysis, competition intelligence, DROT analysis, Market Dynamics and Challenges, Strategic Growth Initiatives

Customization & Pricing
World's Most Profilic Intelligence Engine
Get Access To The World's Largest Market Research Database.
Sign Up Now
Key Segments
Material
Packaging
Bags
Pouches
Wraps/ Rolls
Sleeves
Technology
Mechanical perforation
Laser perforation
Region
North America
Latin America
Western Europe
Eastern Europe
APEJ
Japan
MEA
Key Questions Answered in the Report
Q1. Which is the most lucrative market for micro perforated films packaging?
The U.S. currently leads the global market for micro perforated films. Sales in the U.S. will be over 30% of total demand throughout the forecast period.
Q2. Which is the top-selling type of micro perforated films packaging?
Wraps/ Rolls remain the top-selling packaging for micro perforated films, holding nearly half of the market share for packaging type in the market. The demand for wraps/ rolls is expected to remain high in the near future, especially due to ease of packaging and utility in the food sector.
Q3. Which is sector exhibits higher demand for micro perforated films?
Food segment is the leading application segment in micro perforated films due to presence of various sub segments like ready to eat, bakery and confectionery, frozen food and fresh fruits and vegetables.
Q4. Which technology is more preferred micro perforated films manufacturing?
Laser perforation continue to remain the leading choice among manufacturers for accurate and error-free punching. While the demand of laser perforation is increasing, mechanical perforation is likely to accelerate at a slower pace in comparison to the former.
Q5. Which are some of the leading companies offering micro perforated films?
Some of the leading companies offering micro perforated films are Amcor Limited, Uflex Ltd., Sealed Air Corporation, Bollore Group, Mondi Group, TCL Packaging Limited, KOROZO Ambalaj San,ve Tic A.S , Darnel Group, Coveris Holdings SA, NORDFOLIEN GmbH among others.
Need specific information?
Our Clients