Introduction
The report covers comprehensive information about market trends, value (US$ Mn) forecasts, market dynamics, competition & recent developments in the global microcrystalline cellulose market during the assessment period, i.e. 2018 to 2028.
Microcrystalline Cellulose (MCC) is a partially depolymerized specialty cellulose prepared by treating α-cellulose. MCC is widely used in pharmaceutical, food & beverage, cosmetic and other industrial applications, owing to its broad spectrum of properties. MCC is used a suspension stabilizer and an excipient, owing to its chemical inertness and non-toxic nature.
Increasing Disposable Income in Emerging Economics to Fuel Growth of Microcrystalline Cellulose Market
Supported by the rapidly growing middle class population and increasing disposable income, consumer product markets such as food & beverage and personal care are expected to witness significant growth.
Going forward, increasing per capita income and changing demographic trends such as shift towards outdoor eating habits and increasing consumer preference for fiber rich diets are some of the key factors fueling the demand for microcrystalline cellulose in the global market.
Furthermore, in developing countries, rising awareness regarding the use of personal care & home care products and increasing purchasing power are attracting individuals towards the use of products that were earlier unaffordable.
Development and Use of Non-Wood Based Microcrystalline Cellulose in the Global Market
Rising awareness pertaining to the increasing carbon footprint and rapid deforestation have stimulated the need for environment-friendly production processes and non-wood based fibers as raw materials for microcrystalline cellulose.
Moreover, the most common and commercial non-wood based source for microcrystalline cellulose includes cotton linters, which is a high value-added crop. Hence, against the aforementioned background, agro-fiber plant waste such as the stalk from Sorghum caudatum and wheat straw have emerged as potential alternative sources for MCC.
Additionally, market participants are also endeavoring towards the development of eco-friendly solvents as a replacement for conventionally-used mineral acids such as HCL to increase production plant life.
North America to Dominate the Global Microcrystalline Cellulose Market and Asia Pacific to register Robust Growth during the Forecast Period
The North America market is one of the leading consumers of microcrystalline cellulose; however, during the assessment period, China and India are expected to emerge as lucrative regions for growth, driven by rising disposable income and rapid urbanization.
China & India are estimated to collectively account for more than one-fourth of the market share by the end of 2028. Furthermore, the shifting trend towards outdoor eating habits is anticipated to drive the demand for microcrystalline cellulose in the near future.
Asia Pacific including India, China and South East Asia are rapidly growing regions in terms of consumer spending on eating out. Asia Pacific is projected to account for about 38% of microcrystalline cellulose for food & beverages applications.
Furthermore, growing health consciousness and increasing demand for protein and nutraceutical diets are fueling the demand for microcrystalline cellulose, particularly in Asia Pacific.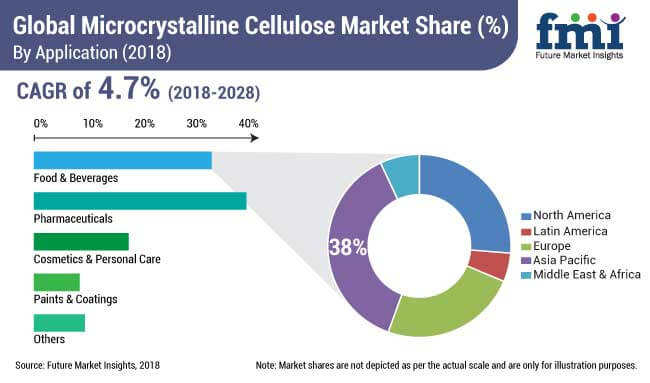 Investments in Development of Innovative Production Processes to Improve Final Product Quality, Optimize Process Output Yield and Reduce Production Costs
Market participants in the microcrystalline cellulose market are investing in the development of innovative production process to improve final product quality, optimize the process output yield and reduce production cost. Moreover, market participants are also focusing on improving operations to decrease operational costs and thus, increase profit margins.
Companies are investing on expanding their global presence, particularly in high growth regions such as China, ASEAN countries and India, to tap potential opportunities. For instance, FMC Corporation expanded its global MCC production capacity by investing US$ 100 Mn to build a new microcrystalline cellulose facility in Rayong, Thailand, which will effectively increase its production capacity by 35%. The new production capacity is set to offer microcrystalline cellulose particularly for food & beverage applications.
Some of the prominent market participants covered in this market study on the global microcrystalline cellulose market are DowDupont Inc., Asahi Kasei Corporation, Roquette Frères, Mingtai Chemical Co., Ltd, Accent Microcell Pvt. Ltd, JRS Pharma, NB Entrepreneurs, Pharmatrans-Sanaq AG, DFE Pharma and Wei Ming Pharmaceutical Mfg. Co., Ltd.
Key Questions Answered in the Report
How has the microcrystalline cellulose market evolved in the past four years?
What shape is the microcrystalline cellulose market expected to take in terms of value during the study period?
What are some of the prevailing market dynamics in the microcrystalline cellulose market?
What are some of the competition developments and trends affecting the microcrystalline cellulose market?
What are some of the underlying macro-economic and industry factors impacting the growth of the microcrystalline cellulose market?
What are the important key challenges, opportunities and improvement factors for microcrystalline cellulose market players?
What are the important market positioning and key strategies of key service providers as per the microcrystalline cellulose market taxonomy?
How is the competition structured at present and how has it evolved in the microcrystalline cellulose market over the past few years?
Market Segmentation
By Material Type
Wood Based
Non-Wood Based
By Application
Food & Beverages
Pharmaceuticals
Cosmetics & Personal Care
Paints & Coatings
Others
By Region
North America
Latin America
Western Europe
Eastern Europe
South East Asia & Other APAC
China
India
Japan
Middle East & Africa
Need specific information?