Pallet Wraps Market By Thickness (< 15 mm, > 45 mm), Product (Hand Wrap Rolls, Machine Rolls), Material (Polyethylene, Polypropylene), Film (Blown Film, Cast Film), End Use (Food & Beverages, Pharmaceuticals) & Region Forecast to 2019 - 2029
Brands in Pallet Wraps Market - Analysis, Outlook, Growth, Trends, Forecasts
July 2019

REP-GB-6579

226 pages
Pallet Wraps Market - Key Research Findings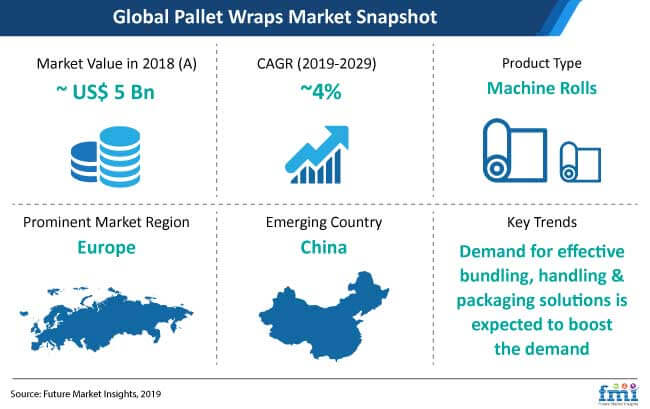 The global pallet wraps market size was approximately US$ 5 Bn in 2018.
The pallet wraps market is expected to expand at a CAGR of approx. 4% during the forecast period 2019-2029.
The rising demand for load palletization in various end-use industries, including food & beverages, pharmaceuticals, chemicals, automotive, and electrical & electronics, among others is expected to drive the demand for the global pallet wraps market.
Collectively, East Asia and South Asia regions are expected to account for more than 35% of the global pallet wraps market by the end of the year 2029.

The demand for pallet wraps from food & beverages and pharmaceutical industries is expected to propel the growth of the pallet wraps market in emerging economies such as China, India, Brazil, and Indonesia, among others

The 15-30 mm thickness segment is expected to be the most prominent thickness type in the global pallet wraps market, and expected to account for more than 30% of the market.

Pallet wraps with this thickness offer effective flexibility and stretchability to be wrapped onto pallets without wear & tear.

The food & beverages sector is expected to be the most lucrative end-use market for pallet wraps, followed by the pharmaceutical sector.

Continuously rising demand for packaged food across various countries across the globe is pushing the food industry, which in turn, drives the demand for pallet wraps.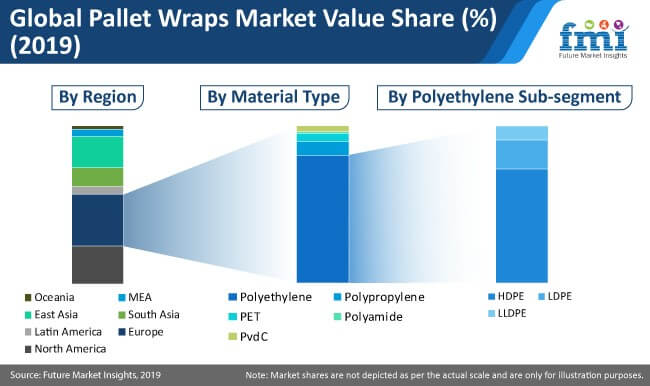 Key Factors Influencing the Pallet Wraps Market
Wide Range of Applications in the Consumer Goods Industry
Pallet wraps are mainly used for pallet wrapping in warehouses, receiving docks & other storage areas. Primarily, these are designed to keep items intact during storage and transportation. Pallet wraps also find applications in various consumer goods industries such as such as pharmaceuticals, food & beverages, household goods, electrical & electronics, furniture, and agriculture (wrapping of mulch), among others.
Pallet wraps offer excellent printability, which helps in branding and promotion. These enhance product appeal and offer consumers a convenient packaging solution. Pallet wraps also reduce the packaging volume during transit. Thus, these act as a suitable solution for manufacturers' who are looking for cost reduction while transit.
Technological Advancements Ensure Better Properties
With technological advancements, the pallet wraps market is growing at a faster rate.
For instance, highly advanced packaging film introduced by SABIC, manufactured through a multi-layered & polymer blend technology that offers increased load stability for food packaging.
Improvements in film properties have allowed manufacturers to reduce film thickness by 40%.
The increased production for higher line speeds of wider and thinner films has enabled increased production of pallet wraps, which is expected to double the production rates and finished roll widths over the last ten years.
Increasing efficiency of film by using latest technology for hand & machine pallet wraps is also one of the main reasons for the growth of the pallet wraps market globally.
Growing Demand for Effective Bundling and Packaging Solutions
The presence of a number of local and international manufacturers in the economy, coupled with increasing penetration level of products-based packaging is expected to benefit the market growth. Healthy expansion in the manufacturing sector and growing requirements for product packaging, as well as bundling and protection of goods during warehousing and distribution, have intensified the demand for pallet wraps.
Manufacturers Eyeing Lightweight and Environment-Friendly Polymers
Introduction of plasticizer in the manufacturing of pallet wraps for increasing flexibility.
For instance, Mitsubishi Plastics, Inc. has introduced polyvinyl chloride (PVC) pallet wraps that can effectively prevent plasticizer migration, which can be used for commercial food packaging. The plasticizer used in the film is based on plant source material. Generally, 30% plasticizer is contained by PVC-based pallet wraps in order to increase adhesiveness and flexibility. These type of plasticizers have no effect on the human body, and therefore ensure the safety of food.
Pallet wrap manufacturers are continuously launching innovative products in the market to cater to changing market demands.
For instance, Paragon Films have introduced Cold Force machine films, which deliver puncture resistant & high performance pallet wraps.
Pallet Wraps Market Structure Analysis
Berry Global, Inc., and Intertape Polymer Group Inc. are the leading manufacturers of pallet wraps worldwide.
In 2018, an expansion and merger strategy was adopted by key manufacturers to expand their business and product portfolio.
Increased adoption of pallet wraps by end users in emerging economies such as China, India, Mexico, and Brazil is expected to create favourable opportunity for pallet wrap manufacturers.
Pallet Wraps: 'In-Transit' Product Safety
Over the past two decades, packaging industry has spectated radical shifts in its growth patterns, predominantly driven by evolving choices of substrates and changing consumer propensities. In the 1960s, supermarkets started winning over local shops and the producers.
These changes called-for transportation of goods using pallets that would ensure load stability and prevent product damage, wherein pallet wraps came into play for effective protective packaging. The numerous properties of pallet wraps, especially, high-end protection from rust, dust, and moisture, meant that they became the staple for long haul shipments.
PVC remained a choice for pallet packaging on account of its high stretchability quotient for a long time. However, durability was a key setback in case of PVC formats, which further placed the onus on the global packaging space to come up with newer formats with extended durability.
With large pallets and big containers becoming increasingly commonplace, pallet wrap has emerged as a packaging and logistics staple for a wide-range of wrapping needs. In addition, increasing reliance on pallet wrap formats by enterprises to ensure low operational costs continues to uphold their consumption in multiple blends and formulations.
Pallet Wraps Market: 'Eco-friendly' & 'Reusability' Gain Momentum
Among all the prominent trends brewing in the global packaging space, demand for eco-friendly and reusable packaging formats is touted to transform the industry in the next 10 years. In line with this demand, higher levels of product innovation and agility would help brands in the packaging landscape to retain their market standing. One such format that could match the reusability requirements put forth by end use industries is 'pallet band'.
Pallet bands emerged as a viable alternative to pallet wraps, for the fact that pallet bands are reusable and they facilitate an 'open' carton containment system. However, consumer trust on pallet wraps remains intact for the fact that pallet wraps promise higher stability as compared to pallet bands in case of heavy and irregular loads.
As the trend of 'sustainability' firms up on a global scale, manufacturers are drawing upon the trend to reap considerable profits. Manufacturers who are keen on having green credentials are counting on bio-plastics in lieu of the conventional petrochemical variants, which also enhances the eco-friendly quotient of their pallet wrap offerings.
Moreover, market participants are also focusing on launching coreless pallet wraps that are light-weight and eco-friendly, while promising new performance possibilities for various end use applications.
Organized Retail- A Window to Expansion in Developing Economies
The retail environment in developing markets is seeing massive growth in the last few years. Penetration of big-box and specialty retailers across developing economies is growing at a breakneck pace, and this growth is likely to tread on an ascending path in future. Organized retail ecosystems are becoming the norm in South Asia, and has emerged as one of the key aspects influencing economic growth of the South Asian countries.
In parallel with this growth of retail clusters across South Asia, end use industries, such as food & beverages, pharmaceuticals, and others, are increasingly relying on palletization as a pragmatic form of transporting goods to retail stores. This, in turn, foreshadows promising growth aspects for the key players of pallet wraps market during the forecast period.
F&B Industry Steps Up to Effective Palletization through Automation
As the food and beverage industry is on the look-out for effective packaging forms safeguarding maneuverability during transportation of heavy loads, the demand for pallet wraps is seeing an unstoppable increase. However, many companies in the food & beverage landscape are moving away from manual wrapping and transitioning towards pallet wrapping automation systems to enhance containment of their products.
Food producers have their facilities spread across the globe that calls for systematic and faultless dissemination of goods to maintain the supply-demand equilibrium. On that account, food and beverage producers are employing economical methods for hooding the palletized goods, wherein the pallet wrapping automation systems came into play.
Pallet wrapping automation systems help in optimizing the amount of pallet wrap used for packaging and ensure that the potential vulnerabilities, which could show up during shipments, are staved off. An automated pallet wrapping system has the potential to wrap a load in about one minute and involves the presence of one individual for supervision purpose, which helps the food & beverage producers with substantial time and cost savings.
This increase in adoption of pallet wrapping automation systems in the food & beverages space is likely to offer a plethora of opportunities for market players to cash in.
How Growth Will Unfold?
Leading players in the pallet wraps market continue to focus on business expansion via organic as well as inorganic ways. The key players are paying specific attention to mergers and acquisitions along with their well-articulated value creation ideas, in order to corner the market.
Filling in the portfolio gaps with new product launches will also continue to be a key focal point for manufacturers to outgrow their competition. Manufacturers are also zooming in increasing production of lightweight and eco-friendly pallet wrap grades, in a bid to align with the global sustainability drive.
World's Most Profilic Intelligence Engine
Get Access To The World's Largest Market Research Database.
Sign Up Now
Key Segment
By Thickness
< 15 mm
15 - 30 mm
30 - 45 mm
> 45 mm
By Product Type
Hand Wrap Rolls
Machine Rolls
By Material Type
Polyethylene
Polypropylene
PET
Polyamide
Polyamide
By Film Type
By End Use
Food & Beverages
Pharmaceuticals
Chemicals & Fertilizers
Personal Care & Cosmetics
Consumer Goods
Automotive
Electrical & Electronics
By Region
North America
Europe
Latin America
South Asia
East Asia
MEA
Oceania
Need specific information?
Our Clients