Introduction
Pet grooming industry is making leaps and bounds across the globe as pet owners are increasingly treating their pets the way they treat their family members, which involves spending money to facilitate them with optimal care. Pet owners, not only from high-income cohort, but also from middle-income cohort, are increasingly demanding pet grooming accessories that carry more organic aspects.
This has offered significant impetus to "pet humanization" trend and slew of companies have jumped onto the bandwagon, providing myriads of pet-centric products and services. The global pet grooming market value will surpass US$ 30 Bn in 2030. Over years ahead, e-commerce ecosystem and rising expenditure in animal healthcare will remain critical to drive the market.
Mobile Pet Grooming Salons - Need of the Hour
Mobile pet grooming salons are suitable option for pet owners following hectic schedule as they provide individual attention to pet animals as well as are convenient. For instance, Aussi Pet Mobile offers mobile pet grooming salons for grooming cats and dogs.
Mobile pet grooming salons are time-efficient and are beneficial for pet owners as well as pets as they are faster and keep customers sway from standing in long queues. In addition, they are relatively cost-effective compared to permanent grooming salons.
Going forward, mobile groomers offer doorstep assistance, as such, pet owners are showing interest to pay higher fee to avail these services. Portable vans that are utilized to provide grooming services also act as advertising medium. Growing demand for mobile pet services will augur well for pet grooming products market in near future.
Sustainability Trend – A Potential Game-changer
Sustainability trend is shaping almost every industry, including pet grooming industry. This is primarily attributable to rising consciousness among consumers to curb their impact on environment.
Recent surveys have revealed that consumers are likely to adopt consumption habits that will help them decrease impact on environment. In addition, they expect clear product packaging that accurately accents sustainability aspects, and pet grooming companies are no exception.
Increasing number of pet grooming companies are striving to address the issue of sustainability by manufacturing sustainable offerings to marketplace and creating collaborations with retailers and recycling companies to help with recycling programs.
Earthbath has developed all natural pet shampoo that is packed with aloe vera, oatmeal, and vitamins A, B, D, and E.
4-Legger has formulated 100% natural shampoo for dogs that is loaded with olive, coconut, jojoba oils, as well as essential oils such as rosemary and lemongrass.
Region-wise Analysis
North America Pet Grooming Market
Manufacturers of pet grooming accessories will reap maximum revenue from North America, which accounts for about 60% of overall market value. The regional is receiving major impetus from surging adoption of pets and expenditure on pet care. The US is home to highest number of companion animals, globally.
Studies reveal that individuals in the US collectively spend over US$ 50 Bn on their pets every year. Further, the 2019-2020 APPA National Pet Owners Survey states that 67% of households in the US own a pet. In Canada, nearly 40% of households own at least one dog, while about 38% own at least one cat.
FMI further states that pet grooming USA market represents the most lucrative value-capture opporutnities.
Request a sample specific to North America market
Europe Pet Grooming Market
Pet grooming products market in Europe is majorly driven by rising government support for pet care and increasing adoption of animal healthcare services. Case in point, regulators have implemented livestock insurance scheme across Europe to improve efficiency of animal healthcare services.
Moving ahead, sustainability trend is raging across industrial sector in Europe. 60% of respondents in a European Sustainability survey among pet parents agree that firms in pet care market should be sustainable and expect them to provide concrete evidence of their contribution in sustainability space.
Pet grooming markets in Germany, the UK, and France will join multibillion-dollar club. Further, FMI finds that market in Germany will outpace that in the UK in coming years.
Request a sample specific to Europe market
Asia Pet Grooming Market
While developed regions account for leading revenue share, pet grooming markets in East and South Asia are experiencing double-figure CAGR. With markets in North America and Europe heading for saturation, Asia is witnessing entry of key international brands.
Dogs and cats are most prevalent pet types among people in Japan and in 2019, they accounted for ownership share of 11.5% and 10.1% respectively. At present, there are about 20 million cats and dogs adopted as pets in Japan. India is home to nearly 20 million pet dogs. In addition, about 19 million other domestic pets are presently adopted in homes, with around 600, 000 more being adopted every year.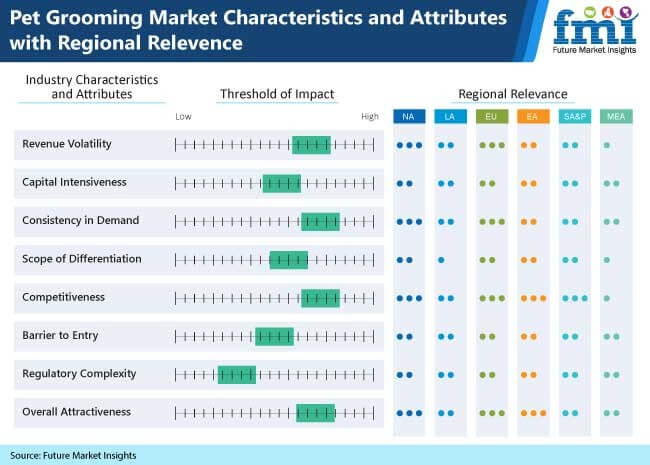 FMI's report has analyzed pet grooming market in 20+ countries across North America, Europe, South Asia, Latin America, East Asia, Oceania and Middle East & Africa. Request a regional/country-wise sample.
Category-wise Insights
Shampoos & Conditioners Top Selling
Among various product types, shampoos and conditioners will remain top-selling category in pet grooming market through 2030. The product category will create value worth over US$ 20 Bn by 2030, says FMI report on pet grooming industry statistics..
Market players are also exploring potential revenue growth prospects in pet combs and brushes, and shear and trimming tools, despite holding relatively lesser value share. That said, manufacturers continue to channelize substantial focus on pet shampoos and conditioners.
Dogs and Cats Lead
Nearly 60% of pet grooming products will be developed specifically either for dogs or cats. The trend will follow positive trend over decade ahead. Moreover, FMI reveals that sales of pet grooming products for cats will grow at double-digit CAGR in coming years.
Moving ahead, people are showing interest in adopting birds and freshwater fish. Recent surveys reveal that about 11.5 million households own freshwater fish, while around 5.7 million own birds in the US alone. Sales of bird-centric pet grooming products is rising at rapid CAGR, thus, offering fertile breeding ground for market players.
Economy/Mid-Range Products in High Demand
About 6 out of 10 pet grooming products to be sold will land in economy/mid-range. By 2030, economy/ mid-range pet grooming products will generate revenue over US$ 17 Bn, as per FMI report. However, they will gradually lose their value share to premium range products in coming years.
Rising pet adoption has resulted in increased expenditure on pet care products. Mushrooming trend of pet humanization has influencing pet owners to increasingly invest in pet grooming products. FMI states that sales of premium range pet grooming products will soar at tremendous CAGR over following decade. Moreover, the premium range products will share nearly equal divide with economy/mid-range products in due course.
Modern Trade Remains Dominant
Capturing about a third of overall market revenue, players will stay glued to modern trade for sales of pet grooming products over following decade. FMI states that revenue generation from modern trade will hit US$ 10 Bn towards the end of forecast period. That said, the COVID-19 pandemic has dramatically changed the way consumers purchase products.
With physical distancing norms coming into action due to nationwide lockdowns, consumers are turning to online retail channels to purchase pet grooming products. Despite capturing relatively lesser revenue share, sales of pet grooming products via online retails channels will rise at about 9% CAGR through 2030.
Competitive Landscape
The global pet grooming market is characterized by presence of several large as well as small- and medium-scale companies. As a response to evolving customer expectations, market players are investing in product innovations and digital engagement. Case in point,
Pure and Natural Pet has developed 100% natural bamboo toothbrush. The anti-microbial and biodegradable handle is derived from single piece of organically grown Moso Bamboo and is layered with natural soybean wax for better grip. The bristles are dental-grade and derived from recycled materials. Further, the company is enhancing its sustainability status quo by including soy-derived recyclable packaging for its Bamboo Toothbrush.
The Spruce has rolled out its new pet care collection in collaboration with Lab-Clean Inc. – key manufacturer of eco-friendly products. The pet care collection incorporates plant-sourced waterless pet wash, and stain and odor remover in three organic scents – lavender, oatmeal, and fresh. Containing pet-safe fragrances and essential oils, the pet wash formulation is perfect for cleaning and moisturizing skin and coats, while stain and odor removing spray decomposes proteins on furniture and carpets.
Rover.com has unveiled professional in-home pet grooming services, enabling pet parents to search for compassionate and convenient grooming services online. The product launch follows success of nine-month pilot duration including reviews groomers and from owners, during which pet parents scheduled over 2,000 individual grooming services.
In addition to these, some other key players in pet grooming market include
Beaphar
Ferplast S.p.A.
Ancol Pet Products Limited
Rolf C. Hagen Inc.
The Hartz Mountain Corporation
Groomer's Choice
Nap Pets (Himalaya Herbal Healthcare)
Earthbath
Spectrum Brands Inc.
Tecla Company
Synergy Labs
Petco Animal Supplies Inc.
Coastal Pet Products Inc.
Vet's Best, 4-Legger
World for Pets
Boss Pet Products Inc.
Rosewood Pet Products
Mungo & Maud
A.B.O. Gear LLC
The list is only indicative – full list of pet grooming market key players is available upon request.
Pet Grooming Market Report: Scope
| | |
| --- | --- |
| Attribute | Details |
| Forecast Period | 2020-2030 |
| Historical Data Available for | 2015-2019 |
| Market Analysis | USD Million for value |
| Key Regions Covered | North America, Latin America, Europe. South Asia, East Asia, Oceania and Middle East & Africa (MEA) |
| Key Countries Covered | US, Canada, Brazil, Mexico, Germany, UK, France, Italy, Spain, BENELUX, China, Japan, South Korea, India, ASEAN, Australia, New Zealand, GCC Countries, Turkey, Northern Africa, Israel, South Africa |
| Key Segments Covered | Product Type, Pet Type, Price Range, Sales Channel, and Region |
| Key Companies Profiled | Beaphar, Ferplast S.p.A., Ancol Pet Products Limited, Rolf C. Hagen Inc., The Hartz Mountain Corporation, Groomer's Choice, Nap Pets (Himalaya Herbal Healthcare), Earthbath, Spectrum Brands Inc., Tecla Company, Synergy Labs, Petco Animal Supplies Inc., Coastal Pet Products Inc., Vet's Best, 4-Legger, World for Pets, Boss Pet Products Inc., Rosewood Pet Products, Mungo & Maud, A.B.O. and Gear LLC (only indicative list) |
| Report Coverage | Market Forecast, brand share analysis, competition intelligence, DROT analysis, Market Dynamics and Challenges, Strategic Growth Initiatives |
| Customization & Pricing | |
Key Questions Answered by the Report
How the market for pet grooming is expected to shape up in coming ten years?

The global pet grooming market size will value around US$ 16.4 Bn in 2020. Market revenue pool will expand by around 6.9% CAGR during 2020-2030.

Which is the largest market for pet grooming?

North America and Europe represent the largest market for pet grooming, globally, owing to escalating rate of pet adoption and flourishing trend of pet humanization in these regions.

How the competition is structured in global pet grooming market?

The global pet grooming market is highly fragmented with presence of various leading and emerging players including, Beaphar, Ferplast S.p.A., Ancol Pet Products Limited, Rolf C. Hagen Inc., and The Hartz Mountain Corporation.

Which product type will remain high in demand in global pet grooming market?

Among various product types, demand for conditioners and shampoos will remain high over following decade in global pet grooming market. However, market players are also tapping into shear and trimming tools to achieve economies of scale.

Which sales channel is highly preferable in global pet grooming market?

Market players are gleaning significant revenue from modern trade. While they are also exploring sales prospects in pet specialty stores, they will hurt their revenue pool if they do not leverage online retail channels.
Pet Grooming Market Segmentation
Product Type
Conditioners & Shampoos
Combs & Brushes
Shear & Trimming Tools
Others
Pet Type
Dogs
Cats
Birds
Fish & Reptiles
Small Pets
Horses & Other Livestock
Price Range
Economy/ Mid-range
Premium
Sales Channel
Modern Trade
Convenience Stores
Care Service Centres
Online Retail
Support Care Centres
Pet Specialty Stores
Regional Outlook
North America (US, and Canada)
Latin America (Brazil, and Mexico)
Europe (Germany, UK, Russia, France, and Italy)
South Asia (India, Indonesia, and Thailand)
East Asia (China, Japan, and South Korea)
Oceania (Australia and New Zealand)
Middle East & Africa (MEA) (Turkey, GCC Countries, and South Africa)
Need specific information?