Pneumonia Diagnostics Market By Product Type (Streptococcus-based, Legionella-based, Chlamydophila-based, Viral Pneumonia-based, Mycoplasma Pneumonia-based) & Region – Forecast 2017 - 2027
North America Pneumonia Diagnostics Market - Analysis, Outlook, Growth, Trends, Forecasts
November 2017

REP-GB-2970

168 pages
Greater Adoption of Pneumonia Diagnostics Equipment Worldwide
A paradigm shift has been observed from traditional culture diagnosis to rapid pneumonia identification - a game-changer in the pneumonia diagnostics market. In the traditional method, cultures are used to detect pneumonia causative organisms. This is a time-consuming process with a higher error rate when compared to rapid diagnostics. In a few cases such as legionella, culture identification is not readily available and this increases the mortality rate of pneumonia cases caused by it.
The rapid rate of technological advancement has made pneumonia diagnosis much quicker and more cost-effective with a greater degree of sensitivity and specificity. The urinary antigen is an extremely-effective rapid test that allows targeted therapy foe legionnaire at the point-of-care itself.
Diagnostic Difficulties Pose a Challenge in Pneumonia Diagnostics Market
It is typically not difficult to diagnose and manage pneumonia in a community seating. Clinical decisions are mainly used in diagnosis information. Nonetheless, there have been some cases with fake positive results that have led to serious patient mismanagement. The patients were prescribed antibiotics and reported super infections and complications because of the former.
Immunoassay techniques seem to be fairly promising for pneumonia diagnostics but are inadequate currently to screen a diverse array of organisms. All of these factors can restrict the growth of the pneumonia diagnostics market and can even decrease adoption in certain situations.
Demand for Rapid Diagnostics Tests Trending the Pneumonia Diagnostics Market
On account of a rising number of patients contracting pneumonia, the demand for high-quality rapid test kits has seen a noticeable spike. Kits that are fast-acting, have high sensitivity, and specificity is quite high from physicians, hospitals, and diagnostics labs across the world. In addition to this, there is also demand for cost-effective diagnostic kits, particularly in European nations that demand cheaper kits, affluence and higher disposable income notwithstanding.
North America Largest Region in the Global Pneumonia Diagnostics Market
North America has the largest market share in the pneumonia diagnostics market and should remain so for the duration of the forecast period. The US accounts for more than 4/5th of the North America pneumonia diagnostics market and represents a much larger opportunity than its larger neighbour. However, it would be unwise to ignore Canada entirely as it is poised to witness a higher CAGR of 6.4% for the decade. The intense competition in the North America pneumonia diagnostics market is predicted to cause pricing pressure and key stakeholders will have to take this into account.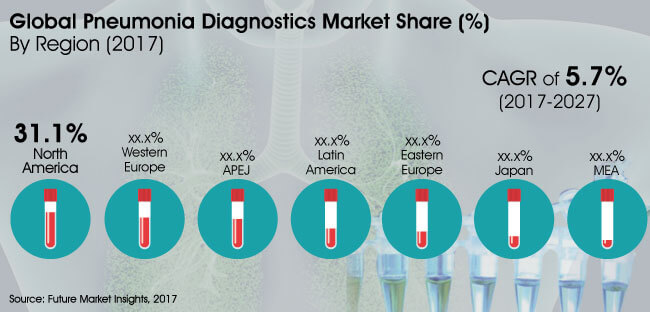 UK and Germany Critical in Western Europe Pneumonia Diagnostics Market
The UK and Germany accounted for more than 2/5th of the Western Europe pneumonia diagnostics market primarily because of their robust, well-developed healthcare infrastructure and a greater awareness of a geriatric population likely to develop such health issues.
The streptococcus-based product type holds the key to success in the Western Europe pneumonia diagnostics market and companies are recommended to devise their market strategies accordingly. The Western Europe pneumonia diagnostics market is on track to be worth almost US$ 147 million by end 2027.
APEJ Closely Follows Western Europe in Global Pneumonia Diagnostics Market
APEJ is the third largest region in the pneumonia diagnostics market behind North America and Europe but is unlikely to cross the latter for the foreseeable future. China and India are the countries to keep an eye out for in the APEJ pneumonia diagnostics market. The China pneumonia diagnostics market has a value of approx. US$ 16 million in 2017 itself.
World's Most Profilic Intelligence Engine
Get Access To The World's Largest Market Research Database.
Sign Up Now
Pneumonia Diagnostics Market Taxonomy
Product Type
Streptococcus-based
Legionella-based
Chlamydophila-based
Viral Pneumonia-based
Mycoplasma Pneumonia-based
Region
North America
Western Europe
Eastern Europe
Latin America
Asia Pacific Excluding Japan
Japan
Middle East & Africa
Need specific information?
Our Clients