An Incisive, In-depth Analysis on the Pneumonia Diagnostic Market
This study offers a comprehensive, 360 degree analysis on the Pneumonia Diagnostic market, bringing to fore insights that can help stakeholders identify the opportunities as well as challenges. It tracks the global Pneumonia Diagnostic market across key regions, and offers in-depth commentary and accurate quantitative insights. The study also includes incisive competitive landscape analysis, and provides key recommendations to market players on winning imperatives and successful strategies.
Greater Adoption of Pneumonia Diagnostics Equipment Worldwide
A paradigm shift has been observed from traditional culture diagnosis to rapid pneumonia identification - a game-changer in the pneumonia diagnostics market. In the traditional method, cultures are used to detect pneumonia causative organisms. This is a time-consuming process with a higher error rate when compared to rapid diagnostics. In a few cases such as legionella, culture identification is not readily available and this increases the mortality rate of pneumonia cases caused by it. The rapid rate of technological advancement has made pneumonia diagnosis much quicker and more cost-effective with a greater degree of sensitivity and specificity. The urinary antigen is an extremely-effective rapid test that allows targeted therapy foe legionnaire at the point-of-care itself.
Diagnostic Difficulties Pose a Challenge in Pneumonia Diagnostics Market
It is typically not difficult to diagnose and manage pneumonia in a community seating. Clinical decisions are mainly used in diagnosis information. Nonetheless, there have been some cases with fake positive results that have led to serious patient mismanagement. The patients were prescribed antibiotics and reported super infections and complications because of the former. Immunoassay techniques seem to be fairly promising for pneumonia diagnostics but are inadequate currently to screen a diverse array of organisms. All of these factors can restrict the growth of the pneumonia diagnostics market and can even decrease adoption in certain situations.
Demand for Rapid Diagnostics Tests Trending the Pneumonia Diagnostics Market
On account of a rising number of patients contracting pneumonia, the demand for high-quality rapid test kits has seen a noticeable spike. Kits that are fast-acting, have high sensitivity, and specificity is quite high from physicians, hospitals, and diagnostics labs across the world. In addition to this, there is also demand for cost-effective diagnostic kits, particularly in European nations that demand cheaper kits, affluence and higher disposable income notwithstanding.
North America Largest Region in the Global Pneumonia Diagnostics Market
North America has the largest market share in the pneumonia diagnostics market and should remain so for the duration of the forecast period. The US accounts for more than 4/5th of the North America pneumonia diagnostics market and represents a much larger opportunity than its larger neighbour. However, it would be unwise to ignore Canada entirely as it is poised to witness a higher CAGR of 6.4% for the decade. The intense competition in the North America pneumonia diagnostics market is predicted to cause pricing pressure and key stakeholders will have to take this into account.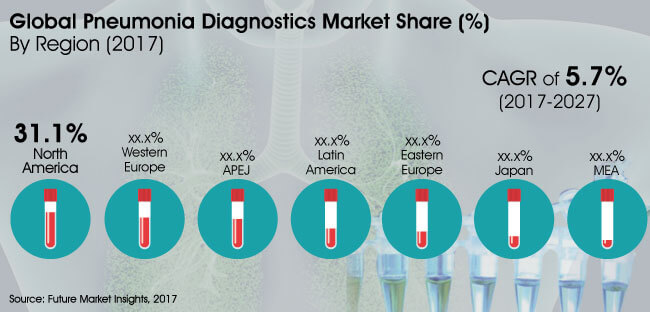 UK and Germany Critical in Western Europe Pneumonia Diagnostics Market
The UK and Germany accounted for more than 2/5th of the Western Europe pneumonia diagnostics market primarily because of their robust, well-developed healthcare infrastructure and a greater awareness of a geriatric population likely to develop such health issues. The streptococcus-based product type holds the key to success in the Western Europe pneumonia diagnostics market and companies are recommended to devise their market strategies accordingly. The Western Europe pneumonia diagnostics market is on track to be worth almost US$ 147 million by end 2027.
APEJ Closely Follows Western Europe in Global Pneumonia Diagnostics Market
APEJ is the third largest region in the pneumonia diagnostics market behind North America and Europe but is unlikely to cross the latter for the foreseeable future. China and India are the countries to keep an eye out for in the APEJ pneumonia diagnostics market. The China pneumonia diagnostics market has a value of approx. US$ 16 million in 2017 itself.
Global Report with Exhaustive Focus on Emerging and Developed Regions
Future Market Insights provides a forecast of the global pneumonia diagnostics market in terms of value from 2017 to 2027. The study is an in-depth illustration of the trends and dynamics witnessed across the seven regions viz. Western Europe, Eastern Europe, North America, APEJ, Japan, and Latin America that impact current and future prospects in the global pneumonia diagnostics market.
Well-laid Out, Logical, Cohesive Report Structure
The research report includes a comprehensive assessment of the global pneumonia diagnostics market and delivers insights into the different factors contributing to the popularity of pneumonia diagnostics equipment. The report offers an analysis of important drivers, restraints, opportunities, and trends that shape the pneumonia diagnostics market along with an evaluation of stakeholder strategies to achieve success in the pneumonia diagnostics market. The report begins with an overview of the pneumonia diagnostics market that caters to a global audience by mentioning revenue figures in US dollars. Furthermore, the section comprises an analysis of all relevant factors from the demand and supply side that influence the pneumonia diagnostics market with a segmental break-down across all the studied regions.
Pneumonia Diagnostics Market Taxonomy
Product Type

Region

Streptococcus-based

Legionella-based

Chlamydophila-based

Viral Pneumonia-based

Mycoplasma Pneumonia-based

North America

Western Europe

Eastern Europe

Latin America

Asia Pacific Excluding Japan

Japan

Middle East & Africa
A critical section of the report highlights the pneumonia diagnostics market across the regions. The market outlook is for the decade from 2017 to 2027 and mentions the forecast within the aforementioned period, including the latest technological developments coupled with new products available in the pneumonia diagnostics market. Region and country-specific trends are focused on at great length in the report and an investigation of these drivers is par for the course. The report takes into account the present and future scenario of the pneumonia diagnostics market by considering 2016 as the base year with all the requisite data provided for the readers' benefit. For an accurate forecast, the current market is sized up to form the basis of predicting the future potential in the pneumonia diagnostics market.
The concluding section of the report consists of a competition dashboard that provides a holistic view of the pneumonia diagnostics market. The dashboard is in an easy-to-understand format and has a company overview, product portfolio, financials, strategies adopted, and recent developments in the pneumonia diagnostics market. This section makes it possible to make a detailed and objective assessment of key stakeholders in specific market segments of the pneumonia diagnostics market. Competitors can be identified based on their capabilities and success in the pneumonia diagnostics market and profiles go a long way in determining the strategies adopted by them to strengthen their competitive position in the pneumonia diagnostics market.
Fool-Proof, Robust Research Methodology
The research methodology devised by Future Market Insights is an industry leading one that is trusted by clients as an authoritative source on the pneumonia diagnostics market. Our team of experts have years of experience in the healthcare domain and begin their study with a winning combination of primary and secondary research to gain an initial understanding of the market. Forecasts are conducted not only in terms of CAGR but also with parameters such as Y-o-Y growth to gauge market predictability and tap the opportunities as they arise. The report undergoes several channels of validation and cross-verification to ensure accuracy to the highest standard and only trusted sources such as company releases, government websites, and industry journals are used to gather the necessary qualitative and quantitative insights.
COVID -19 : Impact Analysis
Request the coronavirus impact analysis across industries and markets
Request Covid -19 Impact
CASE STUDIES
See how our work makes an impact.
At FMI, we design strategies that are adaptive, impactful, and implementable.