Covid-19 Diagnostics Market by Product Type (Instruments, Test Kits, Reagents and Consumables), Sample Type (Oropharyngeal & Nasopharyngeal Swabs, Blood, Urine), Technology (PCR, ELISA, POC), End User & Region - Forecast to 2020 - 2030
Covid-19 Diagnostics Market - Analysis, Outlook, Growth, Trends, Forecasts
August 2020

REP-GB-12366

280 pages
Covid-19 Diagnostics Market Outlook and Findings
[280 Pages Report] The Covid-19 diagnostics market players look to develop highly sensitive and specific testing kits
RT-PCR remains the most widely used diagnostic test globally
Leading players boosting production by launching automated COVID-19 testing systems
Springing up of local players to combat Covid-19 providing a competitive edge to the market
Covid-19: A Snapshot
As of now, the world is battling Covid-19. The name "Covid-19" says "Corona Virus Disease -2019" as the first traces were found in human body in 2019.
The term "Corona Virus" is coined regarding the family of viruses that get transmitted between humans and animals. As such, they are also called "zoonotic viruses".
By the end of Mar 2020, the WHO confirmed that Covid-19 outbreak has spread to 213 countries across 6 continents.
The common symptoms observed are dry cough, fatigue, fever, sore throat, shortness of breath, body pain/ache, and even diarrhea in a few cases. At times, runny nose and nausea are also observed.
Till recently, this infection was reported to spread from person to person through saliva or nasal discharge, especially on the infected person sneezing or coughing. However, of late, WHO issued guidelines for airborne transmission as well. The time between a person getting exposed to Covid-19 and onset of symptoms is usually 12-14 days.
Key Market Trends
RT PCR (Reverse Trascriptase PCR) remains the preferred mode of treatment for coronavirus testing. This technique is advantageous such that primers used can be produced with utmost speed.
As such, multiplex RT PCR is the most preferred diagnostic test with regards to Covid-19. Many molecular diagnostics companies are focusing on developing affordable RT PCR tests.
Along the above-mentioned lines, efforts are being taken by certain players to cater to the increasing number of Covid-19 affected patients. They are likely to substantiate the Covid-diagnostics market in the forecast period (2020-2030).
For instance –
In Jul 2020, Avacta announced beginning of clinical validation of high throughput Covid-19 laboratory test (Adeptrix Covid-19 diagnostic test) by collaborating with CONDOR program by the government of UK
In Jul 2020, BATM launched 3 novel diagnostic kits, namely – Covid-19 serologic test, Covid-19 antigen test, and new molecular diagnostics test for advancing Covid-19's diagnosis
In July 2020, Mylab launched "Compact XL", a machine for automating all the manual processes of molecular diagnostic tests, inclusive of Covid-19's RT-PCR tests
In Jul 2020, The National Institute of Health selected the rapid Covid-19 test under the Rapid Acceleration of Diagnostics Tech (RADx Tech) program. Researchers at MIT, along with 3M have started with an accelerated research to check if a simple device could produce accurate results and its feasibility regarding mass production
In Jul 2020, Quest Diagnostics received authorization from the US FDA regarding laboratory technique to be employed in Covid-19 diagnostic testing
In June 2020, T2 Biosystems, Inc. announced that it had finished with validation of Covid-19 molecular diagnostic test – the "T2SARS-CoV-2 Panel" under license agreement with Hackensack Meridian Health's Center of Discovery and Innovation. Distribution at the commercial level has been permitted after having met requirements for an EUA (Emergency Use Authorization) request to the US FDA
In Jun 2020, Mobidiag received CE-IVD markings relating to the two tests enabling reliable and rapid detection of Covid-19. They are – Amplidiag Covid-19 for catering to large laboratories for batch volume tests and Novodiag Covid-19 for on-demand, single tests
Research and Offbeat Discoveries to Drive the Market
Apart from the market players, educational and research institutes are putting their best foot forward to develop safer and quicker coronavirus diagnostic test kits.
For instance –
In Jul 2020, AdvaMed announced creation of an exhaustive national Covid-19 diagnostic supply registry for lending a helping hand to federal and state pandemic responses.
In Jul 2020, The Journal of the American Osteopathic Association published a research paper that stated that obtaining eosinophil count also helps in detection of Covid-19. It also presented that out of Covid-19 patients, 60% did have zero eosinophils at presentation. The once not affected had not more than 16%.
India-based IIT Delhi, in Jul 2020, launched "Corosure", the Covid-19 test kit at a base price of US $5 only.
In Jul 2020, SRL Diagnostics, in collaboration with Fortis Hospital, decided to launch antigen test facility to diagnose Covid-19 in Karnataka, India.
Players to fill the Void for asymptomatic Patients
Recently, several people who had shown no symptoms of Covid-19 have been reported to have contracted Covid-19. This has actually put the healthcare personnel in a fix, as there is no way out other than mass testing.
To enable this testing at a large scale, Covid-19 testing kits also need to be available in large numbers. For instance – Roche's testing head mentioned that demand for equipment for processing Covid-19 tests has increased to the levels it would normally see over 4 to 5 years.
On these grounds, the company is planning to introduce novel antibody tests by the end of 2020 to widen its offering pertaining to the same.
Moreover, local players across the globe are trying their best to table Covid-19 test kits, so that detection gets speeded up and so do the medications. For instance – In Apr 2020, FastSense Diagnostics, an India-based start-up, developed rapid diagnostic kits to screen Covid-19.
Similarly, South Korea-based SD Biosensor, in Apr 2020, obtained the license to produce Covid-19 test kits in India. Also, Voxtur Bio, around the same time, started manufacturing rapid test kits to address Covid-19.
Covid-19 Diagnostics Market: Regional Analysis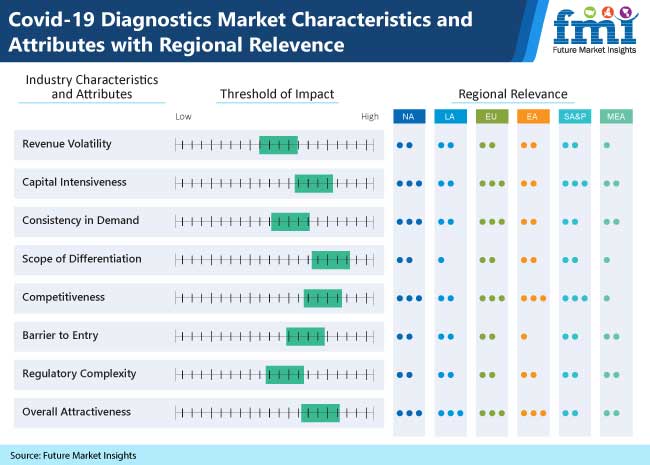 The Covid-19 pandemic has taken the entire world on a ride. As of now, the US, Russia, Italy, Spain, Brazil, India, Australia are amongst the worst affected countries. As such, North America, Europe, Latin America, Oceania, Asia-Pacific – all the continents are battling Covid-19. Right now, there are 14,971,036 confirmed cases, inclusive of 618,017 deaths, as reported by the WHO.
Americas is top-seeded with 7,948,513, Europe stands second with 3,124,701, and South-East Asia with 1,571,317 confirmed cases. So, Americas are requiring the highest number of Covid-19 test kits. The status quo is expected to remain the same in the subsequent quarters as it will definitely take time for Covid-19 to reach the "below par" mark.
Also, Switzerland and Czech Republic have increasing testing capacity on their part in the last few months. As far as Asia Pacific is concerned, profitable partnership initiatives amongst India, South Korea, Japan regarding penetration of Covid-19 diagnostic products are expected to bolster the market
Major Players in the Covid-19 Diagnostics Market
The key players are into accelerating production as well as supply of Covid-10 diagnostic test kits for keeping pace with requirement for disease containment. For example – Roche, in Mar 2020, did initiate shipment of Cobas SARS-CoV-2 test kits' first allotment.
Around 400,000 test kits were shipped all across the US hospitals and reference laboratories. Likewise, it started shipping additional 400,000 additional test kits every week.
Likewise, the players are working on collaborative approach to cope with Covid-19 crisis and also expand business. For instance, Quest Diagnostics, in May 2020, collaborated with Ortho Clinical Diagnostics with the objective of expanding Covid-19 testing across 20+ labs all through the US. Ortho's VITROS Immunodiagnostic products Anti-SARS-CoV-2 IgG test for speeding up Covid-19 testing in the patients.
The other major players include:
Veredus Laboratories
Thermo Fisher Scientific, Inc.
Quidel Corporation
Perkin Elmer, Inc.
Neuberg Diagnostics
Mylab Discovery Solutions Pvt Ltd.
Luminex Corporation
Laboratory Corporation of America Holdings
Hologic Inc.
Danaher
Cepheid
bioMérieux SA
Altona Diagnostics GmbH
ALDATU BIOSCIENCES
ADT Biotech Sdn Bhd
Abbott
1drop Inc.
Covid-19 Diagnostics market: The Way Forward
The Covid-19 diagnostics market is expected to go strong in the upcoming period. Even when a vaccine is eventually developed, testing will still be around, as inoculating entire population will take time.
The market players are already on to the expansion spree in terms of production of diagnostic kits. However, they need to devise ways to mellow down on the costs, which is one of the most competitive factors for them at the global level. The local players are already giving them a tough fight in this regard.
World's Most Profilic Intelligence Engine
Get Access To The World's Largest Market Research Database.
Sign Up Now
Key Segment
Product Type
Instruments
Test Kits
Reagents and Consumables
Sample Type
Oropharyngeal & Nasopharyngeal Swabs
Blood
Urine
Others
Technology
Region
North America
Latin America
Europe
East Asia
South Asia
Oceania
Middle East and Africa
Need specific information?
Our Clients