POTASSIUM CHLORIDE MARKET: KEY RESEARCH FINDINGS
The global potassium chloride market will exceed the US$ 16 Bn mark in 2030.
Market growth will majorly be driven by surging agricultural output, globally.
Agricultural grade potassium chloride continues to register higher revenue than chemical/ industrial grade.
The agriculture sector would remain the key consumer of potassium chloride; water softeners and industrial applications to offer investment prospects.
Market players would continue to reap substantial returns from Asia Pacific (APAC) through 2030.
KEY FACTORS SHAPING POTASSIUM CHLORIDE MARKET
Population Growth and Subsequent Increase in Food Consumption
The global population was pegged at 7.6 billion in 2019, with a change of 1.08% during 2018-2019. High population growth has fuelled food consumption, globally, which has boosted the demand for agricultural products. There is significant pressure on the agricultural industry to cater to the increasing demand for food, owing to population growth.
Thus, various technologies have been used to improve the yield of the available fertile land over the past few years. With an increase in the demand for agricultural products, it is imperative to ensure high output with the available resources, and this factor is boosting the use of fertilizers, including potassium chloride, to improve crop yield and production.
Precision Farming to Boost Consumption of Potassium Chloride
The rise of precision agriculture and growing adoption of latest technologies lead to an increase in the consumption of potassium chloride by farmers and agro-producers. The adoption rates for soil sampling and computer high speed Internet is 98% and 94%, respectively. Other common practices, such as yield monitors and maps and GPS guidance systems, increased with more than 80% of adoption rates. With growth in precision farming, the potassium chloride market is expected to surge over the forecast period.
Agricultural Development, Supported by Economic Growth
As per IMF data, the global economy grew by 2.9% (real GDP) in 2019. Economic growth improves the standard of living, alongside the spending power of people. Increasing spending power leads to a change in the eating habits of the population. Growth in food demand has been stronger than population growth, due to the changing eating habits of people. This, in turn, has been accelerating the demand for fertilizers and pesticides.
Fertilizers and pesticides are used to improving crop yield, fertility of soil, and enhance production. Therefore, the demand for potassium chloride is expected to grow in tandem with the growth of the agriculture industry. Developing economies spend money on the development of various industries. The agricultural industry is an important contributor to a nation's GDP. Therefore, any improvement in economy is always a positive sign for the growth of the agricultural sector.
Region Outlook of Potassium Chloride Market
In terms of value, the potassium chloride market in East Asia led the global market in 2019. The potassium chloride market in China holds a prominent share, and is projected be the most attractive location for revenue growth over the forecast period, owing to the high demand for potassium chloride for agriculture and industrial applications.
Having said that, the coronavirus (COVID-19) pandemic is resulting in widespread disruption to Asia's agricultural sector, with rice and wheat at the forefront of the impact. The predominant impact of the pandemic on the agricultural sector in Asia is that of workforce displacement, particularly for migrant workers.
The supply chain in Asia is still in the pre-transformation era, and the agricultural industry is heavily dependent on workforce for planting, harvesting, and food transportation. Restrictions on import-export activities have adversely affected the profit margins of various segments of the supply chain. All these factors are casting a negative shadow on the potassium chloride market.
POTASSIUM CHLORIDE MARKET: STRUCTURE ANALYSIS
Collaborations and mergers & acquisitions are among the key strategies followed by leading manufacturers in the potassium chloride market.
Key players are constantly enhancing their manufacturing capabilities by expanding and enhancing existing production facilities, along with investments in the R&D sector to have product differentiation. Moreover, long-term supply contracts with prominent end users also remains a key strategy in the global potassium chloride market.
Base year considered - 2019
Actual estimates/Historical data - 2015 - 2019
Forecast period - 2020 - 2030
Forecast units - Value (USD) Bn
Segments covered - Grade, Application, Crop, and Region
Regions covered - Americas (The US, Canada, Brazil, Mexico, and Rest of Americas), Europe (UK, Germany, France, Spain, Italy, Russia, and Rest of Europe), Asia Pacific (China, Japan, India, ASEAN, and Rest of APAC), and MEA (GCC Countries, South Africa, Turkey, Northern Africa and Rest of MEA).
Key Players - EMC Corporation, Atlantis Computing Inc., Cisco Systems, DataCore Software Corporation, Fujitsu Ltd., Gridstore Inc., Hitachi Data Systems, Nutanix Inc., NetApp, and Pivot3
Report coverage - Revenue forecasts, COVID-19 impact, company share, competitive landscape, growth factors, and trends
Potassium Chloride Market Size by Grade
Agricultural grade continues to shape the revenue growth of the potassium chloride market. Under the category, granular and coarse fertilizers would be highly preferred, capturing around 75% of the overall agricultural grade potassium chloride revenue.
These grade types are prevalent in formulated fertilizers such as bulk blended mixtures. However, this study has revealed that, chemical/ industrial grade potassium chloride would gain slight traction in the coming years, especially in the pharmaceutical industry. Nevertheless, players in the global potassium chloride market would continue to capitalize on agricultural grade potassium chloride.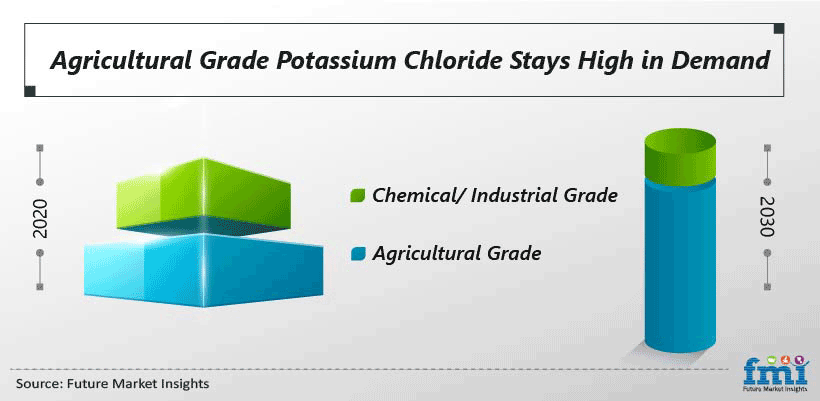 Potassium Chloride Market Regional Analysis
Manufacturers of potassium chloride continue to resort to Asia Pacific (APAC) for bigger margins. Presence of chemical manufacturing hubs such as China is influencing market players to invest their resources in APAC. In addition, the agricultural and industrial sectors of China and India are making material progress, thus, adding next the leg of market growth in the region. At present, the APAC potassium chloride market represents a US$ 5 Bn market. FMI finds that, this figure is slated to increase stably over the decade ahead.
E-retail Ecosystem for Bigger Profit Margins
Top-line growth of the e-retail ecosystem for chemicals and materials, particularly in developing regions, is helping potassium chloride market players in reaching areas where services of offline distributors are inaccessible. As the supply chain model of the e-retail ecosystem does not involve distributors, the profit margin is significantly greater as compared to that of offline retailing. Players in the potassium chloride market must invest in e-retail strategies to boost revenue development, expand customer base, and enhance customer retention and loyalty.
How Growth will Unfold
Major portion of the potassium chloride market revenue would come from the agricultural sector. Around 9 out of 10 market players are investing in this end-use industry. FMI finds that, the trend will remain intact over the following decade. Adoption of precision farming for improving agricultural output has further boosted the consumption of potassium chloride in the agricultural sector. Moving ahead, market players are unfolding the potential of potassium chloride as a water softener as an alternative to sodium chloride in household water softener facilities.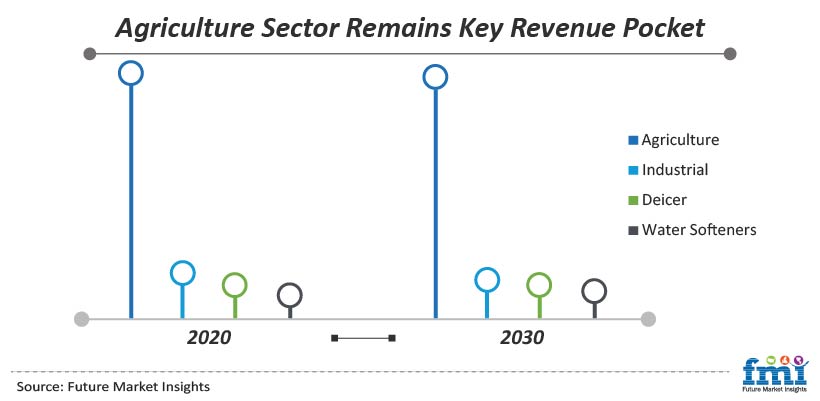 POTASSIUM CHLORIDE MARKET TAXONOMY
Grade
Agricultural Grade
Chemical / Industrial Grade
Application
Agriculture
Deicers
Water Softeners
Industrial
Others
Crop
Cereals
Oilseeds
Fiber / Sugar and R&T
Fruits & Vegetables
Others (Grass & Residuals)
Region
North America
Latin America
Europe
East Asia
South Asia
Oceania
Middle East & Africa
Need specific information?
Talk Show:
The Rise of Intelligent Packaging
Personalized, Connected and Sustainable
November 18, 2021
11:00-11:45 AM PST (USA & Canada)
This is a LIVE session