Potassium Formate Market - Key Research Findings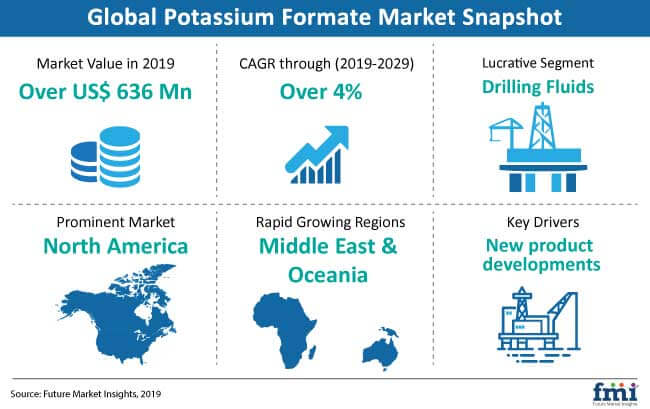 Potassium Formate Market - Key Research Findings
Global potassium formate market size in 2018 – nearly US$ 613 Mn.
The potassium formate market is expected to grow at an approximate CAGR of 4% over 2019-2029.
North America and Europe are expected to remain leading regional markets for potassium formate products.

Strong presence of the oil & gas industry in North America accounts for increasing demand for potassium formate for application in drilling fluids, whereas high snowfall in the European region is the key booster to rising potassium formate consumption for formulation of deicing fluid.

Investments in research & development likely to result in development of high-quality products

Key players in the potassium formate market, such as BASF, ADDCON, Perstorp, Cabot, Evonik, etc., are augmenting R&D investments to extend their offerings for various end use applications.
Leading players are also adopting new marketing strategies to communicate the benefits of potassium formate over other salts, which is expected to drive the market growth during the forecast period.

Drilling fluids are likely to remain the leading application area for potassium formate manufacturers.

The growth of this segment can be primarily attributed to the growth of the global oil & gas industry. Some of the factors, such as cost-effectiveness and rising awareness about the benefits of potassium formate amongst the users are expected to propel the growth of the potassium formate market.
SynaTek Solutions has recently created biodegradable solutions for de-icing applications by using BASF formic acid product. Such developments will boost the potassium formate market growth.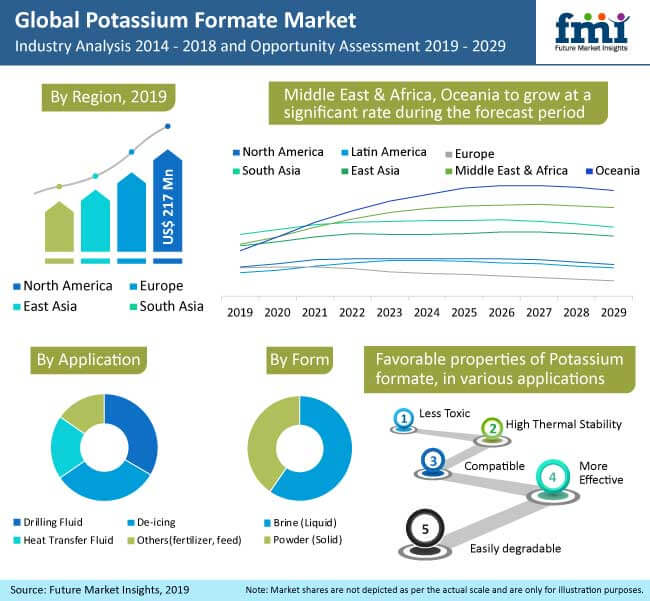 Top 3 Factors Shaping the Potassium Formate Market
Increasing adoption of potassium formate over other salts in drilling fluids and de-icing applications

Key market players such as BASF, ADDCON, Evonik, Perstorp, and Cabot, are focusing on the expansion of the potassium formate market share through adoption of various marketing strategies.

Additionally, new developments by key players is pushing the adoption of potassium formate in various applications including de-icing, drilling fluids, and heat transfer fluids.

In 2017, SynaTek Solutions created solutions for de-icing of airports. In this, it uses BASF potassium formate, which is expected to boost the demand for potassium formate for de-icing application.
In 2018, Evonik started a joint venture to manufacture chlorine and potassium hydroxide, along with potassium formate.

Rising demand for environmental friendly chemicals for various applications

Increasing demand for environmental friendly products is pushing the demand for potassium formate. Potassium formate is easily biodegradable and has very less impact on the environment as compared to other salts used in de-icing and drilling fluid applications. Potassium formate is also less corrosive than other salts used in de-icing the airport. New developments in de-icing products, especially for airports are driving the demand for potassium formate as a sustainable solution.

Increasing issues at airports due to runway icing in Europe and North America

Runway icing is a common problem after snowfall majorly in European and North American countries. De-icing runways is a challenging maintenance task at airports. The chemicals used for de-icing should also comply environmental regulations and standards. Increasing focus on environmental friendly products is boosting the use of potassium formate in de-icing applications at airports.
Potassium Formate Market Structure Analysis
Potassium formate - a type of formate brine is partially fragmented market with the presence of a small number of large market players and many regional players.
Some of the key players in the market are BASF, ADDCON, Perstorp, Cabot, Evonik, Honeywell, and ICL.
Most of the key players maintain a strategic focus on the development of distribution partnerships and joint venture for the global market expansion.
Manufacturers are focusing to manufacture sustainable products to cater to the increasing demand for such products for various applications.
Some of the top manufacturers that contribute a high revenue share in the potassium formate market are

BASF
ADDCON
Perstorp
Cabot
Evonik
Tetra Technologies.
Potassium Formate: A Sustainable Solution in Drilling Fluids and De-icing Applications
Superior compatibility and high environmentally feasibility of potassium formate continue to solidify its applicability in the oil & gas and de-icing industries. While preference for potassium formate over other alternatives continues to gain momentum, the low corrosive attributes are particularly uplifting its prospects in de-icing. Additionally, new R&D efforts on innovative combinations of potassium formate with other salts is foreseen to enhance applicability of potassium formate in years to come.
Market Size Set to Grow 1.5X during 2019-2029
Prominently influenced by recognized effectiveness of potassium formate in de-icing solutions and drilling fluids, the potassium formate market revenues continue to witness steady growth. FMI analyses that the high sustainability quotient of potassium formate will especially uphold its adoption in the near future.
East Asia's Market Attractiveness Is Ascending
North America continues to reign supreme, whereas Europe will remain a lucrative market on account of proliferating consumption by the de-icing landscape. Looking at the expansion of end-use consumer base for potassium formate, it is more likely that the developing regions will present lucrative opportunities to stakeholders in years to come.
China, India, and Mexico are envisaged to register considerable demand for potassium formate. Spearheaded by China, the East Asian region is expected to develop a high potential investment pocket, attracting stakeholders.
The Broader Perspective
New product developments for drilling fluids applications are primarily boosting the growth of global market. Additionally, continuous R&D by key players has been resulting in the status of potassium formate as an effective substitute of traditional de-icing salts.
How Growth will Unfold
Apart from traditional application areas, the biodegradable attribute of potassium formate is being perceived as the potential booster to existing demand, which may shape the market scenario in the near future.
POTASSIUM FORMATE MARKET TAXONOMY
The global potassium formate market is segmented in detail to cover every aspect of the market and present a complete market intelligence approach in front of the reader.
By Form
Brine (Liquid)
Powder (Solid)
By application
Drilling Fluid
De-icing
Heat Transfer Fluid
Others(fertilizer, feed)
Region
North America
Latin America
Europe
South Asia
East Asia
Oceania
Middle East & Africa
Need specific information?
Talk Show:
The Rise of Intelligent Packaging
Personalized, Connected and Sustainable
November 18, 2021
11:00-11:45 AM PST (USA & Canada)
This is a LIVE session