Pressure Infusion Bags Market - Key Research Findings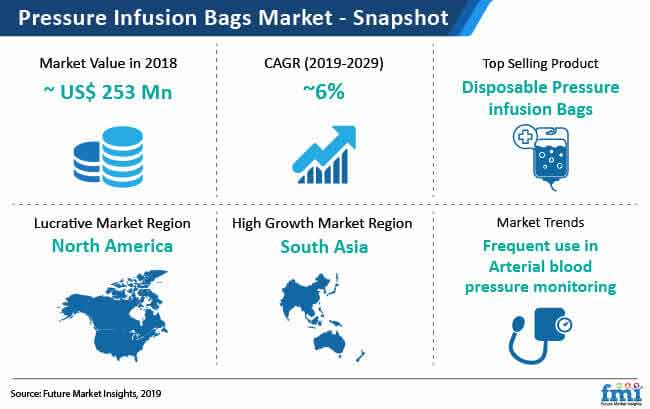 The global pressure infusion bags market size in 2018 was ~US$ 253 Mn
The pressure infusion bags market is expected to grow at a CAGR of ~6% during the forecast period of 2019-2029.
Increasing adoption of pressure infusion bags in hospitals and outpatient facilities due to the increasing emergency and transfusion cases for rapid IV infusion has been recently driving the sales of pressure infusion bags.
Collectively, Europe and North America, are expected to account for half of the revenue shares in the pressure infusion bags industry by the end of 2029.

North America will continue to be a prominent regional market for pressure infusion bags due to the increasing prevalence of chronic diseases along with rising geriatric and immunosuppressed patient population.

Rapid infusion of blood and drugs are necessary for patients suffering from trauma-induced haemorrhage, postpartum haemorrhage, and cardiac surgery. Trauma induced haemorrhage will continue to be a prominent segment of the pressure infusion bags market in the application type.

Increase in the number of transfusion and emergency cases account for the rise in demand for pressure infusion bags.

In terms of material, nylon will continue to be a prominent material segment of the pressure infusion bags market as there is increasing usage of polyester and nylon material due to its durability and tensile properties.
In terms of capacity, the 500cc capacity volume segment will remain a prominent segment in the forecast period.
Key Factors Shaping the Pressure Infusion Bags Market
Launch of Cost-Effective Products
The global market for pressure infusion bags is exceptionally fragmented with the presence of several players. Every player has an effective strategy to provide products to end consumers with an effective minimum price. Collaborations with the purchasing departments of hospitals are essential to boost the distribution efficiency. This is majorly practiced by manufacturers to increase their market share. The competition among manufacturers and the availability of low-cost labor in China is resulting in the reduction of pressure infusion bag prices.
Application in Rapid Infusion and Blood Pressure Monitoring Procedures
Increase in the number of blood and fluid emergency transfusion cases, the growing aging population, and rising patient population with hemodynamically unstable condition require rapid transfusion to restore and maintain intravascular volumes. This factor is contributing to the growth and demand for pressure infusion bags. These bags, coupled with other devices that help in monitoring the sudden changes in blood pressure.
Major fluids in rapid infusion is blood, blood products, blood expanders and intravenous solution. The measurement of continuous beat to beat blood pressure by a pressure infusor coupled with other monitoring device is an invasive method that is widely used by physicians
Development of Technology
Development of technologies, such as flush valve, for regulating the flow of solutions retards the backflow of blood and fluid into the body. With advancements in technology, manufacturers are currently designing devices that have greater ease and operability features which helps in producing high accuracy and reproducibility results.
Increasing use of Infusion Bags in Developing Regions
The development of healthcare infrastructure, especially trauma care units, intensive care units, and ambulatory surgical centers in the Middle East and South Asia Pacific are offering a strong impetus to the demand for pressure infusion bags. Launch of low-cost products prominently accounts for the growing popularity of pressure infusion bags across developing regional markets. Consistent rise in the number of manufacturers and distributors, are likely to contribute to the sales of pressure infusion bags in the near future.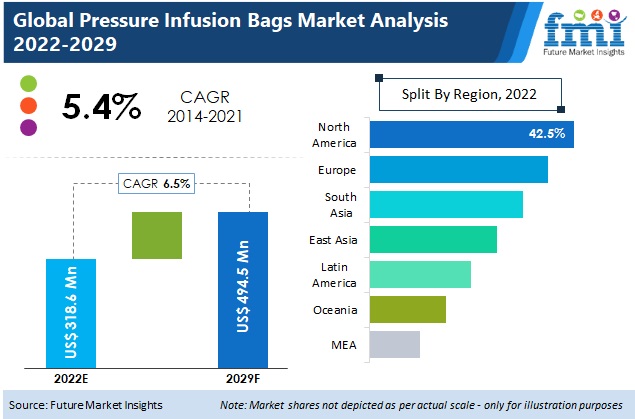 Pressure Infusion Bags Market Structure Analysis
The global pressure infusion bags market represents a fairly consolidated competition landscape, where a majority of the key players maintain their strategic focus on the development of solid distribution partnerships and joint ventures, targeting a firmer global footprint.
The pressure infusion bags market has been relatively moderate in size, which remains a key factor for its dynamic competitive nature.
Prominent manufacturers of pressure infusion bags are prioritizing R&D, expansion of production facilities, and establishing new distribution network.
For a stronger foothold in target markets, manufactures of pressure infusion bags will continue to rely on inorganic strategies, such as mergers and acquisitions.
Prominent players continues to increase in the market share with the development of new departments, which focus mainly on aftersales services
Key players are engaged in increasing its portfolio, which specializes in non-invasive blood pressure cuffs and pressure infusors
Pressure Infusion Bags - Fast-tracking IV Infusion & Auto-transfusion Procedures
Technological advancements have ushered into the medical field and played a key role in the evolution of an array of modern day medical treatments. Further, research and development in the medical sector in conjunction with the growing demand for effective, efficient, and state-of-the-art medical equipment has prompted medical equipment manufacturers to focus on manufacturing innovative products.
Hence, medical devices have taken giant strides in the last couple of decades and become highly efficient tools in providing medical assistance and precise data. Pressure infusion bags along with pressure infusion cuffs are widely used in the healthcare facilities for blood & drug infusion, invasive pressure monitoring, and rapid IV infusion other than infusion pumps. In the current market scenario, manufacturers are focusing on the development of advanced, user-friendly devices that are primarily used for intravenous and intra-arterial infusion.
Surge in Emergency Transfusion Cases Create Plethora of Opportunities
Rapid administration of fluids is a crucial aspect while providing medical care to trauma patients. Thus, it is crucial to ensure that the process is fast-tracked by using apt medical technologies and devices. In the last decade, the growing number of emergency cases that require rapid and efficient IV transfusion have boosted the demand for pressure infusion bags.
In addition, the importance of invasive pressure monitoring and assessment of wound healing in arterial conditions has provided an impetus to the growing adoption of pressure infusion bags in hospitals and outpatient centers as well as outpatient clinics worldwide.
In the current landscape, manufacturers active in the industry are leaning towards the formulation of automated pressure infusors to overcome the challenges put forward by manual inflation including, risk of unintended air embolism, incompetent delivery of smaller volumes of infusate, and more. Furthermore, timely adoption of technology coupled with research are likely to garner significant popularity for automated pressure infusors in the market.
Technology Penetration in Healthcare to Drive Growth across Geographies
Healthcare systems across Europe have consistently adapted with the evolving technologies. Thus, the region offers tremendous scope for market players operating in the pressure infusion bags market to expand their horizons. Further, the robust growth of state-of-the-art medical facilities in Europe have created a plethora of untapped opportunities for pharmaceutical and related sectors.
In recent times, the healthcare sector in the developing economies in MEA and South Asia is progressing at a rapid pace. The onset of advanced trauma care units, surgical centers, and intensive care units has resulted in the growing demand for pressure infusion bags in these regions.
Pricing Strategies to Remain a Key Differentiating Factor among Manufacturers
The future of pressure infusion bags will primarily rely on the pricing strategies deployed by manufacturers operating in the pressure infusion bags market. In addition, owing to the dynamic market landscape, development of efficient and cost-effective pressure infusion bags will be an imperative factor for manufacturers to establish a strong presence in the market.
Further, some of the other factors that are expected to propel the demand for pressure infusion bags include, the growing aging population who are at a higher risk of medical emergencies, increase in the number of hospitals and outpatient centers especially in the developing economies such as India and China, and surge in the number of traumatic infusion cases.
In addition, there is a significant demand for disposable pressure infusion bags as they eliminate the risks associated to cross-contamination. Further, disposable pressure infusion bags are likely to be cost-effective in the long run, considering the ongoing pricing competition among manufacturers. Nylon, has emerged as the most preferred choice of material for pressure infusion bags, owing to its favorable properties including, high tensile strength and affordability compared to other polymers.
How Growth Will Unfold
The healthcare ecosystems especially in developing economies will primarily rely on technological innovations and advent of cost-effective medical treatments. In addition, focus on research and developments will play an imperative role in shaping the future of healthcare and medical procedures. Prominent manufactures operating in the pressure infusion bags market are focusing on product innovation to gain a competitive edge in the market.
For instance, Anetic Aid, emphasized on end-user convenience by introducing Ethox Infu-Surg ®, reliable and easy to operate pressure infusion bags that are highly versatile and ideal for an array of fluid. In addition, the single-use bags aimed to reduce contamination includes other features such as pressure relief valve, single hand stop-cock, and a color coded gauge.
Product innovation, adoption of novel technologies, surge in R&D investments, and strategic pricing are some of the factors manufacturers are likely to focus on in the years to come to establish a strong foothold in the market.
Key Segment
Product Type
Reusable pressure infusion bags
Disposable Pressure Infusion Bags
By Capacity
500cc
1000cc
3000cc
Above 3000cc
By Material
Nylon
Polyurethane
Latex
Others
By Application
Blood & Drug Infusion
Invasive Pressure Monitoring Procedures
By Indication
Trauma Induced Hemorrhage
Obstetric hemorrhage
Coagulopathy during cardiopulmonary bypass
By End User
Hospitals
Outpatient Facilities
Clinics
Long Term Care Centers
By Region
North America
Latin America
Europe
East Asia
South Asia
Oceania
Middle East & Africa
Need specific information?
Talk Show:
The Rise of Intelligent Packaging
Personalized, Connected and Sustainable
November 18, 2021
11:00-11:45 AM PST (USA & Canada)
This is a LIVE session