Introduction
Majority of rare diseases at present have none or little effective procedures of diagnosis & treatment, which can be partly attributed to absence of funding toward researches on rare disease pathogenesis and lack of representative patients. Rare neurological disease are among major types of rare diseases with ineffective diagnoses and treatment options. According to WHO, 1 in 10 individuals are expected to be diagnosed with rare neurological disorder in their lifetime. Brain diseases are considered to be one of the major determinants of the neurological disease prevalence worldwide, with early intervention being the only key to prevent or curtail long-term morbidity and relevant healthcare costs.
However, diagnosis of rare neurological diseases entails several barricades including lack of intelligence and awareness about such diseases within the common medical community. This has further resulted into delayed diagnosis, and sometimes misdiagnosis, as highlighted in the book about rare diseases compiled by European Organization for Rare Diseases (EURORDIS), co-funded by European Commission. According to the publication, patients suffering from rare neurological diseases experience challenges in accessing treatment services on the coattails of lack of referral.
Spreading awareness about these diseases along with increasing their visibility are key initiatives taken by various governments worldwide for speeding up diagnostic processes and provide affected families with access to proper counselling and treatment options.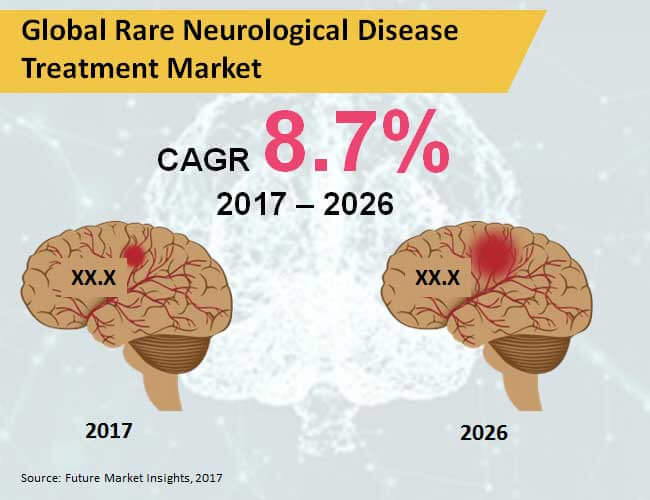 A recently published report of Future Market Insights foresees the global rare neurological disease treatment market to record a spectacular growth between the period 2017 and 2026. Revenues from treatment of rare neurological disorders worldwide are poised to surpass US$ 12,000 Mn by 2026-end.
North America to Remain Largest Revenue Contributor to the Market
In North America, rare neurological conditions are considered to a major healthcare concern, although fewer individuals are currently affected by the disease. Complexity of these diseases, along with their inadequacy in treatment options have led to disproportionate share of spending in healthcare. Drug companies in North America are conducting robust researches in rare diseases, however they face difficulties related to cost of treatment development related to small or geographically dispersed populations.
Government and healthcare institutes in North America are therefore collaborating to develop a robust research network, in order to facilitate data sharing, enrollment in trials & studies, and advancement in rare diseases. This will further influence the rare neurological disease treatment market in North America. The report estimates North America to remain the largest revenue contributor to the market.
Discrepancies in R&D Funding for Rare Neurological Disease Linked with Shortage in Healthcare Provision
Management of rare neurological diseases and provision of effective therapies represent an economic and social burden on several nations. Treatment options for patients affected with rare neurological conditions continue to be limited. Discrepancies in funding for R&D associated with treatment & prevention of these diseases is mainly linked with shortfall in the healthcare provision that reflects both shortage of material sources and suboptimal training exercises of clinicians apropos brain disorders.
Although there have been notable advancements in treatment of rare neurological diseases, these are not completely curative. Governments across the globe are therefore making significant improvements in their healthcare systems to render their management to be multidisciplinary, holistic, and to include supportive and palliative care. Establishing centers of expertise, which specialize in diagnosis, treatment & care of patients affected from rare neurological diseases, is a key focus area for most of the developed and developing countries across the globe.
Key players fuelling growth of the global rare neurological disease treatment market, as identified by the report, include Pfizer Inc., Allergan Plc, Novartis AG, Bayer Aktiengesellschaft, Medtronic Plc, Sanofi, Johnson & Johnson, and Teva Pharmaceutical Industries Limited.
Market Taxonomy
Region
North America
Latin America
Europe
Japan
APEJ
MEA
Indication
Alzheimer's Disease
Narcolepsy
Multiple Sclerosis
Amyotrophic Lateral Sclerosis
Other Indications
Drug Type
Biologics
Organic Compounds
Mode of Administration
Distribution Channel
Hospital Pharmacies
Retail Pharmacies
Online Pharmacies
Need specific information?