An Incisive, In-depth Analysis on the Rare Neurological Disease Treatment Market
This study offers a comprehensive, 360 degree analysis on the Rare Neurological Disease Treatment market, bringing to fore insights that can help stakeholders identify the opportunities as well as challenges. It tracks the global Rare Neurological Disease Treatment market across key regions, and offers in-depth commentary and accurate quantitative insights. The study also includes incisive competitive landscape analysis, and provides key recommendations to market players on winning imperatives and successful strategies.
Majority of rare diseases at present have none or little effective procedures of diagnosis & treatment, which can be partly attributed to absence of funding toward researches on rare disease pathogenesis and lack of representative patients. Rare neurological disease are among major types of rare diseases with ineffective diagnoses and treatment options. According to WHO, 1 in 10 individuals are expected to be diagnosed with rare neurological disorder in their lifetime. Brain diseases are considered to be one of the major determinants of the neurological disease prevalence worldwide, with early intervention being the only key to prevent or curtail long-term morbidity and relevant healthcare costs.
However, diagnosis of rare neurological diseases entails several barricades including lack of intelligence and awareness about such diseases within the common medical community. This has further resulted into delayed diagnosis, and sometimes misdiagnosis, as highlighted in the book about rare diseases compiled by European Organization for Rare Diseases (EURORDIS), co-funded by European Commission. According to the publication, patients suffering from rare neurological diseases experience challenges in accessing treatment services on the coattails of lack of referral.
Spreading awareness about these diseases along with increasing their visibility are key initiatives taken by various governments worldwide for speeding up diagnostic processes and provide affected families with access to proper counselling and treatment options.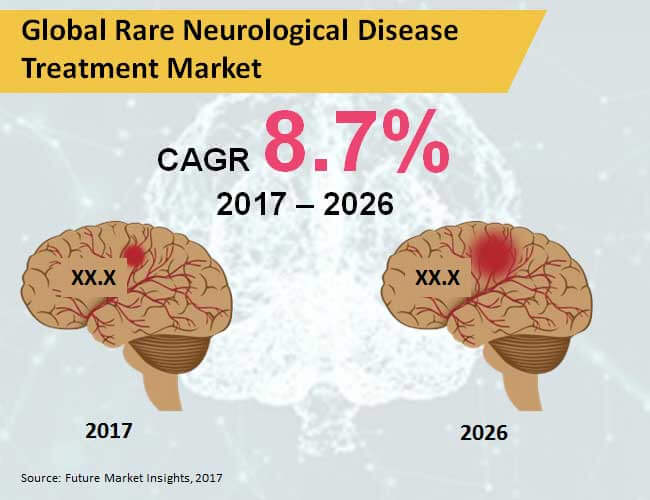 A recently published report of Future Market Insights foresees the global rare neurological disease treatment market to record a spectacular growth between the period 2017 and 2026. Revenues from treatment of rare neurological disorders worldwide are poised to surpass US$ 12,000 Mn by 2026-end.
North America to Remain Largest Revenue Contributor to the Market
In North America, rare neurological conditions are considered to a major healthcare concern, although fewer individuals are currently affected by the disease. Complexity of these diseases, along with their inadequacy in treatment options have led to disproportionate share of spending in healthcare. Drug companies in North America are conducting robust researches in rare diseases, however they face difficulties related to cost of treatment development related to small or geographically dispersed populations.
Government and healthcare institutes in North America are therefore collaborating to develop a robust research network, in order to facilitate data sharing, enrollment in trials & studies, and advancement in rare diseases. This will further influence the rare neurological disease treatment market in North America. The report estimates North America to remain the largest revenue contributor to the market.
Discrepancies in R&D Funding for Rare Neurological Disease Linked with Shortage in Healthcare Provision
Management of rare neurological diseases and provision of effective therapies represent an economic and social burden on several nations. Treatment options for patients affected with rare neurological conditions continue to be limited. Discrepancies in funding for R&D associated with treatment & prevention of these diseases is mainly linked with shortfall in the healthcare provision that reflects both shortage of material sources and suboptimal training exercises of clinicians apropos brain disorders.
Although there have been notable advancements in treatment of rare neurological diseases, these are not completely curative. Governments across the globe are therefore making significant improvements in their healthcare systems to render their management to be multidisciplinary, holistic, and to include supportive and palliative care. Establishing centers of expertise, which specialize in diagnosis, treatment & care of patients affected from rare neurological diseases, is a key focus area for most of the developed and developing countries across the globe.
Key players fuelling growth of the global rare neurological disease treatment market, as identified by the report, include Pfizer Inc., Allergan Plc, Novartis AG, Bayer Aktiengesellschaft, Medtronic Plc, Sanofi, Johnson & Johnson, and Teva Pharmaceutical Industries Limited.
Declining blockbuster drugs are leading pharmaceutical industries to keenly investigate new avenues of research and development. Several drug manufacturers, incentivized by Orphan Drug Act, are developing new drug formulations pertaining to the treatment of rare diseases, in a bid to introduce new treatment options to the market. This has further influenced the development of drugs for treatment of rare neurological disorders. Regulatory advantages including breakthrough designations, reduced fees & tax incentives, and longer market exclusivity, are encouraging investments in the R&D of drugs apropos to rare neurological diseases.
A new report of Future Market Insights offers forecast and analysis on the rare neurological disease treatment market on a global level. The report delivers actual data related to the market for the historical period (2012-2016) along with an estimated intelligence on the market for the forecast period (2017-2026). The information is presented in terms of value (US$ Mn). Macroeconomic indicators coupled with an outlook on the rare neurological disease treatment demand pattern around the world have also been encompassed by the report. The report further imparts key drivers and restraints for the global rare neurological disease treatment market, and their impact on regional segments included over the forecast period.
Report Structure
The executive summary chapter, which initiates the report, offers key market dynamics and numbers associated with the global rare neurological disease treatment market, along with key research findings related to the market segments comprised. The market numbers included in this chapter are a blend of compound annual growth rates, market shares, revenues, and volume sales.
A concise introduction to the rare neurological disease treatment market is offered in the chapter succeeding the executive summary, along with a formal definition of "rare neurological disease treatment". Elaboration of the market dynamics that include future prospects, growth limitations & drivers, and trends has been delivered in the chapters subsequent to the overview. These chapters also inundate insights apropos to bottom line of enterprises in detail, along with the fiscal stimulus and the global economy.
Market Taxonomy
| Region | Indication | Drug Type | Mode of Administration | Distribution Channel |
| --- | --- | --- | --- | --- |
| | | | | |
| | | | | |
| | | | | |
| | Amyotrophic Lateral Sclerosis | | | |
| | | | | |
| | | | | |
Competition Landscape
A complete package of intelligence on leading participants supporting expansion of the global rare neurological disease treatment market has been offered in the concluding chapter of this analytical research report. This chapter elucidates the competition landscape of the global market for rare neurological disease treatment, providing information on key strategy implementations of the market players, their product overview, key development, company overview, and key financials. A SWOT analysis on each market players has been provided in this chapter of the report.
The geographical spread of the market players included, along with their future growth plans, intended mergers & acquisitions, overall revenues, and market shares are elaborated in detail in this chapter. The report has employed an intensity map for portraying key market players located across geographies.
Research Methodology
Credibility of researched statistics & data is backed by a unique research methodology used by analysts at FMI, ensuring high accuracy. This research report on global rare neurological disease treatment market can assist readers in acquiring detailed insights on several aspects that govern the market across the regional segments contained in the report. The report readers can use slated strategies to tap the vital revenue pockets, thereby gaining benefits over intensifying competition prevailing in the market. Intelligence presented in this report has been scrutinized & monitored thoroughly by FMI's industry experts. The figures and numbers offered by the report are validated by the analysts for facilitating strategic decision making for market players.
COVID -19 : Impact Analysis
Request the coronavirus impact analysis across industries and markets
Request Covid -19 Impact
CASE STUDIES
See how our work makes an impact.
At FMI, we design strategies that are adaptive, impactful, and implementable.