Food and Beverage Industries - Top Growth Engines of Recycled PET Market
Ecological burden, amidst soaring plastic adoption, is prompting tighter restrictions, considering the shift towards sustainable solutions in all spheres. The beverage industry is showing immediacy in aligning with the radical shift, attributable to upsurge in the consumption of carbonated and non-carbonated drinks.
Adoption of recycled PET in this end-use category will almost double by the end of forecast period. Further, growing prevalence of packaged food products is influencing manufacturers to allocate their resources in the food industry, which is followed by the beverage industry in terms of value creation and growth rate.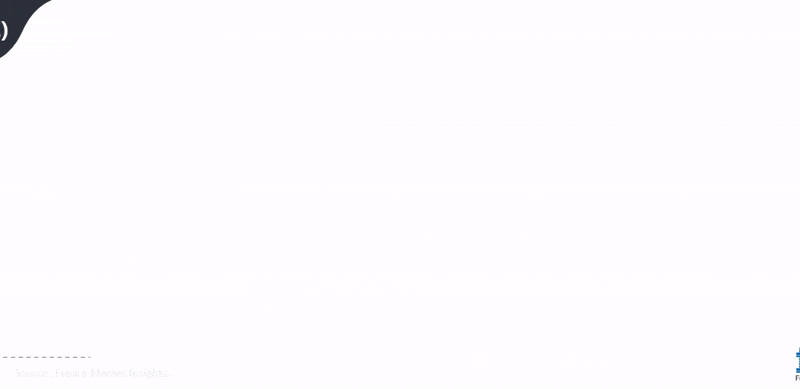 East Asia Recycled PET Market to Represent Multibillion-dollar Opportunity by 2029
Rise in the consumption of convenience foods and beverages, especially among the millennial and Gen Z cohort, would have a tangible impact on the recycled PET market across every regional segment. This trend is gaining rapid momentum in East Asia, where the market will hit the US$ 1 Bn mark by 2029. Represented by China and Japan, East Asia is expected to outpace Europe in the near term. The regional market would further be driven by top-line growth of industries – pharmaceuticals, cosmetics, and food & beverages.
Pharmaceutical Industry to Widen Investment Opportunities
Given their excellent resistance properties, the cosmetic industry is turning to recycled PET jars and containers for the storage and transportation of personal care products, especially in liquid and powder form. Market players are thus focusing on unlocking value-capture opportunities in the cosmetic industry, wherein, the adoption of recycled PET is poised to flourish in the due course of time. Berry Global Group Inc., for instance, has launched recycled PET jars, bottles, tubes, and closures for beauty and personal care products.
How Growth will Unfold
Manufacturers prefer the stretch blow molding technique for developing recycled PET, owing to high output quantities and fine dimensional accuracy. As time is a paramount factor, manufacturing recycled PET products with stretch blow molding machines is performed in a single mold, thereby boosting production speed.
In a similar fashion, injection molding is also witnessing traction for the development of recycled PET. Together, both these manufacturing techniques will capture over 60% of overall recycled PET market value.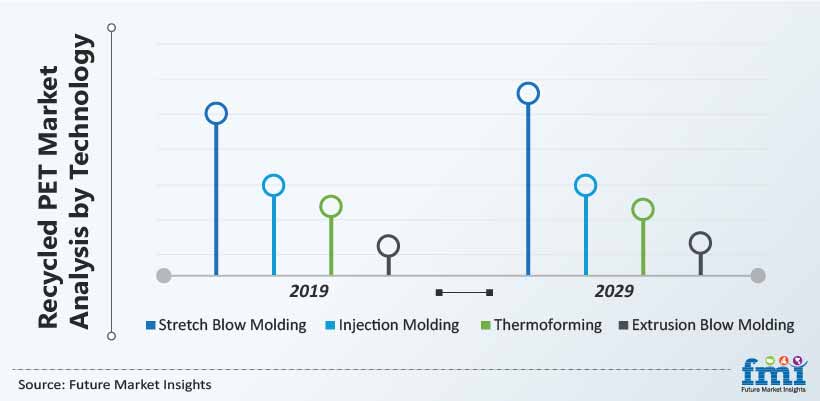 FREQUENTLY ASKED QUESTIONS ABOUT RECYCLED PET MARKET
How will the recycled PET market fare in the future?
The global recycled PET market is anticipated to grow at a steady pace over the next ten years. The global recycled PET market was valued at US$ 2.4 Bn in 2018, and is estimated to reach US$ 4.7 Bn by 2029.
What are the key factors shaping the dynamics of the recycled PET market?
Shifting inclination of consumers towards highly sustainable and recyclable packaging solutions is fueling the growth of the recycled PET market to a significant extent. Moreover, consistently rising consumption of a wide variety of carbonated and non-carbonated drinks creates a massive demand for PET bottles, which ultimately supports the growth of the recycled PET market.
Which end-use industries hold high growth prospects for manufacturers?
The beverage industry is projected to account for the lion's share of the recycled PET market, and is also anticipated to remain the most lucrative sector throughout the forecast period. Furthermore, it is estimated to generate an impressive incremental opportunity over the next decade, as the demand for eco-friendly water bottles is on the rise.
Which regions are expected to lead in terms of global sales of recycled PET solutions?
In terms of sales and market growth, South and East Asia are projected to hold a substantial share of the global recycled PET market throughout the forecast period, expanding a striking CAGR over the forecast period.
Which recycled PET solutions will provide the most gratifying opportunities over the next five years?
The bottles & jars segment is anticipated to be the most promising throughout the forecast period. Rising demand for recycled PET bottles and jars, owing to the affordable pricing and highly sustainable outlook, is estimated to bolster market growth significantly.
Which companies are investing significantly in the development of innovative products?
Prominent recycled PET manufacturers such as Berry Global Group, Inc., ALPLA Werke Alwin Lehner GmbH & Co KG, Indorama Ventures Public Co., Ltd, and Sonoco Products Company are significantly investing in designing and manufacturing environment-friendly recycled PET solutions.
RECYCLED PET MARKET TAXONOMY
The global recycled PET market is segmented in detail to cover every aspect of the market and present a complete market intelligence approach to readers.
Product
Bottles & Jars
Clamshells & Containers
Trays & Punnets
Pouches
Others (Cups, Bowls, etc.)
Technology
Stretch Blow Molding
Injection Molding
Extrusion Blow Molding
Thermoforming
End Use
Beverages

Bottled Water
Soft Drinks
Juices
Other Beverages

Food
Pharmaceuticals & Healthcare
Homecare & Personal Care
Electricals & Electronics
Chemicals & Electronics
Others
Region
North America
Latin America
Europe
South Asia
East Asia
Oceania
MEA
Need specific information?
Talk Show:
The Rise of Intelligent Packaging
Personalized, Connected and Sustainable
November 18, 2021
11:00-11:45 AM PST (USA & Canada)
This is a LIVE session