Zeolites - The Preferred Ingredient
High-silica zeolite crystals are the most widely used refinery catalysts by weight across the globe, and exploring mechanisms regarding their formation has been intriguing the chemical industry and the research community. Capturing over half of total market value, these shape-selective refinery catalysts are highly reusable.
However, a single type of zeolite fails to satiate the requirement to form a wide range of products - naphtha with high APC value, and gasoline with high octane number. Manufacturers are thus looking to synthesize tailor-made zeolites for advanced and sophisticated applications.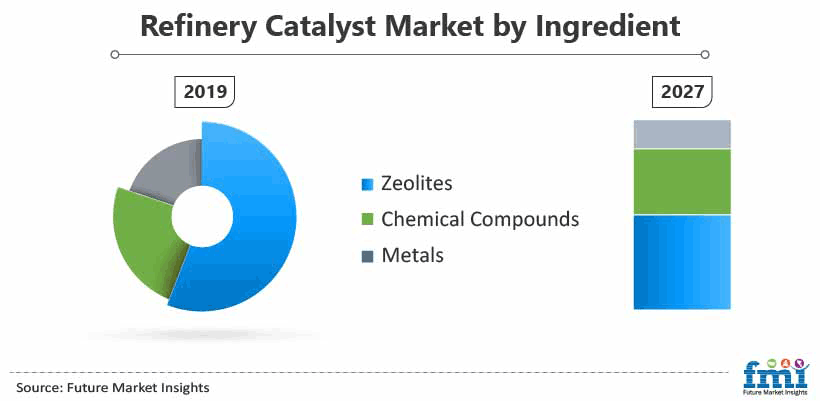 Stakeholders Set their Eyes on APAC
Asia Pacific (APAC) houses a well-established ecosystem of leading manufacturers, and abundance of raw materials. The region continues to be the linchpin of investment prospects, holding around 2/5 of overall refinery catalyst market value. APAC also holds over 45% of total crude oil refining production, globally. Petroleum product manufacturers are capitalizing on greenfield and brownfield projects in countries - China, and India - in order to satiate the ever-growing demand for gasoline. Moreover, these countries recorded a staggering growth in their refined products output.
Backward Integration - A Cost-cutting Approach
Given the high cost of raw materials such as rare-earth materials and zeolites due to limited suppliers, refinery catalyst manufacturers must craft strategies to curb costs and enhance the quality of products. Backward integration - a type of vertical integration - helps businesses efficiently manage the value chain, and provides direct access to the raw materials required for production.
The process eliminates the need for middlemen and distributors, thereby cutting production and distribution costs. Refinery catalyst manufacturers must aggressively leverage this opportunity to expand their revenue pool.
How Growth will Unfold
Incumbents in the oil & gas industry are toiling hard to keep pace with the sustainability drift, while ensuring cost-effective processes. Hydrotreating refinery catalysts ensure that refineries fulfil product specifications economically. As clean fuel prerequisites continue to gain ground, hydrotreating catalysts will remain commonplace in distillate and pyrolysis gasoline (Pygas) processing units.
Fluid catalytic cracking (FCC) catalysts help produce premium-grade gasoline with high octane rating, yet boost production volume. FMI finds that, FCC units produce around half of total transportation fuel, and over one-third of total global gasoline.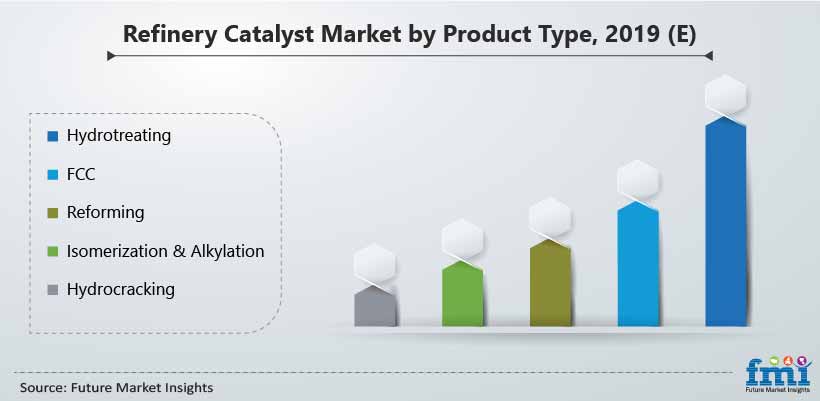 REFINERY CATALYST MARKET TAXONOMY
The global refinery catalyst market is segmented into three different categories based on product, ingredient, and region.
Product
FCC
Reforming
Hydrotreating
Hydrocracking
Isomerization & Alkylation
Ingredient
Zeolites
Metals
Chemical Compounds
Region
North America
Latin America
Europe
Asia Pacific
MEA
Need specific information?