Refinery Catalyst Market to Expand 1.5X by 2027
The oil & gas sector accounts for around 10% of human-created greenhouse-gas (GHG) emissions, and generates fuels that translate to over 30% of global emissions. Considering the escalating need to react to climate change, the industry will have to play a big part by transitioning its portfolios to net-zero emissions in the decades ahead. Refinery catalysts have been garnering good reputation, as they help reduce the impact of gasoline and diesel on the environment. With government regulations becoming more stringent, the global refinery catalyst market will attain a valuation of US$ 10 Bn by the end of forecast period, 2019-2027.
Refinery Catalyst Market - Key Research Findings
The global refinery catalyst market was valued at US$ 7 Bn in 2018.
The refinery catalyst market is anticipated to expand at a CAGR of 4% over the forecast period of 2019-2027.
The FCC catalyst segment, by product, in the refinery catalyst market, is anticipated to be the dominating segment throughout the forecast period.

The dominance of the FCC segment is attributed to the fact that, FCC units are installed in large numbers and in almost every refinery, as they are used to produce numerous end products during crude oil processing.

Asia Pacific is expected to dominate the global value and volume share in the refinery catalyst market.

The Asia Pacific region accounts for more than 45% of total global crude oil refining production, led by significant refinery capacities in China and India. The enormous refining potential in the region and planned exansion projects are expected to position Asia Pacific as the leading market in the global refinery catalyst market.
Key Factors Shaping the Refinery Catalyst Market
Recovering Oil & Gas Prices to Pave Way for New Projects
During 2014-2016, the slowdown in the oil & gas industry had subsequently resulted in a huge decline in exploration and production activities in the oil & gas industry, which resulted in low demand for refinery catalysts. For instance, drilling activity witnessed a reduction of 30% in 2016 as compared to 2015, whereas, the U.S. registered 45% decline. With efforts being made by major oil producing countries to counter declining oil & gas prices, the oil & gas industry has witnessed a breath of new life in the recent years.
OPEC and non-OPEC countries came to an agreement in 2016 to cut down crude oil production levels to counter the supply-demand gap, which had a positive impact on oil prices. This recent surge in oil & gas prices has ramped up refinery production, driving the demand for refinery catalysts as well. With global crude oil prices and trade stabilizing, refinery catalysts are anticipated to witness healthy demand in the coming years.
Backward Integration - An Opportunistic Area for Manufacturers
Refinery catalyst manufacturers depend on a limited number of suppliers for the procurement of raw materials such as rare-earth materials and other ingredients like zeolites. The cost of these raw materials is high and often poses a challenge to manufacturers towards increasing their operating margins. Hence, backward integration to develop raw materials in-house can save significant procurement costs and increase operating margins for refinery catalyst manufacturers.
Rising Greenfield and Brownfield Projects Amplify Demand
Greenfield and brownfield projects in countries/regions such as India, China, Brazil, the US, and the Middle East have increased over the last two years. This is due to the growing efforts by petroleum product producers to meet the growing demand for gasoline, and gain access to emerging, high-growth markets of India, ASEAN, and China in Asia Pacific.
In March 2017, ExxonMobil expanded hydrocarbon fluid production capacity by 250,000 tons per annum, at its plants in Texas, Singapore, and Antwerp.
In August 2017, Indian Oil Corporation signed a joint venture agreement with Adani Group to construct a refinery at Mundra Port in Gujarat, India.
Refinery Catalyst Market: Structure Analysis
The global refinery catalyst market is mostly consolidated, with the market led by a handful of manufacturers. Manufactures of refinery catalysts are focusing on establishing long-term contracts with raw material suppliers and refinery operators to reduce costs and increase profit margins, through established distribution networks.
Zeolites - The Preferred Ingredient
High-silica zeolite crystals are the most widely used refinery catalysts by weight across the globe, and exploring mechanisms regarding their formation has been intriguing the chemical industry and the research community. Capturing over half of total market value, these shape-selective refinery catalysts are highly reusable. However, a single type of zeolite fails to satiate the requirement to form a wide range of products - naphtha with high APC value, and gasoline with high octane number. Manufacturers are thus looking to synthesize tailor-made zeolites for advanced and sophisticated applications.
Stakeholders Set their Eyes on APAC
Asia Pacific (APAC) houses a well-established ecosystem of leading manufacturers, and abundance of raw materials. The region continues to be the linchpin of investment prospects, holding around 2/5 of overall refinery catalyst market value. APAC also holds over 45% of total crude oil refining production, globally. Petroleum product manufacturers are capitalizing on greenfield and brownfield projects in countries - China, and India - in order to satiate the ever-growing demand for gasoline. Moreover, these countries recorded a staggering growth in their refined products output.
Backward Integration - A Cost-cutting Approach
Given the high cost of raw materials such as rare-earth materials and zeolites due to limited suppliers, refinery catalyst manufacturers must craft strategies to curb costs and enhance the quality of products. Backward integration - a type of vertical integration - helps businesses efficiently manage the value chain, and provides direct access to the raw materials required for production. The process eliminates the need for middlemen and distributors, thereby cutting production and distribution costs. Refinery catalyst manufacturers must aggressively leverage this opportunity to expand their revenue pool.
Hydrotreating catalysts stay in-demand
FCC catalysts to see adoption decline
Zeolites maintain their lead
Chemical compounds compounds to slide
How Growth will Unfold
Incumbents in the oil & gas industry are toiling hard to keep pace with the sustainability drift, while ensuring cost-effective processes. Hydrotreating refinery catalysts ensure that refineries fulfil product specifications economically. As clean fuel prerequisites continue to gain ground, hydrotreating catalysts will remain commonplace in distillate and pyrolysis gasoline (Pygas) processing units. Fluid catalytic cracking (FCC) catalysts help produce premium-grade gasoline with high octane rating, yet boost production volume. FMI finds that, FCC units produce around half of total transportation fuel, and over one-third of total global gasoline.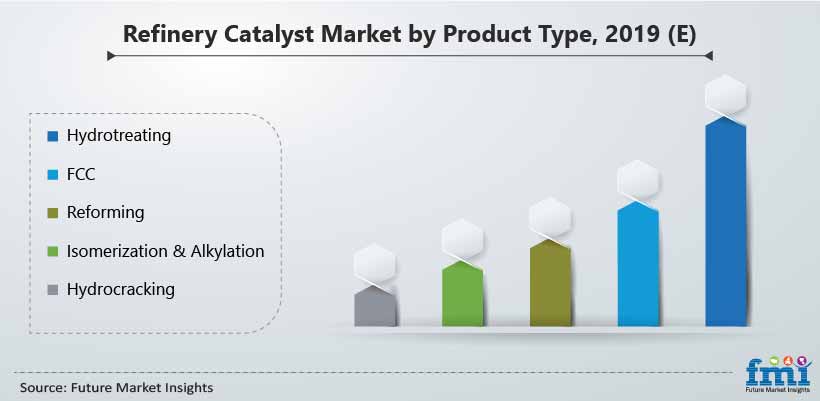 * This data is only a representation. Actual data may vary and will be available in report.
Click Here To Know How The Growth Will Unfold
Custom Market Research Services
FMI offers custom market research services that help clients to get information on their business scenario required where syndicated solutions are not enough.
Overview
A recent report published by FMI on the refinery catalyst market provides comprehensive insights into several factors and market dynamics affecting market growth, along with a detailed description of the macroeconomic factors, market dynamics, value chain, competitor analysis, and market structure.
Refinery Catalyst Market Taxonomy
The global refinery catalyst market is segmented into three different categories based on product, ingredient, and region.
Product
FCC
Reforming
Hydrotreating
Hydrocracking
Isomerization & Alkylation
Ingredient
Zeolites
Metals
Chemical Compounds
Region
North America
Latin America
Europe
Asia Pacific
MEA
How the research was conducted?
Primary Research
C - Level Executives
Marketing Directors
Product Managers
Business Development Officers
Production Managers
Procurement Heads
Sales Executives
Distributors
Traders
Raw Material Suppliers
Industry Experts
End Users
Current Market Dynamics and Challenges
Yesteryear Trends
Market Characteristics
Market Performance and Growth Quadrants
Competition Structure and Market Structure
Strategic Growth Initiatives
Near-Term and Long-Term Market Growth Prospects
Market Segment Splits and Authenticity
Opinions on Market Projections and Validity of Assumptions
Secondary Research
Industry Publications

UNCTAD
ICS
Europa
World bank

Industry Associations
Factiva
Company Press Releases
Annual Reports and Investor Presentations
Research Papers
Government Websites and Publications
Trade Websites
Primary Interview Splits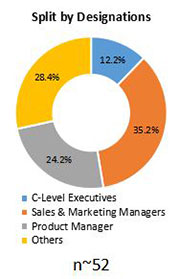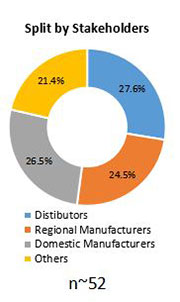 To Learn More About our Comprehensive Perspective on Refinery Catalyst Market,
Get in touch
COVID -19 : Impact Analysis
Request the coronavirus impact analysis across industries and markets
Request Covid -19 Impact
CASE STUDIES
See how our work makes an impact.
At FMI, we design strategies that are adaptive, impactful, and implementable.