Introduction
Automotive emission control and mitigation has been a prime concern for the automobile manufacturers. Various concepts, modifications, advancements and innovations regarding engine design, material selection, drivetrain and other automotive technologies have been implemented to curb such emissions for instance, catalytic converters, use of turbochargers, light weight body panels and enginnerring plastics are some of the examples.
From a regional perspective, Western Europe and North America are predicted to hold a significant share of the pie in the global emission control catalyst market. The market in Asia Pacific will foresee sustainable growth in the coming years with the demand from India and China increasing at an extensive rate due to the growing automotive base and the rapid expansion of the automotive industry in these countries. It has been projected that Latin America will also remain a lucrative region for market players operating in the global market.
Western Europe will retain its lead owing to the stringent regulations that have been imposed by the governments of the countries in the region
In the recent past, governments of several countries in Europe, especially in Western Europe have made changes to their emission norms in order to control the amount of toxic emission from vehicles and industries in the region, thus increasing the need for energy-efficient emission control technology.
As a result, the demand for emission control catalyst is rising by the day as manufacturers of automobiles and those operating in various industries that produce toxic gases are impelled to cut down on toxic emissions. Emission control catalyst supports in decreasing the toxic effects and the emission of nitrogen oxide and hydrocarbons.
Emission control regulations in Western Europe have become stricter and manufacturers are obligated to adhere to the prescribed emission norms and have beefed up their emission control catalyst activities as well. For instance, the European Union has different emission standards for diesel and petrol vehicles.
Air quality standards for light duty vehicles is EURO 6 and for heavy duty vehicles is EURO 5 and EURO 6. Growing urbanisation and increasing penetration of automobiles in the region are other factors leading to the surging adoption of emission control catalyst.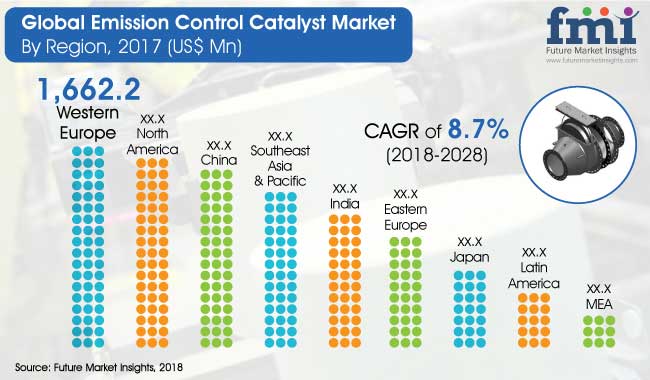 Developing economies are likely to witness a rise in the adoption of emission control catalyst given the increasing production of automobiles across key nations
The sales and adoption of emission control catalysts is directly proportional to the production of automobiles and vehicle parc. In spite of the unstable economic conditions the market has witnessed in the recent past, the global automotive industry has exhibited sustainable growth.
In the coming years, it has been projected that automotive production will surge in developing regions such as Latin America and Asia Pacific. This dynamic is anticipated to provide marginal growth prospects to the manufacturers of emission control catalyst.
In order to retain their position in the global market, players and manufacturers based in Europe are now strategically setting up and expanding their production plants in the Asia Pacific region to reduce the cost incurred on the high price of raw materials. As a result, several leading players are entering into long-term contracts and supply agreements with regional vendors as well to acquire a stronghold in the market in the region.
For instance, in 2017, Johnson Matthey expanded its auto-catalyst production facility in Shanghai. The company produced nearly 60 billion of the products by the end of 2016. Another incidence is of BASF Catalysts India Private Limited, which inaugurated its mobile emission catalyst plant in Chennai, India.
Market Taxonomy
The global emission control catalyst market has been segmented into:
Diesel Based Emission Catalyst
Diesel Oxidation Catalyst (DOC)
Selective Catalytic Reduction Catalyst (SCR)
Catalyzed Soot Filter/ Diesel Particulate Filter
Ammonia Oxidation Catalyst (AMX)
NOx Adsorbers
Gasoline Based Emission Catalyst
Palladium based catalyst
Rhodium based catalyst
Platinum based catalyst
Mobile Equipment
Heavy Duty Vehicles
Off Road Vehicles
Passenger Cars & Light Duty Vehicles
Motorcycles, Scooters and Three Wheelers
Gardening Equipment
Stationary Equipment
Industrial Engines
Generators
Off Road Equipment
North America
Latin America
Western Europe
Eastern Europe
China
Japan
India
South East Asia Pacific
MEA
Pollutants
Nox
CO
Hydrocarbons or Volatile Organic Compounds -
(HC/VOC)
HAPs
DPM (Diesel Particulate Matter)
NH3 (Ammonia)
Need specific information?