Premium pricing to hamper the adoption of respiratory devices market
The premium pricing of respiratory inhalers devices and other respiratory devices is increasing the overall cost of treatment. This factor has a strong impact on the middle- and low-income sections of society. The usage of metered-dose inhalers requires a certain amount of coordination between releasing the drug and the inhalation process. This is relatively difficult when used by children and geriatric population, hence, another forms of respiratory devices i.e., nebulisers, are ideal in these cases.
However, the cost of these respiratory devices increases due to the requirement of other products such as masks, filters, tubes, etc. As a result of these high costs, several people opt for alternative therapies such as oral medication or injectable. Similarly, portable oxygen concentrators are also sold at premium prices and, at times, these devices are not affordable for a large pool of population. A primary portable oxygen concentrator ranges between US$ 2,665 and US$ 3,243.
The worldwide prevalence of COPD and obstructive sleep apnea
Patients suffering from chronic respiratory disorders constantly require drugs and other necessary services. According to the WHO, around 65 Mn people have moderate to severe COPD. The prevalence of COPD is also on the rise with three million deaths in 2015, which corresponds to 5% of all global deaths during 2015. People in high-income countries are more susceptible to COPD due to high levels of pollution and rapidly changing lifestyle.
Similarly, the increasing prevalence of sleep disorders in the U.S. and European countries is creating lucrative growth opportunities for the manufacturers of sleep testing respiratory devices. According to the National Healthy Sleep Awareness Project, around 25 million adults in the U.S. were suffering from sleep apnea. This shows the level of opportunity available in respiratory devices for the providers of sleep services in the U.S. Moreover, the growing prevalence of sleep disorders in Asian countries such as China and Singapore is expected to boost the adoption of sleep services in the Asia Pacific region.
Limited awareness about the usage of respiratory devices
Healthcare providers are conducting awareness campaigns such as medication maintenance programs, environmental programs, and online education programs for the use of respiratory devices among patients and healthcare professionals globally. Such initiatives are offering competitive advantage for the companies providing COPD related products in the market.
These programs encourage patients and healthcare professional to adopt effective medications for COPD conditions. Healthcare providers are collaborating with manufacturers of COPD drugs and devices to improve product reach across globe. Companies like AstraZeneca and other industry competitors are partnering with healthcare authorities to prevent and controls the increased prevalence of COPD and Other respiratory disorders in China. Such collaborative efforts from manufacturers are likely to increase the revenue growth for respiratory devices market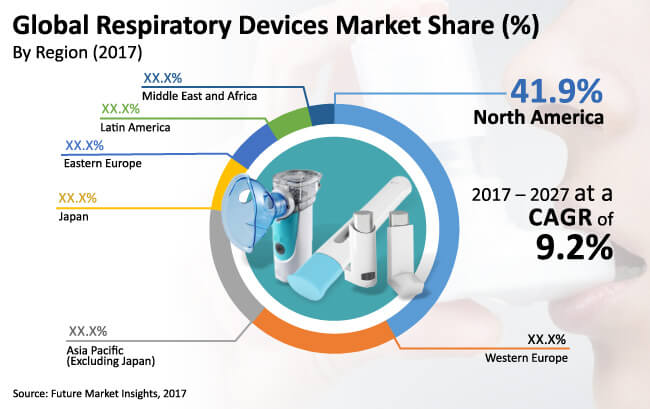 Growing demand for point-of-care respiratory devices
Technology plays an important role in raising the bar for home sleep testing respiratory devices, inhalers and nebulizers by raising the standards of quality and increasing the ease of usage of these respiratory devices. This will ultimately increase patient compliance and drive the market over the forecast period. In terms of sleep testing devices, companies are focusing on providing novel and advanced lab testing and portable wearable medical devices to gain a competitive advantage in the market.
Hence, patients are increasingly adopting sleep testing services, which is expected to boost the market. Wearable medical devices are expected to play a major role in the diagnosis/monitoring of sleep disorders, diabetes, heart disorders, etc. on an individual level.
Competitive landscape of the global respiratory devices market
The competition section of the respiratory devices market features the profiles of key players operating in the industry based on their market shares in respiratory devices, differential strategies, and respiratory devices marketing approach, respiratory devices product offerings and company dashboard.
Some of the key players featured in respiratory devices report include Massimo Corporation, Teleflex Incorporated, ResMed. Inc., Koninklijke Philips N.V., Hamilton Medical AG, Medtronic PLC, Fisher & Paykel Healthcare Limited, Drägerwerk AG & Co. KGaA, General Electric Healthcare Limited, Smiths Medical and Inogen Inc.
These companies are focusing on outsourcing the manufacturing of different respiratory devices, such as oxygen concentrators, mechanical ventilators and PAP devices, to reduce costs and become competitive in the respiratory devices market with reduced prices. The manufacturers of drugs used for the treatment of respiratory diseases are entering into mergers and acquisitions with medical device manufacturers to expand their product portfolios and market presence in respiratory devices across the globe.
Definition
Respiratory devices are medical devices that are used to assist a patient suffering from breathing problems, which hampers the intake of adequate oxygen to maintain a proper respiration process. Certain respiratory disorders, such as fibrosis, asthma, COPD and ARDS, affect the respiratory system and, in turn, drive the demand for respiratory devices for their treatment.
About the Report
FMI conducted a research study on the respiratory devices market for the forecast period 2017 to 2027. The respiratory devices market report offers a comprehensive evaluation of the business opportunities prevailing in the respiratory devices market along with insights on respiratory devices, usage pattern, consumption trend, disease incidence & awareness about respiratory devices and market competition. The report elaborates on the macro-economic factors influencing the dynamics of the respiratory devices market and its futuristic potential.
Additional Questions Answered
Some of the additional questions addressed in this report about the respiratory devices market are:
How are interventions from regulatory authorities and reimbursement providers shaping the growth of the respiratory devices market?
What is the revenue potential of point-of-care respiratory devices in the North America and Europe regions?
Who are the key competitors in Respiratory devices market and what are their portfolios in the respiratory devices market?
What are the major challenges influencing the growth of the respiratory devices market?
Research Methodology
The respiratory devices market has been estimated based on the supply-demand approach. The Respiratory devices market value was first calculated based on an installed-base modelling that was conducted for the top 20 countries globally. The installed-base modelling approach involves various factors such as product life cycle, replacement rate, potential replacement, new sales and price of products. Other qualitative factors analysed during Respiratory devices market estimation include the level of awareness about respiratory devices, the incidence & prevalence of respiratory diseases and the rate of adoption rate & awareness levels of end-users.
This information is further validated with rigorous primary research, which includes interviews, surveys, in-person interactions and the viewpoints of seasoned analysts and secondary research, which includes verified paid sources, authentic trade journals and resourceful databases.
The research study about the respiratory devices market also includes top trends and macro- as well as micro-economic factors that are shaping the respiratory devices market. With this approach, the report on the respiratory devices market estimates the industry attractiveness of every major segment of the respiratory devices market over the forecast period.
Market segmentation
Based on product type
nebulizers
respiratory consumables
Positive Airway Pressure (PAP) devices
oxygen concentrators & polysomnography devices
pulse oximeters
mechanical ventilators
spirometers
Based on End-user segments
hospitals
ambulatory surgical centres
clinics
long-term care centres
others
On the basis of region
North America
Latin America
Europe
Asia Pacific Excluding Japan
Japan
MEA
Need specific information?