About the Report
The rising prevalence of respiratory diseases has been pushing for innovation in the manufacturing of respiratory devices. Patients suffering from asthma and chronic obstructive pulmonary diseases (COPD) have been seeking out better precision in drug delivery, which has led to an increase in adoption of respiratory devices. Favorable reimbursement policies by governments encourage manufacturing and sales of respiratory devices.
In its new study, ESOMAR-certified market research and consulting firm Future Market Insights (FMI) offers insights about key factors driving demand for respiratory devices. The report tracks the global sales of respiratory devices in 20+ high-growth markets, along with analyzing the impact COVID-19 has had on the medical device industry in general, and respiratory devices in particular.
What is Future Outlook for Respiratory Devices Market in Comparison to Historical Pattern?
According to the World Health Organization (WHO), chronic obstructive pulmonary diseases (COPD) is a major health concern and is one of the leading causes of death globally. Technologically advanced medical devices and effective drugs have become key to the management of COPD and other respiratory disorders.
For instance, in 2016, the United Nations created Sustainable Development Goals (SDG) to improve living standard across the world. Similarly, the Forum of International Respiratory Societies (FIRS) was developed to address the soaring burdens of respiratory disorders. These efforts plays important role in increasing demand for respiratory devices. According to FMI's analysis, respiratory devices sales have grown at 9.1% CAGR between 2021 and 2031.
Several new drugs were launched for the management of COPD and other respiratory diseases such as asthma over the last decade. With the number of products in pipeline increasing, the market will have greater scope for expansion especially as the demand for respiratory devices has surged amid COVID-19 outbreak.
The pandemic crisis has led to fast-track drug approval and product launch and is the most trended among pharmaceutical manufacturers. The COVID-19 has resulted in alliances between healthcare and non-healthcare industries to manufacture respiratory devices. Manufacturers are producing increased quantities of respiratory devices to meet growing demand. These developments present a positive aspect of growth. FMI expects global respiratory devices market to grow at 9.1% CAGR through 2031.
How are Combination Therapies Influencing Respiratory Devices Sales?
The use of combination therapies for the treatment of COPD and asthma has grown continuously. Patients are preferring combined therapies due to its advantages such as increased efficacy, more reliability in complex patients, and favorable reimbursement policies related to therapy. The increasing preference for combination therapies such as triple combination therapy is a key factor for respiratory devices manufacturers.
Combination therapies are considered a reliable source of treatment for patients with complex respiratory disorders. Besides this, favorable reimbursement schemes have been encouraging the usage of these therapies.
How Will the Adoption of Portable Respiratory Devices Aid Growth?
Technology plays a key role in raising the bar for inhalers and nebulizers by improving the quality and increasing ease of use of these devices. This would ultimately increase patient compliance. The advantages of portable devices such as lightweight, small shape and easy to carry drives the adoption of these devices. Patients suffering from chronic respiratory diseases require continuous oxygen supply. A portable oxygen concentrator has several other benefits which make it the best choice of device. The portable oxygen concentrators can be the future oxygen delivery device for toddlers.
Combination of cell phones and respiratory devices such as spirometers, pulse oximeters, insists doctors access telemedicine services and data easily. Government initiatives for use of spirometer devices and rising prevalence of chronic diseases are expected to create demand in top regions.
Some of the leading market players are aiming at launching portable devices. For instance, in April 01, 2019, InnAccel has launched SAANS, which has been claimed to be the world's first infrastructure-independent, neonatal, portable (continuous positive airway pressure) CPAP system. Meanwhile, Aptar Pharma has recently launched a new portable and ready-to-use delivery solution designed for upper respiratory care, which it calls PureHale.
What is the Impact of Regulations on Respiratory Devices Sale?
According to the World Health Organization (WHO) forecast, COPD will become the third leading cause of death across the world by 2025. The rising prevalence of respiratory ailments and the increasing demand for effective treatment has been surging growth opportunities. With the implementation of favorable reimbursement policies, the market is expected to gain remarkable growth in the new few years.
Improvements in the government healthcare system and growing focus towards advanced treatment with better accessibility will create profitable growth prospective. For instance, the Affordable Care Act is implemented to help nearly 40 Mn uninsured Americans to gain access to healthcare services.
Similarly, England provides free health services for peoples. The National Health Service (NHS) provides preventive medicines, primary care and hospital services to every person of the country. For instance, in 2018 radical changes were introduced in NHS that will allow social care leaders to formally devise care for individual patients, which will be increasingly made available away from hospitals. These developments aimed at making healthcare better accessible will present a conducive environment for respiratory devices sales.
Likewise, the universal healthcare system in Japan is famous for providing low-cost healthcare polices to peoples. As per OCED, Japan's healthcare is focusing on improving the quality of care as well as on controlling costs. Favorable regulatory policies will further continue steady growth in sales through the forecast period.
Opportunities Abound in COPD Treatment
According to FMI, the demand for respiratory devices will be higher for the treatment of COPD. While the disease indication will continue leading, the COPD segment is anticipated to grow rapidly in the forecast year. Apart from the rising prevalence of COPD, increasing healthcare expenditure around the world will also be expected to expand the growth of the respiratory devices market.
According to the Global Burden of Disease Study report published by WHO, in 2016, about 251 million new cases of COPD are diagnosed globally. With the incidence of the disease forecast to rise, the demand for nebulizers to treat COPD is expected to surge in the next few years.
Country-wise Insights
How big is the opportunity for Respiratory Devices Sales in U.S.?
FMI has projected the U.S. to remain one of the most lucrative markets throughout the forecast period. One of the key factors supporting expansion is the region's high healthcare spending. As per CMS' preliminary forecasts by Office of the Actuary, the total healthcare expenditure in the U.S. alone is likely to increase at 5.4% between 2019 and 2028, outpacing the country's GDP by 4.3%.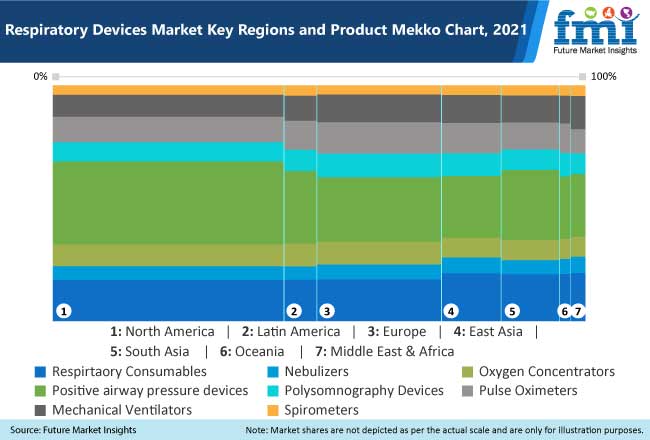 Furthermore, the U.S. remains one of the largest markets for medical devices globally, which invariably makes it a lucrative pocket for respiratory devices manufacturers. According to SelectUSA the medical devices market in the U.S. forecasted for 40% of the global market in 2017. By 2023, it is projected to reach 203 Bn US$. As per the Centers for Medicare & Medicaid Services (CMS), retail spending for durable medical equipment in the U.S. stood at 54.4 Bn US$ in 2017. It is projected to increase in the coming years, which is indicative of remarkable scope for expansion it will offer to respiratory devices companies.
Favorable healthcare policies, coupled with high per capita healthcare spending, has created a conducive environment for the adoption of respiratory devices in the U.S. Also the presence of leading players such as ResMed Inc. and Medtronic plc., are supporting growth in the U.S. Strategies undertaken by these companies include product launches and expansion plans, which will continue aiding overall expansion in the U.S.
UK's Medical Device Sales Need Revival
The adoption of respiratory devices is expected to rise considerably across hospitals and healthcare facilities in countries across the UK. As a result of efforts by various government organizations such as the European Academy of Allergy & Clinical Immunology to spread awareness about COPD and other respiratory diseases such as asthma, the demand for respiratory devices is believed to surge. As per FMI Europe is the second-leading market, a position it is likely to hold on to through the projected period.
According to University of Edinburgh research, in England COPD treatment costs is likely to exceed 2.5bn euro by 2030. This is indicative of increased health spending on treatment of respiratory ailments, which represents the scope for the expansion in the U.K. According to the Economic Co-operation and Development Organization of the U.K., in 2017, the country spends approximately 2,989 euro per person for health. With healthcare expenditure in the U.K. forecast to grow significantly, sales prospects are likely to get better.
Why Innovation is Key to Succeed in German Medical Device Market?
The Federal Statistical Office has reported that healthcare spending in Germany rose by 4% in 2018 from 2017. In 2018, Germany spend 11.7% of the GDP on healthcare expenditure. Moreover, healthcare spending was anticipated to increase to 407.4 billion Euros by the end of 2019, presenting a lucrative landscape for the expansion of the respiratory devices.
Also, the presence of companies such as Drägerwerk AG & Co. KGaA is supporting the expansion in Germany. The company makes affordable and effective technology possible to produce Seattle PAP, a patented innovation for the treatment of respiratory distress symptoms in babies and children. Besides this, the company has been investing significantly in expansion efforts. Growth strategies adopted by these companies are expected to aid the expansion in Germany.
Since 2009, health insurance has been made mandatory for all citizens of the country. According to NCBI, a total of 70 million people, which roughly covers 85% of the population are covered by statutory health insurance. Another 11% population of Germany is covered by substitutive private health insurance. Conducive reimbursement policies and regulatory scenario are presenting attractive growth opportunities.
Sales in France Tied Closely to Healthcare Spending
As per the National Center for Biotechnology Information (NCBI), annually 530 Euro per COPD patient is incurred with considerable use of healthcare resources. Similarly, another survey by NCBI revealed that the prevalence of COPD was estimated to be around 1.0% to 11.1% among French adults. The high burden of respiratory disease in France is leading to increasing demand for effective treatment measures. The sale of respiratory devices is expected to surge in the country.
According to the World Bank, the healthcare expenditure in France is stood nearly at 11.25% of the GDP in 2018. This represents a decrease in healthcare spending than in 2017, the position of healthcare continues to remain in the country. Coupled with favorable government initiatives, increased cases of respiratory diseases will keep respiratory devices demand high in France.
What is Surging Demand for Respiratory Devices in China?
Growth in South Asia is anticipated to happen at an accelerated pace through forecast years. The World Health Organization has reported that in 2015 almost 3.17 million people across the world are died due to COPD and 90% of COPD deaths were recorded in low and middle-income countries, including China.
A nationwide survey conducted in China revealed that about 8.6% of adults in China are suffering from COPD in 2018. Based on results revealed in the Global Burden of Disease Study, COPD was the fourth-leading cause of death in the country in 2013. These figures are indicative of opportunities for wider penetration in China, subsequently South Asia. A rise in the prevalence of sleep disorders in Asian countries such as China is another key factor driving rapid growth in the market.
Category-wise Insights
What's the Market Share of Positive Airway Pressure (PAP) Devices?
The positive airway pressure (PAP) devices segment will continue accounting for over half of the global share among products through the forecast period. According to FMI, the segment is expected to hold a little above 35% of the market, in terms of product type, by the end of 2031. Positive airway pressure (PAP) devices offer greater precision and straightforward usage, which are the leading causes behind the dominance of the segment. Positive Airway Pressure (PAP) devices reduce daytime sleepiness by keeping airway passages open. Also, it possibly reduces other sleep apnea-related health problems such as high blood pressure, diabetes, heart disease, and stroke.
How Much Do Hospitals Contribute towards Respiratory Devices Sales?
Driven by higher footprint of patients, hospitals have continued accounting for leading share in the market among end users. Through the course of the forecast period, hospitals are expected to record high demand for respiratory devices. The outbreak of COVID-19 and other pandemics has been crucial at pushing growth in the segment. For instance, several COVID-19 patients are seen to experience mild to moderate respiratory illness, which makes respiratory devices crucial for administering patient care. According to FMI, hospitals as end users are likely to account for above 42% of the market by the end of 2031.
Competitive Landscape
Leading players are focusing on strategic acquisitions to strengthen its product portfolio. For instance, Masimo Corporation has acquired TNI medical AG ("TNI") for patients suffering from respiratory insufficiency to provide innovative pulmonary care therapy in 2020. Similarly, Resmed Inc. in 2019 completed the acquisition of HB Healthcare (HBH) and Propeller Health to provide connected health solutions for people living with chronic obstructive pulmonary disease (COPD) and other respiratory conditions like asthma.
Companies operating in the respiratory devices market are focusing on strategic collaborations to address the requirements of an expanding patient pool. For instance, In June 2020, Medtronic plc entered into a partnership with Foxconn Industrial Internet to begin manufacturing Medtronic's Puritan Bennett 560 (PB560) ventilators in the United States.
Similarly, Smith's Medical has signed a distribution partnership with Medline Industries for distribution of the Portex acapella, a vibratory PEP therapy device to focus on the non-acute and home care channels in 2019.
There is ample focus on innovations and USFDA approval among players. Besides aiming at a competitive advantage, key players are focusing on the expansion of their global footprint as they expect approvals from regulatory authorities. For instance, In 2019, Masimo corporation got USFDA approval for Neonatal RD SET Pulse Oximetry Sensors with improved accuracy Specifications, O3 Regional Oximetry for use on neonatal and infant patients, Radius PPG, a first tetherless SET pulse oximetry sensor solution. Likewise, Masimo corporations Rad-G Pulse Oximeter got USFDA approval in 2020 to treat respiratory disorders.
Most of the companies are focusing on new product launches with advanced technology coupled with new ventilation solution that provides respiratory support to neonates, infants, paediatrics and adults. For instance, In 2019 ResMed Inc. launched an automated ResMed ReSupply solution to increase long-term therapy adherence and improve the satisfaction of patients suffering from sleep apnea disorders.
Some of the leading companies operating in the market are:
Massimo Corporation
Teleflex Incorporated
Fisher & Paykel Healthcare Limited
ResMed Inc.
Hamilton Medical AG
Medtronic plc.
Koninklijke Philips N.V.
Smith's Medical
General Electric Healthcare Limited
Drägerwerk AG & Co. KGaA
Inogen Inc.
*The list is not exhaustive, and only for representational purposes. Full competitive intelligence with SWOT analysis available in the report.
Scope of the Report
Attribute

Details

Forecast Period

2021-2031

Historical Data Available for

2016-2020

Market Analysis

USD Million for value and Units for Volume

Key Regions Covered

North America, Latin America, Europe, East Asia, South Asia, Oceania Middle East & Africa

Key Countries Covered

US, Canada, Germany, U.K., France, Italy, Spain, Poland, Russia, China, Japan, South Korea, India, Thailand, Malaysia, Vietnam, Indonesia, Australia, New Zealand, GCC Countries, Turkey, Northern Africa, South Africa

Key Segments Covered

Product Type, End Users, and Region

Key Companies Profiled

Massimo Corporation
Teleflex Incorporated
Fisher & Paykel Healthcare Limited
ResMed Inc.
Hamilton Medical AG
Medtronic plc.
Koninklijke Philips N.V.
Smith's Medical
General Electric Healthcare Limited
Drägerwerk AG & Co. KGaA
Inogen Inc.

Report Coverage

Market Forecast, brand share analysis, competition intelligence, DROT analysis, Market Dynamics and Challenges, Strategic Growth Initiatives

Customization & Pricing
Key Questions Answered in the Report
Which is the most lucrative market for respiratory devices?
The U.S. currently leads the global market for respiratory devices. Sales in the U.S. is expected to account for the lion's share of the North America market through the course of the report's forecast period.
Which are the top-selling respiratory devices?
Positive Airway Pressure (PAP) Devices are highly sought-after in every market. The demand for Positive Airway Pressure (PAP) Devices is expected to remain high shortly, especially due to ease of usage and precision in drug delivery.
Which are some of the leading companies offering respiratory devices?
Some of the leading companies offering respiratory devices are Massimo Corporation, Teleflex Incorporated, Fisher & Paykel Healthcare Limited, ResMed Inc., Hamilton Medical AG, Medtronic plc, among others.
Which is the leading end users in the respiratory devices market?
The hospital's segment is leading among the end-users. Hospitals provide respiratory care services to patients through various departments, such as pulmonary diagnostic laboratories, intensive care units, emergency rooms, and, outpatient departments, among others.
Key Segments
Product
Respiratory Consumables

Respiratory Mask
Nasal Cannulas
Oxygen Tubing Sets
Breathing Filters

Nebulizers

Compressed Jet Nebulizers
Ultrasonic Nebulizers

Oxygen Concentrators

Home Oxygen Concentrators
Portable Oxygen
Concentrators`

Positive Airway Pressure (PAP) Devices
Polysomnography Devices

Ambulatory PSG Devices
Clinical PSG Devices

Pulse Oximeters
Mechanical Ventilators
Spirometers
End Users
Hospitals
Ambulatory Surgical Centers
Clinics
Long Term Care Centers
Others
Region
North America
Latin America
Europe
East Asia
South Asia
The Middle East and Africa (MEA)
Oceania
Need specific information?