Respiratory Pathogen Testing Kits Market Outlook & Key Findings
Respiratory pathogen testing kits market likely to grow over 5% in 2020
North America and Europe collectively account for around 55% market share currently and the status quo is unlikely to change during the forecast period
Mandatory workplace testing, especially in high-risk occupations, likely to drive growth
High cost involved in respiratory pathogen testing; especially in private laboratories continues to remain a challenge
Increase in Research Funding for Respiratory Diagnostics to Drive Market Growth
Increasing funding for respiratory diagnostics is expected to be a staggering factor for the market. For instance, on December 19, 2019, The National Institute of Allergy and Infectious Diseases (NIAID) announced the establishment of the Infectious Diseases Clinical Research Consortium. NIAID has decided to fund Vaccine and Treatment Evaluation Units (VTEUs) program (approximately US$ 29 million per year) for seven years.
Regulatory bodies all across Europe are also lending monetary support to vendors for offering coronavirus testing kits. For example – The European Commission, in Jan 2020, sanctioned nearly US$ 11 million as a part of its "Horizon 2020 (research and innovation program)" for helping with research regarding coronavirus. This factor is likely to boost manufacturing of respiratory pathogen testing kits all through the Europe.
The government of Australia, in wake of Covid-19, announced a USD 1.68 billion package inclusive of respiratory clinics' network (a novel Medicare item to facilitate communications campaign and tele-consultations) in March 2020.
The Covid-19 outbreak led the RDIF (Russian Direct Investment Fund) produce 500,000 respiratory pathogen test kits with its partners in March 2020. The production has increased to 2.5 million kits per week later. The flagship companies of Russia have been using these kits to provide protection to employees of their big plants, or monotown, thereby enabling linear progression of these kits in Russia.
Commercial Availability of Improved Diagnostic Test for Respiratory Infection to Facilitate Faster Detection
Rapid molecular assays, antigen testing, immunofluorescence assays, vital culture, and RT-PCR (reverse transcription-polymerase chain reaction) are the diagnostic tests available to detect bacterial and viral infections in the present scenario. India-based Mylab has come up with its "PathoDetect Covid-19 Qualitative PCR kit".
This kit operates on the principle of RT-PCR and is reported to detect infection within 2.5 hours (as compared to 7.5 hours taken previously). This factor is expected to catalyze the demand for respiratory pathogen test kits in India and the other economies of Asia Pacific; as more number of infections could be detected in less time (considering the rising number of cases and population density in this region).
The other microbes that ask for effective respiratory pathogen testing kits are Staphylococcus aureus, Moraxella Catarrhalis, Haemophilus Influenzae, and Streptococcus pneumoniae. Apart from the methods mentioned above; the multiplex PCR technology is being applied as it gives reliable and specific respiratory pathogen testing within no time. Though viruses and bacteria do make up for majority of respiratory pathogen testing kits market; certain fungi are also in the fray. This also calls for increase in demand for these kits all over.
A novel type of molecular influenza diagnostic test having high sensitivity and specificity is "rapid molecular assays". They detect specifically known pathogens by NATs (Natural Antisense Transcripts). The basic advantage of NATs is that they don't have to depend on target microbes' viability and could also give results within time frame that is clinically relevant.
Cost-cutting Needed for Sustenance in Developing Economies
Although molecular diagnostic procedure has emerged as an important part of the research in life science industry, high cost involved in operating molecular process (by private laboratories in particular) could restrain market growth in the emerging economies. With the introduction of technological and process advancements in biotechnology, the cost of testing has also gone upwards. This inbound cost percolates to the patients. As such, global players need to look out for cost-cutting measures in this regard.
Coal Miners on the Map of Respiratory Pathogen Testing Kits
Coal miners across the globe are at high risk for non-malignant respiratory ailments like COPD (chronic obstructive pulmonary disease) due to involuntary inhalation of silica dust (that contains bacteria).
NIOSH (National Institute for Occupational Safety and Health) arrange for respiratory pathogen testing kits along with chest X-Rays for underground coal miners in the U.S. at periodic intervals. Initiatives like these are pushing respiratory pathogen testing kits market growth. Likewise, EU does employ close to 53,000 people in their coal power plants and 185,000 workers in coal mines. The regulatory bodies of EU also conduct regular check-ups of these employees; which again ask for respiratory pathogen testing kits.
In countries like Australia, there are mining laws and regulations to look into the safety of coal miners. Respiratory pathogen testing kits are imperative to coal mining companies as a part of environmental legislation.
Respiratory Pathogen Testing Kits: Region-wise Analysis
U.S. and Europe continue to be the most lucrative markets for respiratory pathogen testing kits globally. They collectively hold around 55% of market share and are expected to continue with the same trait in the forecast period. Apart from Covid-19 and the other existing viral/bacterial/fungal infections; sedentary lifestyle in these two regions is driving the market.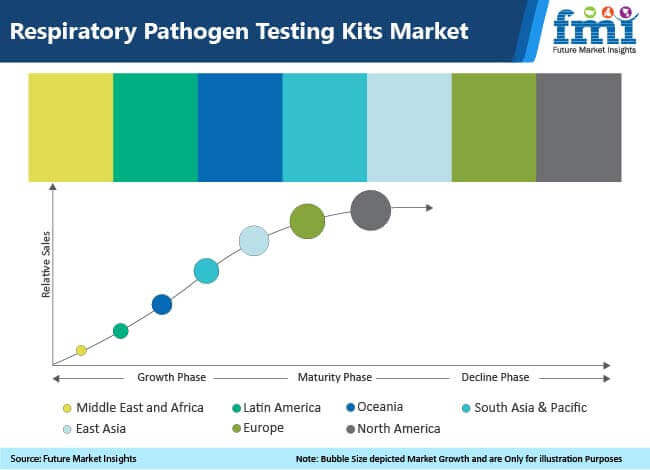 The Asia Pacific is also picking up; with numerous local players engaging into manufacture of respiratory pathogen testing kits to cater to the increasing cases of Covid-19. Also, emerging economies in the Asia Pacific have been subject to gastro intestinal tract infections as low-income groups tend to pay less attention to dietary hygiene.
Air pollution is another booster for the market. As per IQAir, more than 20 of the most polluted countries in the world belong to Asia Pacific. The uncontrolled inhalation of carbon monoxide, sulphur dioxide causes choking of respiratory tract; thereby causing increase in demand for respiratory pathogen testing kits.
Leading Players in Respiratory Pathogen Testing Kits Market
Some of the key players in the respiratory pathogen testing kits market are -
Americas
Thermo Fisher Scientific
Abbott Laboratories
Danaher Corporation
Becton, Dickinson and Company
Europe
Hoffmann-La Roche Ltd.
bioMérieux Inc.
Asia Pacific
*The list is not exhaustive, and only for representational purposes. Full competitive intelligence with SWOT analysis available in the report
Respiratory Pathogen Testing Kits: The Way Forward
Although COVID-19 may provide a short-term fillip to stakeholders, prevailing and expected market conditions point towards a sustained momentum; more so as the global economy will never be the same post recovery from Covid-19. The side-effects are already visible in certain economies.
Covid-19 has raised the feeling of "insecurity" all across. Certain sectors like travel & tourism, airlines, eateries, hospitality management, construction are likely to be adversely affected in terms of revenue. This could be attributed to social distancing being mandated by WHO (as it has confirmed that Covid-19 won't be eradicated completely).
As an outcome, the above-mentioned verticals will be rightsized with respect to headcount. This unemployment will adversely affect the overall mental health. People could resort to smoking, excessive drinking, or even consumption of drugs out of emptiness created on the mental front. These unhealthy habits do affect the respiratory tract and ask for more number of respiratory pathogen testing kits. As such, the market will witness sizable growth with addition of post-Covid-19 vagaries apart from the existing respiratory deformities.
Respiratory Pathogen Testing Kits Market: Segmentation
The global respiratory pathogen testing kits market is segmented in detail to cover every aspect of the market and present a complete market intelligence approach to the reader.
Product
RT PCR kits
DFA Kits
ELISA Kits
Others
By infection/symptoms
By Matrix
Enterovirus Infection
Human Coronavirus Infection
Influenza Virus Infection
Respiratory Syncytial Virus Infection
Rhinovirus Infection
Pneumonia
Others
By Technology
NAAT (Nucliec Acid Amplification)
Immunoassay
Others
End User
Hospitals
Diagnostic Centers
Speciality Clinics
Region
North America
Latin America
Europe
South Asia
East Asia
Oceania
MEA
Need specific information?
Talk Show:
The Rise of Intelligent Packaging
Personalized, Connected and Sustainable
November 18, 2021
11:00-11:45 AM PST (USA & Canada)
This is a LIVE session