Introduction
Retail e-Commerce packaging involves packaging products such as protective packaging (bubble wraps, air pillows, and loose fill peanuts), boxes (corrugated and folding cartons), labels, tapes etc. These products are typically used as secondary packaging to protect the packaged contents from damage during transportation activities. E-commerce sector has been expanding at an alarming rate.
The latest trend of cross border online shopping particularly in emerging regional markets, availability of various products, increasing demand for specialized and novel products have boosted the cross border online shopping and hence the overall e-commerce market which in turn has pushed the demand for retail e-commerce packaging.
New packaging designs have been developed with a view to cater individual demands of the population keeping in mind various environmental concerns. This has contributed to the growth of the global retail e-commerce packaging market.
The analytical research study on global retail e-commerce packaging market by Future Market Insights has covered various market scenarios adhering to retail e-commerce packaging adoption and growth. The research study includes analysis on various parameters and their changing dynamics across key regions in the globe thus presenting a holistic view of the global retail e-commerce packaging market.
According to Future Market Insights, the global retail e-commerce packaging market is projected to expand at a steady CAGR. In 2017, the global market is valued at more than US$ 13 Bn is estimated to reach a valuation of around US$ 21.4 Bn by the end of the year of assessment (2026).
Boxes Reflected Higher Market Value in 2017; However, Protective Packaging to Gain High Traction in the Years to Follow
Boxes segment in the product type category is valued at a higher estimation than other product type segments. This segment dominated the global market since past years. However, protective packaging segment is anticipated to grow at a higher rate and is poised to lead the global market in the years to come.
The protective packaging segment is expected to reach a valuation higher than boxes segment by the end of the year of assessment growing at a high CAGR of 6.3% throughout the period of forecast. The labels segment has also showcased higher adoption and is projected to rise at a significant growth rate during the said period.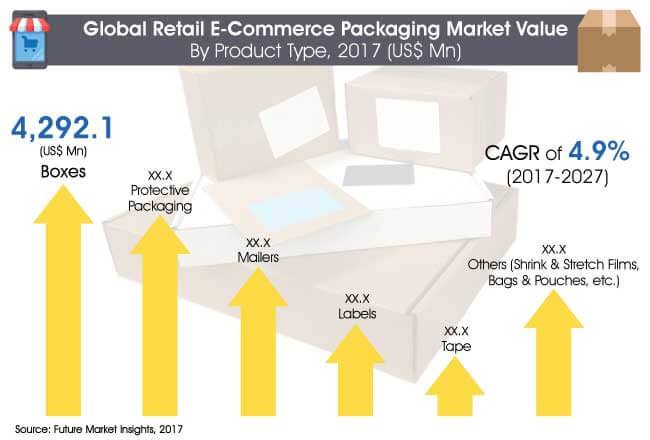 Third Party Fulfilment and Logistics Companies to be Favourable for the Growth of the Retail E-Commerce Packaging Market
Third party fulfilment and logistics companies segment is highly lucrative and the largest segment. It is predicted to grow at a moderate growth rate during the period of assessment and is estimated to reach a market valuation of more than US$ 14 Bn by the end of the year of assessment (2026).
The third party fulfilment and logistics companies segment led the global market in 2017 and is likely to continue with this trend throughout the forecast period. On the other hand, the specialty retailers is the fastest growing segment reflecting a high CAGR of 6.6% throughout the period of assessment.
Competitor Analysis
The research report on global retail e-commerce packaging market covers intelligence on various companies participating in the market. Their facts such as company overview, key strategies, SWOT analysis and key financials is included in this section. Major companies such as DS Smith Plc., Pregis Corporation, Georgia-Pacific LLC, International Paper Company, Mondi plc., Sealed Air Corporation, 3M Co., WestRock Company, Intertape Polymer Group and Dynaflex Private Limited are profiled in this research report.
Market Segmentation
Region
North America
Latin America
Europe
Japan
APEJ
MEA
Product Type
Protective Packaging
Boxes
Mailers
Labels
Tape
Others (Shrink & Stretch Films, Bags & Pouches, etc.)
Merchandise Type
Consumer Electronics
Fashion (Clothing, Footwear, etc.)
Home Furnishings
Health, Personal Care & Beauty
Recreation Goods
Multimedia & Software
Food & Beverages
Home Care
Others (Books, Automotive Products, Gifts and
Market Type
Third Party Fulfilment & Logistic Companies
Brick & Mortar Retailers
Specialty Retailers
Others
Need specific information?