About the Report
The demand for retail automation is estimated to increase over time owing to several advantages it offers such as low cost, accuracy, speed and high-quality performance. The implementation of automated technologies in retail industry is one of the major factor driving the market growth. Retail automation is touted as the future of commerce by many. The system has been designed to automate various manual processes including book-keeping, inventory management, and accounting within the retail sector. The focus on improved customer services is expected to drive the market.
Future Market Insight's new study covers comprehensive insights about the market trends, value (US$ Bn) projections, recent developments, and dynamics in the global retail automation market for the forecast period of 2021-2031. The report tracks the global value of retail automation in 20+ high-growth markets, with the regions of North America, Europe, and Asia offering the most opportunities to stakeholders. The report also analyzes the impact COVID-19 has had on the economy in general, and retail automation in particular.
How the Historical & Future Projections for Retail Automation Market Compare?
From 2016 to 2020, the market registered a CAGR of 9.6%. Surge in adoption of Artificial Intelligence and deep learning technologies across various applications within the retail sector is likely to drive the market over the coming years.
The global retail industry is evolving thanks to extraordinary changes. In an era of growing mobility, consumers are looking for easy and reliable access to products and services from anywhere and anytime. Automation can control the inventory flow of a supermarket, a mall, a departmental store, or a retail store. Thus, retailers are looking for advanced systems in order to address the needs such as quick processing, result accuracy and cost reduction.
Retail automation is the turn key solution to these requirements as it provides point of sale terminals and interactive kiosks which include all the essential software, hardware, and related services. The POS terminals including cash registers, receipt printer, and barcode scanners, are majorly contributing to the retail automation market growth. Moreover, retail automation is seen as a trending technology in developed economies such as Germany, the U.S., China, and so on. Overall, the global market for retail automation is projected to fare even better over the coming years, expanding at an impressive CAGR of over 11.5% through 2031.
How is Integration of Cloud-based PoS Contributing to Retail Automation?
Point-of-Sale (POS) systems are where a product/service is handed from seller to buyer. POS systems are generally used by retailers to complete sales transactions. Most of the businesses demands to access their sales data quickly from any place or time, on any device, which is why the retail industry is witnessing rising adoption of cloud-based POS system. It makes the work easier for retailers and is expected to change the landscape of the retail POS industry in the future.
According to Forbes, maximum number of new retailers are opting for cloud-based POS instead of traditional POS, while a significant number of the existing retailers consider switching to cloud-based POS. It is estimated that the market may witness a considerable surge in cloud-based POS deployment by 2021. As a result, the retail automation market is projected to experience a noteworthy growth over the forecast period.
Mobile Payment and e-Wallet Propelling Retail Automation
With the rising number of smartphone users each year, customers are becoming habitual of e-wallets to store debit/credit cards and even loyalty cards. Whilst digital payments enable easier and faster checkout. It also enables customers to track their spending budget and transactions. Integration of digital payment helps retailers in easy transactions, improved customer service, and secure payments solutions.
In addition, businesses could also save money as e-wallet offers lower interest rate of 1-2% unlike that of credit cards (2-3%). This further adds momentum to market growth and creates productive opportunities for retail automation providers.
E-wallet and mobile payment are becoming a major trend, driving towards a cashless future. By installing a POS system with digital payments access, retailers can enhance their customer service while retaining their competitive positions. This rising demand across various verticals is expected to create growth opportunity for manufacturers of retail automation systems.
What are Key Challenges Posing Threat to Retail Automation?
Retailers deal with numerous operations every day. In order to manage them effectively and align them with business goals, departmental integration is a major requirement that cannot be overlooked. Some of the major challenges faced by the retailers are inappropriate storage layout, flawed in-store product mix, inefficient warehouse space utilization, frequent price changes, quick shift in customer's demands, and lack of control over channel partners among others.
Moreover, commercial companies are confronted with challenging requirements in the fields of e-commerce and retail and the associated logistics such as, same-day delivery, click-and-collect or simple returns processing. Therefore, it is expected that those companies with top logistics stand out from the competition and can prevail on the market in the long term.
How has COVID-19 Created Opportunities for Retail Automation Vendors?
The COVID-19 pandemic has mandated all retail businesses adhere to precautionary measures, leading to the closure of several outlets. Due to this, leading luxury brands and retailers have been facing short-term challenges such as health and safety concerns, sustained revenues, labor shortages, reduced pricing, supply chain management, and so on. Moreover, with governments enforcing worldwide quarantines to control transmission of COVID-19, forcing people to stay back at home, has led to bulk-buying of goods and increased online shopping, resulting in a great supply chain stress. Hence, such supply chain players among retailers have been looking to deploy smart analytics and AI to ensure resilience.
From a retailer's perspective, COVID-19 accelerated investments in automation to gain operational efficiency and reduce labor costs. The use of deep learning and robotics offers cost-friendly and speedy benefits as compared to manually picking items off store shelves, especially now as the COVID-19 pandemic has triggered big rise in demand for online shopping and grocery retailers want to keep their workers protected while timely addressing customer's ongoing need.
Country-wise Analysis
What is Driving Retail Automation Demand in the U.S.?
Until 2020, retail automation sales across the United States noted a Y-o-Y growth of over 8.5% to reach close to US$ 4,310.3 Bn. The market is set to further magnify at a CAGR of nearly 9.9% through 2031. The retail automation market in the United States is expected to be driven by the growing adoption of automation technologies by major players, such as Walmart and Amazon.
Part of the adoption is also attributable to changing consumer preferences. Major retailers in the region have adhered to complaints such as 'slow checkout speeds' and 'long lines', and adapted to the quick and secure checkout process.
Moreover, the United States is viewed as a productive market for retail automation systems, owing to which, various manufacturers are moving in the country in order to capture a large set of customers, hence, allowing them to achieve economies of scale.
Why is India Considered an Attractive Retail Automation Landscape?
As international brands make their entry into the India market and along with changes in regulations like GST, it has become increasingly important for domestic retailers to acknowledge the importance of having robust automation infrastructure and the efficiencies it can bring.
Emerging technologies are providing various solutions from the loading dock to the checkout line to give operational efficiency. In addition, mobile checkout devices have made it possible to sell merchandise in any location, be it a pop up shop, an event, or a kiosk. Thus, the Indian retail industry is on the verge of evolving in terms of adopting new technologies in automation.
How is Japan Contributing towards the Growth of Retail Automation Market?
Japan has always been at the forefront when it comes to deploying robotics and automation in everyday life. Thus, robots have become an integral part of sectors such as restaurants, hotels, and local retail stores.
Japan is a unique economy that primarily relies on convenience stores, which are called "konbini". According to the Japan Franchise Association, there were 55,743 convenience stores as of December 2018, and the number has been increasing steadily since 1970s. However, due to major shrink in population count in the country over the years, the Japanese government is dealing with the labor force crisis that would majorly affect the retail sector.
As a result, the Ministry of Economy, Trade and Industry (METI) launched a project to promote automation in retail industry with Radio-Frequency Identification (RFID) technology.
Moreover, it is estimated that in coming years, automation will be critical for retailers who are looking to scale up their operations in an optimized manner. This has significantly increased demand for retail automation systems within the country.
Retail Automation Scenario in Brazil
Enterprises in Brazil are seeking application developers that use machine learning and other automation tools to identify and predict problems in application development. Many businesses in Brazil are focusing on agile development methods for new projects and application modernization for legacy applications. With the increasing middle class population, and diverse retail ecosystem like Brazil's huge market, offer rewarding opportunities.
Although, Brazil may have few political and economic challenges like that of high fiscal deficits, yet the market outlook still remains confident. Moreover, rising competition between the local and international players is estimated to provide further impetus to the growth in the retail automation market in Brazil.
Growth Opportunities for South Africa Retail Automation Market
The retail industry in South Africa has witnessed significant technological advancements over the last few years. With millions of internet users in Africa, the expectation is that e-commerce will grow tremendously. In South Africa, where e-commerce platforms like Takealot are doing really well, average e-commerce spend is only USD 109.
Most of the ecommerce sites in Africa are marketplaces that invite third party sellers. While there are obstacles, but there are also opportunities for retailers, especially during the global pandemic. During the COVID-19 pandemic, South Africa has seen a rise in e-commerce platforms, which is thus, likely to create profitable growth opportunities for the retail automation market players over the forecast period.
Category-wise Insights
Why is there Huge Demand for Retail Automation Hardware?
Hardware components have dominated and accounted for a market share of 44.2% in 2020. Based on hardware, the point-of-sale (POS) segment held the maximum share in the market in 2020 and is likely to remain dominant over the forecast period.
Increasing R&D investment in advanced POS systems such as contactless payment options and RFID transponders is projected to drive growth over the forecast period. Furthermore, biometric-based POS systems creates a simplified process for personalized payment options to the end-user. This in turn is expected to upsurge the growth of the segment.
Cloud-based Retail Automation Solutions to hold a Major Share
The cloud segment is expected to record the highest CAGR during the forecast period, among all the deployment. The segment is estimated to register a CAGR of 13.3%. This is due to the rising demand for remote management which is one of the key factors driving the retail automation market.
Automating the retail stores enables operators to send and receive real-time notifications via the cloud, thus decreasing maintenance cost associated with regular check-ups. The connected machines can communicate when they are running low on product and facilitate dynamic route optimization and other logistic efficiencies for automatic restocking of the goods.
How Automated Supermarkets are shaping Retail Automation Market?
Over the past couple of years, the futuristic "connected supermarket" concept has started to unfold, which was commenced in late 2016 by Amazon Go, a connected grocery store with no checkouts. Using deep learning, computer vision, sensor fusion, and more, customers can walk into an Amazon Go outlet and automatically "check out" simply by picking items off the shelf. It is clear that robotics will play a significant role in supermarkets — both on the floor and behind the scenes. This is expected to further fuel the demand for retail automation solutions in this segment.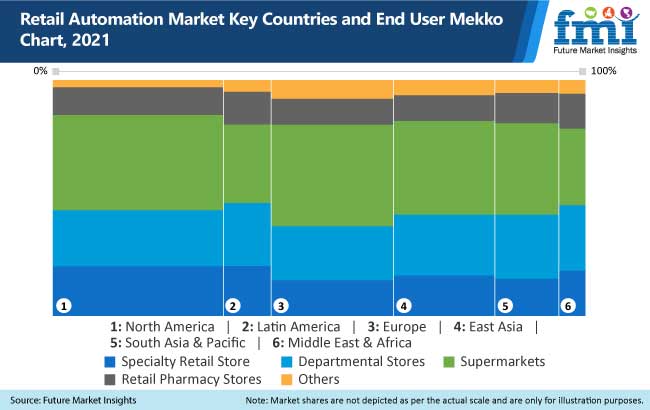 Competition Landscape
Companies operating in the market rely on various expansion strategies to make their presence felt across lucrative markets. These strategies include collaboration with key players, product launches, acquisitions, partnerships, and enhancement of distribution networks at regional and global levels.
In January 2021, NCR Corporation announced the acquisition of grocery e-commerce leader Freshop. Adding e-commerce to NCR's leading retail core POS platform will give retailers, particularly small and regional grocery chains, the ability to quickly deploy the capabilities to directly serve their customers' needs.
In December 2020, Posiflex Technology, Inc. launched a new series of PoS systems, The HS-3314A series is a 14" Android 9.0 PCAP touch POS system designed with the high-performance Rockchip RK3399 platform and a built-in printer along with various peripherals. HS-3314A is equipped with a high-speed, detachable thermal receipt printer, built with unique innovation and a compact body.
Future Market Insights has profiled the following prominent retail automation providers in its report:
Datalogic S.p.A
NCR Corporation
Honeywell International Inc.
KUKA AG
Zebra Technologies Corporation
Fujitsu Limited
Samsung Electronics Co. Ltd.
Posiflex Technology, Inc.
Tecsys Inc.
Optimove Inc.
Capillary Technologies
Focus Softnet FZ LLC
Future Way Technical Services LLC
QR Retail Automation (Asia) Sdn Bhd
Microlistics
First Data Corporation
E&K Automation GmbH
Napse
Vinculum Solutions Pvt. Ltd.
Infoplus
Retail Automation Market Report Scope
Attribute

Details

Forecast Period

2021-2031

Historical Data Available for

2016-2020

Market Analysis

US$ Mn for Value

Key Regions Covered

North America, Latin America, Europe, East Asia, South Asia & Pacific, and Middle East & Africa

Key Countries Covered

U.S., India, Canada, Germany, China, Italy, France, U.K., Spain, GCC and South Africa

Key Segments Covered

Component, Deployment, End User, and Region

Key Companies Profiled

Datalogic S.p.A
NCR Corporation
Honeywell International Inc.
KUKA AG
Zebra Technologies Corporation
Fujitsu Limited
Samsung Electronics Co. Ltd.
Posiflex Technology, Inc.
Tecsys Inc.
Optimove Inc.
Capillary Technologies
Focus Softnet FZ LLC
Future Way Technical Services LLC
QR Retail Automation (Asia) Sdn Bhd
Microlistics
First Data Corporation
E&K Automation GmbH
Napse
Vinculum Solutions Pvt. Ltd.
Infoplus

Customization & Pricing
Key questions answered in the report
How will the Retail Automation Market expand until 2031?

Future Market Insights projects the market to register a CAGR of over 11.5% over the assessment period, starting from 2021 to 2031. The consistent growth of self-service machines such as kiosk, and the self-checkout system is expected to increase the overall growth of retail automation market.

What is Driving Retail Automation Uptake?

In recent years, demand for retail automation has been increasing owing to features such as reduced cost to retailers, high speed of transactions, and accuracy in transactions, thus positively impacting the market.

Who are the leading providers of Retail Automation?

Prominent players providing retail automation systems and services include Datalogic S.p.A, Zebra Technologies Corporation, Honeywell International Inc., NCR Corporation, among others.

Who are the leading end users of Retail Automation?

Supermarkets have emerged as the leading end users of the technology. The focus on improving customer services has resulted in higher update of retail automation across supermarkets.
Key Segments Covered
Product Type
Manned POS Terminal

Fixed POS Terminal
Mobile POS Terminal
Contactless POS Terminal

Unattended Terminals

Kiosk / Vending Machine
Self-Checkout System
Market
Organized Market
Unorganized Market
Industry
FMCG
Health and Personal Care
Apparel and footwear
Hospitality
Consumer Electronics
Travel and Logistics
Oil & Gas
Others
Key Regions covered:
North America Retail Automation market
Latin America Retail Automation market

Brazil
Mexico
Rest of Latin America

Western Europe Retail Automation market

Germany
France
U.K.
Spain
Italy
Benelux
Nordic
Rest of Western Europe

Eastern Europe Retail Automation market

Russia
Poland
Rest of Eastern Europe

APEJ Retail Automation market

China
India
Australia & New Zealand
ASEAN
Rest of APAC

Japan Retail Automation market
MEA Retail Automation Market

GCC Countries
Turkey
South Africa
North Africa
Rest of MEA
Need specific information?
Talk Show:
The Rise of Intelligent Packaging
Personalized, Connected and Sustainable
November 18, 2021
11:00-11:45 AM PST (USA & Canada)
This is a LIVE session