Frozen Shrimp Industry Accounts for About 40% Share
Due to changing lifestyles, rising pace of urbanization and increasing number of working women the demand for frozen shrimp products is rising. Due to busy schedules, consumers prefer to buy ready to cook and frozen shrimp products as those are convenient as well as easily available.
Consumers prefer healthy and nutritious frozen food products, due to which consumption of frozen shrimp products is rising as shrimp contains high amount of proteins, vitamins and other essential nutrients. The shelf life of frozen shrimp products is high as compare to fresh products, and thus, sales of frozen shrimp products are expected to increase rapidly over the forecast period.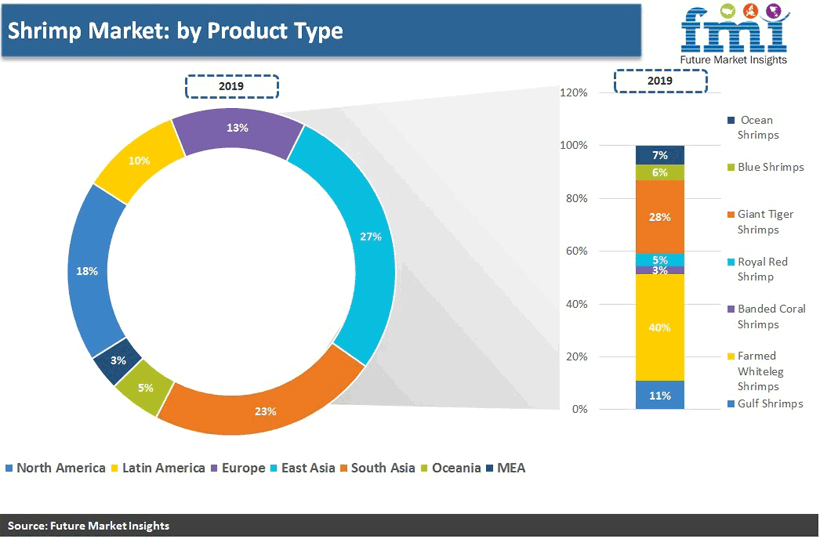 Developed Regions Offer Lucrative Growth Opportunities
As per volume, Asian countries such as China, India, Indonesia, Bangladesh, the Philippines, Thailand, and Vietnam together account for more than sixty percent of the global shrimp production, leading to a dominance of Asian countries in the global shrimp market. But in developed regions such as North America and Europe the consumption of shrimp is rising rapidly.
The shrimp market is gaining momentum in the North America and Europe because of popularity of shrimp among consumers. Shrimp is a rich source of vitamins, proteins and minerals, and hence, the health conscious population in the North America and Europe is eager to consume more shrimp products as part of a regular diet. In spite of high demand, the North America and Europe has stable shrimp supplies, owing to the domination of the market by imports. About eighty percent of the shrimp consumed domestically in the North America and Europe is fulfilled through import.
Majority of shrimp imported into the North America and Europe comes from China, India, Indonesia, Ecuador, Costa Rica, Columbia, and Thailand. Hence, although with high demand and low production, shrimp is a flourishing market in the North America and Europe because of large import volumes of frozen shrimp from across the globe.
Increasing Awareness Regarding Health Benefits Associated with Shrimp to Boost Sales
Health benefits of shrimp include improved bone and brain health, weight management, and a lowered risk of cardiovascular disease. Shrimp has anti-inflammatory, and anti-aging properties that help to reduce the risk of various health ailments. It helps in treating age-related macular degeneration and relieving eye fatigue. It also provides relief from menstrual pain. Shrimp is a high-benefit option for increasing consumers' overall health in a truly delicious way. The awareness of health benefits associated with shrimp is rising due to which the demand for shrimp is rising rapidly across the globe.
How Growth will Unfold
The increasing awareness of health and wellness and fast paced life across the globe is driving demand for seafood snacks products to be consumed on a daily basis. Manufacturers are launching various innovative shrimp snack products, such as chips, wafers, popcorns, biscuits, and crackers, in various flavors. Demand for shrimp snack products is increasing due to the wide variety, easy availability, and nutritious profiles.
Along with food industry, the shrimp is used widely in pharmaceutical and cosmetic industry. Shrimp is used in anti-aging and sunscreens as it contains a carotenoid called astaxanthin, which is a powerful antioxidant that can greatly reduce the signs of aging in the skin related to UVA and sunlight. It improves chances of beautifying skin and shedding years from time-worn faces. Shrimp is used in hair fall shampoos as it contains minerals, such as zinc, which help to reduce hair loss. Due to these properties, major manufacturers of cosmetics are planning to use shrimp in their products.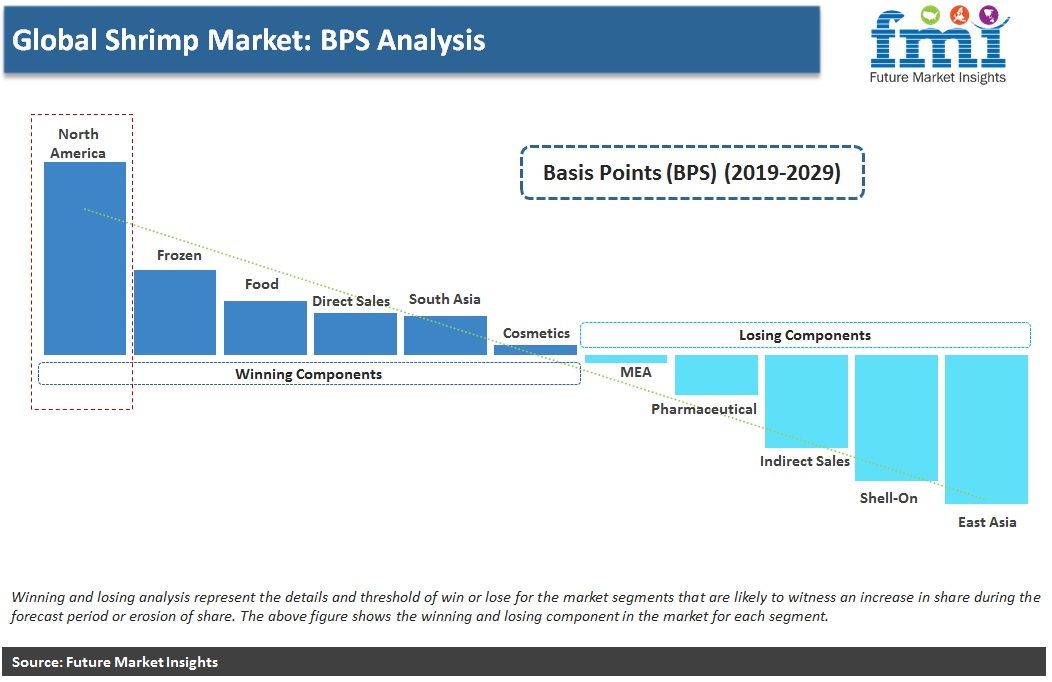 SHRIMP MARKET TAXONOMY
The global shrimp market is segmented in detail to cover every aspect of the market and present complete market intelligence to readers.
Nature
Species
Gulf Shrimps
Farmed Whiteleg Shrimps
Banded Coral Shrimps
Royal Red Shrimps
Giant Tiger Shrimps
Blue Shrimps
Ocean Shrimps
Form
Canned
Breaded
Peeled
Cooked & Peeled
Shell-On
Frozen
Sales Channel
Direct Sales
Indirect Sales

Modern Trade
Convenience Stores
Specialty Food Stores
Wholesale Stores
Discount Stores
Online Retail
Other Retail Formats
Application
Food Industry
Pharmaceutical
Industry
Cosmetics Industry
Industrial
Biotechnology
Region
North America
Latin America
Europe
South Asia
East Asia
Oceania
Middle East & Africa
Need specific information?