Shrimp Value to Surpass US$ 4,974.0 Mn in 2029
Exhibiting an impressive CAGR of ~8%, the global shrimp market will surpass US$ 4,974.0 Mn mark by 2029. This FMI study reveals that the market will grow at a steady pace during 2019 - 2029.
Awareness regarding benefits of opting for nutritious food and healthy lifestyles is increasing across the globe. Health-conscious consumers are concentrating on exercise and weight management to reduce risk of health diseases and disorders such as diabetes, cholesterol level, blood pressure, and heart diseases. Many health-conscious consumers focus only on exercising and neglect to ensure required protein intake, due to which they suffer from various deficiencies.
To avoid deficiencies and to maintain healthy lifestyles, consumers are consuming more protein-based products over calorie-based products.  Shrimp is a rich source of vitamins, minerals and proteins as well as it contains low amount of calories. Due to its nutritional benefits the consumption of shrimp products is rising. Demand for shrimp among consumers, to prepare seafood at home and even while ordering seafood in restaurants, has increased as these are available at cheaper prices and have high nutritional content. On the other hand, other seafood products such as salmon, tuna, crabs, lobsters, etc. struggle to hold a higher market share due to increasing prices and lower supply
KEY RESEARCH FINDINGS
The global shrimp market surpassed its US$ 4.9 Bn mark in 2019.
Demand for shrimp is rising rapidly, in food sector, pharma industry, and cosmetics sector. The usage of shrimp in anti-aging creams, and hair-fall shampoos is increasing rapidly.
Growing awareness of health and wellness in translating into higher preference for natural, organic, and chemical-free food products. This remains one of the factors driving shrimp product sales over conventional shrimp.
Demand for frozen shrimp is rising as it is easily available as well as easy to cook. The manufacturers are focusing on increasing nutritional content of frozen shrimp products due to which consumption of frozen shrimp is rising.
East Asia continues to lead the global shrimp market; North America has been reflecting high growth potential, with growth projected at over 10% during 2019 – 2029.
As coronavirus outbreak spreads rapidly across the globe, population have now started to prefer vegetarian food.  The number of diseases caused due to animals is increasing due to which consumption of animal based products is decreasing.
KEY FACTORS SHAPING THE SHRIMP MARKET
Sizeable Demand from Restaurants & Hotels
Use of shrimp is rising in restaurants and hotels as consumers prefer healthy and tasty dishes. Shrimp is high in proteins and low in calories, and the various health benefits associated with it, due to which demand for shrimp-based food dishes is growing rapidly. Restaurants attract consumers by offering unique and nutritious shrimp-based dishes. Restaurants and hotels offer various innovative, tasty, and healthy shrimp-based dishes such as shrimp kebabs, shrimp dumplings, coconut shrimp, and shrimp fried rice, and shrimp Thai soup. 
Consumption by Pharmaceutical Industry
Chitosan is an amino polysaccharide prepared by processing shrimp waste (shell) which involves partial deacetylation of chitin. Chitosan is the second most abundant natural polymer. Many biochemists have found that chitosan is biocompatible, biodegradable and non-toxic, which gave it wide applicability in conventional pharmaceuticals as a potential formulation excipient. Synthesis of chitosan is suitable for the pharmaceutical industry, especially in designing of delayed and controlled drug delivery systems. Chitosan is widely used in pharmaceutical industry, due to which the demand for shrimp is increasing across the globe.  
Impact of COVID-19 Pandemic
Seafood industry continues to fear the pile-up of stocks, driven by export setbacks during the COVID-19 pandemic. Shrimp has been a flourishing sector and was in fact suffering in the recent past, owing to falling prices and oversupply. Shipments have been seeing a slowdown, supply chains remain disturbed, consignments to key consumer countries like China have dropped heavily due to port congestions, and uptake at foodservice facilities continues to sink. Exports are also sluggish in the light of continued lockdowns and mobility restrictions. The impact will be harsher on demand for shrimp in near term. Moreover, a sizeable consumer population is still reluctant about the safety of wet markets.
SHRIMP MARKET STRUCTURE ANALYSIS
Leading shrimp producers are focusing on research and development to produce unique products. Key companies are focusing on acquisition and mergers to increase geographical reach and to broaden product portfolio. In response to coronavirus outbreak and the consequent business restrictions, exporters in the global shrimp market have offloaded their shrimp stocks that were originally destined for key consumer markets.
Demand-supply imbalance particularly in the foodservice sector is denting the revenue pool of shrimp market operators. On the other side, retail markets are stockpiling frozen shrimp and related products to leverage the shortages of fresh shrimp that would probably last for a while.
REPORT SCOPE
Report Metric

Details

Base year considered

2018

Actual estimates/Historical data

2014 – 2018

Forecast period

2019 – 2029

Market Value in 2019

Approximately US$ 4.9 Bn

Segments covered

Nature, Species, Form, Sales Channel, Application, and Region

Regions covered

North America, Latin America, Europe, APEJ, Japan, and MEA.

Key Players

The Clover Leaf Seafoods Family, Charoen Pokphand Food PCL, Maruha Nichiro Corporation, Nippon Suisan Kaisha, Ltd, Marine Harvest ASA, Thai Union Frozen Products PLC, Gulf Shrimp Company, Baton Rouge Shrimp Company, Inc., High Liner Food Industrys Incorporated, Pescanova S.A, Royal Greenland A/S, and Natural Shrimp Incorporated.

Growth Drivers

Sustained demand from food sector and pharma industry
Emerging opportunities in cosmetics sector
Heightening preference for frozen shrimp and shrimp products in retail

Report coverage

Revenue forecast, company share, competitive landscape, growth factors, and trends
Frozen Shrimp Industry Accounts for About 40% Share
Due to changing lifestyles, rising pace of urbanization and increasing number of working women the demand for frozen shrimp products is rising. Due to busy schedules, consumers prefer to buy ready to cook and frozen shrimp products as those are convenient as well as easily available.
Consumers prefer healthy and nutritious frozen food products, due to which consumption of frozen shrimp products is rising as shrimp contains high amount of proteins, vitamins and other essential nutrients. The shelf life of frozen shrimp products is high as compare to fresh products, and thus, sales of frozen shrimp products are expected to increase rapidly over the forecast period.
Developed Regions Offer Lucrative Growth Opportunities
As per volume, Asian countries such as China, India, Indonesia, Bangladesh, the Philippines, Thailand, and Vietnam together account for more than sixty percent of the global shrimp production, leading to a dominance of Asian countries in the global shrimp market. But in developed regions such as North America and Europe the consumption of shrimp is rising rapidly.
The shrimp market is gaining momentum in the North America and Europe because of popularity of shrimp among consumers. Shrimp is a rich source of vitamins, proteins and minerals, and hence, the health conscious population in the North America and Europe is eager to consume more shrimp products as part of a regular diet. In spite of high demand, the North America and Europe has stable shrimp supplies, owing to the domination of the market by imports. About eighty percent of the shrimp consumed domestically in the North America and Europe is fulfilled through import.
Majority of shrimp imported into the North America and Europe comes from China, India, Indonesia, Ecuador, Costa Rica, Columbia, and Thailand. Hence, although with high demand and low production, shrimp is a flourishing market in the North America and Europe because of large import volumes of frozen shrimp from across the globe. 
Increasing Awareness Regarding Health Benefits Associated with Shrimp to Boost Sales
Health benefits of shrimp include improved bone and brain health, weight management, and a lowered risk of cardiovascular disease. Shrimp has anti-inflammatory, and anti-aging properties that help to reduce the risk of various health ailments. It helps in treating age-related macular degeneration and relieving eye fatigue. It also provides relief from menstrual pain. Shrimp is a high-benefit option for increasing consumers' overall health in a truly delicious way. The awareness of health benefits associated with shrimp is rising due to which the demand for shrimp is rising rapidly across the globe.
Food holds leading revenue share
Cosmetic Industry to showcase noteworthy CAGR
Farmed Whiteleg Shrimps holds leading revenue share
Giant Tiger Shrimps to showcase noteworthy CAGR
Conventional holds leading revenue share
Organic to showcase noteworthy CAGR
Frozen holds leading revenue share
Canned to showcase noteworthy CAGR
How Growth will Unfold
The increasing awareness of health and wellness and fast paced life across the globe is driving demand for seafood snacks products to be consumed on a daily basis. Manufacturers are launching various innovative shrimp snack products, such as chips, wafers, popcorns, biscuits, and crackers, in various flavors. Demand for shrimp snack products is increasing due to the wide variety, easy availability, and nutritious profiles.
Along with food industry, the shrimp is used widely in pharmaceutical and cosmetic industry. Shrimp is used in anti-aging and sunscreens as it contains a carotenoid called astaxanthin, which is a powerful antioxidant that can greatly reduce the signs of aging in the skin related to UVA and sunlight. It improves chances of beautifying skin and shedding years from time-worn faces. Shrimp is used in hair fall shampoos as it contains minerals, such as zinc, which help to reduce hair loss. Due to these properties, major manufacturers of cosmetics are planning to use shrimp in their products.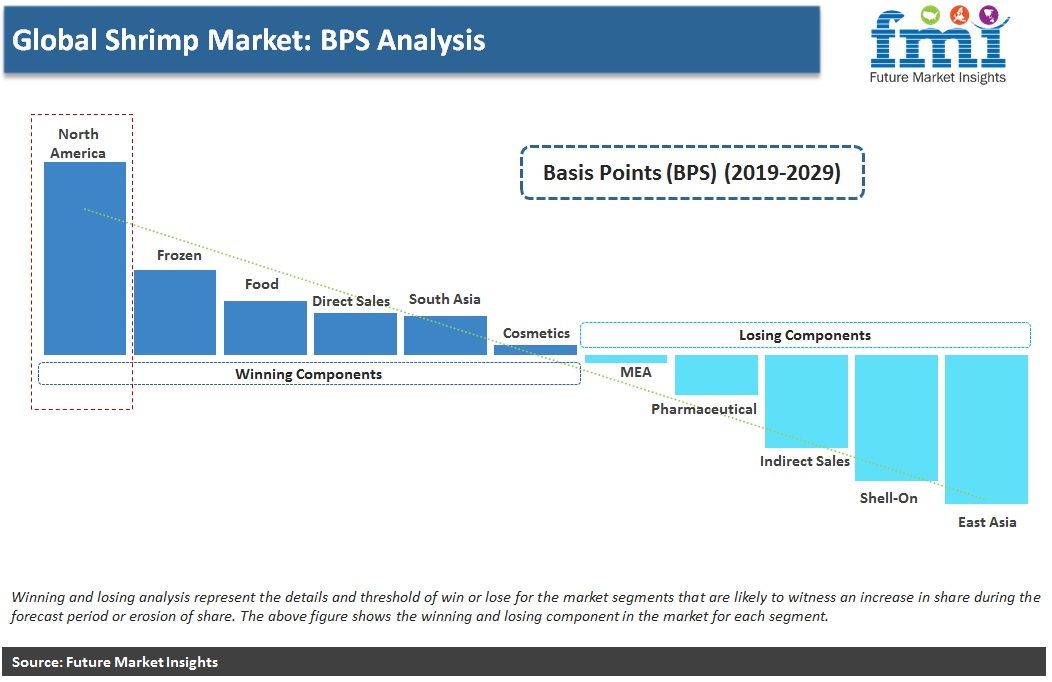 * This data is only a representation. Actual data may vary and will be available in report.
Click Here To Know How The Growth Will Unfold
Custom Market Research Services
FMI offers custom market research services that help clients to get information on their business scenario required where syndicated solutions are not enough.
Overview
Shrimp Market: Global Industry Analysis 2014-2018 & Opportunity Assessment 2019-2029
A recent market study published by Future Market Insights on the shrimp market offers global industry analysis for 2014-2018 & opportunity assessment for 2019-2029. The study offers a comprehensive assessment of the most important market dynamics. After conducting a thorough research on the historical, as well as current growth parameters, the growth prospects of the market are obtained with maximum precision.
Shrimp Market Taxonomy
The global shrimp market is segmented in detail to cover every aspect of the market and present complete market intelligence to readers.
Species
Gulf Shrimps
Farmed Whiteleg Shrimps
Banded Coral Shrimps
Royal Red Shrimps
Giant Tiger Shrimps
Blue Shrimps
Ocean Shrimps
Form
Canned
Breaded
Peeled
Cooked & Peeled
Shell-On
Frozen
Sales Channel
Direct Sales
Indirect Sales

Modern Trade
Convenience Stores
Specialty Food Stores
Wholesale Stores
Discount Stores
Online Retail
Other Retail Formats
Application
Food Industry
Pharmaceutical
Industry
Cosmetics Industry
Industrial
Biotechnology
Region
North America
Latin America
Europe
South Asia
East Asia
Oceania
Middle East & Africa
How the research was conducted?
Primary Research
C - Level Executives
Marketing Directors
Sales Heads
Production Managers
Distributors Heads
Sales Executives
Product Manufacturers
Distributors
Traders
Industry Experts
End Users
Current Market Dynamics and Challenges
Market Characteristics
Market Performance and Growth Quadrants
Competition Structure and Market Structure
Strategic Growth Initiatives
Near-term and Long-term Market Growth Prospects
Market Segment Splits and Authenticity
Opinions on Market Projections and Validity Of Assumptions
Secondary Research
Industry Publications

Industrial Week
Industrial Product Review
Industrial Magazine

Industry Associations

Dieticians Association
Food and Agriculture Organization

Company Press Releases
Annual Reports and Investor Presentations
Research Papers
Government Websites and Publications
Trade Websites
Primary Interview Splits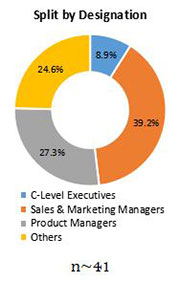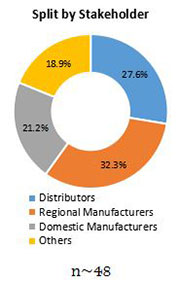 To Learn More About our Comprehensive Perspective on Shrimp Market,
Get in touch
COVID -19 : Impact Analysis
Request the coronavirus impact analysis across industries and markets
Request Covid -19 Impact
CASE STUDIES
See how our work makes an impact.
At FMI, we design strategies that are adaptive, impactful, and implementable.