Fibroin and Sericin – Protecting Skin and Hair from Getting Damaged
Silk protein - fibroin – exhibits great water-binding and absorption aspect. Fibroin is non-toxic and biocompatible, making it a suitable ingredient in cosmetic products. Silk protein tackles skin inflammation by promoting cell metabolism, and blood circulation. In addition, the decreased inflammation aids in complementing a uniform skin tone and avoiding acne & wrinkles. Silk protein enhances elasticity and rejuvenates skin – suitable for individuals seeking to change the look of the aging skin.
Silk protein boosts blood circulation to scar tissue beneficial for damaged skin, thereby reversing the occurrence of scars. Owing to antioxidant properties, silk protein counters the oxidative damage caused by free radicals, mitigating sun damage. The employment of silk protein in products for eye makeup or eye drops eliminates the need to rely on toxic chemicals resulting in eye irritation and falling of eyelashes and eyebrow hair. Silk protein – sericin – promotes hair growth by helping consumers to maintain proper hair thickness and prevent hair shedding.
Silk Protein Market - Key Research Findings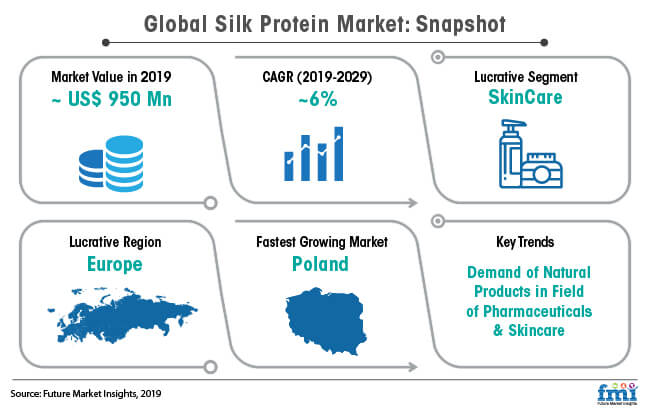 The global silk protein market value in 2019 is estimated at ~US$ 950
The silk protein market is anticipated to grow at a CAGR of ~6% during the forecast period of 2019-2029.
The powder form of silk protein is expected to remain highly preferred among the end users.

The growth in demand for powder form of silk protein can be attributed to its convenience during transportation. It is anticipated to account for ~79% of the total sales of silk protein in 2019, and increase with a CAGR of ~5.3% over the period of market assessment.

Europe is observed as the prominent region for silk protein market, holding ~ 25.7% of the global market share. In Europe, Poland is expected to contribute relatively high share of the silk protein market as compared to other countries.

Europe is estimated to continue to be the opportunistic market for silk protein manufacturers and distributors, owing to the increasing demand for natural products under every sector by demographics.

Noteworthy potential applications of silk protein include haircare, skincare, lip care, toiletry, color cosmetics, and pharmaceuticals. Adoption for skincare continues to account for comparatively high sales, while growing application in haircare products is likely to result in increased market share.
Key Factors Shaping the Silk Protein Market
Increasing Health Complications and Demand for Natural Products
Silk protein beholds various biological functionalities such as antimicrobial, antibacterial, anticoagulants, and anticancer. Owing to these properties, silk proteins are included as major ingredients in pharma and nutraceuticals. They also provide property of wound healing by promoting cell growth. Oxidization resistance property of silk proteins help increase the shelf life of the drug produced. In addition, they help the skin protect from harmful U.V. rays. Hence, a single natural product with such immense bioactive properties is obvious to rule the pharma & nutraceutical world during the forecasted period. These properties are still not known by many consumers due to the nascent phase of the product.
Manufacturers Supporting the Use of Silk Proteins to Replace Chemicals
The usage of silk protein in products for eye makeup or eye drops makes these products free from harmful chemicals causing eye irritation and falling of eyelashes and eyebrow hair. The usage of silk protein in mascara, eyebrow makeups and eye drops is a possible solution to these problems. As it promotes hair growth, these products will help consumers maintain a proper volume of hair and will add to their beauty. The same way these are used to make moisturizers, facial toner, face masks, soap, body wash, and many more products that will fight early aging of the skin and hydrate the skin to make it look shinier, younger and more beautiful.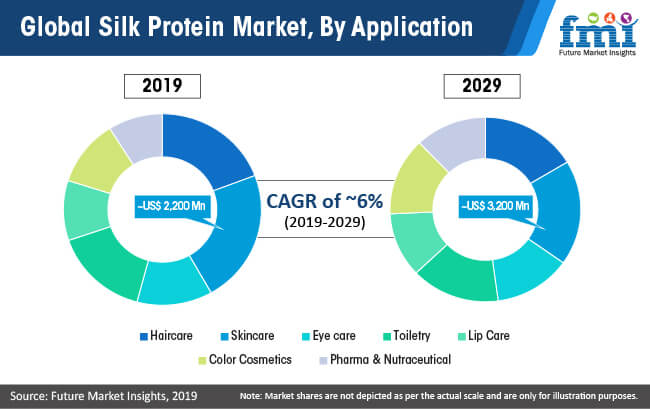 Silk protein Market Structure Analysis
The global silk protein market is a moderately competitive market. Approximately 35% - 40% share of the market is held by tier-1 players.
Manufacturers are focusing on certain strategies such as acquisitions of small companies that are present in the silk protein market for a long time. These acquisitions can increase their regional as well as local markets and win trust of consumers. Manufacturers are also increasing their market presence by launching different products with the usage of silk protein. In short, they are targeted towards attracting consumers by providing them with innovative and rich products using natural substances or ingredients.
Noteworthy investments in the research and development for novel and sturdy products are projected to boost the growth prospects of the silk protein market.

Major players in the silk protein market are SilkTech Biopharmaceuticals Huzhou Aotesi Biochemical Huzhou Xintiansi Bio-tech Co., Ltd. Kraig Biocraft Laboratories, Inc. (Trading Symbol: KBLB) Evolved by Nature (previously Silk Inc.) Bolt Threads AMSilk GmbH Universal Preserv-A-Chem Inc., Proteina, SUBONEYO CHEMICALS PHARMACEUTICALS PRIVATE LIMITED, and others.
Supporting Bone Tissue Engineering and Target-Specific Drug Delivery in Pharmaceutical Sphere
Silk protein exhibits a platter of properties, including mild aqueous possessing conditions, high biocompatibility, and biodegradability. In addition, silk protein enhances the stability of the loaded APIs (active pharmaceutical ingredient), such as proteins, pDNA, and small molecule drugs. Cytocompatibility studies find that silk protein holds high compatibility with various cell lines - hepatocytes, osteoblasts, and fibroblasts. Crosslinking of silk protein with organic solvents, including methanol, and hexafluoroisopropanol (HFIP) by inducing structural formation (? helix to ? sheet) is responsible for the inflammatory potential of SF formulations.
The presence of carboxyl and amino groups in the silk protein (fibroin) enables bio-functionalization with different biomolecules or ligands beneficial for targeted drug delivery. Silk protein - sericin - possesses relatively lower immunological responses as compared to usual degradable biological polymers in the pharmaceutical space - polylactide (PLA) and collagen which are highly suitable for biological applications. Scaffolds developed by electro-spinning silk protein is utilized in bone tissue engineering, including cartilage, and bone defects owing to the availability of ?-sheet structure, providing great mechanical stiffness sans the need for harsh crosslinking processes. Silk protein exhibits high tensile strength and resistance to compressive force – an ideal material for drug delivery and tissue engineering.
Developed and Developing Countries Offer Worthwhile Prospects
The demand for silk protein linearly associates with the booming progress in the cosmetics sphere of countries including India, Australia, and Brazil. Awakened by the potential dangers of synthetic chemicals, manufacturers of skin & hair care formulations in Australia are turning to bio-based alternatives. As per surveys, anti-aging creams and foundations remain at the top of the list of Brazilian cosmetics consumers, particularly the female cohort. Intensifying internet funneling in India is leading to an exponential rise in the number of millennial women leveraging online retail stores for purchasing beauty and cosmetics products, which will work to the advantage of the silk protein market players.
Stakeholders Hone in On Progressive Silk Protein Development
The therapeutic qualities of silk protein linearly depend on the degree of penetration. As such, market players are developing silk peptide powder or hydrolyzed silk protein following great effectiveness in penetrating several layers of skin. A majority of silk used in skincare products are highly processed, compromising the benefits. Manufacturers are producing lab-based silk protein via the fermentation process to retain the advantages of silk protein, including regenerative qualities, moisture-locking, and prolonged healthy skin. In order to tackle plastic pollution, developers are extracting silk protein present in spider web threads. The silk protein, amalgamated with cellulose fibers, deliver firm and resilient properties akin to plastic. Furthermore, the bottleneck of water shortage is motivating players to design methods for recycling water affluent in sericin – a paramount ingredient in skincare products.
Surging demand for powder
Sericin garnering huge traction
High adoption in skincare
Increasing applicability in pharma & nutraceutical
How Growth will Unfold
Although silk has been under the impression as a crucial natural material for the fabric industry for centuries, clinical studies suggest that the material is emerging as an essential biopolymer for biomedical and pharmaceutical applications. Reimagining silk protein for healthcare purposes is disrupting the medical scenario, particularly in eye-related dosages via electronically-enhanced ocular drug delivery systems.
While majority of female consumers heavily relies on anti-aging cosmetic products for enhanced beauty, their male counterparts are significantly embracing silk protein-based cosmetics for grooming purposes. The textile industry releases tons of wastewater – active water – containing sericin in an ample amount. Manufacturers are developing recycling techniques to recover sericin in a bid to serve the cosmetic space following anti-pollution, and moisturizing properties.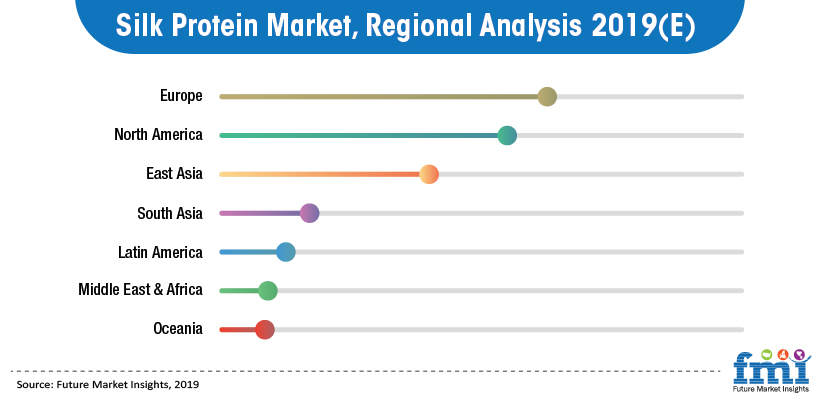 * This data is only a representation. Actual data may vary and will be available in report.
Click Here To Know How The Growth Will Unfold
Custom Market Research Services
FMI offers custom market research services that help clients to get information on their business scenario required where syndicated solutions are not enough.
Overview
Silk Protein Market Analysis 2019 - 2029
A recent market study published by Future Market Insights "Silk Protein Market: Global Industry Analysis 2014-2018 & Forecast 2019-2029" offers a comprehensive assessment of the most important market dynamics. After conducting thorough research on the historical, as well as current growth parameters of the silk protein market, the growth prospects of the market are obtained with maximum precision.
Silk Protein Market Taxonomy
The global silk protein market is segmented in detail to cover every aspect of the market and present complete market intelligence to the reader.
Application
Haircare
Skincare

Cleanser
Mask and Peels
Moisturizer
Serum
Facial toners

Eye Care

Eye Cream
Mascara
Nutritive products for Brow and Lash

Color cosmetics
Lip Care
Toiletry

Bath Gels
Shave Preparations
Liquid Hand Soaps
Soap Bars
Body Wash

Pharm and Nutraceuticals
Region
North America
Latin America
Europe
East Asia
South Asia
Oceania
Middle East & Africa
Emerging Countries (India, China, Japan)
How the research was conducted?
Primary Research
C - Level Executives
Marketing Directors
Sales Heads
Production Managers
Distributors Heads
Sales Executives
Product Manufacturers
Distributors
Traders
Industry Experts
End Users

Current Market Dynamics and Challenges
Market Characteristics
Market Performance and Growth Quadrants
Competition Structure and Market Structure
Strategic Growth Initiatives
Near-term and Long-term Market Growth Prospects
Market Segment Splits and Authenticity
Opinions on Market Projections and Validity Of Assumptions
Secondary Research
Industry Publications
Industrial Week
Industrial Product Review
Industrial Magazine
Industry Associations
Company Press Releases
Annual Reports and Investor Presentations
Research Papers
Government Websites and Publications
Trade Websites
Primary Interview Splits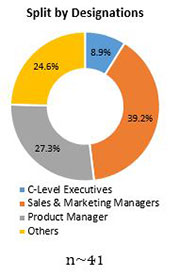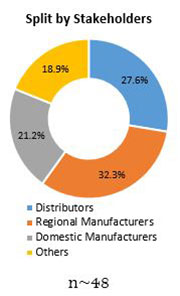 To Learn More About our Comprehensive Perspective on Silk Protein Market,
Get in touch
COVID -19 : Impact Analysis
Request the coronavirus impact analysis across industries and markets
Request Covid -19 Impact
CASE STUDIES
See how our work makes an impact.
At FMI, we design strategies that are adaptive, impactful, and implementable.