Silk Protein Market - Key Research Findings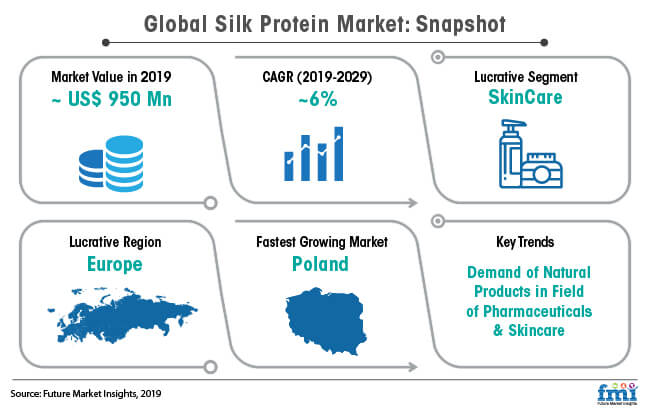 The global silk protein market value in 2019 is estimated at ~US$ 950
The silk protein market is anticipated to grow at a CAGR of ~6% during the forecast period of 2019-2029.
The powder form of silk protein is expected to remain highly preferred among the end users.

The growth in demand for powder form of silk protein can be attributed to its convenience during transportation. It is anticipated to account for ~79% of the total sales of silk protein in 2019, and increase with a CAGR of ~5.3% over the period of market assessment.

Europe is observed as the prominent region for silk protein market, holding ~ 25.7% of the global market share. In Europe, Poland is expected to contribute relatively high share of the silk protein market as compared to other countries.

Europe is estimated to continue to be the opportunistic market for silk protein manufacturers and distributors, owing to the increasing demand for natural products under every sector by demographics.

Noteworthy potential applications of silk protein include haircare, skincare, lip care, toiletry, color cosmetics, and pharmaceuticals. Adoption for skincare continues to account for comparatively high sales, while growing application in haircare products is likely to result in increased market share.
Key Factors Shaping the Silk Protein Market
Increasing Health Complications and Demand for Natural Products
Silk protein beholds various biological functionalities such as antimicrobial, antibacterial, anticoagulants, and anticancer. Owing to these properties, silk proteins are included as major ingredients in pharma and nutraceuticals. They also provide property of wound healing by promoting cell growth. Oxidization resistance property of silk proteins help increase the shelf life of the drug produced.
In addition, they help the skin protect from harmful U.V. rays. Hence, a single natural product with such immense bioactive properties is obvious to rule the pharma & nutraceutical world during the forecasted period. These properties are still not known by many consumers due to the nascent phase of the product.
Manufacturers Supporting the Use of Silk Proteins to Replace Chemicals
The usage of silk protein in products for eye makeup or eye drops makes these products free from harmful chemicals causing eye irritation and falling of eyelashes and eyebrow hair. The usage of silk protein in mascara, eyebrow makeups and eye drops is a possible solution to these problems.
As it promotes hair growth, these products will help consumers maintain a proper volume of hair and will add to their beauty. The same way these are used to make moisturizers, facial toner, face masks, soap, body wash, and many more products that will fight early aging of the skin and hydrate the skin to make it look shinier, younger and more beautiful.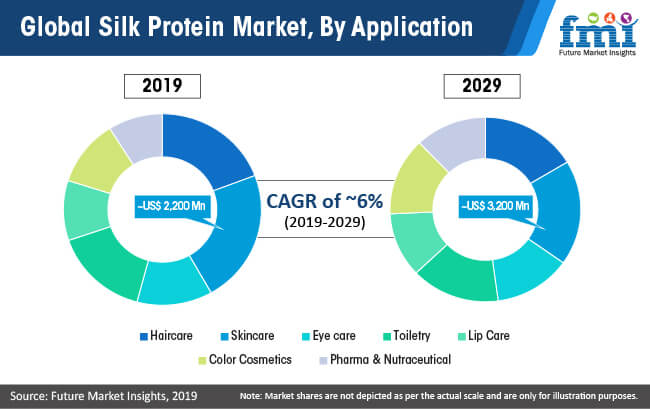 Silk protein Market Structure Analysis
The global silk protein market is a moderately competitive market. Approximately 35% - 40% share of the market is held by tier-1 players.
Manufacturers are focusing on certain strategies such as acquisitions of small companies that are present in the silk protein market for a long time. These acquisitions can increase their regional as well as local markets and win trust of consumers. Manufacturers are also increasing their market presence by launching different products with the usage of silk protein. In short, they are targeted towards attracting consumers by providing them with innovative and rich products using natural substances or ingredients.
Noteworthy investments in the research and development for novel and sturdy products are projected to boost the growth prospects of the silk protein market.

Major players in the silk protein market are SilkTech Biopharmaceuticals Huzhou Aotesi Biochemical Huzhou Xintiansi Bio-tech Co., Ltd. Kraig Biocraft Laboratories, Inc. (Trading Symbol: KBLB) Evolved by Nature (previously Silk Inc.) Bolt Threads AMSilk GmbH Universal Preserv-A-Chem Inc., Proteina, SUBONEYO CHEMICALS PHARMACEUTICALS PRIVATE LIMITED, and others.
Key Segment
Product
Form
Application
Haircare
Skincare

Cleanser
Mask and Peels
Moisturizer
Serum
Facial toners

Eye Care

Eye Cream
Mascara
Nutritive products for Brow and Lash

Color cosmetics
Lip Care
Toiletry

Bath Gels
Shave Preparations
Liquid Hand Soaps
Soap Bars
Body Wash

Pharm and Nutraceuticals
Region
North America
Latin America
Europe
East Asia
South Asia
Oceania
Middle East & Africa
Emerging Countries (India, China, Japan)
Need specific information?