Sippy cups sales to soar through 2027; rise in demand for baby care products is driving the market
Global Sippy Cups Market: From an estimated market size of US$ 7,765.2 Mn in 2018, the value sales of sippy cups are expected to reach US$ 11,684.4 Mn by 2027 with a CAGR of 4.6%
The global infant care industry has been surging at a significant rate in terms of value sales, which can be attributed to an increase in concerns among parents regarding the safety and hygiene of their new born babies and toddlers. Owing to this, various baby care products, such as the diapers, children's mattress and clothing, are witnessing significant demand in the global market.
Sippy cups are considered among the mandatory baby care products and have witnessed high demand in the global market. Due to an increase in the demand for sippy cups, manufacturers have been introducing innovative products to cater to the varying needs of target customers. The sippy cups market offers a wide range of products such as soft-spout sippy cups, hard-spout sippy cups, straw sippy cups as well as spout-less sippy cups.
The introduction of new and innovative products by manufacturers in the sippy cups market
The parents of today are very concerned about hygiene when it comes to their new born babies, right from food, clothing as well as the mattress they sleep on. Parent strive to ensure a healthy and a safe environment to nurture their children. Considering these factors, several key manufacturers of sippy cups have been introducing products with features and specifications that cater to their target customers.
For instance, in 2018, CollapseAndGo launched new baby bottles and sippy cups, namely Collapsabottle and Collapsacup. These products were launched to target children aged 0-5 years. The company claims that these products are made of silicon due to which they are tasteless, bacteria-resistant, odourless and have high temperature resistance. In addition, these products have interchangeable lids and attached handles, which makes it easy and convenient for children to use them without assistance.
Along with innovation, the manufacturers of sippy cups also stress on the quality of the product and guarantee a longer shelf life for the same. In 2013, NUK, a leading baby product manufacturer from North America, launched Patriotic sippy cups and pacifiers. The company claims that these hard-spout sippy cups are 100% leak proof, break proof and spill proof. These products are widely available at Walmart across North America.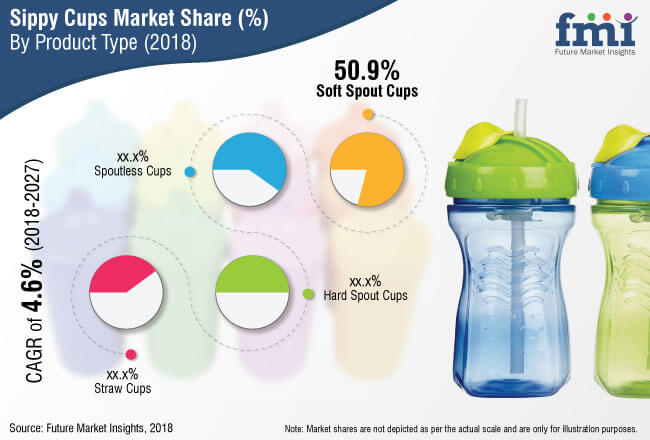 The global market for sippy cups is witnessing new trends with the advent of customisation
Manufacturers are introducing customised versions of their existing sippy cups to cater to the growing demand for sippy cups as well as a rise in the number of concerns of majority of parents. For instance, in 2017, Tervis Tumbler Company introduced a new range of sippy cups with customisations, which include the addition of photos, background and text. The company also claimed that these cups come with a lifetime guarantee.
The key features of these products are that they are unbreakable, spill-proof, dishwasher-safe and BPA-free. Customisation is an emerging trend in the global sippy cups market. To penetrate the large base of potential customers, manufacturers and suppliers are promoting and offering customised products.
Though sippy cups are considered important or mandatory for new born babies and toddlers, there are several negative factors associated with the usage of these products, which have given rise to concerns among manufacturers as well as parents.
For instance, plastic sippy cups produce BPA, a harmful chemical that is released when they are filled with hot milk. There is evidence that links the consumption of BPA with developmental problems in infants. As a result, parents are concerned about selecting the right kind of sippy cups that are made of good-quality base material.
Global Sippy Cups Market Competitive Landscape: Multinational players are relatively highly concentrated in the global sippy cups market as compared to local and regional manufacturers
The global sippy cups market is primarily characterised by the presence of a large number of regional and multinational companies. The detailed profiles of companies are also included in the global sippy cups market report to evaluate their strategies, key product offerings and recent developments.
Some of the key players profiled in the global sippy cups market study include Koninklijke Philips N.V.; Lollaland; Munchkin, Inc.; NUK USA LLC (Nestle SA); MAM USA Corporation; Ingeniri LLC (nuSpin Kids); Mayborn USA Inc.; ZoLi Inc.; Richell Corporation; Thermos LLC; Dr. Brown's; Combi Corporation; Lifefactory, Inc.; Pigeon Corporation; Lansinoh Laboratories, Inc.; Gerber (Nestlé S.A.); The First Years Inc.; Playtex; Rhshine Babycare; Peek-A-Boo Group and Twistshake of Sweden AB.
Market Segmentation
On the basis of product type, the global sippy cups market is segmented into soft-spout cups, hard-spout cups, straw cups and spout-less cups. The global sippy cups market is further segmented on the basis of source. The source segment includes plastic, glass, stainless steel and other sources, which include fabric, cotton etc. The global sippy cups market is also segmented on the basis of potential end users as 0-12 months, 12-18 months, 18-24 months and 2 years & above. On the basis of sales channel, the global sippy cups market is on the basis of distribution which includes segmented into supermarket/hypermarket, convenience store, specialty store and online store.
Need specific information?