Disposable Cups Market – Key Research Findings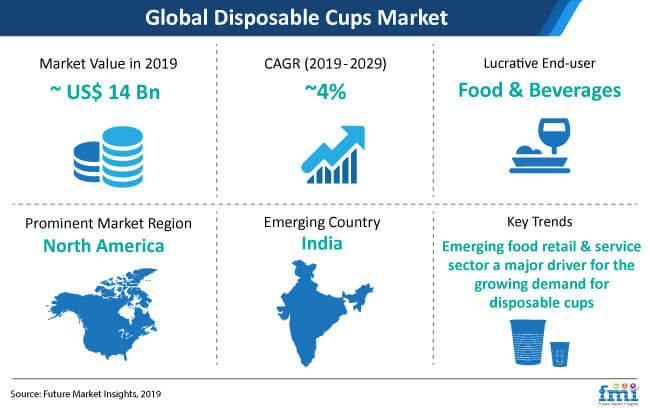 The global disposable cups market size was ~US$ 14 Bn in 2018.
The disposable cups market is anticipated to grow at a CAGR of ~4% during the forecast period 2019-2029.
The popularity of on the go beverages from restaurants to boost the demand for disposable cups.
Collectively, East Asia and North America are expected to account for more than 40% of the revenue share for disposable cups market, by the end of 2029.

North America, due to its strong food and retail industry, will continue to be a prominent market for disposable cups.

The beverages segment is expected to remain a prominent application area to invest in for disposable cups market players.

The foodservice industry has witnessed significant growth over the last few years and is expected to create growth opportunities for disposable cups market during the forecast period.
Noteworthy growth potential for disposable cups has been identified in the foodservice and retail sectors.
Key Factors Shaping the Disposable Cups Market
Growing Preference for Biodegradable Disposable Cups
Packaging waste has been one of the key challenge for countries across the globe and have been a burden for environment. As a result of these packaging manufacturers are coming up with packaging formats made from biodegradable material.
Disposable cups nowadays are available in market made from poly lactic acid (PLA), bagasse, paper, etc. Bagasse paper which is made from sugarcane is one of the material used for manufacturing of disposable cups is getting traction.
For instance, Material Motion, Inc. a packaging solution company developed bagasse cups which can decompose within 90 days after usage.
Disposable Cups Market Outlook
The market for disposable cups is experiencing an uptick since the past few months, since the onset of the novel coronavirus pandemic. As hygiene concerns take precedence, preference for single-use paper cups, plastic spoons and containers have accelerated.
Several food and beverage outlets such as Starbucks Coffee have temporarily suspended the supply of reusable cups and trays to prevent further spread of COVID-19. Likewise, in India, Vistara airlines is ensuring that refreshments on-board its flights are served in single-use disposable cups.
While this is welcome news with regard to the curbing of the coronavirus's spread, adoption of disposable cups is posing a major opportunity cost challenge to countries with respect to environmental sustainability and protection. For instance, usage of disposable cups is already compound plastic waste disposal problems across South Korea.
According to Greenpeace, South Korea is among the world's largest plastic consuming countries per capita, with an average consumption amounting to 11.5 kilograms annually. Thus, companies are trying their best to stave off this issue through a variety of approaches.
Prominent vendors are concentrating on introducing recyclable-cum-disposable cups in order to address the overwhelming concerns regarding plastic and other non-biodegradable waste accumulation. For instance, in September 2020, Georgia Pacific inaugurated two new recycled paper mills which accepts mixed paper bales containing single use polyethylene paper cups for future recycling and usage.
Manufacturers are also setting aside resources to aid the global community fight the COVID-19 pandemic. A case in point is of Dart Container Corporation which is pooling in its resources to produce personal protective equipment, most notably face masks, to frontline healthcare workers, in collaboration with universities, technology centers and fellow manufacturers.
Since 2019, ConverPack has been manufacturing its own series of double wall paper cups which provides an extra layer of insulation and come in six convenient sizes. The design also helps contain the heat within the cup, protecting users from potential burns.
Emphasis on Growing On-the-go Beverage Consumption across the Globel
The opportunities created by 'away-from-home' consumption of beverages are larger than most people would like to think. Fast moving lifestyle has inclined the food and beverage consumption patterns of buyers to an extent, wherein, a study found out that, an average American experiences nearly 22 away-from-home situations where he/she buys food/drinks.
This creates lucrative opportunities for the growth of the disposable cups market, which manufacturers must focus on. In the coming years, the focus of manufacturers on the millennial population is likely to intensify. The growing millennial population is expected to be a key driver to the growth of the global disposable cups market, as millennials have been known to experience nearly twice the number of away-from-home situations as compared to adults.
To expand their businesses, manufacturers of disposable cups must know what the modern consumer wants, and anticipate how their preferences may change over time. The modern consumer, especially the millennials, are on-the-go, high-frequency, and variety-seeking consumers. Therefore, the manufacturers of disposable cups are expected to focus more on the design and appearance of their products, to target specific consumers. For instance, high quality printing on disposable cups has a high consumer appeal.
Prominence on Growing Preference for Recyclable Paper Cups as a Sustainable Option
In recent years, packaging waste have been a key concerns for all the countries across the globe. The use of paper cups have several advantages over plastic cups as these are biodegradable, safe, and non-toxic. Disposable cups made from paper can decompose and degrades is several months. As a result of advantages from the usage of paper disposable cups, packaging manufacturers are innovating and developing different types of paper disposable cups.
Increasing environmental awareness and growing concerns have led to the development of paper disposable cups. Rampant disposal of plastic waste into landfills has increased ecological concerns, which have created market opportunities for paper disposable cup as an environment friendly option.
Business Opportunities through Branding on Disposable Cups
Several brands are using disposable cups as their advertisement tools. Companies like The Coca-Cola Company, PepsiCo, Inc. are using disposable cups for their brand promotions. Furthermore, usage of brand logos on disposable cups helps in increasing the awareness of a particular business brand as well as increasing the sales of disposable cups owing to its aesthetic looks. Branding opportunity in disposable cups can help for boosting the business growth.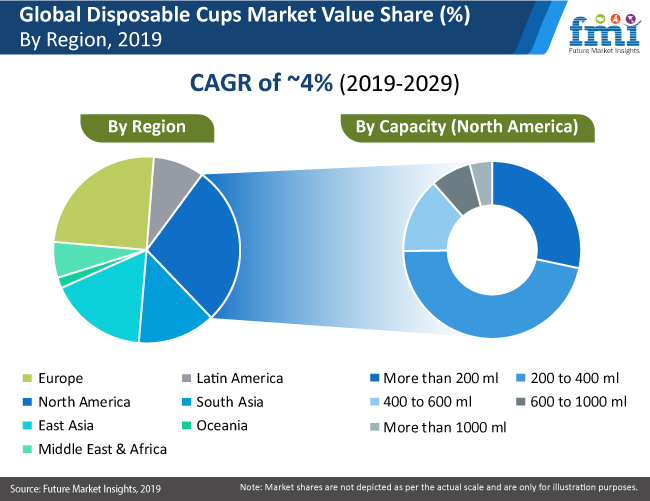 Disposable Cups Market Structure Analysis
The global disposable cups market represents a fairly consolidated competition landscape, where the majority of the key players maintain their strategic focus on the development of partnerships and acquisitions, targeting a global footprint.
The disposable cups market has been relatively moderate in size, which remains a key factor for its dynamic competitive nature.
Leading manufacturers of disposable cups are currently prioritizing R&D, and new product launches to resonate with the thriving consumption of eco-friendly disposable cups in Europe, North America, and East Asia.
Product portfolio expansion to remain one of the key development strategies adopted by manufacturers of disposable cups.
For a stronger foothold in target markets, manufacturers of disposable cups will continue to rely on inorganic strategies, such as mergers and acquisitions.
Disposable Cups - Serving the Takeaway Culture
As majority of the global population rapidly move to hyper-fast-paced lifestyle, there has been a pervasive perception that convenience of things to-go and take-out are the signs of prestige and modernity. In today's society that values convenience, immediate necessity, and aesthetics over all else, the single-use model of consumption continued to make great strides and 'disposability' became ubiquitous and normalized in manufacturing, packaging, and the entire supply chain.
As a result of the expansion of sit-down as well as quick service restaurants worldwide, disposable products are constantly thrust upon the consumers with no alternative options. Further, an escalation in the number of take away coffee shops, in both developed and developing countries, have led to incessant rise in the production of disposable cups.
However, almost everything that is created for human convenience has waste designed into it. The recent hyper-normalization of disposable global systems has resulted into increased level of land, air, and sea pollution. As consumers become increasingly aware that millions of disposable cups each year swell landfills, litter landscape, or drift into oceans, stakeholders in disposable cups market are forced to redefine their strategic moves and become agile innovators.
Demand Bolstered by Rapid Adoption of 'On-the-go' Sales Models
Be it getting coffee, smoothie, or fountain soda, plastic, paper, and Styrofoam disposable cups are everywhere. Proliferation of coffee shops lined with increasing use of single-use packaging across foodservice chains to facilitate 'on-the-go' sales models has potentially raised the demand for disposable cups over the years.
Moreover, single-use and functional packaging have become a defining feature of consumer culture as well as the nations' economy; dominating the retail shelves, dictating how products are produced, and transforming the way these products are provided. Within beverages, new technologies and subculture elements are widely used on labels, making the products more attractive to the consumers, while disposable cups served in international coffee shops gained significant attention for their aesthetics.
With the rapid rise of delivery-optimized restaurants and consumer inclination towards out-of-store dining experience, manufacturers of disposable cups are hard pressed to up their innovation game to fulfill takeaway and delivery packaging needs. On the one hand, disposable cups, especially made from plastics, have become a cause of growing waste crisis, thereby compelling manufacturers to adopt recyclable and sustainable solutions.
Although there is no immediate panacea for the single-use plastic epidemic, innovations have been forthcoming for using biodegradable and compostable materials to manufacture disposable cups.
North America at the Center Stage, Opportunities Abound in South Asia
Demand for disposable cups is currently based on increasing preference of ready-to-drink beverages and outpouring number of foodservice outlets catering to rising working population. While the U.S. continues to offer greater opportunities due to strong establishment of coffee industry, market consolidation in developing countries in South Asia will remain a key to gaining distinct competitive advantage.
The growth of disposable cups market in South Asia will continue to be influenced by growing consumer demand for different beverages leading to proliferation of fast food and café retail chains in the region. The quickened life pace in countries like India has also been driving the robust growth of convenience-oriented packaging including disposable cups.
Will Vision to Replace Today's Throw Away Cups Disrupt the Market Growth?
A combination of 'takeaway' and 'throw away' culture has been weighing on a same scale as the rapid adoption of disposable cups across numerous foodservice and associated sectors. However, single-use packaging such as disposable cups goes beyond the desire for an easy or ready-to-consume meal.
The plastic and Styrofoam cups are going through dark times, while paper cups staged a comeback for both hot and cold takeaway drinks, as the environmental movement no longer remains a niche philosophy, but a mainstream. Paper disposable cups are however not all they seem, as they need to be waterproofed and reinforced with plastic-based coating or lining to fulfill hygiene and food-contact requirements.
While recycling initiatives and innovation drive are underway for new materials and innovative cup liners, the rise of semi-reusable to-go cups and reusable cup service models is likely to disrupt the future of disposable cups market.
Nevertheless, the greater amount of energy and materials are required to manufacture a durable product such as reusable cups and hot water to wash them. Therefore, manufacturers will need to leverage new technologies and sustainable solutions to stay ahead of the pack and align with ever-evolving trends.
Disposable Cups Market – The Road Ahead
Consumers demand for clean-labels and transparency of products has led to significant transformation in the packaging industry, and disposable cups are no exception. Manufacturers are directing their investments towards digital printing technology to enable the introduction of heat-sensitive label and Quick Response (QR) code on their products.
Realizing the ban of plastic use in several countries around the world, manufacturers are putting emphasis on biodegradable materials such as plant-based plastics, bagasse, and seaweed, as a strategic move toward entirely plastic-free packaging. Fiber-based and compostable paperboard solutions are further adopted for cup liners. As the jury is still out on the environmental impact of reusable cups, disposable cups of biodegradable, compostable, or recyclable materials are here to stay for the foreseeable future.
Disposable Cups Market- Report Scope
| | |
| --- | --- |
| Attribute | Details |
| Forecast Period | 2014-2018 |
| Historical Data Available for | 2019-2029 |
| Market Analysis | US$ Mn for Value and Mn Units for Volume |
| Key Regions Covered | North America, Latin America, Europe, Middle East & Africa, East Asia, South Asia and Oceania |
| Key Countries Covered | U.S., Canada, Brazil, Mexico, Argentina, Germany, Italy, France, U.K., Spain, BENELUX, Russia, India, Thailand, Indonesia, Malaysia, China, Japan, South Korea, Australia & New Zealand, GCC, Turkey, Northern Africa and South Africa |
| Key Segments Covered | Capacity, Material Type, Product Type, Application & End-Use |
| Key Companies Profiled | Georgia-Pacific LLC, Dart Container Corporation, Greiner Packaging International GmbH, ConverPack Inc., F Bender Ltd., Churchill Container Company, Eco-Products Inc., FrugalPac Limited, Berry Global, James Cropper PLC, Go-Pak UK Ltd., Huhtamaki Oyj, International Paper Company, Genpak LLC, Lollicup USA Inc., Pactiv LLC, Letica Corporation, Grupo Phonenix Capital Limited, Changsha Yuhao Imports & Exports Co. Ltd. and Cosmoplast Industries Company (LLC) |
| Report Coverage | Market Overview, Key Market Trends, Demand Analysis, COVID-19 Insights, Market Background, Segmental Analysis, Regional Profiling, Market Structure Analysis & Competition Analysis |
| Customization & Pricing | Available upon Request |
Key Segment
By Capacity
Less than 200 ml
200 to 400 ml
400 to 600 ml
600 to 1000 ml
More than 1000 ml
By Material Type
Paper
Plastic

Polyethylene (PE)
Polypropylene (PP)
Polyethylene Terephthalate (PET)
Polystyrene (PS)
Poly Lactic Acid (PLA)

Foam
By Product Type
By Application
Food

Spreads
Sauces and Dressings
Confectionary
Dairy

Beverages

Alcoholic
Non-Alcoholic

Carbonated
Non-Carbonated
By End Use
Food Service
Food Retail

Convenience Stores
Hypermarkets
Supermarkets
Cinema Theater
By Region
North America
Latin America
Europe
South Asia
East Asia
Oceania
Middle East and Africa
Need specific information?