Disposable Lids Market - Key Research Findings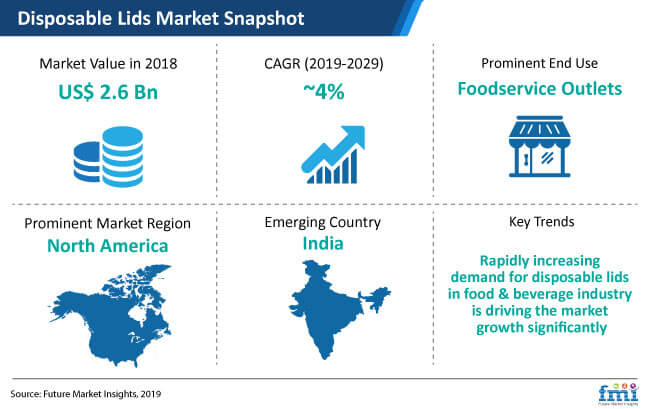 The global disposable lids market size was US$ 2.6 Bn in 2018.
The disposable lids market is expected to grow at a CAGR of ~ 4% during the forecast period of 2019-2029.
The high adoption of paper disposable lids along with recyclable plastic disposable lids is expected to drive the market growth over the forecast period.
Collectively, North America and Europe are expected to account for ~ 45 % revenue share in the disposable lids industry, by the end of 2029.

The presence of an adequate number of prominent disposable lids manufacturers in these regions is ultimately contributing to the growth of the disposable lids market.

Latin America and developing countries hold a high potential for the growth of the disposable lids market.

Rapidly increasing food & beverages industry in countries such as India and China creates significant demand for disposable lids. Key manufacturers are consistently focusing on regions such as Latin America and developing countries to capture the noteworthy market share.
Key Factors Shaping the Disposable lids Market
Rapid Expansion of Foodservice Chains Expected to Fuel the Market Growth
Factors such as growing global population, increasing demand for food products, and massive expenditure on food industry are some of the few factors that provide considerable scope for leading foodservice providers to expand their global footprint. Increasing demand for food packaging solutions in food chain outlets, especially for disposable lids is one of the vital factors that accelerate the market growth. Growing demand for fast food products across the globe is attracting leading food service providers to expand their global businesses.
For instance, the fast food chain Subway is aiming to open 2000 franchise stores in India by 2020. Furthermore, Domino's one of the leading food service providers plans to open 150 stores every year to expand its global footprints. All these factors are ultimately accelerating the demand for disposable lids in the market.
Shifting Focus on Recycling Plastic Products to Reduce Plastic Waste
Moderate number of people prefers restaurants that use recyclable packaging products for food & beverages. Increasing plastic waste across the globe creates significant harmful impact on the environment globally. To avoid and reduce such effect, leading food service providers are focusing more on recycling the disposable packaging products to avoid further plastic waste.
Increasing demand and adoption of recyclable paper and plastic disposable lids across the globe to reduce the plastic waste is driving the disposable lids market growth. Prominent food service providers are continuously making efforts to reduce plastic waste from food packaging solutions.
For example, Subway, one of the biggest food service providers made bowls and lids from recycled content. The company's hot cups and lids are made from 40% recycled content. Moreover, ~ 3.6 million pounds of recycled material was used to make Subway salad bowls and lids in the U.S. in 2017.
Adequate Presence of Prominent Disposable Lids Manufacturers in Key Regions is Gaining Traction
Prominent disposable lids manufacturers are consistently focusing on key regions such as North America, Europe, and emerging countries to strengthen their position in the market. Rapidly increasing food industry in these regions along with massive requirement of disposable lids is fuelling the demand for disposable lids. A sufficient presence of prominent disposable lids manufacturers in these regions is propelling the disposable lids market growth.
Pricing Affordability Attracting the End Users Fuelling the Demand of Disposable Lids
Disposable lids comes in varieties such as fully closed, directly drinkable, and indirectly drinkable with cost effective prices. Pricing affordability of paper and plastic disposable lids attracts many end users such as food retailers, café & quick service restaurant owners, and others. High demand for affordable disposable lids for food packaging purpose in food outlets and other end-use segments is boosting the market growth considerably.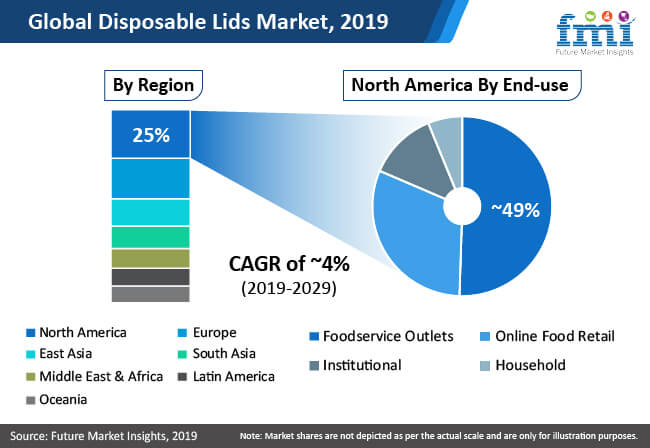 Disposable Lids Market Structure Analysis
Berry Global, Huhtamaki Group, and Dart Container Corporation are the leading manufacturers of disposable lids worldwide.
In 2018, expansion and merger strategies was adopted by key players to expand their business and product portfolio.
Product developments and new product launches are the important trends followed by the prominent disposable lids manufacturers.
Varieties of disposable lids as per the food type is also fuelling the demand for disposable lids in the market.
The disposable lids market has been relatively moderate in size, which remains as key factor for its dynamic competitive nature. In the disposable lids market, tier 1 companies hold a revenue share of ~ 15%.
Some of the prominent players in the market are Huhtamaki Group, Genpak, LLC, Berry Global, Greiner Packaging International GmbH, Cambro, Dart Container Corporation, Carlisle FoodService Products, Pactiv LLC, G.E.T. Enterprises, LLC, Medac S.r.l., Plus Paper Foodpac Ltd., Michael Procos S.A., Pt Pola Paperindo Jayatama, Medac S.r.l., Manoher International, Airlite Plastics, Cosmoplast (Harwal Group), Be Green Packaging LLC, and "Amhil Europa" LLC.
Leveraging 'Recyclable' Plastics despite Environmental Concerns
Manufacturers are leveraging recyclable plastics such as, polypropylene (PP), for the production of disposable lids owing to high impermeability property – absorbing less than 0.01% of liquid. The propylene-based disposable lids offer resistance against mould, and bacteria, making them highly suitable for medical purposes, including healthcare meal delivery. PET disposable lids are crystal clear, corresponding to consumers' demand for transparent covering. Further, the utilization of recyclable plastics in disposable lids ensure 100% degradation over time.
However, rising concerns over increasing environmental issues and worsening global waste crisis are compelling policy makers across the globe to institute bans on the consumption of plastic-based disposable lids, on the account of their snail-paced degradation. Moreover, plastic-based disposable lids result in leaching of EA (Estrogenic Activity) and toxics chemicals after getting exposed to extreme conditions, and microwave radiation.
Silicone-Based Lids – A Gateway to 'Zero Plastic' Zone
Disposable lids manufacturers are creating reusable silicone lids that are highly compatible with almost every paper coffee cup, and acts as a great sealant for leak-tight travel, thereby diminishing the reliance on plastic-based disposable lids. The silicone-based reusable lids encompass a strap that provides tight closure for beverages, and drink during transport.
The silicone lids come with a quick-dry bag, allowing consumers to toss it in their bags prior drinking the beverage. In addition, the silicone reusable lids fit on usual soda cups to eliminate straws.
Silicone reusable lids offer insulation to up to 450 degrees Fahrenheit, making them a great fit for microwaving, and frying. For protection against bacteria, silicone reusable lids deliver airtight seal with a flat rim, keeping the consumables pristine and secured. The silicone material enables straightforward cleaning on grounds of wide and hard-wearing properties, resistant against water spots, and stains.
The silicone-based lids are highly reusable, saving further expenses, and do not pose any health-related concerns. Furthermore, the silicone-based disposable lids are LFGB (Lebensmittel- und Futtermittelgesetzbuch)-graded and BPA (Bisphenol) free, making them a potential substitution for plastic lids.
North America serving Platter of Opportunities, followed by South Asia
Ever-increasing beverage consumption, coupled with increasing shift towards fast food are set to drive the North American disposable lids market, with South Asia exhibiting promising growth. Manufacturers in the developed markets are placing their bets on recyclable products, as nearly 3.6 million pounds of recycled material was utilized to produce Subway salad bowls and lids in the US in 2017.
Further, witnessing escalating demand for fast food in South Asian economies such as, China, and India, food service providers are continuously expanding their footprint in these nations. For instance, Subway is aiming to launch 2000 franchise outlets in India by 2020, and the result is likely to lead to increased demand for disposable lids.
Ramping Up 'Recyclable' Production - A Vital Aspect Defining Stakeholders' Tactics
The global disposable lids market is observing cut-throat competition between mature and new market participants, including Berry Global LLC, Carlisle Foodservice Products, and Manohar International.
Keeping overflowing plastic waste in mind, market players are turning to recyclable plastics including, polyethylene terephthalate (PET), polystyrene (PS), and polypropylene (PP) for manufacturing disposable lids. Organized players are adopting patented solutions such as, K3 technology, to deform the cardboard wrap 3 dimensionally.
Manufacturers are producing cold lids with re-cut straw slots and push-down identification buttons for cold beverages, while market followers are targeted towards introducing crystal clear and crack-resistant straw-less lids. In addition, well-established market players are tapping white spaces in the healthcare bracket.
Stakeholders are entering into collaborations with innovative-driven firms; for instance, Greiner Packaging International GmbH is partnering with Henkel, a German chemical and consumer goods company, to produce recyclable black plastic. Furthermore, disposable lids manufacturers are strengthening relationships with predominant international fast food chain and food retailers, including McDonald's, Burger King, and Walmart
How Growth Will Unfold
The global disposable lids market is set to spectate a moderate progress over the foreseeable timeframe amidst tight government regulations regarding environmental safety. With recyclable plastics such as, PP, and PET being outlawed from countries across the globe, manufacturers are inclining towards disposal lids made from silicone. The silicone-base lids are reusable, reducing landfilling incidents.
Growth in various verticals including food & beverage, food packaging, online food ordering, and others, persist to remain the tailwinds to the growth of the disposable lids market globally. The quest of satiating time-pressed and demanding lifestyles of the demographic is influencing manufacturers to design easy-going, and leak-proof disposable lids for fast-paced service. Further, the online food service industry is estimated to drive at a sweeping rate of about 43% in the next few years.
European economies such as, Finland, and Norway are second to none in terms of coffee consumption, with the former exceeding the per capita coffee consumption figure of 9 kg/month. Furthermore, the global demand for coffee is estimated to boost by almost 40-50 million bags of coffee over the next decade.
Key Segment
By Material
Paper
Plastic

Polyethylene (PE)
Polypropylene (PP)
PET
Polystyrene
Poly Lactic Acid(PLA)

Others (PHA, starch blends, etc.)
By Application
Cups
Trays
Containers
Tumblers
Buckets & Tubs
Bowls
By Product
Fully closed
Directly drinkable
Indirectly drinkable
By Distribution
Online
Offline

Hypermarket
Supermarket
Convenience Store
By End Use
Online Food Retail
Household
Institutional
Foodservice Outlets

Quick service restaurant
Cafes
Ice cream parlor
By Region
North America
Latin America
Europe
South Asia
East Asia
MEA
Oceania
Need specific information?
Talk Show:
The Rise of Intelligent Packaging
Personalized, Connected and Sustainable
November 18, 2021
11:00-11:45 AM PST (USA & Canada)
This is a LIVE session