Paper Cups Market Snapshot
Driven by growing emphasis on better consumer experience, the paper cups market saw steady growth rate of 4.5% CAGR between 2021 and 2031, reaching valuation of around US$ 9210 million by the end of the year. Future Market Insights (FMI) estimates that paper cups revenues grew by 4.3%year-on-year in 2021 owing to outbreak of COVID-19 pandemic and rising demand of on-the-go paper cups around the world.
FMI states that North America paper cups market will expand at 3.7% CAGR throughout the forecast period owing to high production and export of paper cups from U.S. along with the increasing demand from fast food joints in the region.
Key Points Covered in Paper cups Market Study
Market estimates and forecast 2021 – 2031
Key drivers and restrains impacting market growth
Segment-wise, Country-wise, and Region-wise Analysis
Competitive Mapping and Benchmarking
Brand share and Market Share Analysis
Key Product Innovations and Regulatory Climate
COVID-19 Impact On Paper cups Market
Recommendation on Key Winning Strategies
2016 – 2020 Paper cups Market Outlook in Comparison to 2021 – 2031 Forecasts
Increasing consumer inclination towards on-the-go and online food delivery is fueling paper cups demand across the world. For past five years, paper cups market experienced a steady growth of 4.0% CAGR.
In past few years, paper cups demand escalated due to rising international pressure on incorporating sustainable materials in food and beverage industry to eliminate use of single use plastic and development of effective waste disposal and recycling system for eco-friendly products.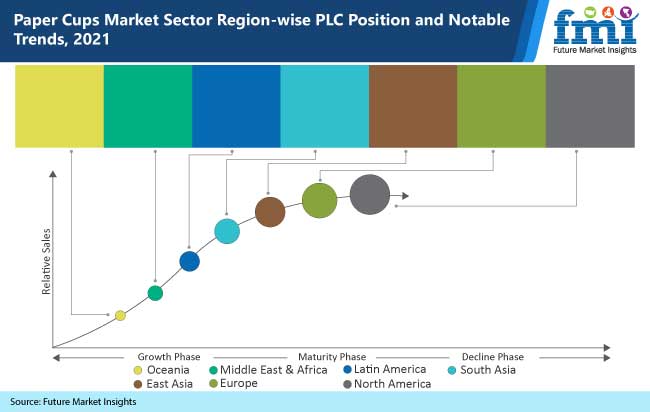 Increasing innovation to replace plastic with other material has led to development of paper based packaging including paper cups, edible cups made from grain, and others. Besides this, focus on compostable foodservice packaging will fuel demand for paper cups in the coming years.
On 2nd July 2021, Lecta introduced a paper-based solution for single-use cups called "EraCup Natural" as a part of its nature friendly packaging. Company claims that the EraCup Natural cups are recyclable, biodegradeble and polyethylene-free.
Eden Springs recently launched a completely biodegradable plant based paper cup suitable for serving both cold and hot beverages. These new cups come in 205 ml capacity and have plant-based inner biopolymer lining for better insulation and firm sealing of lid.
Increasing demand for disposable packaging in quick service restaurants to limit the leakage or spillage of beverage will drive the paper cup market demand in the future.
How is Changing Lifestyle Influencing the Paper Cup Demand?
Increasing consumption of beverages and fast food due to busy lifestyle in most of the cities in developed countries has led to the emergence of new coffee shops and fast serve restaurants. This trend is gradually penetrating in developing regions.
Surge in population along with increasing per capita income in developing nations has boosted the fast food and beverage market. Evolving lifestyle and establishment of fast food restaurants in middle-income and developed countries will emerge as a chief driver of paper cup sales.
Paper cups are cheap, eco-friendly and very hygienic. This has resulted in increased demand for paper cups in take-away and food delivery applications. Heightened awareness regarding harmful nature of single use plastics on environment has promoted the development of disposable packaging solutions to reduce carbon emission, increase recycling and better waste management. These factors are expected to bolster the demand of paper cups in upcoming years.
Rising popularity of vending machines in North America and European nations and development of intelligent vending machines for better customer experience will increase the sales of paper cups throughout the forecast period.
What is the Impact of COVID-19 on Paper Cup Sales?
Demand for paper cups escalated during COVID-19 pandemic as food service channels and coffee shops were mandated to use disposable cups to reduce the risk of infection through reusable cups.
During pandemic disposable cups experienced high demand due to increase in online food delivery and use of disposable cups were promoted to ensure proper hygiene and contact less delivery.
Companies like Dunkin' Donuts suspended their reusable and bring-your-own containers program as the orders were limited to take outs and home delivery only. Increasing consumption of paper cups led to generation of huge amount of solid waste and strained the recycling infrastructure.
As COVID-19 is expected to persist, these practices will remain relevant throughout the assessment period. This will boost the sales of paper cups in upcoming years.
Country-wise Analysis
Why Is U.S leading the Paper cups Market?
Stringent government policies regarding usage of plastic packaging, increasing paper recycling activities and presence of leading fast food chain in the country will boost the consumption of paper cups across the U.S.
As per the U.S. Environmental Protection Agency's report, more than 292 million tons of municipal solid waste (MSW) was generated in 2018. Around 69 million tons of total generated MSW was recycled and 25 million tons was composted.
Increasing government initiatives towards reducing MSW like banning plastic packaging in food industry, growing awareness regarding importance of paper cups, and thriving food and beverage industry will boost the sales of paper cups in upcoming years.
Increased coffee and fast food consumption leading to expansion of famous coffee and fast food joints along with increasing demand for take away coffee will accelerate the sales of paper cups in U.S.
In April 2021, Starbucks announced to start "Borrow a Cup" initiative in Seattle with limited trial. This program targets on reducing waste from beverage cup waste by providing consumer the option to return their disposable beverage cup to contactless kiosk at one of its five participating stores in Seattle.
Such initiatives from leading food and beverage companies will boost the paper cup market growth.
What Are the Factors Driving Paper Cups Demand in GCC countries?
Demand of paper cups in the GCC countries is expected to increase at a significant pace over the forecast period. Increasing establishment of quick service restaurants and coffee shops in the United Arab Emirates (UAE) and Saudi Arabia will be the key growth drivers.
In April 2021, Popeyes fast food restaurant chain collaborated with Gulf First Fast Food Company to establish and promote the Popeyes brand in the Kingdom of Saudi Arabia. Gulf First received an exclusive master franchise and development deal for the territory.
Rising research activities towards developing a more sustainable and disposable food packaging products in the country is providing attractive opportunities for paper cups market growth in the long-term.
On World Environment Day, Hotpack Global opened its first exclusive online retail store called "Eco Store" in UAE. The store will offer eco-friendly food packaging products which includes hot beverage paper cups.
The report also states that, surging demand for green food packaging products owing to rising awareness towards environment in GCC countries and increased government investment towards health and hygiene will boost the paper cup sales through the forecast period.
What is Driving Paper Cups Market Growth in China?
Leading coffee and tea houses in China are promoting the use of biodegradable cold and hot beverage cups as an attempt to reduce their carbon footprint. Rising consumption of tea and coffee along with growing awareness regarding harmful effects of plastic on environment in China has created a conducive environment for paper cups market growth.
In April 2021, Starbucks introduced a new range of sustainable packaging items which included coffee ground straws and reusable cold beverage paper cups. Such initiative to promote recyclable and reusable paper cups will boost the market growth in upcoming years.
Chinese government banned the use of single use and non biodegradable plastics in restaurants effective from January 2021. The move is aimed to promote the use of eco-friendly product and lifestyle. The government is also investing towards recycling of paper products. These factors are creating a promising and innovative market for paper cups.
What Is Influencing Paper Cups Market Growth In India?
The bans of single use plastic cups in India will offer opportunities for paper cups market growth. Increasing consumption of tea and coffee and rising consumer inclination towards cleanliness and hygiene especially during pandemic will further accelerate the demand for paper cups during the forecast period.
As per the data from the World Bank, as of 2020, around 35% of total population in India lives in urban areas. Rising urbanization and increasing use of paper cups in quick service restaurants for serving cold beverages will drive the demand for paper cups in India.
Increasing purchasing power of middle class population and high convenience offered by paper cups and rising popularity of quick service restaurants among younger population will positively influence the paper cup market growth throughout the forecast period.
Hyderabad based company Genomelabs Bio Private Limited launched edible beverage cups called "Eat Cups" in October 2019. The cups are made of natural grains and is claimed to be suitable for holding both hot and cold beverages without getting soggy.
Increasing innovation and product development to cater the demand for eco-friendly products for serving beverages will boost the paper cup sales in upcoming years.
Category-wise Insights
Why Are 150ml to 350 ml Capacity Paper Cups Experiencing High Demand?
Due to increasing heath consciousness among consumers and focus on monitoring of their sugar intake, packaged beverages are now being served in 150 ml to 350 ml capacity range. With beverages industry slated to expand, the 150 ml to 350 ml paper cups sales will pick up, thus creating opportunities for market growth.
Why Are Hot Beverage Paper Cups High in Demand?
Increasing demand for coffee and tea across the globe and low cost and high effectiveness of paper cups are driving the sales of hot beverage paper cups. Tea and coffee consumption is poised to surge in the coming years.
Soaring popularity of tea drinking in Asia will also emerge as a chief growth driver. As per the Tea Board of India, nearly 88% of Indian households have reported tea consumption. Besides this, rising demand for tea and coffee in China and various countries across Europe will push sales in this segment.
Which Sales Channel Will Generate High Demand?
Despite gradually rising demand across online platforms, supermarkets are expected to remain the preferred sales channels. While footfall of consumers is reduced amid COVID-19 restrictions, sales are likely to recover as governments ease their pandemic restrictions.
Who Are The Key Paper Cups End Users?
Food service sector is expected to remain a leading end user of paper cups. Focus on curbing their footprint and adoption more environmentally friendly packaging solutions across food service sector will continue fuelling demand for paper cups through the forecast period.
Competitive Landscape
As per FMI, the paper cup market is highly competitive owing to presence of unorganized regional market players offering paper cups are flexible prices. Future Market Insights (FMI) states that top ten paper cups market players account for more than 10% of global market share.
Market players are focusing on strategic collaboration, merger and acquisition along with new eco-friendly product launches to strengthen their market position amidst severe competition.
For instance, on 25th June 2021, Nippon Paper Industries Co. Ltd acquired a significant share of a Norway-based liquid paper packaging company called Elopak ASA in Elopak's initial public offering on the Oslo Børs.
In April 2021, a Polish startup company Picup launched a first-of-its-kind plantable paper cups in Poland. The cups are 100% biodegradable and contain seeds of tea and coffee at the bottom, enabling plantation of tree after the consumption of the drink.
Paper cups Market – Report Scope
Attribute

Details

Forecast Period

2021 – 2031

Historical Data Available for

2015 – 2025

Market Analysis

US$ Mn for Value & Units for Volume

Key Countries Covered

U.S., Canada, Brazil, Mexico, Argentina, Rest of Latin America, EU-5, BENELUX (Belgium, Netherlands, Luxembourg), NORDIC (Denmark, Finland, Iceland, Norway, Sweden), Rest of Western Europe, Poland, Russia, Rest of Eastern Europe, China, India, Japan, GCC Countries, South Africa, Israel, Turkey, Iran, Rest of Middle East & Africa, Australia, New Zealand, South Korea, the Philippines, Malaysia, and Thailand

Key Segments Covered

By Cup Capacity, By Cup Type, By Sales Channel, By End User, and By Region

Key Companies Profiled

International Paper Company
Westrock Company
Georgia-Pacific LLC
Coveris Holding S.A.
Nippon Paper Industries Co. Ltd.
Genpak LLC.
Pactiv LLC

Report Coverage

Market Overview, Market Background, Market Forecast, Segmental Analysis, Regional Profiling and Competition Analysis

Customization & Pricing

Available upon Request
Key Questions Answered in the Report
What is paper cups market size?

Driven by consumer convenience and 'on-the-go' cups emerging as the epicenter of manufacturers and brands, the paper cups market size is forecast to reach US$ 9210 Mn in 2021 with a CAGR of 4.5%.

At what rate did the paper cups market expand in the last five years?

Between 2016 and 2020, the paper cups sales grew at 4.0% CAGR.

What are the key trends shaping the paper cups market?

High emphasis on consumer convenience by manufacturers and brands and increasing demand of 'on-the-go' cups especially during pandemic are few of the key trends shaping the paper cups market.

Who are the key exporters operating in paper cups market?

China, U.S., Germany, U.K. and Japan are the leading exporters of paper cups in the world.

What is the North America paper cups market outlook?

Demand registered in North America will continue rising, backed by increasing production and export of paper cups from U.S. and Canada, the North America market is anticipated to expand at 3.7% CAGR during the forecast period.

Who are the leading companies in paper cups market?

Huhtamaki Oyj, Westrock Company, Dart Container Company, Pactiv LLC, and Genpak LLC are the top companies operating in the market.

What is the cumulative share of top companies in paper cups market?

Top players account for nearly 10% of the paper cups market in 2021.

At what rate will paper cups sales increase in Europe?

Paper cups sales will increase at 2.9% CAGR in Europe, backed by rising demand in the U.K., Germany and other countries.

Which are the top five countries driving paper cups market demand?

Leading countries driving demand in the paper cups market are U.S., China, India, Japan, and Germany.

What are the key statistics for paper cups market in Japan and South Korea?

Currently in 2021, Japan and South Korea holds around 15% and 9% of share respectively in the East Asia paper cups market.
Key Segments Covered in Paper cups Market Study
Cup Capacity:
Up to 150 ml
151 to 350 ml
351 to 500 ml
Above 500 ml
Cup Type:
Sales Channel:
Supermarkets
Distributors
Departmental Stores
Online Sales
End User:
Food service
Institutional
Households
Region:
North America
Latin America
Western Europe
Eastern Europe
Asia Pacific
Middle East and Africa
Need specific information?