Vending Cups Market Analysis: Small Vending Cups (< 7 Oz.) Are Expected to Generate over 30% of Sales, Which Is Expected to Increase to Nearly 70% by the End of 2028
The global vending cups market was valued at US$ 1,758.8 Mn in 2017 and is projected to grow at a CAGR of 3.7%, to reach a market size of US$ 2,611 Mn by the end of the forecast period.
Vending cups are different from ordinary disposable cups in the sense that they require precision manufacturing to efficiently perform in a vending machine without getting jammed in an automatic vending machine. Vending cups are priced higher than ordinary water cooler cups, and have low manufacturing tolerance.
The solid structure of vending cups influences their cost and so, they are priced higher than water cooler cups. Vending cups are becoming popular in the market, with manufacturers targeting improvement in printability as well as consumer convenience.
Increasing Footfall in Public Places Boosting Growth in Demand for Vending Cups
Public places are high revenue generators for the global vending cups market. Increasing demand for items such as packaged beverages, coffee, and tea in public places will continue to play a pivotal role in the growth of the global vending cups market. The market is also expected to grow against the backdrop of growth in demand for intelligent vending machines in places with high footfall.
In many countries in Western Europe and North America, footfall in public places, such as bus stops, airports, railway stations, and others, has been increasing at a steady pace, which has been a key factor leading to the growth of the global vending cups market.
Vending Cups Helping Brands Increase Physical Presence
It is difficult, and not feasible, for retailers and brand owners of beverages to have a physical store in places that generate high demand for beverages. A factor due to which, they are resorting to setting up vending machines, leading to an increased demand for vending cups. Since vending machines are becoming more technologically advanced in terms of user experience, vending cups are expected to gain more traction in regions such as North America, Europe, and the Asia Pacific.
Also, the introduction of smart interaction options in systems has effectively increased consumer trust. Manufacturers of vending cups are aware of this transition and are currently focused on enhancing their production infrastructure and capacity to meet the growing demand.
Vending Cups Are Not as Recyclable as One Would Like to Think
As a product, vending cups have their own share of associated environmental problems. Several brand owners and manufacturers market their vending cups as fully recyclable. However, it has been found that less than 1% of the vending cups end up being recycled.
In many cases, coffee vending cups cannot be recycled as they get contaminated by liquid. Similarly, paper vending cups get rejected from recycling facilities as they contain a PE layer. Furthermore, the complex production process of vending cups also means that there is a significant difference between their recyclability and the rate at which they are being recycled.
By capacity, the <7Oz. segment is estimated to account for more than 33% of the global vending cups market, in 2018. The revenue share is forecast to account for more than 35% of the vending cups market, by the end of 2028.
In terms of CAGR, the 7 Oz. to 9 Oz. segment is projected to expand at 4.3% during the forecast period, which would be the highest among other capacity segments. Large vending cups (More than 12 Oz.) are forecast to witness a decline in market share during the forecast period, owing to their low convenience.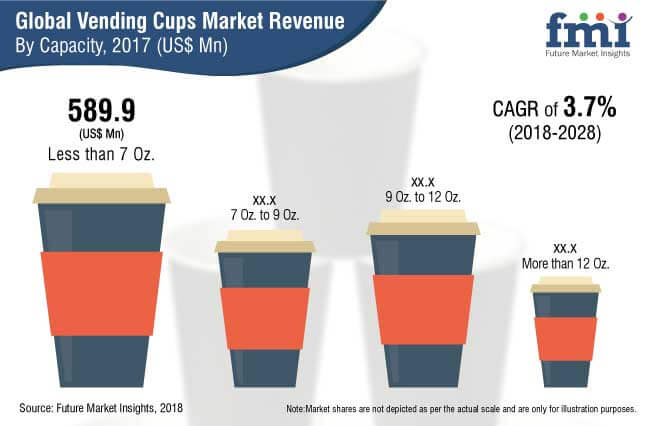 Key Developments in the Global Vending Cups Market
Manufacturers Actively Focussing on Consumer Convenience

Several manufacturers are targeting design-level innovation to help increase the level of comfort for on-the-go consumers.

For instance, Huhtamaki recently developed a new vending cup concept, which enhances its existing line of premium paper vending cups.

Also, multi-color printing is a key trend in the vending cups market. Therefore, the focus is on creating high-quality printed designs that modern consumers can relate to. The printability of vending cups is also being used as a marketing tool by beverage brand owners.
Engraving is also a common practice, especially for tier 1 companies in the vending cups market. Techniques such as these are actively used by companies to use their vending cups for promotion. Consumer engagement and communication are important tools one must have to be able to ensure sustenance in the vending cups market.
Competitive Landscape
Key players which have been profiled in the report on the global vending cups market include – International Paper Company, Coveris Holdings S.A., MPM Marketing Services Pty Ltd., New WinCup Holdings, Inc., Dispo International, Nupik-flo UK Ltd., SwissPrimePack, Benders Paper Cups, Golden Paper Cups Manufacturing Co. LLC, Huhtamaki Oyk, Hosti GmbH, RPC Tedeco Gizeh, Moducup, LLC, Printed Cup Company, and Regalzone LLP.
Summary: Global vending cups market to witness rapid growth in Western Europe and North America. Manufacturers of vending cups focussing on increasing their production capacity to meet increasing consumer demand.
Key segments covered in the global vending cups market
By Capacity
Less than 7 Oz.
7 Oz. to 9 Oz.
9 oz. to 12 Oz.
More than 12 Oz.
By Material Type
Plastic

Polypropylene
Polyethylene
Polyamide
Bioplastics
PET
Others

Paper
Foam
By Product Type
By End Use
Carbonated Drinks
Non-carbonated Drinks
By End-user Base
Institutional

Educational
Public
Private

Commercial

Quick Service Restaurants
Hotels
Cafes
By Molding Technology
Thermoformed
Injection Molded
By Application
Geographical segmentation of the vending cups market
North America
Latin America

Brazil
Mexico
Rest of Latin America

Western Europe

Germany
France
U.K.
Spain
Italy
Benelux
Nordic
Rest of Western Europe

Eastern Europe

Russia
Poland
Rest of Eastern Europe

APEJ

China
India
Australia & New Zealand
ASEAN
Rest of APAC

Japan
MEA

GCC Countries
Turkey
South Africa
North Africa
Rest of MEA
Need specific information?
Talk Show:
The Rise of Intelligent Packaging
Personalized, Connected and Sustainable
November 18, 2021
11:00-11:45 AM PST (USA & Canada)
This is a LIVE session