Introduction
Oleoresins and spice oils are preeminent in the food & beverage industry. Oleoresins are botanical extracts, amalgamating essential oil and resin constituents. They are non-volatile or volatile compounds obtained from spices using solvents.
Oleoresins have found multi-pronged applications in the food industry. These range from coloring agents in butter, meat, cheese & snacks, jellies, jams& gelatin preparations, poultry feeds and frozen foods. Additionally, they have forayed into the healthcare and personal care industry as well.
Possessing properties akin to conventional spices, oleoresins are effective substitutes providing equally effective texture, aroma and flavor. Moreover, they are easy to store and transport due to their highly concentrated nature leading to immense bulk and space savings.
Based on the aforementioned trends, the global spice oils and oleoresins market is likely to amplify steadily across the 2020-2030 decade's forecast period.
Preference for Natural Products
Over the years, preference for organic and naturally-derived foods is accelerating. This is in response to increasing demand for natural and clean label products as well as implementation of sanctions on the use of artificial colors in foodstuffs.
Authorities such as the FDA, FSSAI and the EU have implemented pivotal legislations in this regard. As a result, a number of oleoresin vendors have found increased scope of establishing businesses across the prominent regions of the world.
Heightening environmental concerns have compelled consumers to switch to organic food consumption. Consumers are increasingly demanding pesticide-free products to mitigate the risk of associated birth defects.
Due to its emphasis on clean-label products, the market is acquiring major traction in regions with immense religious and cultural restrictions. For instance, in Saudi Arabia and other Middle Eastern nations, oleoresins uptake in manufacturing aromatic perfumes is augmenting. Such developments will elevate the spice oils & oleoresins market to new heights.
The Extraction Advantage
Oleoresins are viscous materials obtained from hydrocarbon solvents during spice extraction. These are 5-20 times stronger in flavor than their corresponding spices. During their extraction, fewer low flavor notes are destroyed as opposed to during steam distillation of essential oils.
Moreover, oleoresin oils contain some important flavor notes which are absent in volatile oils. For instance, while black pepper oil contains just the top black pepper notes, its oleoresin contains piperine and other low flavor notes, making it a more effective flavoring agent. Oleoresins are used at 0.1-0.5% in finished products.
Consequently, food and spices companies are inclining towards oleoresin production, thus heightening market growth prospects in the forthcoming decade's forecast period.
Application in Phytogenics
Feed phytogenics, or plant-based feed phytogenics, are opening new doors for spice oils and oleoresins market. In this approach, a combination of essential oils, herbs and oleoresins are blended to develop animal nutrition products. Farmers are becoming increasingly aware about the importance of providing adequate nutritional input to livestock.
Recent trends exhibit a disturbing trend with respect to using conventional animal feeds. These feeds are laced with additives such as excessive antibiotics which have detrimental effects on animal health. As a result, farm owners are looking for greener alternatives, providing a fertile ground for expansion.
Feeding livestock with oleoresins laden foods generate additional benefits. Oleoresin-feed fed animals yield better quality meat, milk and eggs, free from harmful additives. This fulfils the ultimate objective of consuming clean-label products.
Key Challenges & Restraints
High volatility in prices of essential raw materials has generated inconsistencies in production capacities of vendors. Frequent price fluctuations make it difficult to determine a global benchmark which would ensure a steady revenue inflow. This leads to varying profit margins, rendering it difficult to chart a steady growth path.
Moreover, the spices required to manufacture oleoresins are available seasonally, making it difficult or impossible to produce certain flavors throughout the whole year. This limited availability is one of the major reasons behind constant price fluctuations, restraining growth prospects.
Another concern is the window period between imports and re-export time granted to processors. This is particularly true for South Asian producers, who are required to re-export oleoresins in a value added form within three months or pay an import duty upto 70%. This is expected to induce impediments to market growth.
Region-wise Analysis
South Asia Spice Oils & Oleoresins Market
South Asia is anticipated to hold a key share during the course of the forecast period. India is expected to pivot this growth, due to it being a leader in spices production. India controls 60% of the 13,500 ton global spice oleoresins market.
A cluster of four prominent companies in Kerala, South India, accounts for more than 85% of the country's spice oleoresin industry. Based on these trends, it is no surprise that India shall emerge as a potential investment hub for global vendors.
Amongst these, Synthite recorded a turnover exceeding US$ 100 million from oleoresins in 2012. In 2014, the company offered to strengthen its presence in the US, Latin American and Chinese markets, achieving a 33% revenue growth to reach US$ 218 million.
Since its foundation in 1972, Synthite has been a global leader in the oleoresins market, accounting for 30% of the global oleoresin market. Based on these aforementioned trends, the South Asian spice oils & oleoresins market is expected to take a turn for the better, registering a positive trend.
Request a sample specific to South Asia market
North America Spice Oils & Oleoresins Market
North America is touted to emerge as the 2nd largest spice oils & oleoresins market, attributed to high product demand from several end-use industries such as food & beverage, cosmetics and pharmaceuticals. Extracts from paprika, ginger and black pepper are the most extensively utilized as flavoring and cooking agents.
Legislations and approvals by regulatory authorities have played an instrumental role in the proliferation of oleoresins. In 2019, the U.S FDA issued a revised code of regulation, establishing that paprika oleoresins are safe to be used as food coloring agents. This has prompted vendors to accelerate its production.
Pharmaceutical grade adoption of oleoresins has been extensive across the US healthcare industry. Due to its analgesic properties, capsicum-derived oleoresins are used to temporarily relieve minor aches and pains of joints and muscles in topical OTC medicines.
Request a sample specific to the North American market
Europe Spice Oils & Oleoresins Market
Demand for oleoresins in Europe is primarily driven by food manufacturers looking to produce a wide range of foods. European consumers are particularly conscious about their natural origin, in response to the growing trend of clean label products.
Reduction of salt intake is an important driver for the European oleoresin market. Current daily salt consumption amongst Europeans amounts to 7 to 18 grams per day, which is much higher than the established 5 grams per day intake. Thus, efforts are underway to reduce this excessive intake.
Hence, food companies are increasing the concentration of paprika-based oleoresins in order to mask the taste of reduced salt, thus uplifting growth prospects in the long-term forecast period. In this respect, paprika oleoresin are highly effective.
Request a sample specific to the European market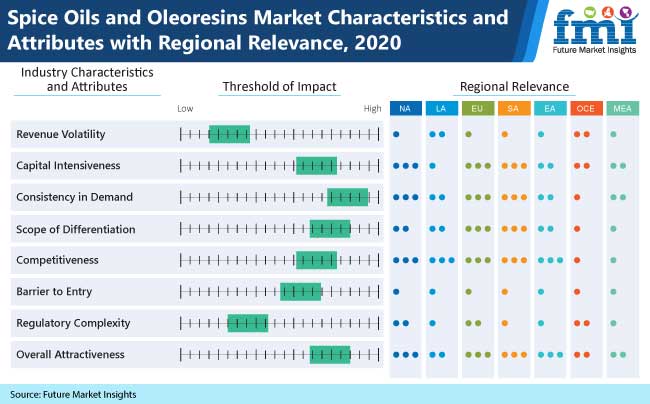 Category-wise Insights
By Nature
Organic oleoresins are expected to tower over conventional ones in the long-term forecast period. Heightening demand for natural and clean label food products is primarily driving the growth of this segment. Rising incidences of diseases due to consumption of contaminated and unhealthy foods has ushered in this trend.
Trending demand for organic oleoresins also ties with the global objective of achieving environmental sustainability. Since oleoresins are very easy to transport, it reduces the need to invest in transport media, which reduces pollution levels due to less fuel consumption. Moreover, savings on storage space can also be incurred, attributed to their lightweight properties.
By Application
The most extensive application is likely to be in the food & beverage segment, attributed to the rising demand for consuming organic foods. Within the food & beverage segment, dressings and condiments are slated to record the most extensive usage.
Formulators are emphasizing on incorporating kosher and halal certifications in lieu of the clean-label demand trend across lucrative geographies. Oleoresins are being specifically used to impart color and texture to the food products.
Multiple health benefits and applications for treating several major and minor ailments is beefing up oleoresins application across the healthcare and pharmaceutical industry. Various over-the-counter medicines to address muscle and joint pains have oleoresins formulations within them.
By Distribution Channel
B2B channel is likely to hold considerable sway in the long-run. This is because several end-use industries depend on spice oils and oleoresins to manufacture their products. For this, manufacturers are emphasizing on establishing robust supply chains and distribution networks with several entities.
Indirect B2C sales channels are recording an equal growth pace, as consumers are inkling more towards purchasing organic spice oils to flavor their foods. Amongst all channels, the online platform is anticipated to acquire massive momentum, particularly in light of the ongoing COVID-19 pandemic.
By Type
Demand for spice oils continues to be strong as consumer demand for natural and clean label continues to grow. In the oleoresins category, organic holds sway – which is in sync with broader trends in the food & beverage industry.
COVID-19 Onslaught with Minimal Disruptions
As the world buckles under the pressure of COVID-19, the spice oils & oleoresins market is anticipated to remain stoic throughout its duration in the short-term. Rising demand for ready-to-eat products across the world has assisted the oleoresin market to survive despite logistical roadblocks.
The Indian market has specifically stood to gain the most, as it produces three-quarters of the world's spices. This has generated fertile ground for manufacturers to initiate business here. Indian spice oleoresins currently hold the lion's share in the global market, with exports exceeding US$ 273 million as of 2020.
A substantial proportion of the consortium's oleoresins are utilized by food companies to manufacture pasta, noodles and other ready-to-eat foods, whose consumption has recorded a major upsurge since the pandemic's outbreak. Additionally, spice oils are being procured by consumers via online platforms, keeping the demand afloat.
At the same time, demand has faltered across the HORECA sector, which is the primary end-user of spice oils and oleoresins. This is in response to declining footfalls across restaurants for dine-in purposes to prevent further spread of infections, ushering in a downturn in sales in the short-run.
Factoring in the aforementioned developments, the global spice oils & oleoresins market will register a moderate decline, with recovery projected in the middle quarters of 2021.
Competitive Landscape
The global spice oils & oleoresins market is interspersed with the presence of multiple players. Majority of these players are making inroads into the South Asian markets, attributed to the easy availability of spices and other raw materials. Major emphasis is on forging links with regional distributors to augment sales networks.
In September 2019, doTERRA International LLC, a prominent essential oils manufacturers, established its business outreach into the South American market, initiating a new corporate office in Colombia. The company manufactures essential therapeutic oils derived from oleoresins. This foray has helped South American customers access to top quality therapeutic oils.
Ultra-International B.V, a prominent Dutch oil specialist company, operates across several prominent regions, having its operations in countries such as Singapore, US, Australia, the Middle East and India. The company manufactures a range of oils from plant-based sources, such as cloves, coriander, cumin and eucalyptus among others.
Companies also undertake research programs to conduct randomized controlled trials and publish their results. One such example is of Akay Natural Ingredients, which initiated its 'spiceuticals' program to test the impact of red-chilly derived spice oils on human health. The study concluded that it was highly effective in regulating BMI.
Besides these players, other vendors profiled within this report are as follows:
Young Living Essential Oils Ltd.
Reckitt Benckiser Group Plc (RB)
Symrise AG
Givaduan AG
Greenleaf Extractions Pvt. Ltd.
Indian Spice Oil Industries
Synthite Industries Ltd.
Universal Oleoresins Pvt. Ltd.
Spice Oils & Oleoresins Market: Report Scope
Attribute

Details

Forecast Period

2020-2030

Historical Data Available for

2015-2019

Market Analysis

USD Million for Value

Key Regions Covered

North America, Latin America, Europe, East Asia, South Asia, Oceania and Middle East & Africa

Key Countries Covered

U.S, Canada, Mexico, Brazil, Peru, Argentina, EU-4, Nordic, Poland, Russia, China, Japan, South Korea, India, Malaysia, Indonesia, Thailand, Australia, New Zealand, GCC, Turkey and South Africa

Key Segments Covered

Type, Nature and Application

Key Companies Profiled

Young Living Essential Oils Ltd.
Reckitt Benckiser Group Plc (RB)
Symrise AG
Givaduan AG
Greenleaf Extractions Pvt. Ltd.
Indian Spice Oil Industries
Synthite Industries Ltd.
Universal Oleoresins Pvt. Ltd.

(Indicative List)

Report Coverage

Market Background, Key Trends, Success Factors, Value Chain Analysis, DROT Analysis, Segmental Overview, Regional Profiling, COVID-19 Impact Analysis and Competition Analysis

Customization & Pricing
Key Questions Answered in the Report
How has the spice oils & oleoresins market evolved over the years?

The spice oils & oleoresins market has demonstrated a strong growth trajectory in the historical period ranging from 2015-2019, and will continue demonstrating a substantial trend throughout the 2020-2030 forecast period.

Which is the largest market for spice oils & oleoresins?

South Asia shall likely be the market hegemon in the upcoming decade, attributed to its dominant position in the production of herbs and spices, the key raw ingredients required to produce spice oils

Which are the notable industrial developments over recent years?

The last few years have witnessed a paradigm shift in the eating habits of consumers. There is a pervading trend of consuming clean-label ingredient and organic products. Thus, the need for plant-based ingredients has surged, providing massive traction to the market

To what extent will the COVID-19 pandemic impact the market's growth trajectory?

The pandemic crisis has induced a moderate downturn in growth prospects, with demand from the HORECA sector dwindling significantly. Declining footfalls across restaurants for dine-ins to maintain social distancing is the main reason. Otherwise, the market is expected to remain strong throughout the pandemic's duration

Identify the prominent vendors within the competitive landscape

Terry Naturally Vitamins, doTERRA International LLC, Young Living Essential Oils LC, Akay Flavours & Aromatics Pvt. Ltd., Ultra International B.V., Symrise A.G., Givaudan SA, Greenleaf Extractions Private Limited, Indian Spice Oils Industries, Universal Oleoresins Private Limited, Synthite Industries Ltd., and Kancor Ingredients Ltd. are some of the prominent players in the market.

Which are the key challenges, opportunities and improvement factors for market players?

High volatility in prices of essential raw materials has generated inconsistencies in production capacities of vendors. Frequent price fluctuations make it difficult to determine a global benchmark which would ensure a steady revenue inflow. This leads to varying profit margins, rendering it difficult to chart a steady growth path.
Enquiry before Buying
Is this research conducted by Future Market Insights?

Yes, the research has been conducted by expert analysts of Future Market Insights through a combination of primary research and secondary research. To know more about how the research was conducted, you can speak to research analyst

What research methodology is followed by FMI?

FMI follows a methodology that encompasses demand side assessment of the market, and triangulates the same through supply side analysis. This methodology is based on use of standard market structure, methods and definitions. Request detailed methodology

Who are the respondents for primary research?

FMI speaks to stakeholders across the spectrum, including C-level executives, distributors, product manufacturers, industry experts. For a full list of primary respondents, please reach out to us.

What are the sources of secondary research?

FMI conducts extensive secondary research through proprietary databases, paid databases, and information available in the public domain. We refer to industry associations, company press releases, annual reports, investor presentations, and research papers. More information about desk research is available upon request.

Is a sample of this report available for evaluation?

Yes, you can request a sample and it will be sent to you through an email.

How can I buy this report?

FMI provides a secure online payment system to buy report seamlessly. You can buy the report securely and safely.
Key Segments
Type
Distribution Channel
Nature
Application
Food & Beverages
Bakery & Confectionery
Beverages
Dressings & Condiments
Sauces, Spreads & Soups
Cosmetics and Personal Care
Skin Care
Hair Care
Toiletries
Aromatherapy
Pharmaceuticals
Household
Dietary Supplements
Foodservice
Industrial
Region
North America (U.S & Canada)
Latin America (Mexico, Brazil, Peru, Argentina & Rest of Latin America)
Europe (EU-4, BENELUX, Nordic Countries, Russia, Poland & Rest of Europe)
South Asia (India, Thailand, Indonesia, Malaysia and Rest of South Asia)
East Asia (China, Japan & South Korea)
Oceania (Australia & New Zealand)
Middle East & Africa (GCC, Northern Africa, South Africa & Rest of MEA)
Need specific information?