Introduction
Herbs & spices have played an important role in consumer food habits. They are typically used to enhance taste and flavor and provide health benefits to the human body. Whereas spices are derived from roots, seeds and barks, herbs are primarily obtained from leaves or flowers.
Seminal research undertaken in the past have laid bare the role of spices and herbs as contributors of active phytochemicals, thereby leading to their increased uptake across the food, beverage, nutraceutical and healthcare industries respectively. Studies have also demonstrated their potential in the treatment of several cancers.
The global herbs and spices market is anticipated to expand steadily, registering a CAGR of ~4% during the 2020-2030 forecast decade. The US herbs and spices market is slated to be valued at US$ 2.4 Mn by the end of the aforementioned forecast.
Demand for Natural Products Bolstering Growth
The incidence of diseases caused by the addition of chemicals and excessive use of additives in food is rising rapidly across the globe. Rising awareness about the harmful effects of synthetic and chemical additives has led consumers to educate themselves about the ingredients considered healthy for their consumption.
This has caused shift towards products containing natural herbs & spices. Companies of these products are focusing on maintaining the trust of their consumers, and therefore are sustaining transparency in the ingredients and production processes they use.
Due to the rising demand for natural food ingredients, the consumption of organic spices is surging. Willingness of consumers to pay a premium price for a more natural product has transformed market dynamics, and is anticipated to yield positive results for players in the herbs & spices market.
Presence of Bioactive Phytochemicals Broaden Application in Nutraceutical
Spices and culinary herbs are rich in phytochemicals, meaning that they possess excellent antioxidant properties. These typically include sulphur, polyphenols, alkaloids, carotenoids and terpenes. Spices and herbs also reduce fat oxidation during meat grilling, thus rendering them safe to consume.
Condiments manufactured from garlic, cinnamon, turmeric, rosemary, thyme, chili pepper, cloves and cinnamon are the most widely consumed. This property renders them highly useful in manufacturing nutraceuticals. India, Southeast Asia & China have been exhaustively using spices in medicinal formulations.
Erratic Weather Restraining Raw Spices Supply
As is the case with every crop, certain herbs such as parsley, thyme and mint can only be grown once a year, during winter. The availability of the same is scarce during other seasons, thereby limiting their uptake. Consequently, their prices skyrocket in non-seasonal months, leading to increased raw material costs.
Fortunately, advancements in farming techniques has largely overcome this problem, such as greenhouses and other temperature altering mechanisms. This means that off-seasonal spices are available perennially, eliminating supply shortages and ushering in price stability.
Herbs & Spices Market- Regional Outlook
North American Herbs & Spices Market
The North American herbs & spice market outlook appears to be largely optimistic, slated to account for over 600 MMT production volume by 2030-end. A gradual progression amounting to a CAGR of 2.8% is predicted for the North American market.
Government regulations have played an important part in ensuring the flourishing of the herbs & spices market across North America. In the United States, the Food and Drugs Act 1906 defines the term "spices" collectively and designates a certain category of foods classified as spices.
By virtue of Revision 5 in 1936, all spices except poppy seeds, sesame seeds, dried or dehydrated onions and garlic are categorized as "generally recognized as safe" (GRAS) spices, requiring no authorization. For the latter, their usage should be specifically declared on food labels by common names.
The American Spice Trade Association (ASTA) has been an equally important organ in the evolution of the U.S spice industry for over half-a-century. In 1969, ASTA adopted its first Cleanliness Specifications for Unprocessed Spices, Seeds and Herbs. These specifications ensure that spices, seeds and herbs are properly handled and stored.
Request a sample specific to the North America market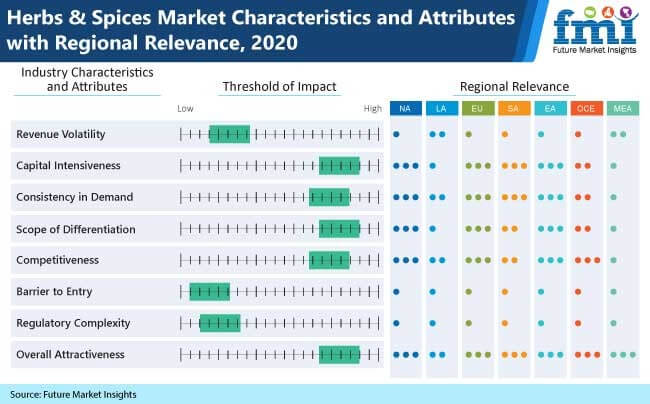 Europe Herbs & Spices Market
The Europe herbs & spices market is slated to tower over other regions, registering a market value worth US$ 0.5 Mn by 2030-end. Growth is largely underpinned by heightened dried cereal consumption, application in food preparations and increasing consumption of organic spices.
While domestic production is limited, the region ranks high in terms of overall spice imports. Between 2014 and 2017, import value increased to € 2.7 billion in 2017, falling slightly in 2018 to € 979 million. As the climatic conditions are not conducive for spice production, the region relies on imports.
Only specific spices and herbs are produced, mainly in Eastern Europe and Southern European countries. Romania, Hungary, Spain and Bulgaria are the leading producers of paprika and chillies. Production of dried herbs market and dried spices market is also gaining traction, particularly in France, Italy and Greece.
Request a sample specific to the Europe market
South Asia Herbs and Spices Market
When it comes to domestic spice production, South Asia is emerging as the fastest growing region, registering a CAGR of ~6% throughout the 2020-2030 forecast period. Extensive applications in processed foods is the key growth driver for the region.
Growing demand from the nutraceutical segment is another important growth catalyst, especially in the Indian market. Nutraceutical applications contribute to nearly 15% of spice production in the country. The current decade saw domestic spice production reach 5 million tons annually for this purpose.
Condiments such as turmeric are witnessing a major upsurge in preparation of cancer medicines. The proportion has increased to 12 gms from the earlier share of 500 mg to 1 gm. Also, Indian companies have developed weight loss medicines derived from capsicum extracts.
According to the India Brand Equity Foundation (IBEF), spice exports from India accounted for 857,400 tons, reaching US$ 2.25 billion in FY20. Such developments are rapidly broadening the South Asian market prospects.
Request a sample specific to the South Asia market
Category-wise Insights
Organic Products Witnessing High Demand
The organic products such as tobacco, rice bran and other grains segments is expected to growth impressively, registering a value CAGR of 7.5% until 2030. Increased health consciousness and environmental concerns are prompting consumers to opt for natural alternatives, thus broadening growth prospects.
Dried cereals and fruits are anticipated to reach the highest valuation, reaching US$ 1.4 Mn by the end of the assessment period. Cereals such as oats and quinoa laced with cinnamon, nutmeg and ginger are becoming a staple within the breakfast menu. These cereals offer multiple health benefits compared to conventional ones.
Organic Spices Gaining Immense Traction
Organic spices market and herbs are acquiring immense traction and are forecast to expand at the rate of 6.2% by 2030-end. The number of vegan and health-conscious consumers are growing across the globe due to which demand for vegan, natural, and non-GMO herbs & spices is rising. Thus, preference for natural herbs market is rising.
According to the Vegan Society, in U.S the number vegan is raised by 600% from 2014 to 2017. In 2019, the vegan population in the U.K was 600,000 which is ~1% of the total number. Organic farming for herbs has yielded credible environmental benefits, leading to reduced soil degradation and increasing productivity.
Beverages Segment Emerges Key End User
Herbs & spices sales have increased dramatically across the processed foods sector. The rising demand for clean-label products is prompting consumers to opt for healthier food options, particularly in the developed regions. This is largely in response to surging incidences of chronic diseases.
The beverages segment is likely to follow suit, accounting for a production volume worth 280 MMT by 2030. Majority of the demand is being generated from the juices, concentrates and puree segment, expanding at a CAGR of 4.4%.
Indirect Sales Channels Gaining Momentum
Indirect sales channels are expected to gain significant momentum throughout the forecast period, with online sales comprising the bulk of all business transactions in the future. A market share of 16.5% has been predicted for this segment.
As consumers become digitally adept, access to the internet via smart devices is increasing. This is providing a fertile ground for e-commerce giants and certain spice and herb vendors to proliferate.
Fresh/ Whole Spices to Remain Dominant
Fresh/Whole spices are expected to hold maximum sway, reaching a production target of 346 MMT until 2030. This is because consumers prefer to consume spices in their form as they possess significant health benefits. For instance, whole cloves consumption can help relieve bacterial throat infections.
Powder & granules are said to be the 2nd most lucrative segment, with consumers using spices in food preparations. Maximum usage of powdered spices and herbs such as turmeric, red chili powder, ground pepper and fenugreek is in India and other South Asian countries.
Spice & Herbs Consumption Rising Amid Pandemic
In the initial months of the COVID-19 pandemic, massive downswings in the food & beverage sector were recorded, attributed to the imposition of nationwide lockdowns. This significantly hampered the growth prospects of the herbs & spices market. Gradually, this downswing has experienced a slight improvement as lockdowns are being relaxed.
In the past few months, consumers have shifted toward consuming more plant-based products, including spices, to strengthen their immunity and counter the pandemic. Therefore, demand has surged, compelling manufacturers to undertake supply chain risk management. Also, farmers have increased spice production, countering any supply shortages.
According to the World Health Organization, nearly 8 out of 10 people depend on herbal medicine for primary healthcare across Europe and South Asia. Their anti-inflammatory properties are touted to provide relief from constant uneasiness due to lung inflammation.
Additionally, vendors are partnering with relief agencies to provide the required support to sustain market demand for spice infused food and beverages. To this end, McCormick and Company Inc. has partnered with the Maryland Restaurant Relief Fund to provide financial aid to multiple eateries and keep their businesses afloat.
Global Herbs & Spices Market: Competitive Landscape
The presence of several small and mid-sized players has rendered the market fragmented over a long time. Prominent players are concentrating on product innovations, mergers & acquisitions and expansion of productive capacities.
For instance, in 2017, Dohler GmBh collaborated with Fraunhofer ICT-IMM to examine how microfluidic solutions can assist beverage manufacturers in detecting microorganisms in their formulations. This helps vendors ensure that product quality is maintained and consistently recorded.
In 2018, Kerry Group plc announced the acquisition of Fleischmann's Vinegar Company Inc. and AATCO Food Industries LLC in order to expand the spices product portfolio.
Synthite Industries Ltd., a prominent Indian spice company, manufactures the SPRIG, NEAOX, NATXTRA, KITCHEN TREASURES and STRAIGHTS line of products.
In addition to these participants, some of the other herbs and spices market players are:
Dohler GmBh
Robertet SA
Synthite Industries Ltd.
International Taste Solutions Ltd.
McCormick & Company Inc.
Symrise AG
The list is only indicative – full list of herbs& spices market key players is available upon request.
Herbs & Spices Market- Report Scope
| | |
| --- | --- |
| Attribute | Details |
| Forecast Period | 2020-2030 |
| Historical Data Available for | 2015-2019 |
| Market Analysis | US$ Mn for Value and Metric Tons for Volume |
| Key Regions Covered | North America, Latin America, Europe, East Asia, South Asia, Oceania and Middle East & Africa (MEA) |
| Key Countries Covered | U.S., Canada, Brazil, Mexico, Peru, Argentina, Chile, Germany, Spain, France, Italy, U.K., BENELUX, Nordic countries, Russia, Poland, India, Thailand, Indonesia, Malaysia, Japan, China, South Korea, Australia, New Zealand, GCC, South Africa and Turkey |
| Key Segments Covered | Form, Nature, End-Use, Product Type and Distribution Channel |
| Key Companies Profiled | McCormick and Company Inc., Givaudan SA, British Pepper & Spice Company, Kerry Group Plc., Takasago International Corporation, Foodchem International Corporation, Sensient Technologies Corporation, Ajinomoto Co. Inc., Naturex SA, Kalsec Inc., Olam International, Archer Daniels Midland Company, Frutarom Industries Ltd., Dohler GmBh, Robertet SA, Synthite Industries Ltd., International Taste Solutions Ltd. and Symrise AG. |
| Report Coverage | Market Overview, Market Background, Value Chain Analysis, DROT Analysis, Segmental Overview, Regional Profiling, Market Structure Analysis and Competition Dashboard. |
| Customization & Pricing | |
Key Questions Answered in the Report
How has the Herbs & Spices Market fared in the past half-a-decade?

The global herbs and spices market size was valued at US$ 1.4 Mn in 2015 and acquired a value of US$ 1.6 Mn in 2019. This upsurge was largely a product of rising preference for natural ingredients with a view to improve the health and well-being of consumers.

Predict the likely growth scenario for the herbs & spices market in the forthcoming forecast period.

According to FMI, the herbs & spices market is expected to grow at a CAGR of 3.9% between 2020 and 2030, attributed to rising adoption of herbs and spices in food and beverage preparations

What drivers will underpin herbs & spices market expansion for the upcoming decade?

Rising concerns regarding health combined with environmental sustainability is upswinging demand for organic and clean-label herbs and spices. Additionally, presence of bioactive phytochemicals is heightening spice adoption in nutraceutical formulations

Identify possible impediments or hindrances to the predicted trajectory for herbs & spices market.

A major impediment in the market growth is the limited availability of certain herbs due to seasonal variations. As a consequence, certain spices and condiments tend to be highly priced, possibly discouraging end-users from purchasing these items

Will the COVID-19 pandemic alter the said predictions for herbs & spices market?

Yes. The COVID-19 pandemic is expected to have an impact on the herbs & spices market. Research has proven that certain spices and herbs contain anti-inflammatory properties, bringing relief to infections. Moreover, the drive towards boosting immunity is expected to accelerate growth prospects

Outline the degree of competition in herbs & spices market and identify the prominent players.

The global herbs & spices market is fragmented, characterized by the presence of multiple vendors. The landscape is interspersed with product launches, research & development projects, strategic acquisitions & collaborations

Prominent players in the landscape are as follows: McCormick and Company Inc., Givaudan SA, British Pepper & Spice Company, Kerry Group Plc., Takasago International Corporation, Foodchem International Corporation, Sensient Technologies Corporation, Ajinomoto Co. Inc. and Naturex SA, Kalsec Inc. among others.
Enquiry before Buying
Is this research conducted by Future Market Insights?

Yes, the herbs & spices market research has been conducted by expert analysts of Future Market Insights through a combination of primary research and secondary research. To know more about how the research was conducted, you can speak to the research analyst

What research methodology is followed by FMI?

FMI follows a methodology that encompasses the demand side assessment of the market, and triangulates the same through a supply side analysis. This methodology is based on use of standard market structure, methods and definitions.

Who are the respondents for primary research?

FMI speaks to stakeholders across the spectrum, including C-level executives, distributors, product manufacturers, industry experts. For a full list of primary respondents, please reach out to us.

What are the sources of secondary research?

FMI conducts extensive secondary research through proprietary databases, paid databases, and information available in the public domain. We refer to industry associations, company press releases, annual reports, investor presentations, and research papers. More information about desk research is available upon request.

Is a sample of this report available for evaluation?

Yes, you can request a sample and it will be sent to you through an email.

How can I buy this report?

FMI provides a secure online payment system to buy report seamlessly. You can buy the report securely and safely.
Key Segments
Form
Powder & Granules
Flakes
Paste
Whole/Fresh
Nature
End-Use
Food
Sauces, Dressings and Condiments
Bakery and Confectionery
Snacks & Savory Products
Processed Food
Dairy Products
Ice Creams
Soups
Others
Beverage
Alcoholic Drinks
Non-alcoholic Drinks
RTD Beverages
Juices, Concentrates and Puree
Others
Foodservice
Retail
Product Type
Herbs
Spices
Seeds
Organic Products (Tobacco, Rice, Bran and other grains)
Nuts
Teas, Chamomile and Medicinal Herbs
Dried Mushrooms
Dried Legumes
Dried Cereals
Dried Fruits
Dehydrated Vegetables
Distribution Channel
Hypermarket/Supermarket
Convenience Stores
Traditional Grocery
Retailers
Food & Drink Specialty Stores
Regional Outlook
North America (U.S & Canada)
Latin America (Brazil, Mexico, Peru, Argentina, Chile & Rest of Latin America)
Europe (EU-4, U.K, BENELUX, Nordic countries, Russia, Poland & Rest of Europe)
South Asia (India, Thailand, Indonesia, Malaysia & Rest of South Asia)
East Asia (Japan, China & South Korea)
Oceania (Australia & New Zealand)
Middle East & Africa (GCC, South Africa, Turkey and Rest of MEA)
Need specific information?