Herbal Medicinal Products Market by Product Type (Ayurvedic, Homeopathic Medicines, Chinese Medicines, Aromatherapy product), Form (Capsules/Tablets, Powder, Syrups, Oil and ointment), Distribution Channel & Region - Forecast to 2021-2031
Herbal Medicinal Products Market - Analysis, Outlook, Growth, Trends, Forecasts
July 2021

REP-GB-2722

221 pages
Herbal Medicinal Products Market Snapshot
The herbal medicinal products market revenue totaled US$ 171.62 Bn in 2021, according to Future Market Insights (FMI) study. The overall sales of herbal medicinal products is expected to reach US$ 360.35 Bn by 2031, growing at a CAGR of 7.7 % for 2021 - 2031.
With consumer awareness regarding herbal medicines on the rise, coupled with increasing investments in the promotion of traditional medicine, sales are expected to improve at an accelerated pace. The demand for ayurvedic medicine also will grow, accounting for nearly 57% of herbal medicines sales in 2021.
Key Points Covered in Herbal Medicinal Products Market Study
Market estimates and forecast 2016-2031
Key drivers and restraints impacting market growth
Segment-wise, Country-wise, and Region-wise Analysis
Competition Mapping and Benchmarking
Market Share Analysis
Key Product Innovations and Regulatory Climate
COVID-19 Impact on Herbal Medicinal Products Market and How to Navigate
Recommendation on Key Winning Strategies
2016-2020 Herbal Medicinal Products Demand Outlook Compared to 2021-2031 Forecast
According to Future Market Insights (FMI), the sales of herbal medicinal products have grown at a 2.4% CAGR between 2016 and 2020. Increasing focus on anternative medicines with a focus on preventive measures is driving current sales figures. Expansion and product launches in emerging markets are key factors promoting market growth.
The transition from conventional to traditional medicines has bolstered growth in the industry due to increasing awareness about cost-effective herbal remedies. Herbal medicines including homeopathy and health supplements are finding traction as affordable and effective treatment options.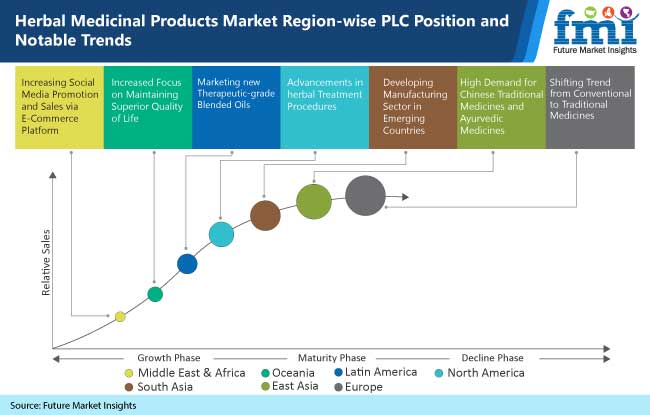 According to the National School of Medicine and Homeopathy, homeopathic medicines are 70% cost effective compared to allopathic alternatives, and 15% cost effective than generics.
The developing manufacturing sector in emerging economies is expected to promote market growth. Despite several challenges faced by manufacturers, the growing need for value-added products is likely to boost the market in coming years.
As per WHO, around 21,000 plant species carry chemical constituents that are preferred for medicinal properties. Companies producing herbal medicinal products are actively engaging in strategizing business opportunities through acquisitions and partnerships in order to strengthen their portfolio.
In May 2019, Blackmores Limited expanded its 30,000 sq. soft gel and hard tablet manufacturing facility located at Braeside in Victoria.
In June 2021, STADA expanded its European consumer healthcare portfolio by acquiring healthcare brands from Sanofi , in key countries such as France, Germany, Italy, Poland, and Spain.
Future Market Insights expects the global market to grow at a CAGR of 7.7% over the forecast period by 2031-end. The growth is attributed to majors companies that are actively participating in acquisitions to expand their market presence.
How is the Adoption of Traditional Medicine Aiding Market Growth?
Medicinal plants are indispensable elements of complementary or alternative medicines. Due to this, they have occupied a significant part in different communities of lower-income economies. Moreover, due to inadequate healthcare facilities and low purchasing power, lower income economies are primary markets for herbal medication.
Herbs have been viewed as a vital source of healing and precautionary properties for human beings, and have been used for the extraction of important bioactive compounds. Nearly 80% of the global population makes use of traditional medicines, creating a conducive environment for growth.
What are the Key Opportunities for Market Players?
E-commerce distribution channels have witnessed a dramatic increase in herbal medicinal product sales in recent years. This change is attributed to investments in improving online purchase experiences with the help of targeted marketing and superior online education.
Many online distributors such as Amazon, have developed portfolios dedicated to herbal products. Online distributors provide live chat options in order to address customer specific requirements. In addition, manufacturers and retailers are offering free access to "wellness tools" to create a customized list of herbal medicinal products based on specific conditions and requirements.
Will the Inadequate Supply of Raw Materials Continue Disrupting Herbal Medicinal Market?
A shortage of raw materials needed for the production of herbal medicines and the resultant increase in the cost of exported ingredients is a key factor hampering growth.
Product substitution is a prime factor hampering market growth. Synthetic ingredients and probiotics are a few of the alternatives, proving to be strong competitors of traditional herbal products. The availability of pseudo-herbal products is a major challenge.
What is the Impact of the COVID-19 Crisis on the Market?
The COVID-19 pandemic is expected to positively impact growth. It has created ample opportunities for players due to increasing demand of herbal immunity boosters. Consumer behavior connected to epidemiological stages and government responses to the pandemic, are resulting in escalation, accumulation, and early recovery.
The outbreak has changed distribution channel operations and pushed traffic to e-commerce options. Supply chains were hampered during second quarter of 2020, due to trade blocks which occurred globally to stop the surge of virus. These factors are likely to subside through 2021 and beyond.
Country-wise Insights
Will the U.S. Remain a Key Herbal Medicine Market?
In 2021, The U.S. is estimated to account for over 69% value share in North America. The dominance is driven by higher health awareness. Rising living standards, health consciousness, and increasing disposable incomes are boosting the demand for effective treatments with minimal side effects. Additionally, the popularity and adoption of stress- and anxiety-relieving treatments including aromatherapy and ayurvedic panchakarma is supplementing market growth.
Herbal products are used by over 20% of the overall population as per data in the 2020 Journal of General Internal Medicine. Most common herbs used in the country include , garlic, gingko bilbao, ginseng, St. John's Wort, and echinacea.
Why is Germany Considered a More Lucrative Market within Europe?
Germany is expected to account for over 18% of the Europe market in 2031. Increasing prescriptions of homeopathic medications in Germany drive demand. Homeopathy has developed into an important element in the medicine industry.
According to a European Commission study reported in 2017, 3 out of 4 people in Western Europe are aware of homeopathy and around 29% of them use homeopathic medicines on a regular basis. In Germany, 94% of the population are aware of homeopathy and 60% of them use this on a regular basis.
What are the Factors Supporting Herbal Medicines Sales Australia?
The Australia market will exhibit a 7.8% CAGR throughout the forecast period. Appearance of e-commerce has produced boundless opportunities in Australia. Growing product penetration through online retail channels is a major factor driving market growth. Sales of herbal supplements through e-commerce are further anticipated to witness significant growth over the forecast period.
Buyer's demands for green label products are pushing manufacturers to change sales channels from niche distribution channels to majority mass retailers. Furthermore, retail pharmacy chains are also expanding product choices, which has resulted in higher sales in recent years.
Will India Remain at the Fore of Herbal Medicine Demand?
Since ancient times, India has been the land of Ayurveda and herbal products. In India around 70% of the population use herbal products as a primary medication for a wide range of ailments. The adoption of complimentary medication is attributed to the safety and efficacy of herbal medicines. Lower risk of side effects as compared to main stream medicines and escalating cost of conventional healthcare support growth in the country.
What is Scope for Sales of Herbal Medicines in China?
The market for herbal medicinal products in China is exhibiting a 11.8% CAGR, and is expected to account for 57% of the East Asia market in 2031. China is one of the largest exporters of herbal medicines and essential oils followed by India and Indonesia. The Chinese traditional medicines industry is supported by favorable government policies, heavy investments into research, and high adoption of chinese medicines by consumerwhich.
According to Chinese Journal of Traditional Chinese Medicine, around US$ 3.0 Billion worth of traditional Chinese medicines are exported from China each year. Similarly, the annual consultation of traditional Chinese medicine practitioners is more than 500 million, which accounts for around 20% of Chinese outpatients visits.
Category-wise Insights
What are the Sales Prospects of Ayurvedic Medicine?
Ayurvedic medicine will show steady growth, reflecting a high share of 57% in 2021. Consumer are focused on preventive care as compared to treatments. As a result, most adult and geriatric consumers are opting for supplements from natural origins.
The herbal industry is driving the sales of supplements as compared to herbal medicine due to the higher focus on herbal diets and lifestyles for the foreseeable future.
What is the Demand Outlook for Capsules/Tablets?
Capsules/tablets are projected to show steady growth in the forecast period with a CAGR 8.5% accounting for a market share of 43% in 2021. Most herbal drugs are formulated in tablet or capsule formats to prevent degradation and increase shelf life and bioavailability.
What is Scope of Growth for Mail Order Pharmacies?
Despite, hospital pharmacies currently leading the market, mail order pharmacies have reflected significant growth with a 8.1% CAGR. Mail order is more convenient for consumers as a wider range of products are easily available in addition to better discounts and offers minimizing costs.
Competitive Landscape
Manufacturers of herbal medicine are primarily aiming to carry out strategic expansions and filing patents to consolidate growth in a competitive market.
For Instance, In Oct 2020, the Arkopharma SA filled a patent for the Arkodigest® No Reflux 100% natural composition to improve digestion.
In November 2020, Mountain Rose Herbs purchased the Phoenix Industrial Park in Eugene, with 205,000 square feet of operational space and a 12-acre campus, as a part of business expansion strategy to develop it into green space.
Scope of the Report
Attribute

Details

Forecast Period

2021-2031

Historical Data Available for

2016-2020

Market Analysis

USD Million for Value.

Key Countries Covered

US, Canada, Germany, U.K., France, Italy, Spain, Russia, China, Japan, South Korea, India, Thailand, Malaysia, Indonesia, Australia, New Zealand, GCC Countries, Turkey, South Africa

Key Segments Covered

Product Type, Form, Distribution Channel, and Region

Key Companies Profiled

Blackmores Limited
Sanofi-Aventis Healthcare PTY Ltd.
Arkopharma SA
Nutraceutical Corporation
STADA Arzneimittel AG
Himalaya Global Holdings Ltd
Integria Healthcare
Boiron Group
Young Living Essential Oils
Mountain Rose Herbs

Report Coverage

Market Forecast, Competition Intelligence, DROT Analysis, Market Dynamics and Challenges, Strategic Growth Initiatives

Customization & Pricing

Available upon Request
World's Most Profilic Intelligence Engine
Get Access To The World's Largest Market Research Database.
Sign Up Now
Herbal Medicinal Products Market by Category
Product Type:
Ayurvedic
Homeopathic Medicines
Chinese Medicines
Aromatherapy product
Form:
Capsules/Tablets
Powder
Syrups
Oil and ointment
Others
Distribution Channel:
Hospital pharmacies
Retail pharmacies
Mail order pharmacies
e_commerce
Region:
North America
Latin America
Europe
East Asia
South Asia
Oceania
Middle East and Africa (MEA)
Key Questions Answered in the Report
How much is the herbal medicinal products market worth?
The herbal medicinal products market is worth at US$ 171.62 Bn in the year 2021 and is expected to reach US$ 360.35 Bn by 2031 owing to higher adoption of traditional medicines and government initiatives for herbal products.
What is the demand outlook of the herbal medicinal products market?
Herbal medicinal products are projected to reflect high demand in the forecast period with a CAGR of 7.7%.
At whatrate did the herbal medicinal products market rise in the last 5 year ?
Historically, the market has grown at a CAGR of 2.4% from 2016 to 2020.
What are the key trends of herbal medicinal products?
Developing manufacturing sector in emerging countries, and increased focus on alternative medicine are some of the prominent trends which drive the demand for herbal medicinal products.
What factors are driving demand for herbal medicinal products?
The transition from conventional to traditional medicines in all developed and developing countries is a major driving factor.
What is the market share of the top players in the herbal medicinal products market?
The cumulative market share of the top players including Mountain Rose Herbs, Arkopharma SA, Boiron Group, Himalaya Global Holdings Ltd, Blackmores Limited constitutes around 2.8% of the overall fragmented market.
What are the top 5 countries driving demand for herbal medicinal products?
India, China, the U.S., Japan, and Germany are the top 5 countries which are driving the demand for herbal medicinal products.
At what rate is the sales of herbal medicinal products rising in Europe?
Europe holds around 39.8% revenue share in the overall herbal medicinal products market in 2021. Germany remains the fastest growing country with a CAGR of 8.2% over the forecast period.
At what rate are herbal medicinal products going to register growth in East Asia?
The East Asia market is set to exhibit a CAGR of 9.5% during the forecast period owing to high herbal yield and the presence of emerging local players.
Which companies are key producers of herbal medicinal products?
Mountain Rose Herbs, Arkopharma SA , Boiron Group, Himalaya Global Holdings Ltd, Blackmores Limited are key producers in this market.
What are the key herbal medicinl products market statistics in Korea and Japan?
Japan's herbal medicinal products are expected to exhibit a share of 10.5% during the forecast period through 2031 of the global market. South Korea holds a revenue share of 0.4% through 2031.
Need specific information?
Our Clients