Herbal Supplements Market By Form (Soft Gel/Pills, Confectionery Products, Gummies, Chews), Ingredients (Moringa, Echinacea, Flaxseeds, Turmeric), Consumer Orientation (Men, Women, Senior citizens), Application (Weight Loss, Sports Nutrition, General Well-being, Bone & Joint Health), Distribution Channel (Store Based Retailing, Hypermarkets/Supermarkets, Convenience Stores) & Region - Forecast to 2022 - 2032
Herbal Supplements Market - Analysis, Outlook, Growth, Trends, Forecasts
January 2022

REP-GB-11311

350 pages
Herbal Supplements Market Snapshot
[350 Pages Report] The herbal supplements market, in terms of value, is projected to reach around USD 90.8 Billion in 2022, at a CAGR of 7.8% from 2022 to 2032.
| | |
| --- | --- |
| Herbal Supplements Market Size Value in 2022 | USD ~90.8 Bn |
| Herbal Supplements Market Forecast Value in 2032 | USD ~190.2 Bn |
| Global Growth Rate (2022 to 2032) | ~7.8% CAGR |
| Forecast Period | 2022-2032 |
Newly released data for Global Herbal Supplements Analysis shows that global demand for plant-based supplements enjoyed year-on-year (YoY) growth of 10.2% in 2022. It holds 43% of the herbal supplements Market and is expected to witness a prominent growth rate of 7.2 % by 2033.
Revenue for curcumin grew by 9.8% during the period 2017-2022. According to the Future Market Insights analysis, Blackmores Ltd, Bio-Botanica Inc, Daniels Midland Company, Ricola AG, Arizona Natural Products are identified as key herbal supplement brands.
In 2022, Asia Pacific Herbal Supplements market grew by 6.6% year on year, bucking initial scepticism about how the market would perform during a global pandemic. Across North America, total demand/sales of natural supplements contributed around 33% in 2022.
Pharmaceuticals to Remain in high Demand Among Consumers in the Herbal Supplements Market
In the herbal supplement market, the pharmaceuticals section held the highest volume. America and Asia-Pacific are anticipated to become important herbal supplement marketplaces. The pharmaceutical industry's expansion will benefit the herbal supplement business in these areas. Because of the increasing demand for herbal treatments, several of the most well-known pharma firms are undertaking studies on various herbal supplements.
As a result of their efforts, the herbal supplement industry in countries like Asia Pacific and Latin America would see rise. Alternative pharmaceutical products like ancient Asian and ayurvedic therapy are in high demand in Asia Pacific.
Furthermore, demand for herbal supplements has increased due to substantial expansion in the pharmaceutical industry in developing nations such as India and China. Moreover, the market's expansion would be aided by continued demand from the nations such as Europe.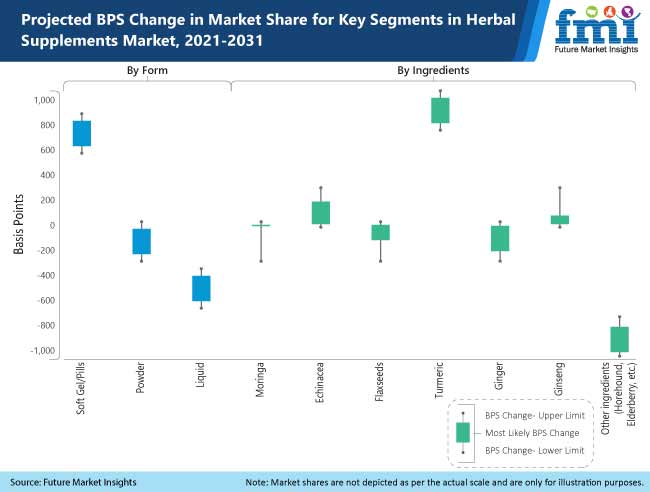 North America to Dominate the Market share
In regions, North America had the greatest share of the revenue and is likely to continue to dominate the global herbal supplements market over the forecasted period. The growth of this market is largely driven by an increase in the obesity rate, government efforts and financing to encourage health awareness, and lifestyle changes.
The increasing population joining fitness clubs and gyms has surged considerably, boosting the country's herbal supplement business.
Weight gain disorders like diabetes are on the rise, and customers with more disposable income are more likely to use herbal supplements. Over the projected period, Asia-Pacific herbal supplement market is projected to expand at the fastest rate. The primary factor for market expansion is consumer reliance on herbal supplements for safety and effectiveness.
Increasing Awareness for Healthy Lifestyle to Drive the Market Growth
One of the primary drivers projected to fuel market expansion is consumers' growing awareness of the health advantages of using herbal supplements, including the aging population. The world market for herbal supplements has been driven by the rise in female buyers of herbal supplements, as well as an increase in the usage of herbal goods by the youthful population.
Strict restrictions governing the ingredients used in production may hamper global progress. Furthermore, in developing nations, the expanding healthy lifestyle combined with an individual's growing disposable money is projected to offer the business with a profitable expansion opportunity.
How Will Growth Unfold
Obesity and ageing population are on the rise across the world. Therefore, herbal supplements for medical uses are in popular. The total herbal supplement industry is being boosted by the increasing incidence of sedentary lifestyle, increased consumption of healthy meals, and more awareness regarding health care.
Other important reasons driving the herbal supplements market includes rising disposable income in developing nations, increasing knowledge of the health advantages of herbal supplements, and an increase in the prevalence of health conditions.
Diabetes, cardiovascular disease, cancer, and other chronic diseases have increased rapidly across the globe. An increased awareness of eating healthy has resulted out of an increase in the occurrence of medical conditions. Customer awareness of fitness and health has grown in nations such as China and India because of improved lifestyles and eating habits.
People are becoming increasingly aware of their food consumption and the advantages of herbal supplements, which is fuelling the growth of herbal supplement market. Additionally, alterations in their lifestyle has caused them to place a greater emphasis on their health.
Drivers of the Herbal Supplements Market
Curcumin which is herbal ingredient is becoming more widely used as a natural colouring ingredient in the food sector, such as ketchup, butter, crackers, cheese, and yellow cake.
The growing popularity of clean label makeup products and skin creams is driving industry participants to incorporate natural and plant-based compounds like curcumin, which is generating revenue in the cosmetics market.
Restraints of the Herbal Supplements Market
Constipation, gastric reflux, yellowish stool, and stomach pain are just a few of the side effects connected with curcumin use that are limiting sales.
Curcumin sales are being hampered by the advent of low replacements such as artificial food colourants.
A look at Competition in the market
Bio-Botanica: In the year 2018, the company came into partnership with Genomatica to develop a new extraction plant. The extracts will be performing according to the processes set by Genomatica and will include the propriety ingredient i.e. Brontide. The extracts are made utilising Bio-proprietary Botanica's technique, which ensures that the extracted ingredient contain as many natural components as found naturally.
Archer Daniels Midland: In the year 2019, the company announced acquisition of Protix which is a probiotics manufacturing company. This will enable the company to innovate and research in natural healthcare supplements for humans and pets.
Technological Development and Product Launches in the Herbal Supplements Market
Herbalife: In the year 2022, company launched its meal replacement range which focuses on nutrients and are easy to consume. Products ranges from shakes to baked pastries and snacks.
In the year 2021, the company introduced digestive health products which have fibre complex. The manufacturing process is based in United States and Canada.
Nuvothera Inc: In the year 2019, the company announced the launch of a supplement project that entails the micronized Turmeric that will lead to increase of the beverages including curcumin. The product is expected to increase the customer base as the product offers certain health benefits and will reduce the dependency on medicines.
Applied Food Sciences Inc: In the year 2018, the company announced a new product named as CurcuFlow which is an extract of the curcumin. This new product is set to create a new non-stainable cleaning turmeric solution.
Scope of Report
Attribute

Details

Market Size Value in 2022

USD ~90.8 Bn

Market Forecast Value in 2032

USD ~190.2 Bn

Global Growth Rate

~7.8% CAGR

Forecast Period

2022-2032

Historical Data Available for

2017-2021

Market Analysis

MT for Volume and USD Mn for Value

Key Regions Covered

North America, Latin America, Europe, Japan, APEJ and MEA

Key Countries Covered

United States, Canada, Brazil, Mexico, Argentina, EU5, Russia, Poland, China, ASEAN, Australia and New Zealand, Japan, GCC countries, North Africa, South Africa, others.

Key Market Segments Covered

Form

Ingredients

Consumer Orientation

Application

Distribution Channel

Region

Key Companies Profiled

Glanbia plc, Jarrow Formulas, Inc.; Archer Daniels Midland Company, Nature's Bounty; Herbalife International of America, Inc., Blackmores, Nutraceutical International Corporation, Gaia Herbs; Jarrow Formulas, Inc.; Solgar, Inc.; Ancient GreenFields Pvt. Ltd.; Now Foods, Others

Pricing

Available upon Request
World's Most Profilic Intelligence Engine
Get Access To The World's Largest Market Research Database.
Sign Up Now
Segments Covered in Herbal Supplements Market Analysis
Form:
Soft Gel/Pills
Confectionery Products
Gummies
Chews
Others
Pharmaceutical Products
Chewable pills
Gel caps
Powder
Liquid
Ingredients:
Moringa
Echinacea
Flaxseeds
Turmeric
Ginger
Ginseng
Other ingredients (Horehound, Elderberry, etc)
Consumer Orientation:
Men
Women
Senior citizens
Others (Kids & Toddlers)
Application:
Weight Loss
Sports Nutrition
General Well-being
Immune & Digestive Health
Bone & Joint Health
Heart Health
Other specific requirements (Supplements, Anti-allergies & Eye-health)
Distribution Channel:
Store Based Retailing
Hypermarkets/Supermarkets
Convenience Stores
Drug Stores and Pharmacies
Health and Wellness Stores
Other Retailers
Online Retailing
Region:
North America
Latin America
Europe
APEJ
Japan
Middle East & Africa
Key Questions Answered in the Report
How much is the current worth of Herbal Supplements market?
Currently Herbal Supplements market is worth more than US$ 90.8 Bn.
At what CAGR is the market expected to grow?
Herbal Supplements market consumption is expected to grow at a CAGR of around 8.4% during the period 2022-2032.
How was the performance in the last five years?
In terms of revenue, Herbal Supplements market grew at a CAGR of around 7.0% during 2017-2021
What is the demand outlook forecast for the Herbal Supplements market?
The global Herbal Supplements market is forecasted to surpass US$ 190.2 Bn by the end of 2032.
Who are the top 5 players operating in the market?
Blackmores Ltd, Bio-Botanica Inc, Daniels Midland Company, Ricola AG, Arizona Natural Products are expected to be the top players driving the market growth.
How are market players reacting to the new developments in the market?
Market players are focusing on new product launches, herbal supplements distribution channels, merger, and acquisition strategies to remain a prominent player in the global market.
Which are the major countries driving demand for Herbal Supplements?
The Asia pacific, U.S., and Europe are the major countries driving demand for Herbal Supplements.
What outlook does Europe provide?
Europe holds around 15.0% of the total herbal supplement's revenue share.
At what rate will the U.S. herbal supplement market grow?
U.S. Herbal Supplement market is projected to grow at a CAGR of around 7.8% over the next ten years.
Need specific information?
Our Clients