Vegan Supplements Market By Product Type (Powder, Liquid, Capsules, Bars), Ingredients (Vitamins & Minerals, Amino Acids, Botanical Supplements), Distribution Channel (Hypermarkets/Supermarkets, Convenience Stores, Drug Stores & Pharmacies, Health & Wellness Stores, Online Retailing) & Region - Forecast to 2020 - 2028
Vegan Supplements Market - Analysis, Outlook, Growth, Trends, Forecasts
December 2020

REP-GB-12896

162 pages
About the Report
The rise of the conscientious consumer has led to a number of shifts in the food & beverage industry. The supplements category, in particular, has witnessed a spate of experimentation. Among the variants, vegan supplements have witnessed high interest, buoyed by the broader interest in veganism. Future Market Insights (FMI), in an exhaustive study, tracks vegan supplements demand-supply in 20+ countries, covering some of the leading players in the market. Considering the influence of COVID-19 on this category, the report also features a detailed chapter, with figures readjusted for the impact.
Market Overview
The demand for vegan supplements has been rising strongly in recent years. Higher levels of health awareness among consumers, and a rapidly growing number of vegans continue to be key drivers. Clean label ingredient trends, and development of energy-rich offerings is expected to drive the market in the near future.
Vegan supplements are widely considered as being safer and healthier than animal-based alternatives. Also, ethical concerns over the use of animal ingredients are creating growth opportunities. The global vegan supplements market is currently valued at over US$ 17 billion.
Growing Penetration of Veganism
Supported by dietary, environmental, and ethical factors, consumers are increasingly opening up to vegetarianism and vegan diets. According to the Vegan Society, the numbers of vegans in the UK increased by approximately four times between 2014 and 2019. In the US, vegan populations account for between 3-4% of the population in varying age groups.
Vegan supplements with optimized ingredient profiles aimed for specific nutritional needs such as vegan iron supplement, vegan b12 supplement, vegan protein supplements, and vegan vitamin d supplement, are not only popular among traditional vegans, who only eat plant-based foods, but also consumed by vegetarians, flexitarians, and traditional consumers. This is expected to remain a major factor driving demand for vegan supplement offerings for the foreseeable future.
Applications in Sports Nutrition
An increasing number of athletes including, Fiona Oakes, Gerlinde Kaltenbrunner, Novak Djokovic, Serena Williams, Meagan Duhamel, Patrik Baboumian, Patrick Reiser, Kendrick Farris, Frank Medrano, Lewis Hamilton have taken up and promoted vegan diets.
With such prominent names being attached to the vegan dietary trends, the role of vegan supplements in improving endurance is expected to aid market developments. According to the International Journal of Sports and Exercise Medicine, over 40% of endurance cyclists and runners suffer from coronary issues.
Plant-based diets can aid athletes to minimize the risk of coronary plaques, and inflammation, while improving cholesterol, arterial flexibility, and blood viscosity, in addition to being a good source of dietary fiber. These benefits are likely to aid developments for sports nutrition applications in the vegan supplements market through the assessment period.
Complementing the Vegan Lifestyle
A study by Buckinghamshire New University has pointed out that vegan diets create a higher likelihood of nutritional deficiencies by approximately 5%. Key deficiencies include protein, vitamin B12, calcium, vitamin D, serum D3, selenium, zinc, iodine, and iron. Issues of nutritional deficiency can lead to suppressed immunity and low energy levels.
The Academy of Nutrition and Dietetics has indicated an increase in over 8% increase in the consumption of plant-based supplements under prescription diets aimed towards minimizing deficiency issues in the United States between 2018 and 2019. This trend is likely to continue even through the covid-19 pandemic and beyond.
Key Challenges
While vegan food and nutraceutical products are gaining increased attention in recent times, there are a number of challenges that are affecting the potential for growth in the vegan supplements industry. The higher costs of production for plant-based protein supplements as compared to animal-based alternatives is a key obstacle towards adoption.
Another challenge in the industry is the lack of palatability of plant-based end products. This is especially true with detox and protein product offerings. Developments in flavor solutions including polymer coatings and microencapsulation will gradually aid solutions for these issues in the near future.
Region-wise Insights
Europe Vegan Supplements Market
Europe is the leading regional market for vegan supplements. Led by the United Kingdom, the European market is driven by increased attention on preventive healthcare in the region. According to the European Commission, preventive healthcare expenditure has grown from approximately 2% of the overall GDP to nearly 4% between 2017 and 2019.
Further, Europe is witnessing a rapid aging of its population. According to the European Commission's Directorate-General for Economic and Financial Affairs, the population of the region is set to hit 520 million by 2070. However, working age population will decrease from over 300 million in 2016 to around 290 million in 2070. This will also play a key factor in the adoption of vegan health supplements in the region through the assessment period.
A report by the European Federation of Pharmaceutical Industries and Associations has also stated that spending on pharma R&D has more than doubled since 2000, with Germany, UK, France and Switzerland being major contributors. This trend is likely to aid market growth for the foreseeable future.
North America Vegan Supplements Market
North America is the second largest market for vegan supplements, accounting for more than 20% of the market share through the assessment period. The United States is projected to hold major market share, with demand picking up in Canada.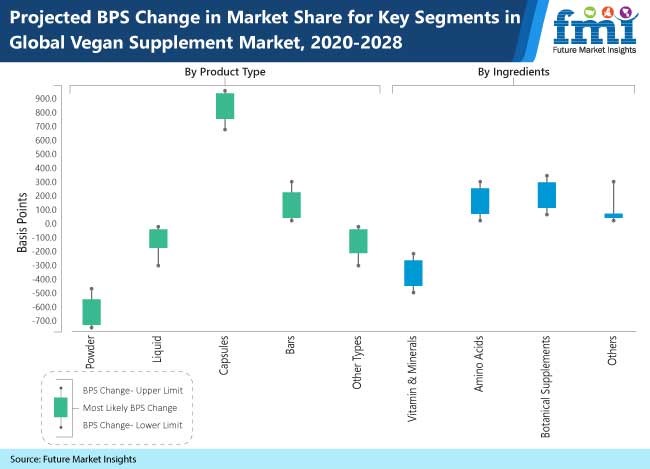 According to the Council for Responsible Nutrition, the value of the vegan supplement market in USA surpassed US$ 120 million in 2016 with steady growth in the years ahead. Also, a report by the Institute of Food Technologists, around 80% of all adults in the U.S. consumed dietary supplements in 2019, with multi-vitamin offerings being the most popular accounting for close to 60% of the market share. This high level of awareness and consumption is expected to aid growth through the forecast period.
Asia Pacific Excluding Japan Vegan Supplements Market
Asia Pacific excluding Japan is a fairly nascent yet fast growing market for vegan supplements. Key markets in the region include China and India. According to the Health Products Association of China, retail sales of health and wellness products in the country is expected to reach a 2 trillion-yuan valuation in 2020.
Further, according to a Census Report of India, approximately 30% of the Indian population of the country have been vegetarian between 2016 and 2019, with a higher level of vegetarian consumers among the female demographic. The massive population bases of both countries are likely to create lucrative growth opportunities in the years ahead.
Category-wise Analysis
Capsule Supplement Formats Drive Demand
Vegan supplements are available in the form of powders, liquid, capsules, and bars among others. Of these, demand for vegan supplements in capsules forms is the highest.
The demand for capsule supplements can be attributed to benefits in terms of dosage administration. Powder products are also reflecting a high growth rate owing to ease of production and cost benefits to consumers.
Botanical Supplements Hold the Lead
Key ingredients used for manufacturing vegan supplements include minerals, botanical supplements, and amino acids. Among these, demand for vegan supplements made from botanical ingredients is the highest. Consumer perception about the healthy nature of botanical ingredients continues to be a key factor for higher demand.
Sales through Online Channels Continues to Increase
Prominent channels for the distribution of vegan supplements include hypermarkets/supermarkets, convenience stores, drug stores & pharmacies, health & wellness stores, and online retailing.
Online retail channels are the fastest growing segment. Higher penetration of the internet, improvements to consumer engagement, convenience in purchase and discounts are key factors aiding demand. This trend has particularly gained ground during the covid-19 pandemic, owing to restrictions on physical stores during the outbreak.
Vegan Supplements Market- Competition Landscape
The global vegan supplements market is largely fragmented and competitive, characterized by numerous mid and small-scale players in the industry. Top players in vegan supplements market are focused on the consolidation of market position through the expansion of product portfolios with new offerings, while keeping up with nutrition of animal-based alternatives.
Nutrazee Inc., a new vegan dietary supplement manufacturer, has unveiled a new range of multi-vitamin gummies in December 2020, with an effort to corner the nascent sports nutrition market in India, with raw materials sourced from China, India, US, and France.
VMLOX a leading nutritional supplement brand launched Probiotics for Women - vegan probiotic supplements for weight loss comprising acidophilus lactobacillus bacteria, cellulose, rice maltodextrin, polysaccharide complex, and L-Leucine.
Eversea, a subsidiary of Solarvest, has announced its plans to release its Organic Omega-3 nutritional Gummy Fruit Drops, aimed towards children. The product is an organic, vegan plant-based powder, which will be available through online retail channels.
Future Market Insights has also studied the following vegan supplements market players in its exhaustive study*:
General Mills Inc.
Garden of Life
Danone S.A.
PepsiCo Inc.
Blue Diamond Growers Inc.
ALOHA
NuGo Nutrition
One Brands
BHU Foods
G&G Foods
*This list is indicative- full details about the vegan supplements market players are available upon request.
Vegan Supplements Market- Report Scope
| | |
| --- | --- |
| Attribute | Details |
| Forecast Period | 2020-2028 |
| Historical Data Available for | 2014-2019 |
| Market Analysis | USD Million for Value, MT for Volume |
| Key Regions Covered | North America, Latin America, Europe, Japan, Asia Pacific excluding Japan, and Middle East & Africa |
| Key Countries Covered | US, Canada, Brazil, Mexico, Germany, U.K., France, Italy, Spain, BENELUX, Russia, China, Japan, South Korea, India, Thailand, Malaysia, Indonesia, Australia, New Zealand, GCC Countries, and South Africa |
| Key Segments Covered | Product Type, Ingredients, Distribution Channel, and Region |
| Key Companies Profiled | General Mills Inc., Garden of Life, Danone S.A., PepsiCo Inc., Blue Diamond Growers Inc., ALOHA, NuGo Nutrition, One Brands, BHU Foods, and G&G Foods |
| Report Coverage | Market Overview, Key Market Trends, COVID-19's Impact, Demand Analysis, Market Background, Segmental Analysis, Regional Profiling, Market Structure Analysis and Competition Analysis |
| Customization & Pricing | |
World's Most Profilic Intelligence Engine
Get Access To The World's Largest Market Research Database.
Sign Up Now
Key Segments
Product Type
Powder
Liquid
Capsules
Bars
Others
Ingredients
Vitamins & Minerals
Amino Acids
Botanical Supplements
Others
Distribution Channel
Hypermarkets/Supermarkets
Convenience Stores
Drug Stores & Pharmacies
Health & Wellness Stores
Online Retailing
Others
Region
North America (U.S. & Canada)
Latin America (Mexico, Brazil, & Rest of LATAM)
Europe (Germany, U.K., France, Italy, Spain, BENELUX, Russia, & Rest of Europe)
Middle East and Africa (GCC Countries, South Africa & Rest of MEA)
Japan
Asia Pacific excluding Japan (China, South Korea, India, Thailand, Malaysia, Indonesia, Australia, New Zealand & Rest of APEJ)
Key Questions Answered in the Report
How will the vegan supplements market rise through 2028?
According to Future Market Insights (FMI), the global vegan supplements market is likely to receive impetus from increasing awareness about environmental and health benefits of vegan supplements, expanding at a CAGR of 10.9%.
Which is the largest vegan supplements market?
Europe is the leading market for vegan supplements, generating close to 40% of the global revenue share through the forecast period. Growth in this region is largely attributed to favorable government policies and changes in consumer preferences.
How is COVID-19 impacting the vegan supplements growth projections?
As per the vegan health supplements market research report, the COVID-19 pandemic has supported the prospects of the vegan supplements market. The demand for immunity boosting product offerings and higher levels of health awareness will drive short-term growth.
Which are the prominent vegan supplements market players?
Prominent vegan supplements market players include
Need specific information?
Our Clients