Listing title: Submarine Cables Market
According Future Market Insights (FMI), the submarine cables market has remarkable growth prospects on cards spurred by impressive efforts by industry to connect the unconnected
Bandwidth for intercontinental submarine cable has surged from ~50 Tbps in 2011 to over 150 Tbps in 2019
Submarine cable market is witnessing high growth largely in transatlantic zone of Asia-Pacific, Latin America, and the Middle East regions
Healthy competition witnessed in the supply market and efficiencies enabled by the mature 100G technology are paving way for growth
More Demand from Infrastructure Revamp than New Installation
Submarine cables are used for inter-region and inter-country communications, which explains their indispensability. The market though having comfortably surpasses a couple of billions of dollars of value in worth is projected by FMI to surge at a striking pace.
Surging data traffic worldwide, besides increasing demand for improved communications will aid the expansion of the market. Submarine cables business will also gain momentum in response to the increasing investment in offshore wind farms and by OTT providers.
Submarine communication cables account for over 90% of the global data traffic, exhibiting a total carrying capacity in terabits per second. It therefore comes as little surprise that submarine cable systems are considered of much value by leading OTT and communication providers such as Amazon, Google, Facebook, and Microsoft.
Submarine cables are considered vital component for nearly every country across the globe. Hence, most economies follow a set standard of policies and regulations to shield against any potential threats. The Australian Communications and Media Authority (ACMA) for instance has created several safety zones to prohibit activities threatening damage to these cables.
These regulations will safeguard the market against any potential threat besides aiding its expansion. FMI expects that the legalization of new projects will give impetus to the submarine cables market in the coming years.
Behemoth OTT and Communication Providers Spearheading Growth in the Market
Google alone owns 10,433 miles of submarine cables internationally. It also owns 63,605 miles of cables in consortium with Amazon, Microsoft, and Facebook. Out of this, Facebook individually owns 57,709, Microsoft owns 4,104, and Amazon owns 18,987 miles of submarine cables.
Cables laid down by Amazon runs from the U.S. to Asia Pacific, connecting Oregon, California, Japan, and Singapore. The world has achieved improved efficiency in power transmission and distribution. Advent of renewable sources of energy and growth witnessed in offshore wind farms will aid the expansion of the submarine cables market.
The government of Japan for instance is expected to invest in the installation of nearly 140 wind turbines by the end of 2020. This has encouraged active participation from market players for the installation, commissioning, upgrade, and maintenance of submarine cables.
Meanwhile, in several other countries efforts are being made to upgrade and reinforce existing systems to bestow better connectivity among businesses. For instance, the Europe India Gateway (EIG) has been recently upgraded by Ciena Group to speed up the connectivity between businesses in India, the Middle East, and Europe.
Their efforts have had a positive impact on the market. FMI has cited various other examples aiding the market's expansion. It has also revealed that in the future, greater investment is will drive growth in the market creating incremental opportunity worth US$ 36 Bn by the end of 2030.
Region-wise Analysis – Submarine Cables Market
According to FMI, Asia Pacific has emerged as a lucrative market for submarine cables. Led by China, the region is forecast to exhibit increasing adoption and deployment of wind farms, inevitably giving impetus to the submarine cables market.
According to the Institute for Energy Economics and Financial Analysis (IEEFA), in 2018 China had nearly 4.6GW1 capacity of offshore wind power. The country approved 24 offshore and power projects with a total capacity of 6.7GW and injected investment of US$ 18 bn in 2019.
These offshore wind projects are backed by some of the country's leading utilities including China General Nuclear Power Corp., China Energy Group, the State Power Investment Corp., and China Huaneng Group.
In Latin America as well, the submarine cables market is expected to witness impressive growth opportunities. Increasing investment in inter-country connections and wind farms will support growth in the region.
The emplacement of Latin America in the chart below is indicative of lucrative growth prospects in the region as is in Asia Pacific. Meanwhile, North America and Europe are relatively bigger markets but heading towards maturity.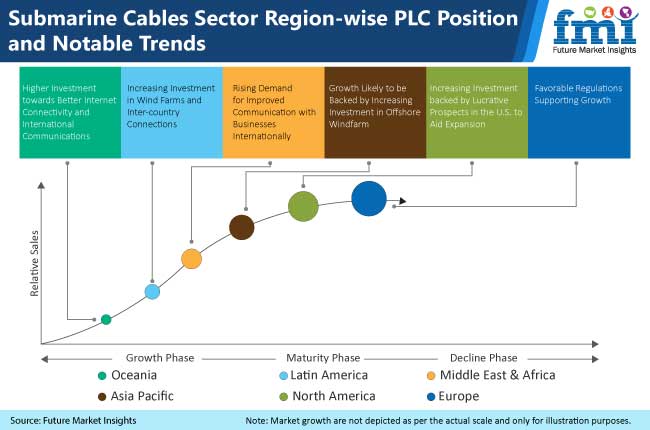 Governments are investing in Submarine Cables to Shield against Future Espionages
Espionage is not new in the global telecommunication industry. It continues to threaten various sources of government communication. Countries around the world are therefore engaged in persistent search of more viable and safer alternatives for effective communication, which would also protect them against potential data theft and spy attacks.
Significant lines of data often cross into the international borders and territorial waters, making communication infrastructure vulnerable to theft. When recent cases of espionage and documents stolen came to light, several countries across the world were outraged to learn the extent to which these spy agencies can operate to intercept foreign data.
As a result, some of the governments are reconsidering their internet infrastructure. For instance, Brazil has launched a project to invest in submarine communication cables connecting it to Portugal, bypassing the U.S.
This case was not in isolation, several other countries followed the suit. With governments showing eagerness to infect in individual networks, the submarine cables market is forecast to gain significant momentum in the coming years.
Rising Demand for Cheaper and Faster Communication Technology than Satellites to Fuel Demand
The world's orbit is teeming with several thousands of satellite, which are used to probe comets and assist space explorations. In literal sense we are already living in the future. Discovery of fiber optic cables and communication satellites dates back to 1960s.
While it may seem self-evident that communication via satellite is a more convenient method of exchanging communications than virtually wiring the Internet via long cables along the ocean floor, latency and bit loss remain key problems with the former.
Sending and receiving communication signals via space is time consuming. Meanwhile, scientists have developed optical fibers capable of transmitting information at nearly 99.7% of the speed of the light.
Internet without undersea cables will therefore come at an incredibly high cost like in Antarctica, which is the only continent in the world depending completely on satellite. Hence the region access bandwidth at a premium price. Studies suggest that the Antarctic today produces more data than it can transmit via space.
Considering this, the investment in submarine communication cables will continue to rise as a cheaper and faster alternative for communication via satellite.
Tedious and Exponentially Expensive Installation of Submarine Cables Might Hinder Growth
On an average more than 90% of the international data is transmitted or exchanged via wires laid down at the bottom of the ocean. Communication via submarine cables has surged exponentially to cover nearly all of global communication. These cables today stretch over hundreds and thousands of miles and may be as deep as Mt' Everest's length.
Special boats are used to install submarine cables. These cables must run across the flat surface of ocean bed. While doing this care must be taken to avoid sunken ships, coral reefs, and fish beds besides other ecological obstructions.
A key point to consider here is that the diameter of a shallow water cable is similar to that of a soda can whereas deep water cables are much thinner in size. There is a scientific reason supporting this size difference.
There's much less activity going on at a depth of 8000 feet below level, consequently there is lesser need for galvanized shielding wire. Submarine cables located at shallow depths are usually buried under the ocean floor with the help of high pressure jets.
Invariably the complete operation is highly capital intensive worth hundreds of millions of dollars. Cable installation therefore has remained to be a slow and tedious process, which is highly expensive. This remains one of the key challenges for the global submarine cable markets.
Leading Suppliers in the Submarine Cables Market
Smaller and mid-sized companies in the submarine cables market are currently focusing on projects that require smaller investments. Some of them are also engaged in offshore oil and gas projects and marine infrastructure projects.
A majority of companies operating in the market are aiming at collaborations. They are seeking out partnerships and are focusing to form consortiums in order to gain competitive edge. Some of the leading companies operating in the market are:
ABB
Alcatel Submarine Networks
Corning Incorporated
General Cable
Huawei Marine Networks Co., Limited
Hydro Group plc
JDR Cable Systems Ltd.
J-Power Systems Corporation
NEC Corporation
Nexans S.A.
NKT Cables Group GmbH
TE Connectivity Corporation
Prysmian Group
ZTT
Submarine Cables Market: The Way Forward
In the coming years the market is expected to witness high demand from both various end-use categories. According to FMI, increasing operations in offshore wind power generation will aid the expansion of the market.
Driven by this, higher investment in submarine cables is likely to support offshore wind power generation and for long distance transmissions from various plants. Besides this, increasing investment from the oil and gas segment will aid the expansion of the market.
In Latin America and the Middle East, several companies are undertaking novel investments in offshore oil and gas segment thus supporting growth of the submarine cables market. According to FMI, the market's valuation is likely to stand at US$ 13 Bn by the end of 2020
Key Segment
Product Type
Electrical cable
Fiber Optic Cable
Hybrid/ Composite Cable
Umbilical Cable
Filling Type
Oil/ Fluid Filled Cable
Solid Fluid Cable
End Use
Oil & Gas
Renewable Energy
Telecommunications
Defense
Region
North America
Latin America
Europe
Asia Pacific
Oceania
MEA
Need specific information?
Talk Show:
The Rise of Intelligent Packaging
Personalized, Connected and Sustainable
November 18, 2021
11:00-11:45 AM PST (USA & Canada)
This is a LIVE session