Cable Fault Locator Market By Portability (Portable, Handheld), Product (Cable Sheath Fault Locators, Cable Route Tracer, Time Domain Reflectometer, Pinpointer, Voltage Surge Generator), End User (Petroleum, Electrical& Electronics, Telecommunication, Power Generation, Mining, Construction) & Region - Forecast to 2019-2029
Cable Fault Locator Market - Analysis, Outlook, Growth, Trends, Forecasts
October 2019

REP-GB-10305

300 pages
Cable Fault Locator Market - Key Research Findings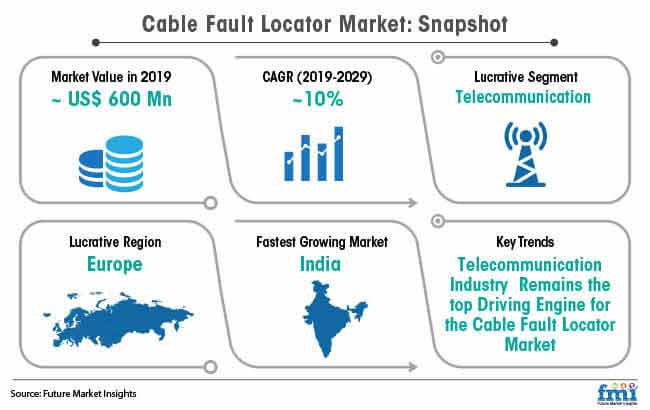 The global cable fault locator market is estimated to be valued at ~US$ 600 Mn in 2019.
The cable fault locator market is projected to grow at a CAGR of ~10% during the forecast period of 2019-2029.
Expanding Telecommunication and Electronic industries and advancing electricity transmission infrastructure are majorly boosting the growth of the cable fault locator market.
Collectively, North America and Europe are expected to account for about ~40% of the revenue share in the cable fault locator industry by the end of 2029.

Rapid growth in telecommunication industries in North America is fuelling the cable fault locator market growth.
Moreover, significantly growing industries in Europe such as consumer appliances, electronics and electrical equipment are creating significant demand for cable fault locators.
Key Factors Shaping the Cable fault locator Market
Rapid Industrialisation in Asian Economies Fuelling Adoption
East and South Asian markets for cable fault locator are expected to grow at a significant CAGR during the forecast period, attributing to the presence of fast-growing economies, such as India and China within these regions. Rapid growth in industrialisation in this region is one of the prime factors that are expected to significantly fuel the growth of the market over the forecast period.
The growth of the economies present in this region is primarily driven by industrialisation and urbanisation. The adoption of cable fault locators is expected to increase significantly in this region for checking faults in cables in various products. Thus, all these factors are expected to fuel the market growth of cable fault locators during forecast period at a substantial CAGR.
Flourishing Electronics & Telecom Industry Bolstering Market Growth
Growing electronics & telecommunication industry and telecom tower power systems across the world is driving the growth of the cable fault locators market. This industry uses many types of cables, which need high maintenance. The demand for cable fault locators is thus growing in these industries for finding the numerous type of faults related to cables.
Furthermore, rapid growth in the power generation industry is resulting in substantial demand for cable fault locators. Types of cables used in the power generation industry range from 1 kV to 500 kV. Hence, cable fault locators are commonly used to find out faults such as intermittent faults, resistive faults, short circuit faults, and sheath faults in these cables.
These factors are boosting the growth of the cable fault locator market. Moreover, electronics and electrical industries are rapidly expanding in East Asia & South Asia regions. Thus, cable fault locators are used to solve several faults that occur while manufacturing products. Therefore, these industries are contributing to the growth of the cable fault locator market.
Portable and Handheld Cable Fault Locators Enjoying High Demand
Manufacturers of cable fault locators are constantly focusing on bringing innovative developments in cable fault locators to improve their operational capabilities. Cable fault locators are witnessing increasing demand due to the availability of portable cable fault locators with advanced features. Changing industrial requirements and increasing production activities are boosting the demand for portable & handheld cable fault locators.
In addition, cable fault locators offer advantages such as ease of usage, handheld options, display units, and others, which are driving the adoption of portable & handheld cable fault locators. Some of the key players operating in the cable fault locator market are focusing on the expansion of their product portfolios for sustaining in the market.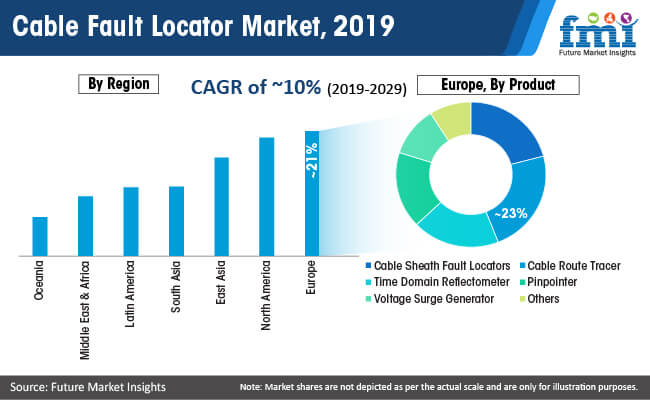 Cable Fault Locator Market Structure Analysis
The global cable fault locator market is fragmented, due to high presence of various local level and global level manufacturers of cable fault locators.
Leading players are focused on manufacturing cable fault locators with multi-functional features.
The market is relatively moderate in size, due to various applications of cable fault locators in many industries.
Leading players operating in the cable fault locator market are manufacturing products with advanced technologies for greater market penetration.
For a stronger foothold in targeted regions, manufacturers of cable fault locators are advancing their product portfolios by continuously investing in research and development facilities.
Digital Fault Location Techniques in the Pipeline to Address Existing Challenges
High-voltage power lines are an imperative component of modern-day power distribution, energy, and automation systems. Over the last few decades, millions of miles of power cables have been laid down aerially. However, owing to the significant benefits offered by underground power lines, including harsh weather resistance in conditions, such as rain, pollution, snow, and storm among others, at present, an underground network of power lines is predominant in most parts of the world.
However, although there are numerous fault location techniques available, underground lines continue to pose a significant challenge in establishing the exact location of the fault – a daunting task for technicians and other industry experts. The existing challenges can be effectively addressed by understanding the various fault locating techniques, adopting new technologies, and upgrading the existing fault location techniques.
Further, as the digitalization trend continues to penetrate various industrial sectors worldwide, significant efforts are in place that focuses on detecting faults in power lines using digital techniques. Faults in power lines can occur due to a plethora of reasons, including breaking of the conductor, faults in insulation, and weakness of the cables among others. Detecting and addressing the faults in power lines is thus highly crucial to restoring power supply, and minimizing downtime and supply distribution.
Accuracy and Reliability Drive Ascending Adoption of Travelling Waves Technique
In the last couple of decades, fault detection by deploying traveling waves has emerged as one of the most efficient and reliable fault location technique, especially for long transmission lines. In addition, by integrating with line protection relays, traveling waves offer critical insights to technicians and operators.
Although the traveling waves principle is a known concept within the power industry, in the current scenario, its adoption is on the rise owing to the limitations of impedance-based principles. The detection of fault locations by deploying the traveling wave principle offers significant benefits over phasor-based elements.
Further, fault location is calculated by assessing the difference between the arrival times of the wave pulses – enhancing the accuracy and precision of the fault location process by a significant margin. In the current scenario, owing to advances in technology and the advent of innovative solutions, accurate measurement of time by utilizing digital substation tools is possible within various distributed devices.
Moreover, another notable advantage that can be observed is that the principle of traveling waves is largely unaffected by series compensation of lengthy transmission lines. Moreover, as traveling waves are not only confined to applications in AC transmission lines and can be deployed for HVDC grids, traveling waves have garnered significant popularity over the course of the last decade.
Moreover, traveling waves propagate at a speed close to that of light – a critical factor that in transmitting data related to an existing fault to the line ends at a rapid pace enabling swift processing of the detected fault. Thus, all in all, owing to the limitations of impedance-based principles and favorable functionalities, the adoption of traveling wave techniques for fault detection in long transmission lines are expected to grow in the upcoming years.
Developed Regions on the Front Foot, East Asian Market Expected to Catchup
At present, the developed regions including North America and Europe are expected to stand strong in the global cable fault locator market owing to rapid development in fault location techniques, the introduction of innovative and effective techniques, and a strong presence of leading market players. In addition, companies including BAUR and Megger have consistently invested in product innovation and development – a trend that is applicable to numerous market players operating in the aforementioned regions.
However, East Asia is likely to gain a significant market share in the upcoming years owing to large scale adoption of new fault location techniques such as time-domain reflectometry and robust growth of the telecommunications sector in nations including China, South Korea, and Japan.
Market Players Prioritize Product Innovation and Durability
Key players operating in the cable fault locator market are highly inclined towards enhancing their product portfolio by leveraging technological advances. Further, growing focus on introducing innovative products and improving the durability of existing products is a prominent strategy that several market players are likely to adopt in the near future, to establish a solid footprint in the competitive market landscape.
For instance, BAUR GmbH Company recently developed a highly versatile and state-of-the-art vehicle-mounted cable fault location system that can be deployed to perform a range of applications. In addition, to improve their overall position in the market, manufacturers are concentrating their efforts to enhance operational capabilities of their cable fault locators.
How Growth Will Unfold
The upsurge in demand for technologically advanced and innovative products within the network and telecommunications domain is expected to positively impact the demand for cutting-edge cable fault locator systems.
Further, the advent of disruptive technologies including the Internet of Things (IoT) in the power industry, coupled with growing emphasis on minimizing power outage, power consumption, and costs, are some of the other factors that are likely to favor the growth of the cable fault locator market in the foreseeable future.
World's Most Profilic Intelligence Engine
Get Access To The World's Largest Market Research Database.
Sign Up Now
Key Segment
Portability
Product
Cable Sheath Fault Locators
Cable Route Tracer
Time Domain Reflectometer
Pinpointer
Voltage Surge Generator
Others
End Use
Petroleum
Electrical& Electronics
Telecommunication
Power Generation
Mining
Construction
Others
Region
North America
Latin America
Europe
South Asia
East Asia
Oceania
Middle East and Africa
Need specific information?
Our Clients