Swab and Viral Transport Medium Market By Product Type (Viral Transport Medium, Virus Swabs), Indication (Influenza, Respiratory syncytial virus, Mumps Virus, Adenovirus, Rhinovirus), End User (Diagnostic Laboratories, Hospitals & ASCs, Specialty Clinics) & Region - Forecast 2020 - 2030
Swab and Viral Transport Medium Market - Analysis, Outlook, Growth, Trends, Forecasts
June 2020

REP-GB-11195

220 pages
Swab and Viral Transport Medium Market Outlook & Key Findings
Swab and viral transport medium market to grow by a whopping 62.7% in 2020 as Covid-19 outbreak drives testing globally
Tissue culture medium of viral transport segment and nasopharyngeal swab of viral swab is expected to hold more than 70% of overall market share in the forecast period
Microbiological culture swab and transport medium are required for Covid-19, Influenza, respiratory syncytial virus, mumps virus and herpes virus are concerned as these viruses need to be preserved for further research.
Sustained research and development activities in the US will drive revenues in North American market
Swab and Viral Transport Medium Market Analysis
Microbiologists prefer using tissue culture medium while collecting, transporting, and preserving the samples. This could be attributed to its long storage capacity. There are nasopharyngeal swabs to collect nasal discharge while culture swabs and vaginal swabs are used to look into viral growth.
The ongoing pandemic is calling for more nasopharyngeal swab and deep nasal swab. This is bound to drive the market in the short run.
The tissue culture medium is expected to account for over 70% of the overall revenue and witness a CAGR of 1.3% during the market forecast.
Swab and Viral Transport Medium Market Analysis
Governments all over the world are emphasizing on curbing the spread of infectious diseases that have the potential of becoming pandemics. As a result, there is a concerted effort to take constructive and preventive measures against Rhinovirus, Adenovirus, influenza, and now COVID-19.
The viruses such as influenza and covid-19 require deep nasal swabs and nasopharyngeal swabs; herpes simplex requires vaginal swabs while the other infections require swab collection from different parts of the body.
"Influenza" section was valued $499.4 Mn in the year 2019 and is expected to grow at a CAGR of 1.4% during the market forecast. Other incidences such as COVID-19 have catalyzed the growth of the market in 2020. It is estimated to grow by over 60% herein.
Swab and Viral Transport Medium Market: Regional Analysis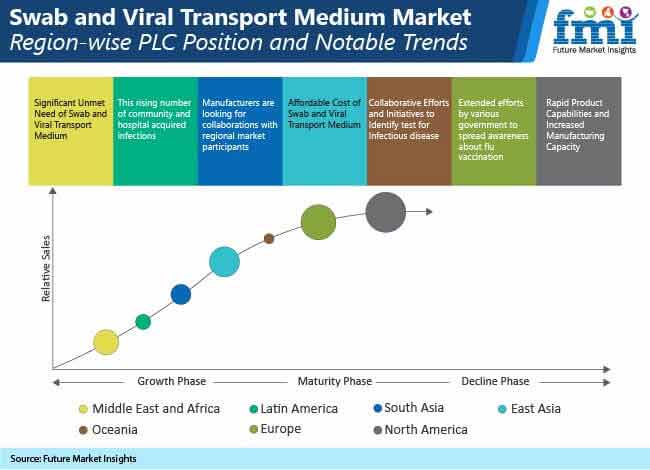 Swab and viral transport medium market is witnessing greater traction across all key markets. A close scrutiny of trends on existing retail channels in 7 regions and relative emplacement on PLC (product life cycle) leaves regional clusters at different curves.
Strategy and business operation level trends have been identified varying with respect to these regional clusters and relative PLC position. Since European and North American market for Swab and Viral Transport Medium is relatively matured, there have been extended efforts by government to spread awareness.
Simultaneously, manufacturers are collaborating with regional market participants in South Asian countries, where the swab and viral transport medium market is still in growth phase.
Trends Impacting the Global Swab and Viral Transport Medium Market
Manufacturers of swab and viral transport medium are seeking approval for their products in different regions to be able to launch their products in those regions, so as to help enhance their product footprint across the globe.
Manufacturing of swab and viral medium is preferred at the local level over import from leading manufacturing countries amidst pandemic crisis. For instance, MWE launched ∑-VCM™ transport device to enable the collection, transport and preservation of viruses. In February 2020, Vircell launched a real-time PCR kit for the detection of SARS-COV-2, initially called 2019-nCoV, in respiratory samples.
Moreover, various regional manufacturers are looking for collaborations with larger market players and vice versa to enhance their product offering in different countries. UTM (FDA-cleared collection and transport system to facilitate long-term freeze storage of clinical specimen that contain viruses inclusive of chlamydia, Covid-19, ureaplasma or mycoplasma organisms) paired with "COPAN FLOQSwabs" comes across as an affordable solution in comparison with nasal washes and aspirates.
Rocky Mountain Biologicals, LLC, started mass producing viral transport medium (VTM) since May 2020 on being approached by several local hospitals. This VTM caters to SARS-CoV-2 testing.
Of late, FDA also announced that it would let even swabs made from polyester to be used for diagnoses. The basic objective would be faster manufacturing and pocket-friendliness. Also, India-based Micro and Tulips got approval from ICMR (Indian Council for Medical Research) and NIV (National Institute for Virology) for manufacturing low-cost swabs.
Titan Biotech Ltd. received validation from ICMR, NIV, and the WHO for their viral transportation kit. The kit, apart from an oropharyngeal and nasopharyngeal swab; comes as a complete package with 10 ml tube; wherein 3 ml transport medium could fit in.
Swab and Viral Transport Medium Market: Key Players
The global market is dominated by top 4 manufacturers- Becton, Dickinson and Company, Cardinal Health Inc., McKesson Corporation, and Thermo Fisher Scientific Inc. Players such as COPAN Diagnostics Inc., VIRCELL S.L., Deltalab, Titan Biotech Ltd. and MWE are also scaling up to meet the growing demand in the current time.
Examples of the other key players operating at the global level for swab and viral transport medium market include
McKesson Corporation
Cardinal Health Inc.
Becton, Dickinson and Company
Thermo Fisher Scientific Inc.
Quidel Corporation
COPAN Diagnostics Inc.
VIRCELL S.L.
Deltalab
Titan Biotech Ltd.
Medical Wire & Equipment (MWE)
Incorporating innovative strategies and launching new product lines are the key strategies adopted by manufacturers in the Swab and viral transport medium market. Continuous product launches with enhanced benefit during the pandemic situation are the key strategy to increase the revenue by key market players.
Swab and Viral Transport medium Market: The Way Forward
North America and Europe hold a substantial share of the global swab and viral transport medium market. Demand for these mediums is also growing in Asia Pacific and Latin America as local players are also scaling up in terms of production. However, this geometric progression could be seen till the first half of 2021 at the most. Thereafter, there would be arithmetic progression in the form of flu. The key players will have to enter into a more creative zone to stand out in terms of swabs and viral transport medium; or else more sustenance and less substantiation can be expected.
World's Most Profilic Intelligence Engine
Get Access To The World's Largest Market Research Database.
Sign Up Now
Swab and Viral Transport Medium Market: Segmentation
The global swab and viral transport medium is segmented in detail to cover every aspect of the market and present a complete market intelligence approach to the reader.
Product Type
Viral Transport Medium

Tissue Culture Medium
Glycerol Transport Medium

Virus Swabs

Nasopharyngeal Swabs
Deep Nasal Swabs
Combined Nasal & Throat Swabs
Culture Swabs
Vaginal Swabs
Indication
Influenza
Respiratory syncytial virus
Mumps Virus
Adenovirus
Rhinovirus
Herpes Simplex Virus
Varicella-Zoster Virus
Other Indication
End User
Diagnostic Laboratories
Hospitals & ASCs
Specialty Clinics
Others
Region
North America
Latin America
Europe
East Asia
South Asia
Oceania
Middle East & Africa
Need specific information?
Our Clients