According to a new report, global tablet shipments are projected to increase at 9.1% CAGR through 2026. In terms of value, the global tablet market is expected to reach nearly US$ 600 Bn by 2026.
Nearly 193 million iOS tablets were shipped in 2016, whereas Android and Windows collective shipments were valued at 226 million. However, during the forecast period 2016-2026, Android tablets will witness the highest growth rate, owing to their low price and popularity, especially in emerging markets. In 2017, total tablet shipments are estimated to surpass 455 Mn units.
Global demand for tablets is going through a period of sluggish growth, as large screen smartphones continue to find favour among consumers. However, commercial segment is expected to offer the next wave of growth to vendors, as businesses move away from PCs to detachables.
Apple Inc. remains the largest player in the global tablet market. It held a revenue share of nearly 26% of the global market in 2016. Samsung is the second biggest player in the market with over 15% market share. Micromax is the third largest player, while the rest of the market share is dominated by the likes of Lenovo, Asus, Xiaomi, Acer, and Huawei.
Detachable Tablets: The Next Growth Opportunity
Slate tablets shipments were pegged at nearly 243 million units in 2016. While slate based tablets will continue to account for higher sales than detachables, the latter will grow at a higher CAGR during the forecast period. Detachables are witnessing increasing demand from the IT sector, as PCs are being slowly phased away. Detachable tablet sales volumes are projected to increase at 10.8% CAGR vis-à-vis 7.7% CAGR of slate tablets.
The growing proliferation of laptop-tablet hybrids is eating into the markets share of tablets. The ever-increasing size of smartphones is not helping the cause of the tablet industry.
Another key factor that can impede the growth of the market is low upgrade cycle. As is the case in the smartphone segment, consumers are not showing the same level of eagerness to upgrade their existing tablets. Long replacement cycles can restrain demand for new tablets during the forecast period.
Screen size is an important buying decision for consumers, and as above 6-inch smartphones become ubiquitous, tablet vendors are finding it difficult to promote size as their USP.
In 2016, over 191 Mn units of tablets less than 8 inch in size were shipped globally, whereas sales of above 8 inch tablets were pegged at over 227 million units. In terms of both value and volume, less than 8-inch tablets are projected to witness a higher CAGR during the forecast period.
The Silver Lining for Tablet Vendors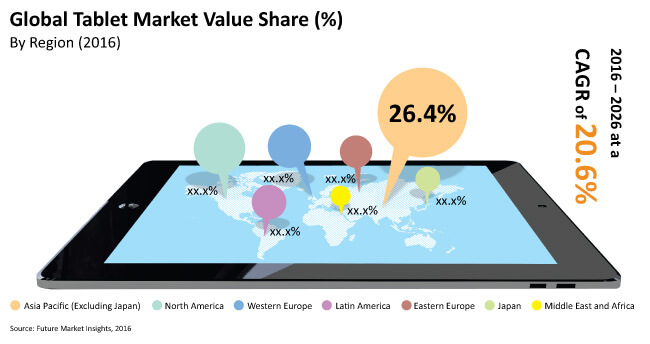 Although 2016 was a sluggish year for the global tablet market, it is expected that demand will pick up in the latter half of 2017 and 2018. China and India are anticipated to remain key to the future growth of the tablet market, as a significant percentage of consumers are yet to make the transition from a 'mobile phone' to a smartphone.
Bigger display sizes can be a luring factor for brands, as in the smartphone segment, above 6-inch phones come with a hefty price tag. Consumers in Tier II and Tier III cities in India use their phones to watch movies and videos in the absence of a PC. Catering to this consumer segment can open up opportunities for vendors; however, vendors should keep in mind that this demographic is extremely cost-sensitive. Owing to lower profit margins, vendors will have to focus on high-volume strategy to gain significant gains.
Key Segment
By Product Type
Detachable Tablet
Slate Tablet
By End-Use
By Operating System
By Region
North America
Latin America
Western Europe
Eastern Europe
Asia Pacific Excl. Japan (APEJ)
Japan
Middle East and Africa (MEA)
Need specific information?